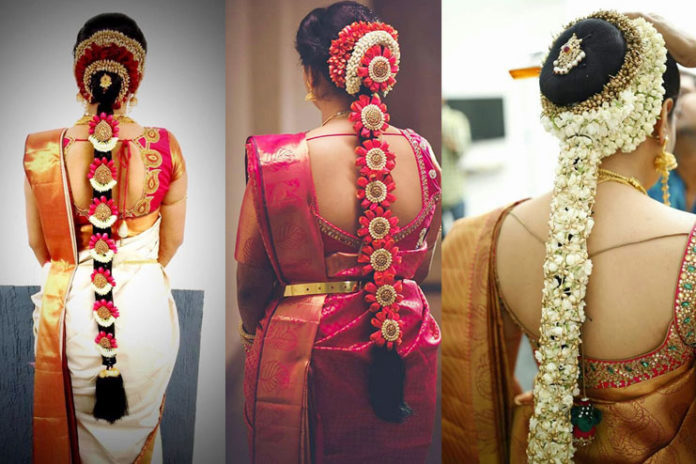 In Southern part of India, it is a centuries old tradition to decorate a bride's long plait with patterned flowers, gold, beads or anything which can add to her looks on her big day. Brides always love to show off the lustrous long beautiful hair with Bridal Floral Hairstyles that is plaited as well as decorated with flowers, known as poola jada. Sometimes, the hair extensions are also used to keep the plait look more long for a more enhanced look.
The gorgeous South Indian wedding hairstyles also need to be with a ball shaped or even hairy type of decorative thing at the bottom of the beautiful plait, which is also usually known as jada kuchulu or jada gantalu in Andhra Pradesh. It is believed to add more embellished appearance to the bridal hairstyle and bridal look. On the day of the wedding. This bridal hairstyle is considered as much important to the bride as her wedding saree and very great care is taken to choose the best design which can also sync with her saree.
Bridal floral hairstylespatterns usually comes in the long pre-stitched already-made form which is then carefully attached to the bride's long plait. Some patterns in them requires the flowers, beads or other decorative materials to weave on the plait. According to the taste, these wedding hairstyles can also be ordered for a more customized design from the specialist. Different types of flowers like jasmines, chrysanthemum, roses or even leaves are used in these hairstyles.
This type of elegant hairstyle is mostly worn by girls on many other kinds of special as well as traditional occasions. It can also go well with a very rich bordered half saree, silk saree, lehenga or salwar. Apart from the flowers, many precious types of plait-ornament, which is made of gold or even pearls is used for hairstyle, that is known as jadanagam.
Overall a South Indian bridal makeover is basically incomplete without the flattering hairstyle. A silk saree, mehandi, bridal makeup, jewelry as well as a flaunting floral hairstyle, it can make the bride look like an angel on her prominent day. So here, are some bridal floral hairstyles that you can try on your wedding.
Bridal Floral Hairstyles