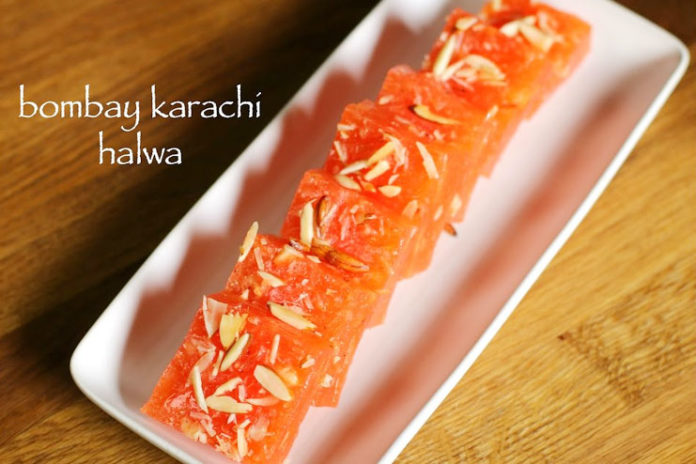 Karachi Bombay Halwa is prepared especially during festivals.It is also called as elastic dessert. This halwa is chewy and importantly flashy in nature. Moreover, it could be easily shared with friends and family because of longer shelf life compared to another Indian dessert. Follow this recipe.
Preparation Time: 15 min; Cooking Time: 30 min; Servings-3-4
Ingredients
For corn flour mixture:
½ cup corn flour / corn starch
1½ cup water
Other ingredients:
1¼ cup sugar
1 cup water
1 tsp lemon juice
4-5 tbsp ghee / clarified butter
10 cashews, chopped
¼ tsp cardamom powder / elachi powder
few drops of orange food color / color of your choice
5 almonds, chopped for garnish
Instructions
1. In a mixing bowl add corn flour and water and mix well without forming any lumps.
2. Add a half cup of water and continue to mix and keep it aside.
For making Halwa:
3. In a large kadai / non-stick pan take sugar add water and allow the syrup to boil.
4. Pour cornflour mixture into the boiling sugar syrup.
5. Stir continuously on low-medium flame.
6. Once the corn flour mixture starts to boil, and starts to thicken and immediately add a tsp of lemon juice.
7. Keep stirring till the mixture thickens completely.
8. Add a tbsp full of ghee and mix continuously till all the ghee is absorbed.
9. Add another tbsp of more ghee and continue to mix till it turns glossy.
10. When the mixture will start turning transparent, silky and releasing ghee from sides.
11. Add food color, cardamom powder, and chopped cashews and mix it well.
12. Transfer the mixture to a tray and level it.
13. Sprinkle some chopped almonds and rest for an hour.
14. Cut to the desired shape and serve.