It's 2017. Gone are the days when all we bought for kids was either a Pretty Frock or pair of T-shirt and shorts. Girls these days want to wear the most vibrant colors and clothes which require zero efforts and are comfortable for the most part. The best option to check all these boxes is a jumpsuit.
A single piece dress that requires nothing else to accompany, it is easy, breezy and super stylish. It makes for a perfect summer dress for little girls, and it is also super comfortable. There can be no better option than a jumpsuit if you are looking for a really cute outfit for your baby girl's friends birthday party or a easy vacation fix for last minute. Whatever the occasion this piece of garment can be dressed up or toned really down according to your choice. We have found 10 most stylish yet cute designs of jumpsuits for kids of 2017 that can work for every type of needs.
1. Denim jumpsuit-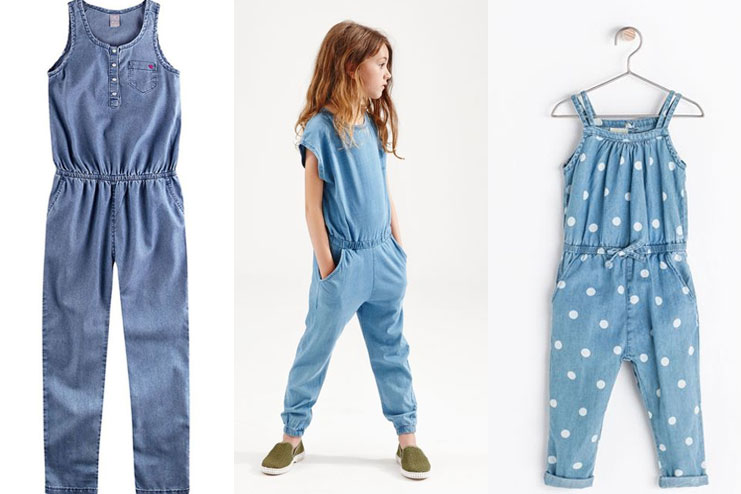 Best choice for a friend's birthday party, this jumpsuit looks uber cute on girls of all ages. Little detailing, like denim straps, pockets and frills can add an extra fun element for the kid. It is also warm and can be worn in slight windy weathers. It
2. Stripes Jumpsuit-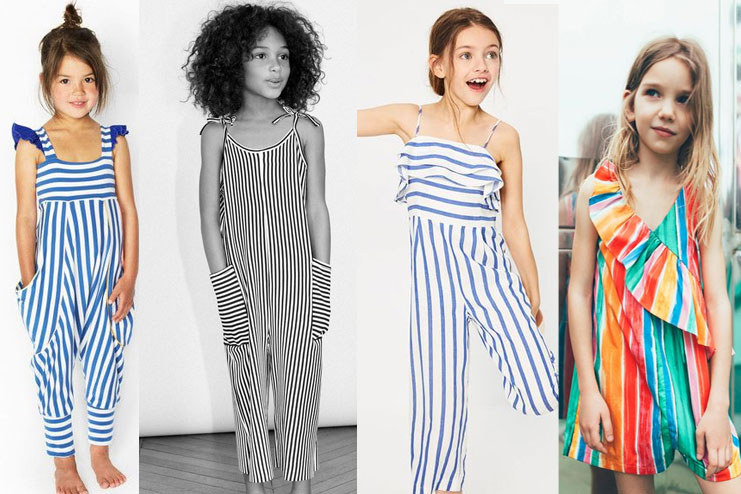 A stylish twist in the jumpsuit tale, will be to add stripes. The striped jumpsuit makes a person look tall. This easy jumpsuit is great in sleeves as well as sleeveless. One of the most versatile pieces, pair it with a T-shirt for a slight colder weather and you have a great new ensemble.
3. Floral Jumpsuit-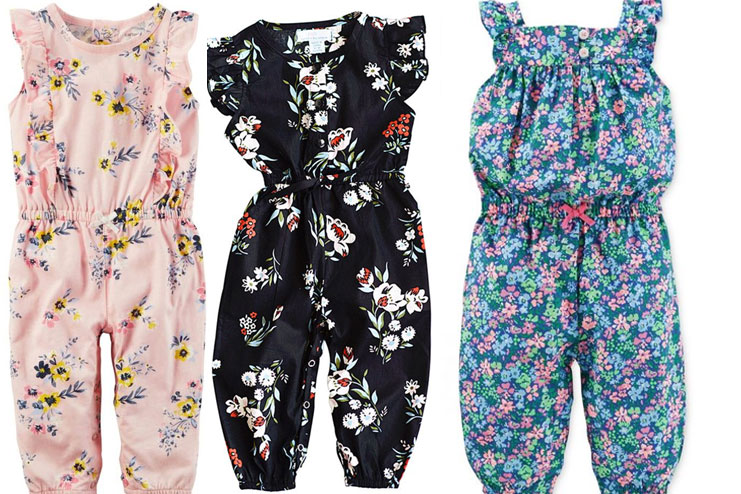 What can look better that floral prints on tiny toddlers. This printed flowers on the jumpsuit make it look super cute. It can be half sleeved, sleeveless or even backless. Add a cute tiara on the head on you have your self a real pretty princess.
4. Tshirt Jumpsuit-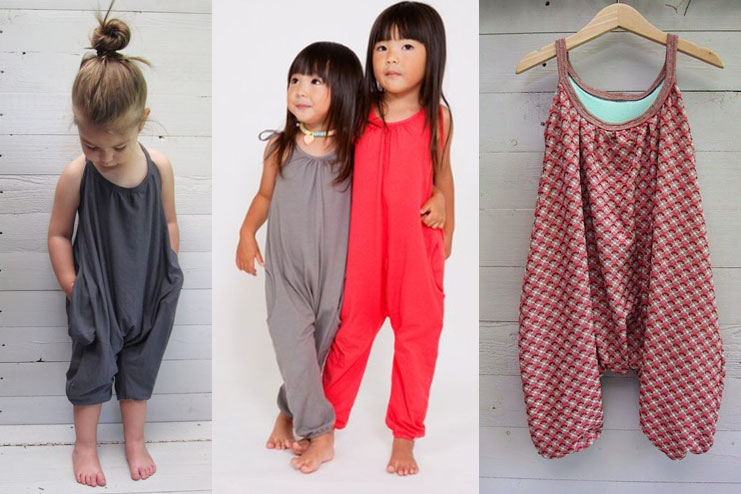 For times when you don't know what to pack for a vacation, or you want to travel with zero fuss clothing, put your baby in one of these super comfortable harem jumpsuits and she can even sleep in these soft cotton or hosiery fabric, Just like her soft Pyjamas. Add a jacket over this in a flight and your kid will look like a cute teddy bear.
5. Dungaree style jumpsuit-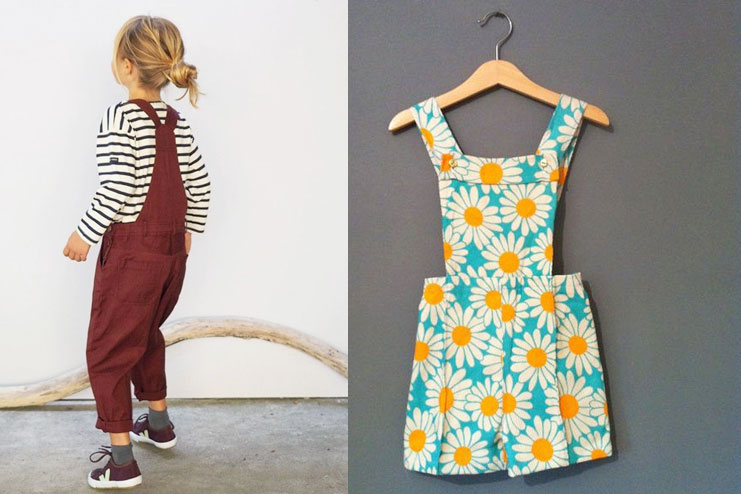 For a more variety element, a dungaree style jumpsuit will serve you best. It can be teamed up with a cute tshirt inside or a cardigan for cold weathers and this dungaree jumpsuit will be the only clothing your kid will ever want to wear. It is easy to wear and comfortable. It is more flexible than other jumpsuits. It is one of the most beautiful jumpsuits for kids.
6. Romper jumpsuit-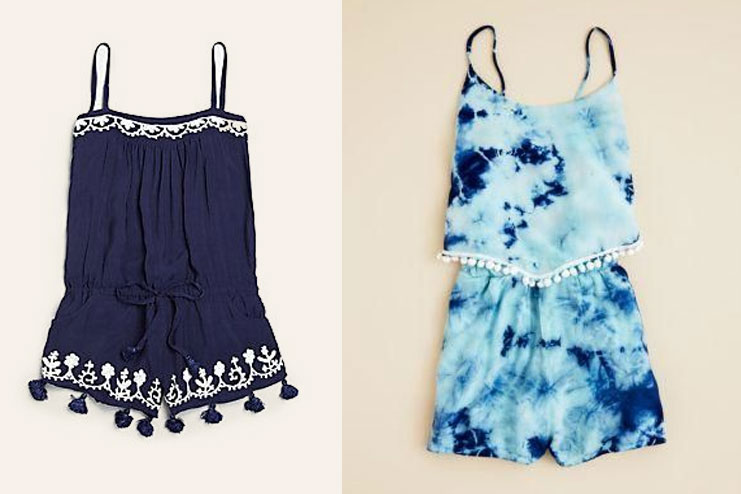 On a warm sunny day, when your kid just wants to soak in the sun and let her hair down playing in the water, just put them into this cute romper with pompom detailing and she will absolutely love how cute it looks. The tiny details will fascinate your girl and make her more engaged in the clothing. She will be happy to wear it always and everywhere.
7. Checkered Jumpsuit-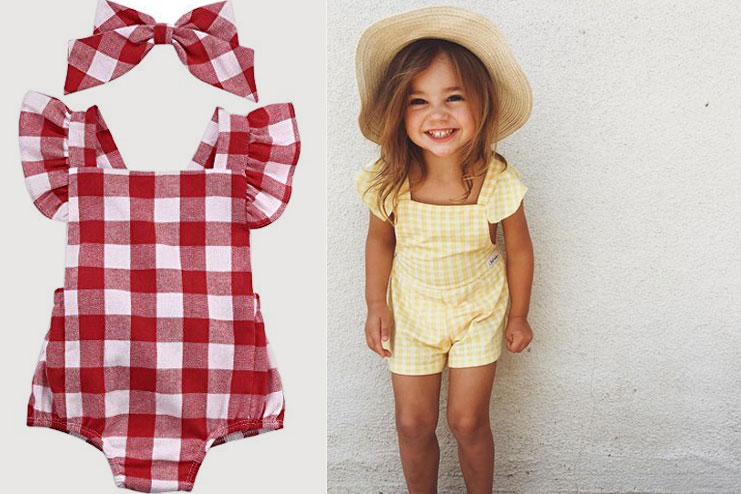 Another summery jumpsuit, this checkered fabric makes the jumpsuit more holiday worthy. Perfect for school functions and places that require a slight smart casual look. It would be a great way to ditch the dress and wear pants attached to a top. Add this cute hat and you will love how your little one transforms into a fashionista.
8. Off shoulder and One Shoulder Jumpsuit-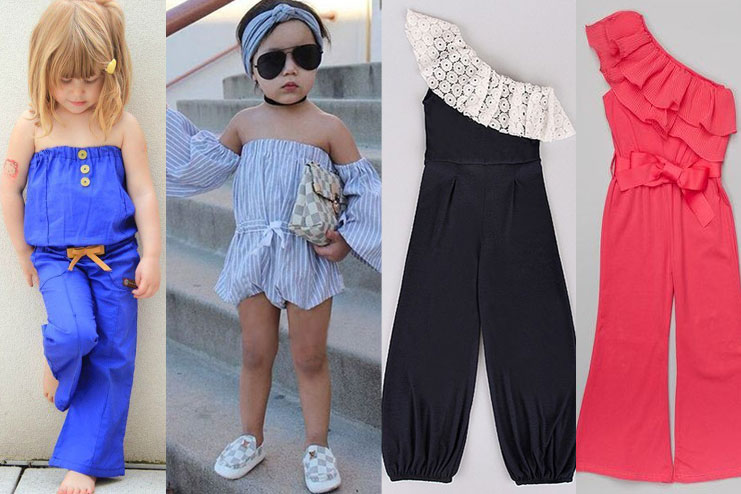 Going to a wedding, dinner party or to visit family, this is a great option of kids jumpsuit design that will make the dress look more place appropriate. It will give a classy vibe to the jumpsuit style and will go really cute with your child's high pony hairstyle.
9. Lace Jumpsuit-

For school meetings, play dates, birthday parties when you want your baby girl to look dressier, opt for this style of kids jumpsuit, and it will make all the difference. This will be a great day as well as a night party outfit . Just choose your favorite colors and make it in lace. That's all!
10. Wide legged Jumpsuit-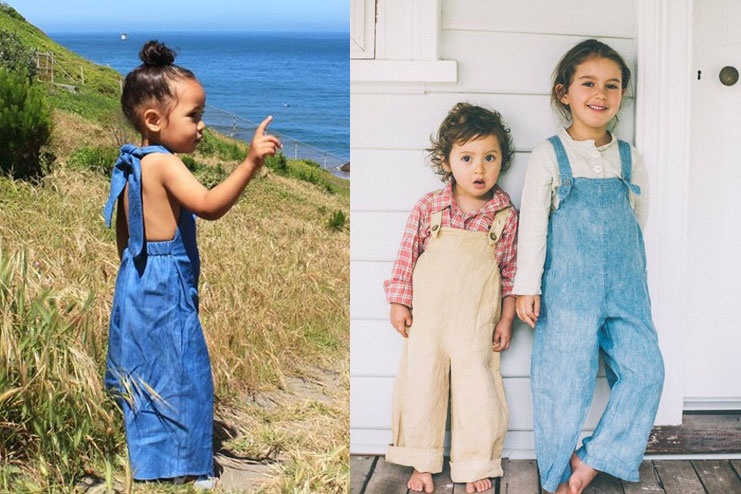 For your little fashionista, there can be no other, more fashion forward dress than this wide legged jumpsuit, probably will a tie back halter or bow detailing. Perfect for picturesque vacations and places with nice photo opportunities. Choose this over lean legs as this will be far more comfortable for kids. This is another jumpsuits fashion forward cousin.