If you closely observe your face in the mirror, you can probably see tiny pores on your skin, especially near to your nose or chin. These pores on your skin can get enlarged for a lot of ladies and be very easily available even from a distance. These enlarged pores, can make your skin look textured and also secrete sebum making your face look oily. It is definitely not a pretty sight and no matter how much we care for our face, if you are committing some mistakes against your skin types, these enlarged pores can make your face look older and dull.
Well, to if you want to know how to get rid of enlarged pores at home, we have a list of natural remedies to get rid of these pesky large pores, and leave your skin looking more youthful and bright. Here is what you should know.
What is Enlarged Pores?

The normal microscopic pores on your skin are responsible to let your skin breathe and engage in oxygen supply. When these pores get enlarged, you can visibly see them on your skin and they make your skin look textured and old.It is more commonly a feature of oily and combination skin, since these skin types produce more sebum. This enlarged pore face can be easily prone to blackheads, whiteheads and acne.
What Causes Enlarged Pores on Your Face?

There are many of the causes enlarged pores on face can be seen to develop. Some of them are,
Sun Exposure: One of the main causes of enlarged pores is overexposure to sunlight. Excessive sun can damage the collagen in your skin and make your pores to enlarge.
Excess oil production: Normally when the skin produces oil, it is secreted out from the skin pore normally. But if the skin produces excess oil, this oil can get mixed with dirt and grit and block the skin pores. The sebum secreted by your skin is then forced to push around the clogged pores to move out, hence it slowly enlarges the pores.
Genetics: Some women suffer from large skin pores that are attributed to genetic reasons. If your mother or father has it, you are also sometimes prone to have them naturally.
Age: With aging, your skin tends to lose its elasticity and makes it easier to have enlarged pores and loose saggy skin.
How to Get Rid of Enlarged Pores on Face/Home Remedies for Enlarged Pores

On of the most frustrating feelings of a skincare routine is that it can go really unsuccessful sometimes. And if you are desperately  want to get rid of enlarged pores, it can add all the more to your woes. Large Pores On Face can make you look really uneven and old.
Here are some simple precautions and beauty habits to keep your skin free from oil and healthy.
1. Follow The Ctm Routine

There can be no better way to get rid of enlarged pores on face than this simple and completely natural way Cleansing Toning and Moisturising. The enlarged pores causes excess oil to spread all over your skin and spread across the face. This oil can be breeding ground for bacterial and fungal infections.
To prevent this, make sure you use a nice cleanser to clean your face off the excess oil and dirt. Follow this up with a round of using a nice astringent to keep your oil production at low levels. A perfect enlarged pores remedy would be to keep you moisturiser extremely light weight. Since your face already has a lot of natural oils moisturising it, do not apply a heavy duty moisturiser.
2. Lemon And Cucumber Juice For Skin

If you have been using face creams for enlarged pores and still haven't seen any results, this can be your skin's problem. Irritated skin. These skin issues need more than a single ingredient for proper healing. Home Remedies for enlarged pores have been used for quite a while, this o0ne is definitely one of the more famous ones.
Add a little bit of cucumber juice in lemon juice and apply it over your face everyday.
It will reduce enlarged pores on face naturally, since the vitamin C will disinfect and remove the deep rooted oil from skin and cucumber will tighten the pores tightly, thus slowly reducing the enlarged pores.
3. Apple Cider Vinegar

Another one of the great home remedies for enlarged pores is using ACV for your face.
reduce enlarged pores on face naturally. It acts as a natural astringent and keeps you skin oil free and disinfected. The apple cider vinegar is good for enlarged pores, since it tightens your skin, shrinks pores and also acts as an anti-inflammatory agent. It will be absolutely the best way to fight all the enlarged pores on face and neck. The embarrassment that these enlarged pores causes will soon be gone. With this perfect enlarged pores remedy.
4. Multani Mitti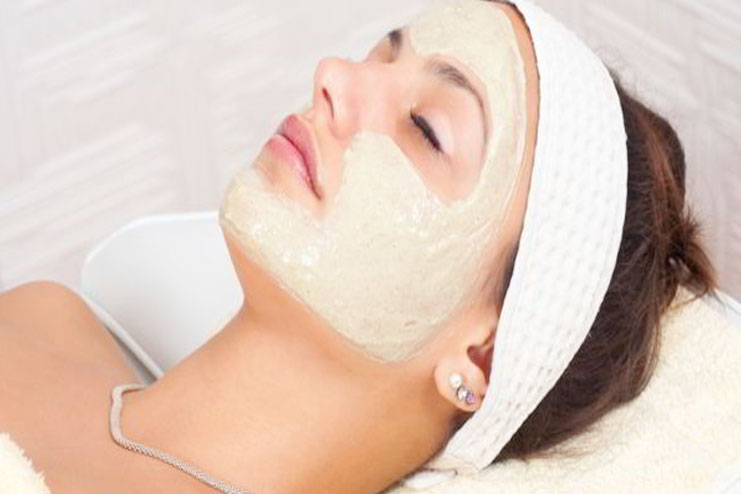 The use of Multani mitti to get rid of enlarged pores is not unknown. Fullers earth acts as an all encompassing  skincare treatment that work perfectly fine for every skin type. But the best way to reduce enlarged pores for oily skinned beauties, is this. Multani mitti is known very well for its oil absorbing properties. It also acts as an exfoliant and keeps your skin looking radiant and fresh. The regular use of this home remedy will cause all the large pores on face to shrink and reduce to minimum size and eventually make your skin free from all the uneven pores and oily look.
5. Baking Soda

This remedy can act as a perfect quick face creams for enlarged pores. The results are absolutely great for some ladies where as n9ot at all for others. But this definitely is worth a try. All you gotta do is, mix a tsp of baking soda in lukewarm water and mix well.
Apply this mix over your face and let it dry. Remove it by your hands and wash face with normal water. It is one of the best Remedies for enlarged pores for ladies of all skin types. Use it twice weekly and it can easily reduce enlarged pores on face naturally.
7. Tea Tree Oil

If you are using a cream with tea tree oil you already know that it is one of the best face creams for enlarged pores. It acts amazingly quick for acne, zits and other skin breakouts. Just take a free spray bottle and add a few drops of tea tree oil in water and spray it all over your face. Let it stay for a while and you may then wash your face with normal warm water. With regular use, the enlarged pores on face will soon disappear and you can see you skin getting back to the normal state.
What is the best treatment for enlarged pores?
For best tips on reducing the amount of enlarged pores or some treatments for enlarged pores on your face, here is what you can do.
Treat enlarged pores by keeping your skin and face clean and free from oil. Use a nice gel based cleanser that isn't too heavy for your skin. Regularly keep washing your face. Especially before you go off to sleep.
Always make sure that there is no dead skin build up on your oil prone face, Keep regularly exfoliating your face and remove the dead skin cells.
Always use a skin toner good for your face type. Read our guide to know the best skin toner for your skin type. It will be a great treatment of enlarged pores.
Use a Moisturizer only that is gel based or at least extremely light weight.
Use a face cleansing mask like the multani mitti one or other retail purchased one to keep excess oil away. This will be an absolutely best treatment for enlarged pores of oily skin women.
This was an extensive guide to all that you need to know about enlarged pores on your skin and what may be causing them? Use any of our natural remedies and reduce your enlarged pores on the face to minimum. And if you find our remedies working absolutely great don't forget to share your experience with us. We will be thrilled.