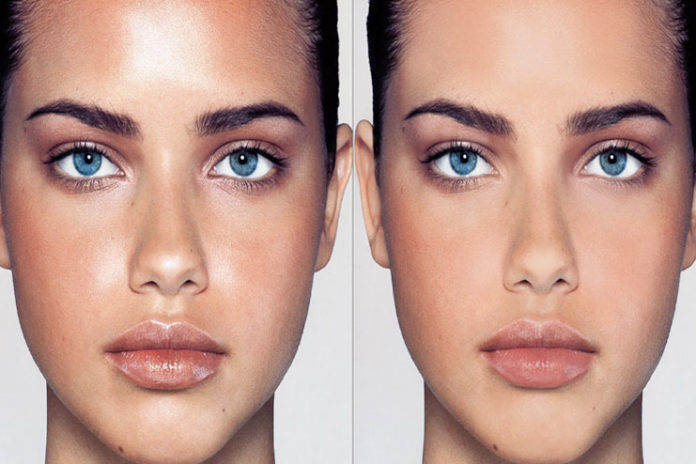 Skin Toners have been every girl's secret weapon, to treat acne and skin infections, that might just pop out at any point in the day. A Skin toner is a basic term for different types of skin refreshing and treating liquids that help in maintaining the health of your skin. They refresh dull skin, maintain a healthy balance and prevent the product ion of excessive oil. For ladies with oily skin, a Skin toner is a perfect solution to all their shining T zone and resulting acne.
Finding the right skin toner is of utmost importance as the oily skin can be very delicate and prone to break out easily. Here are a few tried and tested skin toners that have worked great for women with oily skin and have not only reduced the oil on the skin but also improved the skin.
Types of Skin Toners-
Finding the right skin toner is of utmost importance as a lot of times women do not understand the basic difference between the different kinds of toners and end up using the wrong ones. Here are a few things you must note before picking out your perfect skin toner.
Astringent- The best-suited type of skin toner for ladies with excessive oil prone skin should go for astringents. They have a larger alcohol content and they help in keeping the pores tight, this, in turn, prevents excessive oil release and keeps the oily skin hydrated and less oily. The astringent type of toner has salicylic acid and AHAs that keep your skin free from blemishes and spots. It keeps your face fresh.
Tonics- They are skin toners with less alcohol content than the astringent type. They are most suitable for women having normal to dry skin type. They do not drive out oil excessively and could be a great option also for ladies with combination skin or an oily T zone. It is a great night routine toner.
Fresheners- They are the mildest of skin toners that have no alcohol but only skin soothing agents that can keep dry skinned ladies hydrated. Occasionally they also contain moisturizing properties that can help in keeping the skin moisturized. This will be a bad choice for oily skinned women as it may end up causing more breakouts.
Read Also: Benefits Of Orange Oil For Oily Skin
Best Skin Toners For Oily Skin-
1. Biotique Cucumber water-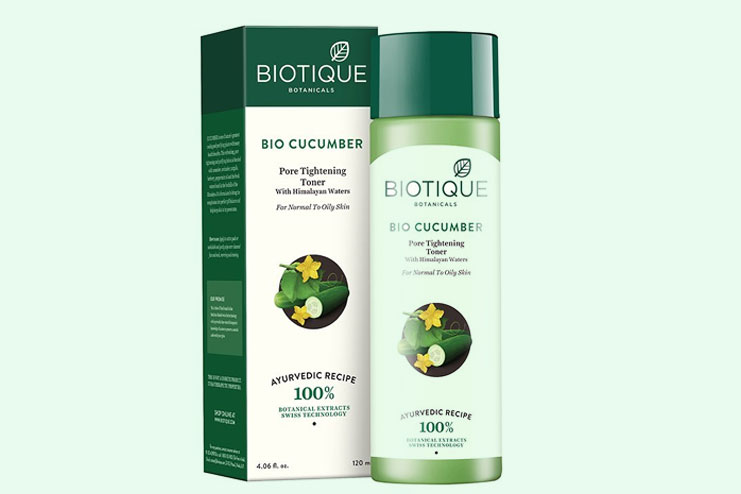 Price – 175 Rs for 120 ml online
With extracts of cucumber, this toner is one of the herbal toners that prevent excess oil secretion and keeps your face from looking oily.
Even though the toner has a little tingling sensation on applying it does not contain alcohol and is very safe on eyes.
It has a soothing sensation when you apply and rejuvenates the skin. It controls oil on your face successfully and over time also stops the secretion.
It comes at a minimal price and can be easily bought online.
2. Lotus Herbals Basil tone Clarifying & Balancing Toner-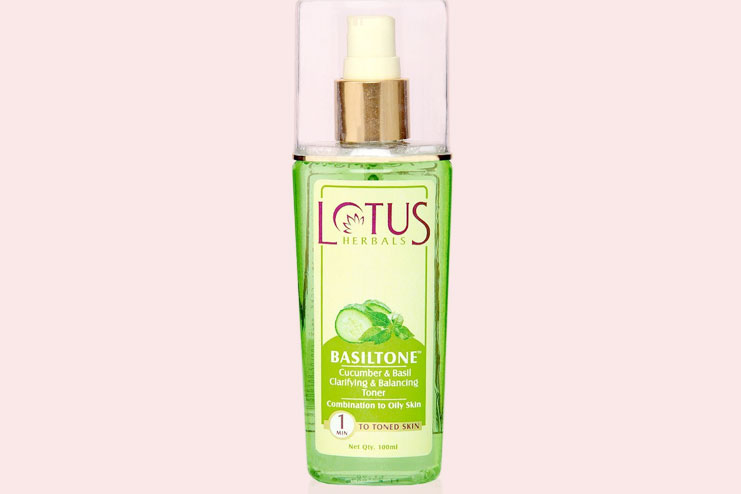 Price- 265 Rs for 100 ml Online.
Another herbal skin toner that gives really great results is this lotus herbals basil tone clarifying Toner. It is a great buy for oily skinned ladies as it amazing at controlling the oil from your skin and also keeps you feeling hydrated.
The Basil extract heals your acne and maintains a balanced pH.
It does not contain alcohol it does not dry your face out a lot.
It comes in a very handy spray bottle and it lasts for more than a month on using two to three times a day.
3. Patanjali Rose water-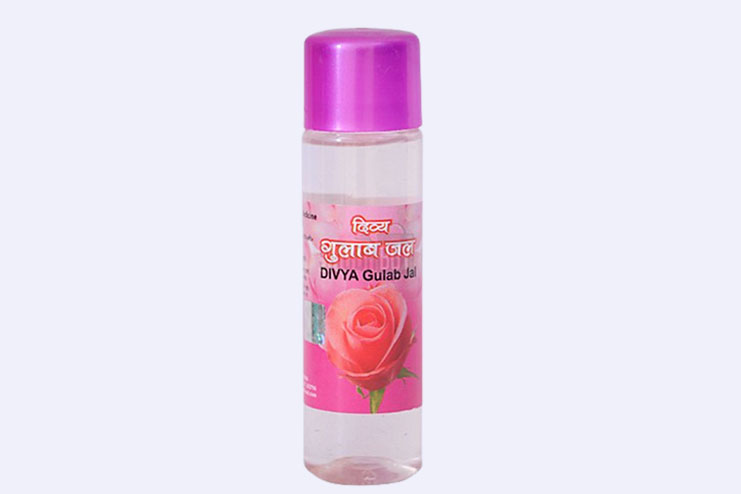 Price- 30 Rs Online.
If you are looking for a toner to freshen up your face on the go and to help you keep your face squeaky clean at work and during travel then this is your answer. At the meager price of 30 Rs, this is a great herbal freshening toner.
It will work best if applied by mixing it up with sandalwood face pack of Multani mitti packs.
It is known to take out deep rooted oil and sebum and keeps your face looking clean and dry.
4. Aroma Magic Aromatic Skin Toner-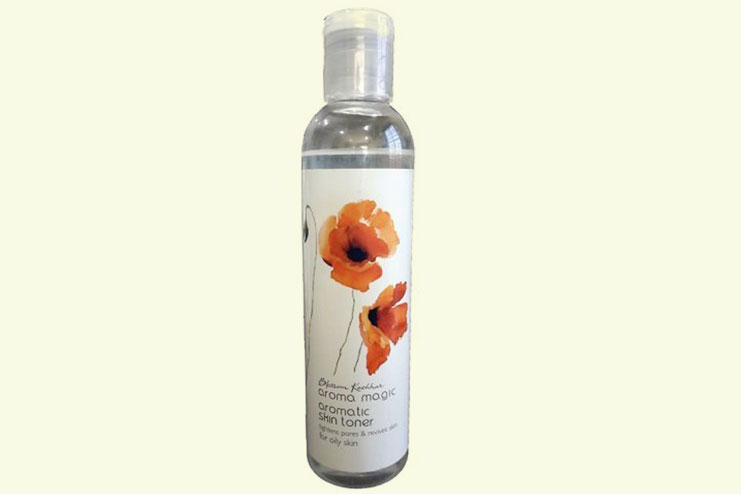 Price- 100 Rs for 100ml Online.
One of the most popular skin toner used by ladies of all skin types, this aroma magic aromatic skin toner has been a favorite for years now.
It has the best results for women who struggle with oily T zone and acne.
It does not contain alcohol and so does not sting the skin or eyes.
It keeps you refreshed throughout your day and removes deep rooted dirt.
Also, Read: Benefits Of Tea Tree Oil For Skin
5. VLCC Punarnava Astringent-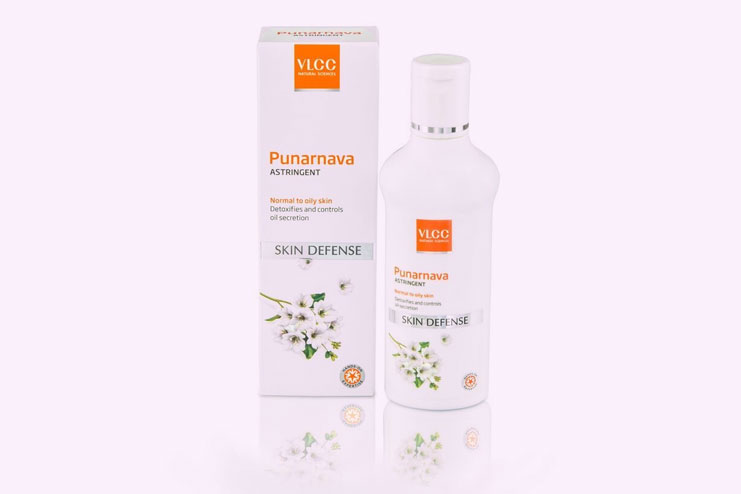 Price- 160 for 100 ml Online.
Vlcc punarnava astringent is great for tightening pores that secrete excess oil.
This toner helps in reduces acne and also minimizes the spots.
Maintains a healthy skin pH and prevents skin infections.
Strong astringent properties soothe and refreshes the skin.
6. Khadi Herbal Skin Toner with Rose Water & Tulsi-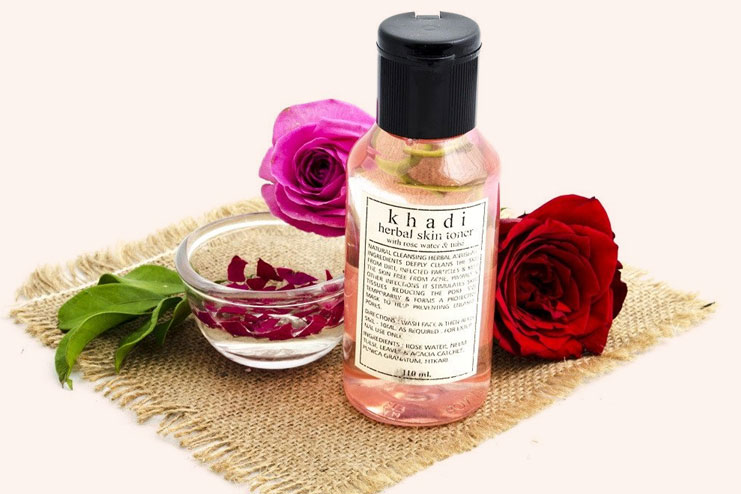 Price- 119 Rs for 110ml Online.
One of the best Ayurvedic and herbal skin toner, this Khadi skin toner is a treat for your skin.
It smells divine and is a small bottle of luxury at a budget that anyone can afford.
It does a great job at rejuvenating the skin and preventing break outs for a long time.
It cleans out pores and reduces oil on skin considerably.
7. Jovees Cucumber Skin Toner-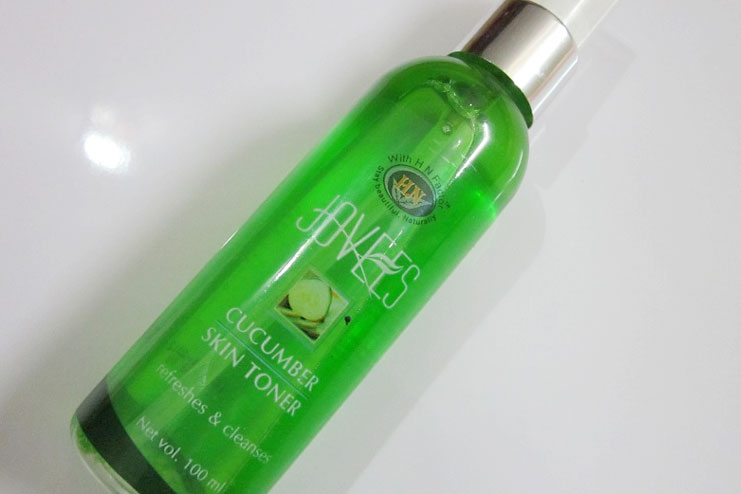 Price- 160 Rs for 100ml Online.
Another herbal and safe toner, this works a great deal to reduce oil secretion and prevent skin infections.
It comes in a handy spray bottle that you can also use on the go.
It is soothing to the skin and smells great too.
8. Nivea Visage Oil regulating Toner-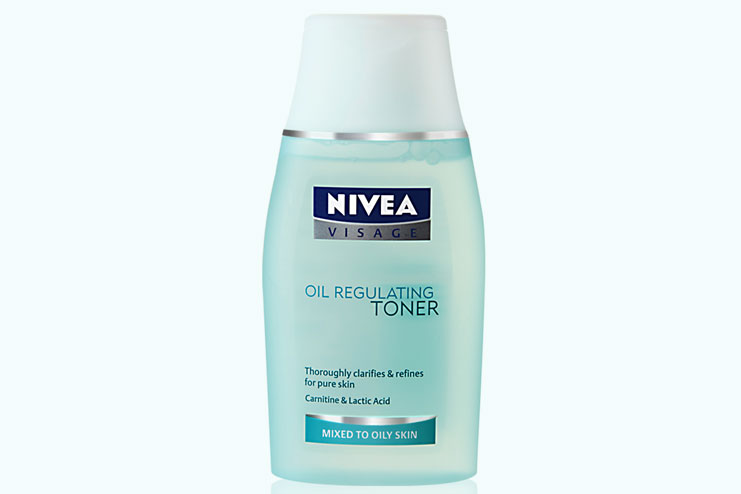 Price- 149 Rs for 125ml Online.
This astringent toner is great for women struggling with excessive oil and acne problem.
It works effectively and reduces oil with great results.
It can be used by men and women both.
It maintains the pH balance of the skin.
9. Kaya Skin Clinic Acne free purifying Toner-
Price- 276 Rs for 100 ml.Enriched with botanical extracts this Kaya clinic Toner does a great job at reducing the oil on your face.
It prevents the secretion of sebum and thus, over time makes your skin less oily.
It also removes dead skin cells and makes you look more radiant and youthful.
It comes is a sturdy spray bottle that is travel-friendly.
10. The Body Shop Tea Tree Skin Clearing Toner-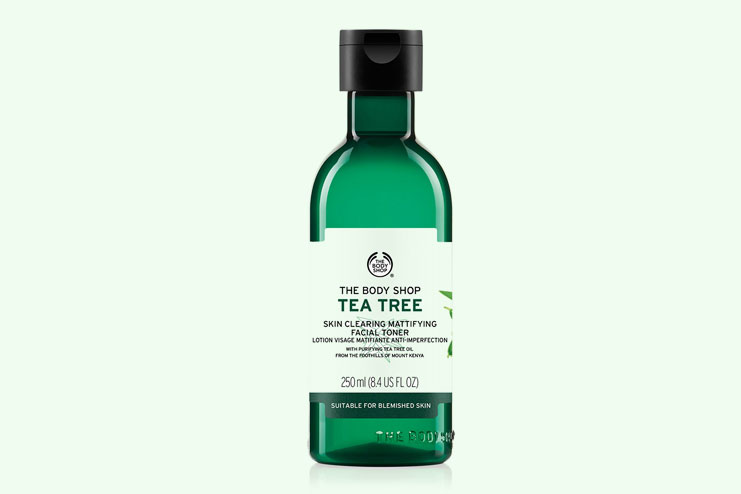 Price- 795 Rs for 250ml Online.
One of the dual benefit skin toners, this toner not only helps in reducing oil and cleaning the skin but also in making it healthy and beautiful.
The tea tree extracts have a mattifying effect on your skin and it leaves your skin, feeling moisturized and light.
It fights acne and removes sebum giving you clean and glowing skin.
11. Fabindia Tea tree skin toner-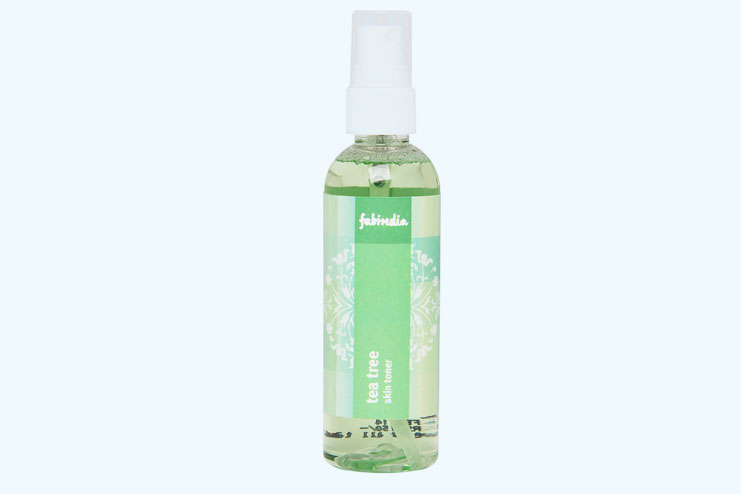 Price- 290 Rs for 100ml Online.
Another tea tree extract toner in this list, this one works great in excess sebum removal.
It controls acne and pimple marks and leaves your skin light and clear.
It gives a cooling effect on applying and leaves you refreshed and rejuvenated.
12. Forest Essentials Facial Toner Pure Rosewater-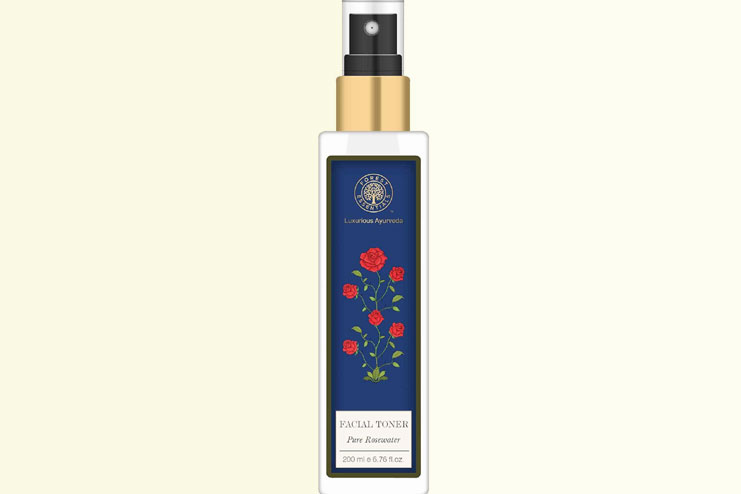 Price- 595 Rs for 100ml
This toner is like luxury with goodness, all packed in an extremely graceful bottle.
This 100 % Natural toner is amazing for your skin and it gives you great results in the least time.
It smells amazing and soothes your face.
Maintains pH of skin and moisturizes your skin naturally.