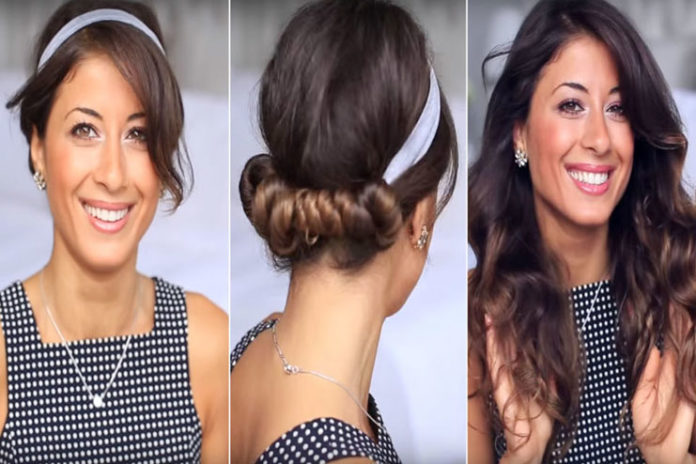 If there we had to choose one trend that has been intact for years and rocked equally in every decade, we would definitely choose the curly hair. There is no dress that won't look nice with those edgy wavy curls. Be it any face type, Hair texture or occasion, curly hair are always the same, fashionable and trendy. And while we all would love to have those beautiful curly mane for any and every dress, it definitely didn't seem a healthy option to put your hair through all the heat damage of hot curling tongs and dryers.
But not anymore. Yes, you can now have your very own style of curly hair anytime at home, that too without the heat. Just use any of these simple hair curling techniques to curl your hair and keep the heat damage far away.
How To Curl Your Hair Without Heat?
If you were thinking how to Curl Hair at home and that too without heat, this simple guide could be of lot of help. Make sure you chose what type of curls you want and follow the simple ways to curl your hair at home easily without heat.
1. Braiding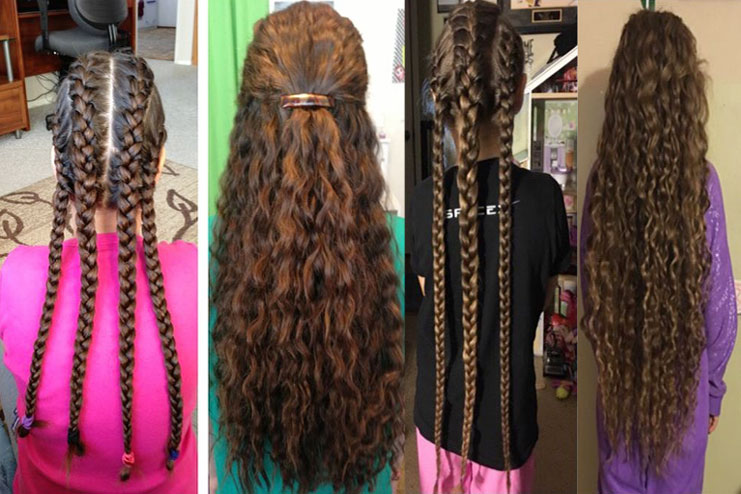 If you are blessed with those long beautiful hair and you wish to know the best way to curl your hair, You can simply choose this effortless way to curl long hair. For short curly hair this can be a good option to make your curls more defined and wavy. Here is how To Curl Your Hair Without Heat,
1. Wash your hair thoroughly and leave it open till it is slightly dry.
2. Part your hair tightly and braid it on a side you are comfortable with.
3. If you want to know ways to curl your hair from the roots, Just make sure you create two finely made French braids on either side of your head.
4. Make sure your braids are tight enough and that your hair doesn't go awry when you open the braids.
5. If you are doing it in the morning, wait until your hair is completely dry, naturally. Otherwise,
tie a Bandana
 to cover the hair and go to sleep till morning.
6. Open your hair the next morning and run your hand through it. Make sure you use a hairspray for steady curls on long hair.
2. Using No Heat Curlers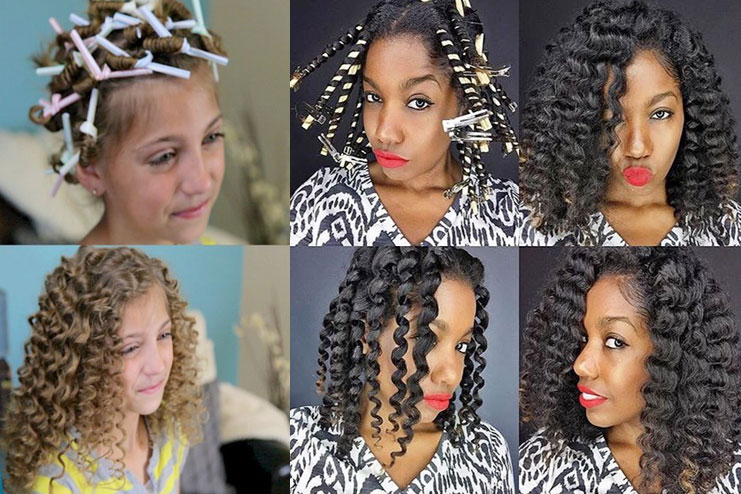 Well, this technique is super easy and you can use multiple things to curl your hair. Using this technique you can curl hair without iron. Here is what you should follow to curl hair at home with zero heat.
In this technique, you will need curlers. These curlers can be anything, use can use chopsticks and rubber band, Straws, toilet paper twists or simple bendy curlers you get in the market. In order to curl hair without straightener or dryer, here is what you should do.
1. Wash your hair and condition it well. You can also optionally dampen it using a spray bottle.
2. Take a curler or a chopstick or even an inch wide paper towel strip twisted together.
3. Take a section of your hair and hole the curler at the tip of this section.
4. Start rolling the curler upwards until the entire section of hair is wound up on the strip of a curler.
5. Now either bend, tie or secure it with a rubber band, depending on the hair curler you are using.
6. Repeat this till all your hair is covered in multiple sections
7. Leave it on till your hair dries of sleep with it at night.
8. Remove the curlers next morning and run your fingers through it. Use a good hairspray for holding the curly hair.
3. Using Fabric Strips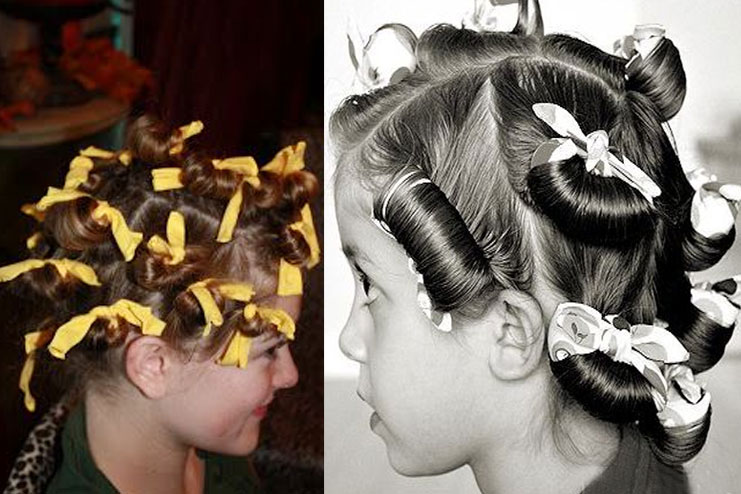 For easy curls that require no heating and drying, This homemade easy DIY no heat curlers will come to your rescue. All you need is an old T-shirt and a pair of scissors. Rip it up into long strips of fabric of 1 or 2 inch wide. Now follow this simple step by step guide to curl hair at home without heat
1. Use a comb and separate your hair into sections.
2. Take a t-shirt strip and place it on a pencil or any stick along the length.
3. Roll the pencil from the tip of the section to your roots or scalp.
4. When you've rolled your hair completely up, slide the pencil out from one side keeping only the fabric strip in between the hair roll.
5. Now tie a tight know with the remaining fabric strip in your hand.
6. Secure that rolled up hair with a Rubberband, hair clip or a bobby pin.
7. Let your hair dry or sleep with these hair rolls on and cover it with a bandana to protect flyaways.
8. Wake up next morning and remove the strips slowly. Run your hand through it and spray hairspray for better hold.
4. Sock Bun Wavy Curls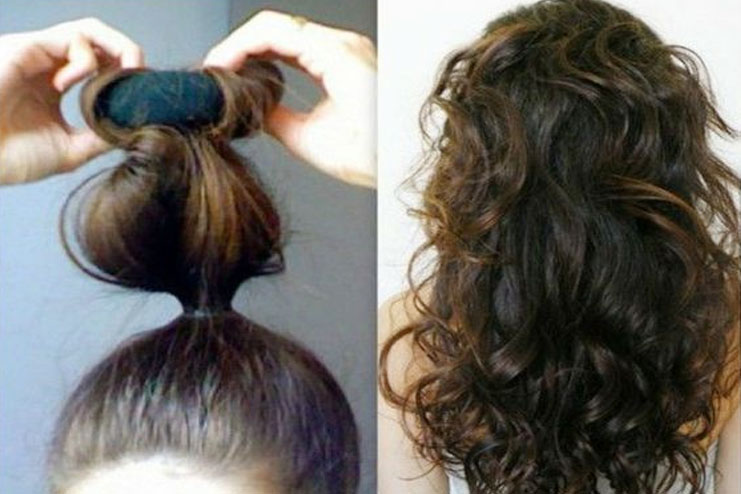 If you are looking forward to curl hair at home without heat you may definitely want to curl hair naturally to keep the damage minimal. Well, this simple homemade sock bun can give you those glamorous waves without going to the salon and literally without the heat. Follow these simple steps to get them.
1. Spray your hair with water and dampen them. You can also wash them and let them dry about 70%.
2. Pull your hair tightly into a ponytail and tie it up with a nice hair tie.
3. Take a sock and cut the toes off. NO start rolling it into a doughnut shape.
4. Pass your ponytail through the hole in the sock doughnut and keep it on your head.
5. Spread your hair to cover the sock and tie it with a hair tie.
6. The remaining hair can be wound up and around the bun.
7. Secure it with U pins or bobby pins.
8. Keep it on till your hair is completely dry or overnight.
9. In the morning remove the sock to see your hair curl naturally.
10. Run your fingers through it but do not use a comb. You can use hairspray for better hold.
5. Hair Band Curls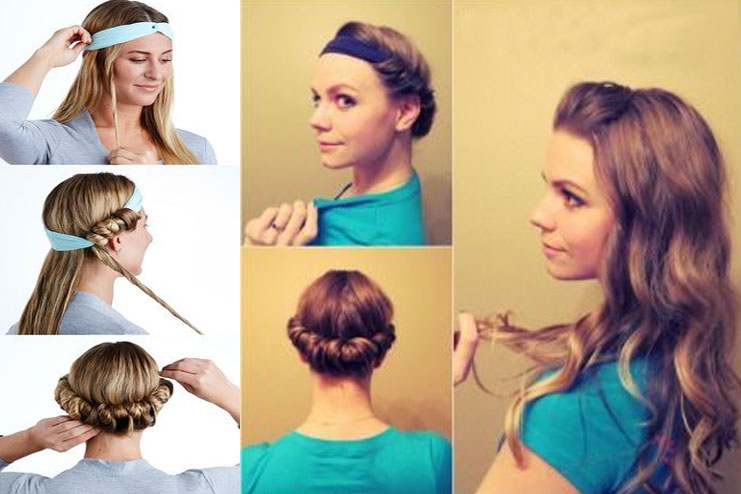 An easy way to curl hair without straightener is by using this hair band technique. If you have less time, this can be one of the
best ways to curl your hair
.One of the most less time taking ways to curl hair, it gives you nice bold beachy waves and doesn't make your hair look artificial. Follow these steps to achieve that look.
1. Dampen your hair or wash them off. Let it dry slightly and tie a comfortable headband around your head.
2. Divide your hair into sections and start wrapping it one by one around the headband.
3. When all the sections are secured in place, Use bobby pins to secure it firmly.
4. Let the hair dry out completely, or you can sleep the night and let it dry.
5. After drying out hair, remove the pins and the headband.
6. Use your hand lightly to comb through your curls.
6. Twisted Bun Curls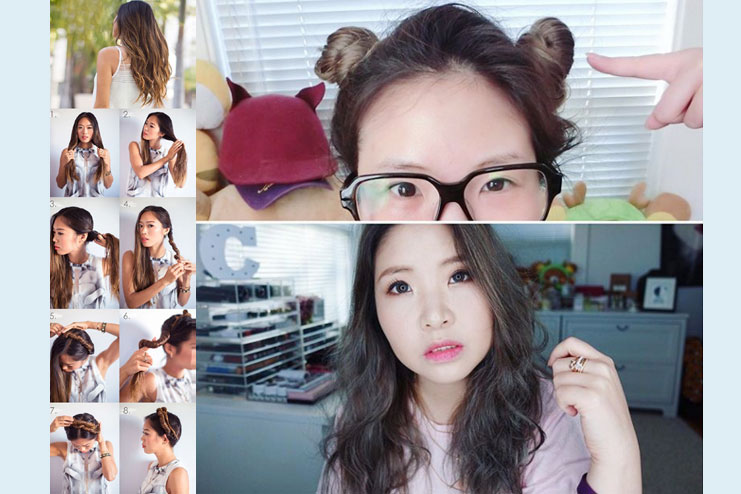 If you want to know how to curl hair at home without heat, this can be a great and simple way to curl hair naturally and at home without using any harsh heating tools and products. Just follow these simple steps and achieve those glamorous waves that will make any outfit look simple beautiful. Here s how to achieve them.
1. Dampen your hair partly. Do not make them wet completely.
2. Make two sections of your hair.
3. Start twisting one section in just one direction completely till it resembles a rope.
4. Roll it over your head into a bun and secure it with a hair tie.
5. Repeat it for another section.
6. Leave it for few hours.
7. After your hair is completely dry, Remove the twisted buns and run your hand through the hair.
8. Use a hair spray for better hold and long staying curls.
What are the benefits of curling hair without heat?
Your voluminous hair stays intact with Natural and healthy.
Will not cause hair fall due to heat damage like otherwise possible in curling your hair with a straightener.
It does not inflict damage on your hair.
The curls look more natural and less plastic.
You can use this method almost every day.
Why You Should Avoid Using Using Curling Irons?
1.
Split ends
– The heat of the curling tong can give you
split ends
, it can aggravate your split ends to more than usual.
2. Hair Loss – Due to excessive heat, hair gets dry and weakened. It is thus, prone to increased hair loss and thinning of your hair volume.
3.
Loss of Shine
–
Excessive heat
 leads to dryness of your locks. It makes your hair dull and lifeless.
4. Brittle and Rough Hair – Over styling your straight hair into curls can also lead to your hair turning dry and brittle. Eventually, it will break and make your hair rough.
If you use a no heat method, It obviously eliminates all these disadvantages and hence it is advisable to use the no heat hair curling methods the next time you feel like sporting those jazzy curls. Just make sure you follow the instructions well and keep some time in hand to let the hair settle in the new form. With the new heat free curling techniques, we are sure you will curl your
gorgeous hair
 to happiness every week!