Are you a queen without a crown? Then, you must add that crown with your hairstyle and become the Beauty Queen. Let your tresses be braided and make you a queen by looks and you will have the attitude with you.
Your hands need to take the twists and turns to make a lovely braid. The crown braid hairstyles are of various and you get with new hairstyle every day. You will love the way your hair gets shuffled to make a braid and then become a crown on your head.
Crown Braid Hairstyles – Attachment with Your Hair Grows
Be it long or short hair, women always feel that there is no suitable hairstyle for her. When it is suitable it will become difficult to make them at the last minute. That will not be the case with crown braid hairstyles which are simple to do and get pretty look.
When you have the attachment with your hair, that forces you to do some hairstyles and it is one of the ways to have fun.
1. Twisted Crown Braid
This hairstyle is good for short hair women as it needs less hair. Some of the women love to leave their hair loose for them it is a variation. The simple braid with loose hair is all pretty and can be worn on casual days. College girls will love such simple hairstyles which can be done in a few minutes and get a stylish look.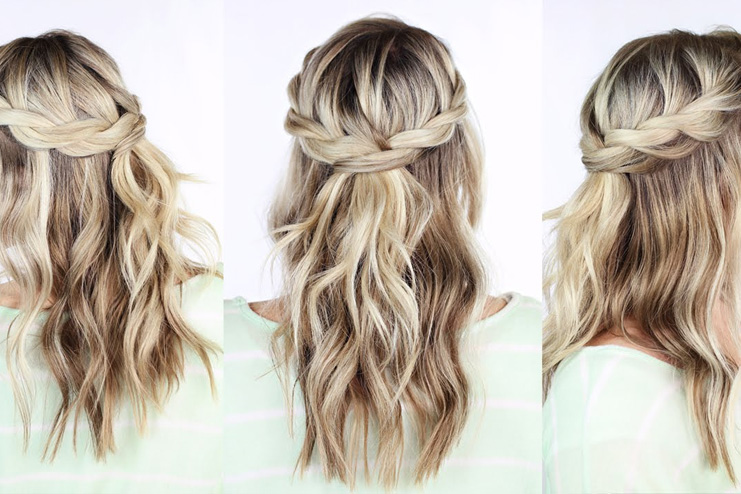 How to make a twisted crown braid:
Styling tips: You can make a few tiny braids with your loose hair and that will be an easy but beautiful difference.
2. French Crown Braid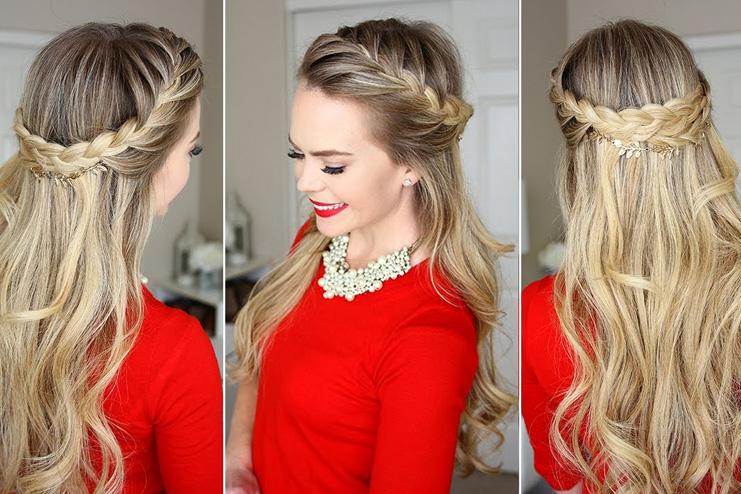 A lovely outfit is always in need of such elegant hairstyle. You can go for a date or an evening party with french crown braid hairstyle. Your tress can flow out of the crown braid.
Watch the video of French crown braid:
Styling tips: You can also attach a hairdo for a variation.
3. Halo Rope Crown Braid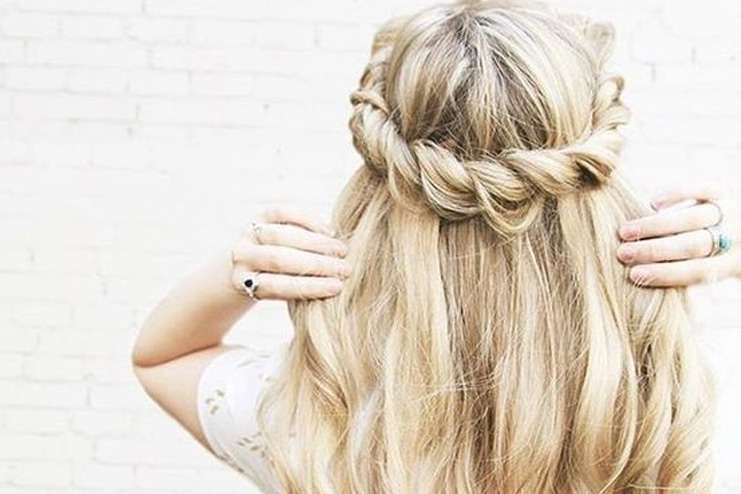 It is simple to make the halo rope crown braid. It is not a perfect braid but a rope like style with your hair is lovely. You can do this hairstyle for casual outfits.
Watch the video of Halo rope crown braid:
Styling tips: You will love this hairstyle with fine curls. If you are not a fan of curls, you can leave your hair loose simply.
4. Half up crown braid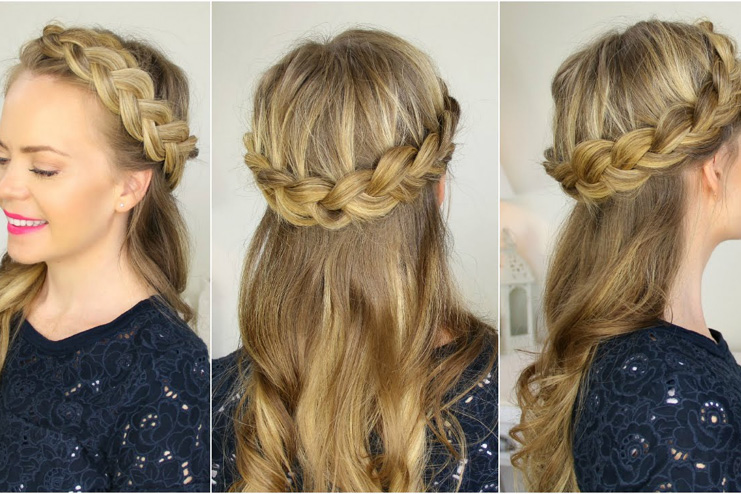 Half up crown braid can be for shoulder length or medium hair. The less of your hair can make this pretty hairstyle for you. The party outfits like lehengas and gowns will need such pretty hairstyle. You will not feel the difficulty of decking up yourself with such simple hairstyles.
How to make half up crown braid:
Styling tips: You can add the colour beads in your crown braid to make it attractive.
5. Crown braid with a side braid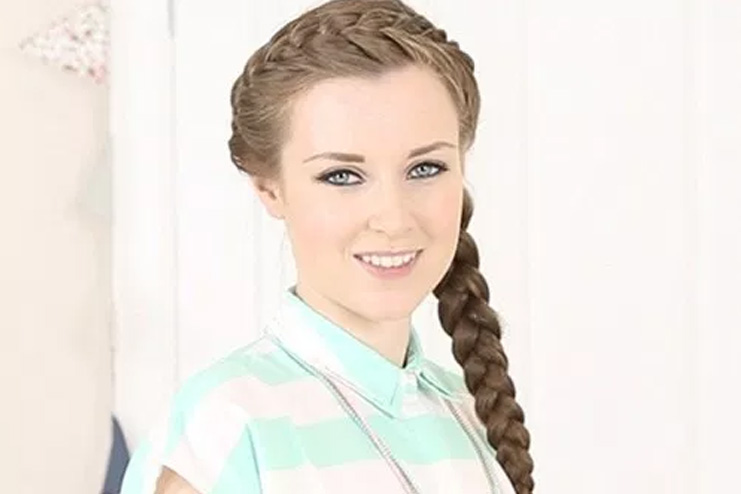 If you have voluminous and long hair, then no wait to try crown braid with a side braid. You may want to feel young and funky sometimes and that is not difficult to get that look. Just wear a side braid with crown braid and go young. You will much look like a college girl.
Styling tips: Your side braid will look prettier with a mix of ribbon. If you love the funky look then you can add a ribbon and do a side braid.
6. Side Crown Braid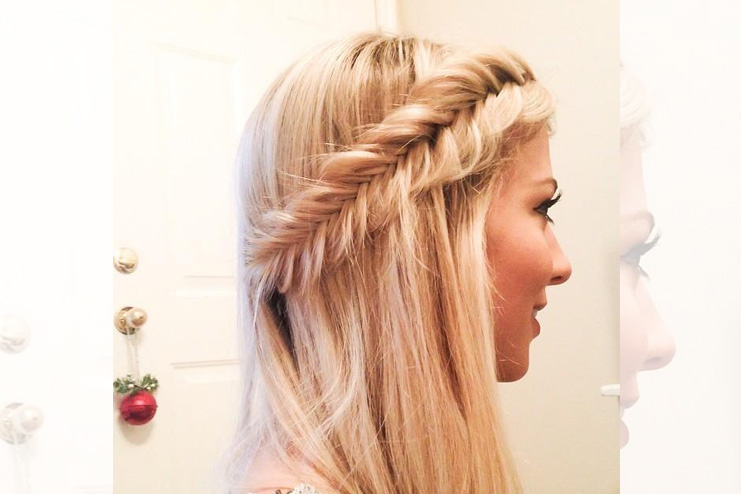 Side crown braid is a stylish hairstyle and you can decorate the braid with beads. Side braids are anyways unusual and the crown braid on the side is unique. You will become a fan of this hairstyle for two reasons, one is for the look it gives you and the other is it's easy to make.
How to make Side Crown Braid:
Styling tips: The side braid can be fishtail or french braid. You can make the tiny braids and set them on the side.
7. Princess crown braid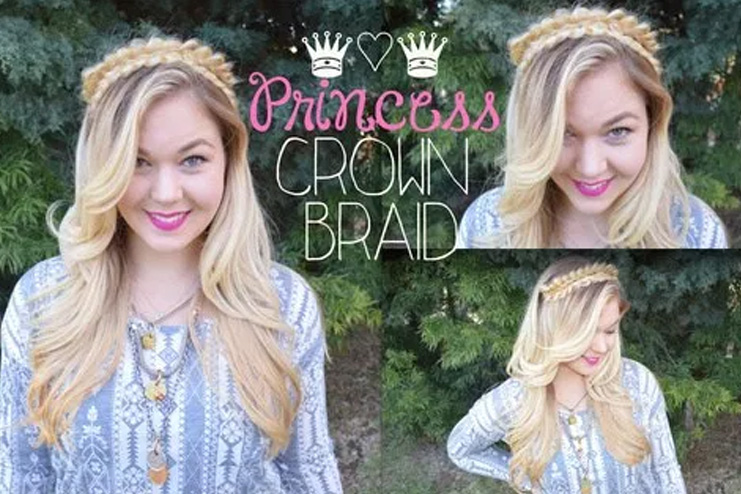 When you wear your favorites outfit for special occasion you look for a unique hairstyle. On such special day and for your favourite outfit, you can opt the princess crown braid hairstyle.
How to make Princess crown braid:
Styling tips: You can make a low bun for this hairstyle or leave the hair loose.
8. Headband Crown Braid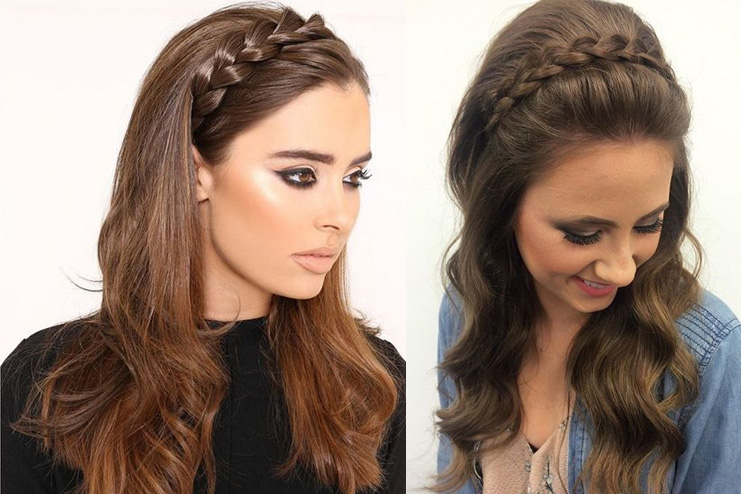 How to make Headband Crown Braid:
A headband can make a girl look cute at any time. Leave the causal headbands and get the more cutest look with your itself. Crown headband braid is suitable for all western dresses. The maxi dresses and long skirt with this hairstyle will be a perfect style.
Styling tips: For a different look, you can set the headband over the puff.
9.Layered crown braids
The multiple braids in the layered style make a beautiful hairstyle. The adorable hairstyle is only possible with gorgeous long hair. You can also create a messy pretty look with your braided hair. Remember that hair looks prettier when it messy than straight and organized. If you love to keep it tight braided then you can keep it as is without loosening it.
Styling tips: Make your loose hair into semi-curls which will be complimentary for layered crown braid hairstyle.
10.Crown braid with Bun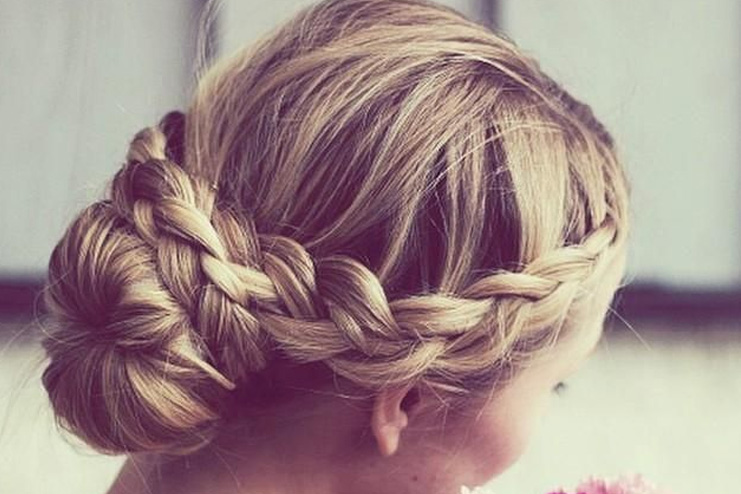 How to make a Crown braid with Bun:
Watch the video of the crown braid with bun:
Many women find bun hairstyle classy and dignified. So, you can add some chic style to that dignified look. The bun tied up along with braid looks elegant on women and this is suitable for the formal events, dinner out.
Styling tips:You can keep the crown low and make the hairstyle a lil messy with side bangs.
11.Fishtail Crown Braid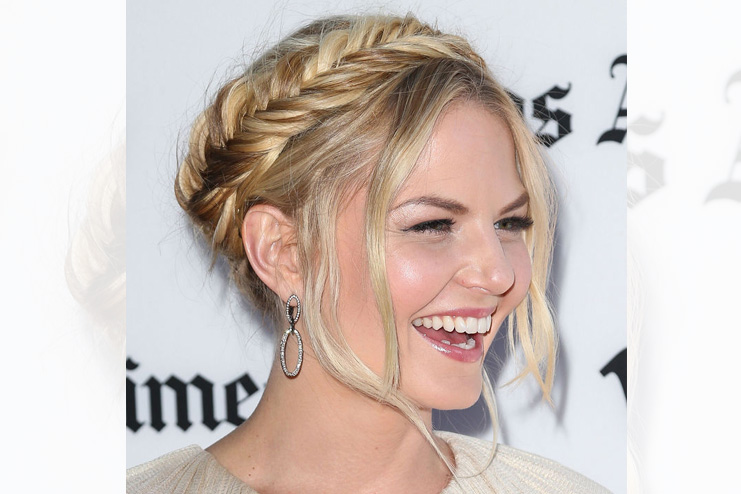 How to make fishtail crown braid:
One of the most elegant hairstyles is fishtail. The fishtail braid can be turned into a crown which becomes your hairstyle for the day. Your lovely outfits like gowns and floor-length dresses along fishtail braid crown become an ultimate hairstyle.
Styling tips: you can make bubble ponytails with your loose hair if you want other variation of this hairstyle.
12. Crown Braid with the ponytail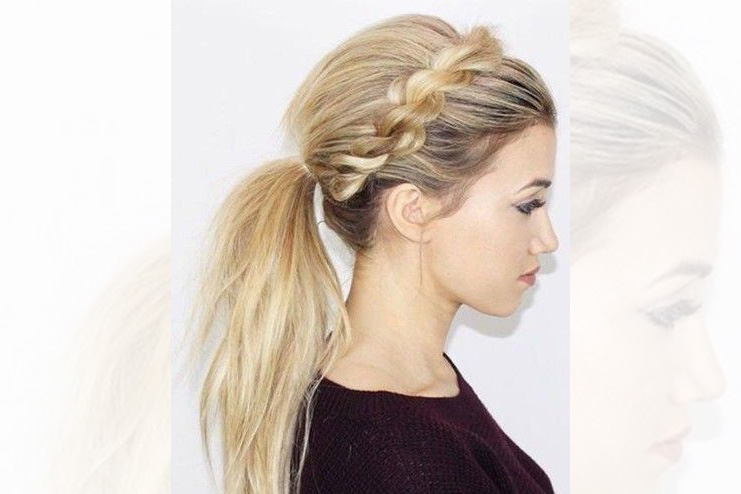 How to make crown braid with ponytail:
Are you bored with the same old ponytail hairstyle? Then, you got to try this crown braid along with the ponytail. Let your old ponytail style be changed with this simple variation. Recreation is not needed but just an addition to hairstyle can make you look completely different.
Styling tips: Do not make a too high or too low ponytail as this hairstyle is good for a medium ponytail.
The beauty remains the same even with different outfit, accessories, and hairstyles. Rest all is to enhance and elevate the existing beauty of yourself. Simply braiding your hair is easy but hairstyles like crown braids are both easy and lovely. Fix on your favourite hairstyle and switch when you are bored. We have given all possible hairstyles of crown braids with variations for you to pick the hairstyles easily.