Indian women are brilliant at balancing tradition and fashion. Now you smile at this cool fact!! We can't end up following traditions but we set trend by giving traditions, many modern twists now and then. Woman have many accessories to enhance their prettiness. One of them is a tiny toe ring. The size of the toe ring is small but the history and reasons behind it are great.
We all know that toe rings are worn in India since Ramayana. This is still followed as a tradition by Indian women and continuing as a trend in current fashion. Toe rings got to have various changes with different creative styles and ideas. Looking at the designs of toe rings, girls are choosing to wear it as a fashion accessory. We have toe rings of ranges from expensive to cheaper ones and it's a choice to prefer one among them.
We have a few questions about toe rings. What is the significance of toe rings? How many rings to wear and on which toe we need to wear the toe ring. Here we would like to give you the answers to all your questions about toe rings and their latest ideas as well.
The Significance of Toe Rings:
Every tradition of India has a significant reason. Wearing a toe ring has scientific facts along with tradition. As per the Ayurveda study, toe ring is worn only on the second toe. Wearing the toe ring on the second toe is beneficial for healthy uterus as it is said that, toe ring press on the nerves connected to the reproductive system. Wearing toe ring on both feet helps for the regular menstrual cycle for women. Silver toe ring absorbs and takes the polar energy. Few unmarried girls wear the toe ring on the third toe to help control the menstrual pain. In modern days, girls are wearing for style purpose with different metals and designs.
1. Toe Rings for Bride: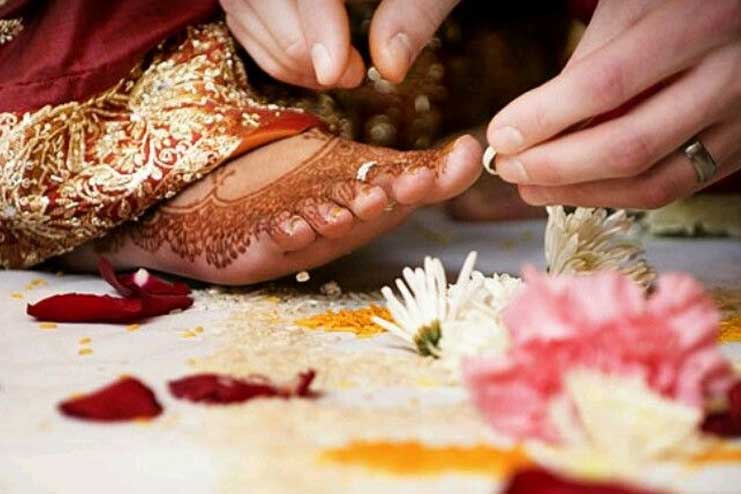 Set of bangles, anklets with bells and toe rings are the symbols of an Indian bride. As toe ring has a great significance, it is preferred to follow certain designs of toe rings for brides. Especially toe rings for brides should be made of silver and no other material or metal. In Hindi, toe rings are called as Bicchuas or Bicchiyya and they are put on all the toes on both the feet except the little finger. In South India, toe rings are called as metti(Tamil) and mettalu(Telugu). South Indian women only wear it on the second toe of both the feet. In any region, toe rings can't be removed once worn on the wedding day. Generally, toe rings will be put by husbands on women's toes on the wedding day.
Toe rings differ in colors, designs, metal and size.
2. Small Size Toe Rings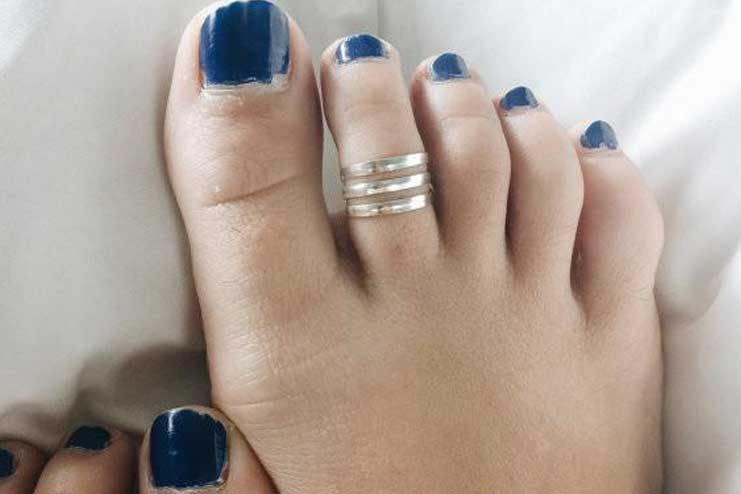 Small size toe rings are mostly worn by modern women and young girls. Even in small sized toe rings, we have cool designs to decorate the feet. A woman can wear these small toe rings for casual wear. These toe rings are not much of stones and metal. Small toe rings can be worn in 2-3 of layers. It is light weighted or simple small string like a ring but still looks pretty wearing these. The below image shows how a small toe ring looks like. This simple rings in the image and the color of nail polish, just made the feet pretty looking.
3. Medium Size Toe Rings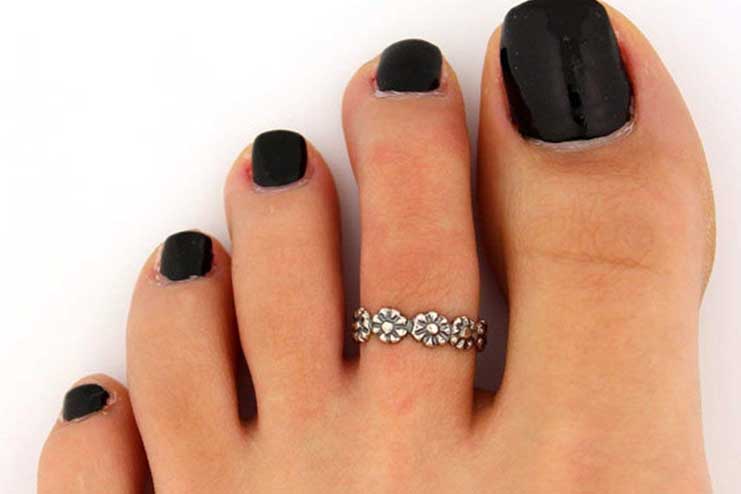 These toe rings are mostly worn by all the women since centuries. The round shaped ring with a stone or pearl. Again, it is based on the culture to wear medium size toe rings. Now a days, these medium type rings are also available in different styles and patterns. The weight would be of medium and not so heavily decorated. It is made with complete silver, it would weigh little heavier and mostly preferred to wear tow rings on a toe for both feet. The below image is showing you a floral lovely toe ring.
4. Big Size Toe Rings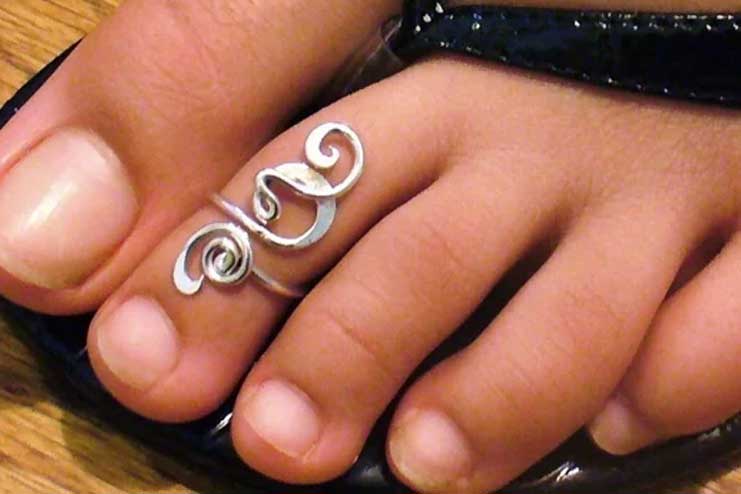 Big size toe rings can be weaved with many stones and pearls. As the toe ring is big, we can give it many variations with curves and turns in it. The shape of the toe ring can be round or any other different shape. The shape differs from custom to custom. Few women of India, only wear round shaped toe rings. In the below image you can have look, how a big size toe ring looks like. That simple but big twisted design is extremely fashionable.
Metal: Toe rings can be of two different metals. Either silver or gold.
Silver toe rings: Silver toe ring is the preferred metal to wear for Indian women. Wearing silver toe rings has certain importance and reasons met with science and it is not only tradition to wear but also a scientifically proved fact of wearing a silver toe ring(As mentioned above).
Gold Toe rings: It is neither tradition nor science, wearing gold toe rings. The reason not to wear gold toe rings, is we Indians consider gold as Goddess Lakshmi. Hence, wearing gold below the waist is against Indian traditions and culture.
Designs for Toe Rings
1. Simple Toe Rings:
Simple toe rings are round shaped and no design ones. They look simple but then give a beautiful look to your feet. The below image shows a sample of simple toe ring.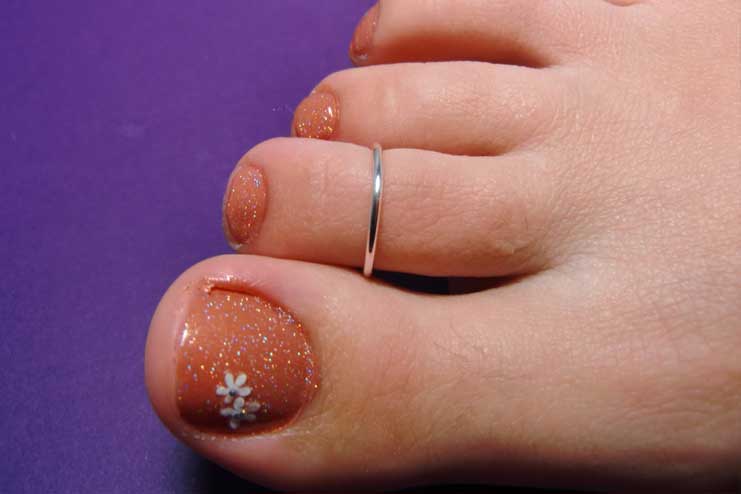 2. Triple Layered Toe Ring:
This triple layered toe ring on the toe looks elegant and fashionable to wear. The layers of rings can be with various designs. One of the design is attached below.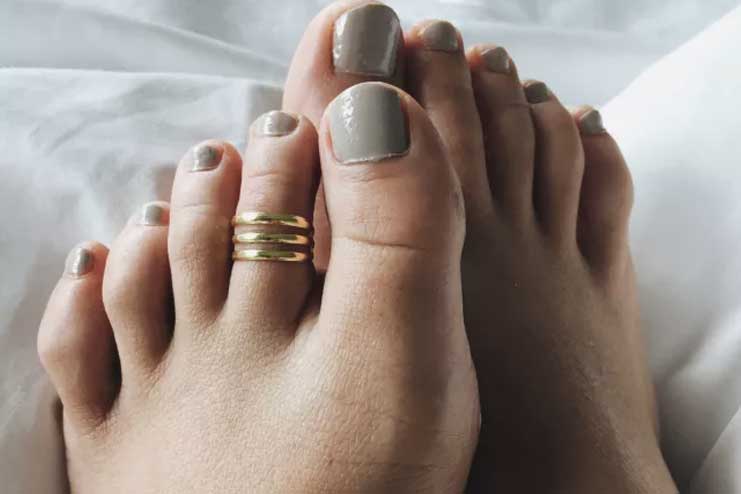 3. Stoned Toe Rings:
Stoned toe ring can be of single stone or many stones aptly designed with the shape and size of the ring. Stoned toe rings designs are, as in the below image.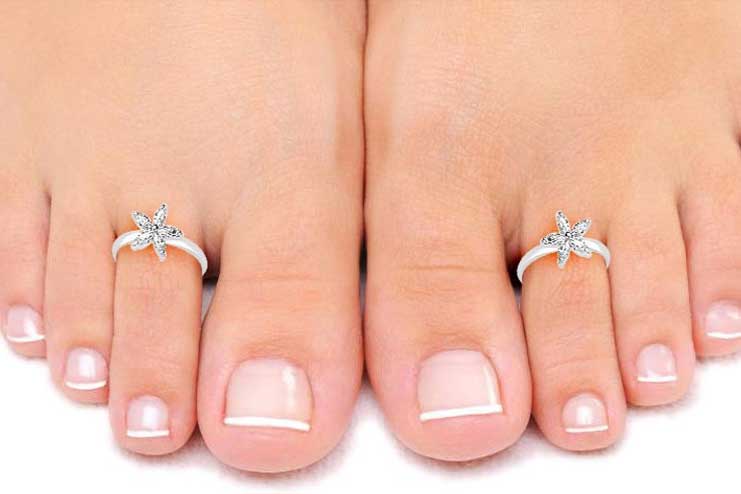 4. Adjustable Toe Rings:
This idea of toe rings to be adjusted, works well. If you want to adjust and fix it in the right position on the toe, then you can prefer adjustable toe ring. Have a look of the below image and get an idea of how nice an adjustable toe ring appears.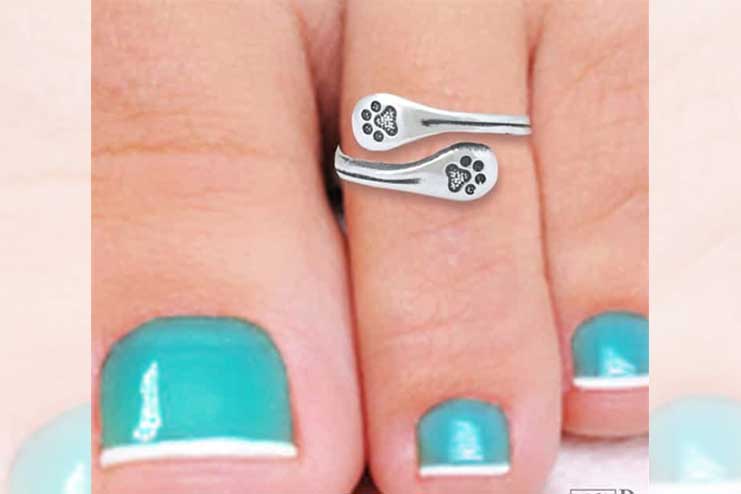 5. Floral Toe Rings:
This kind of toe rings are designed with flower models. As we know anything floral is beautiful and ever trendy. So the floral idea of toe rings is one of the latest ideas. The complete ring flown by flower designs or a single flower on the ring, both are cool to wear.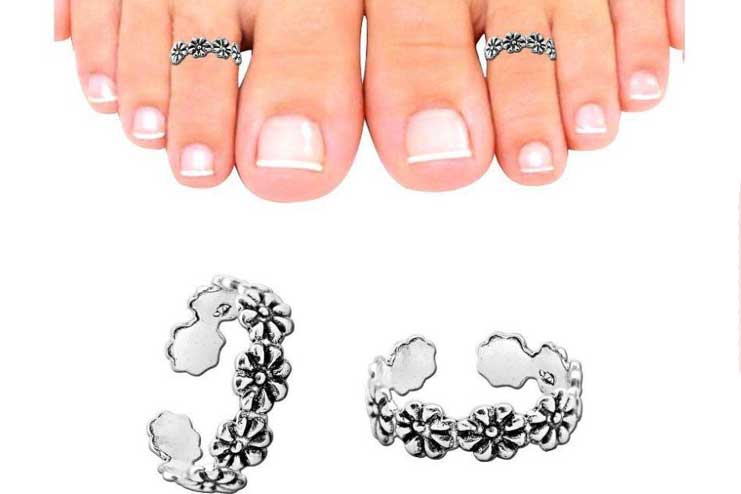 6. Bigger Design Toe Rings:
Bigger design toe rings can cover your full of your toe and your feet is going to be as beautiful as in the below image. In the image, toe ring is twisted with a simple spiral design but it can be studded with stones and pearls as well.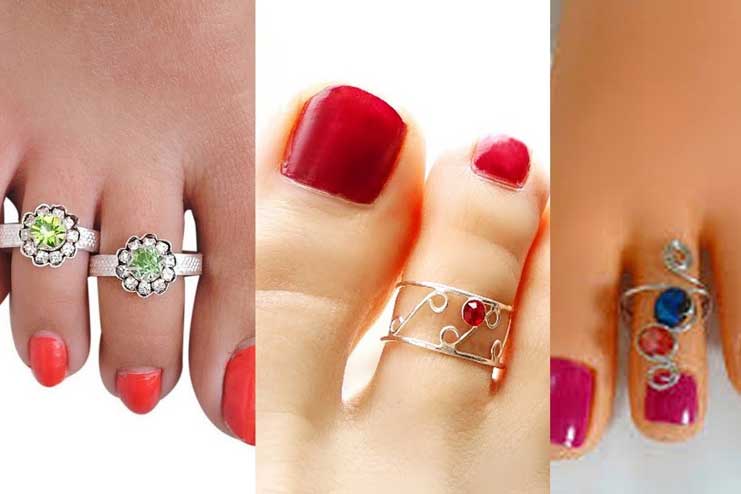 7. Spiral Toe Rings:
The twist and swirl design make the ring look beautiful. The spiral toe rings are trending currently and a simply amazing idea of toe ring. The below image shows the design of spiral toe ring.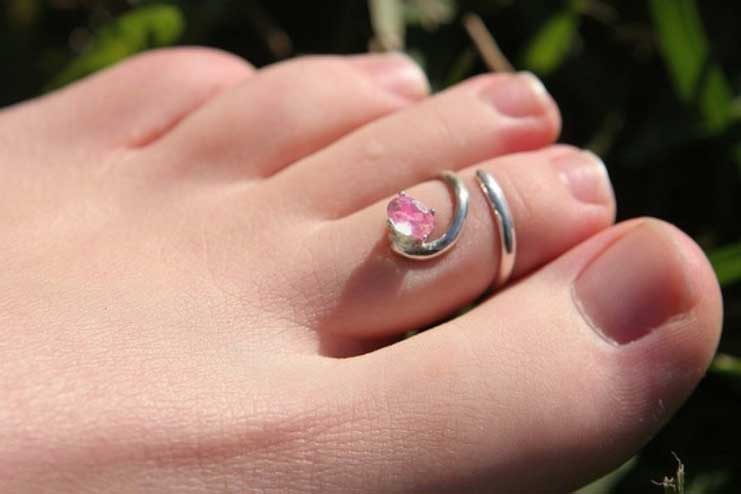 8. Toe Ring With Bells:
The initial designs of toe rings were also with bells but the bigger bells. Now, the young ladies want the bells to be tiny. These tiny bells on the toe rings enhance the toe ring look. You can just have a look in below image, the idea of toe ring with bells.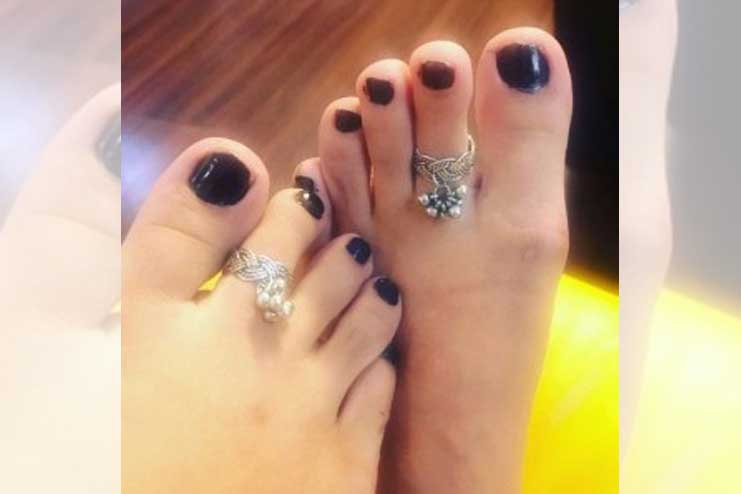 9. Pearl Toe Ring:
Toe rings studded with a single pearl or more than one based on the size. Pear in silver is the beautiful pair up of both, as we know. You can have a look of the pearl toe ring in the below image.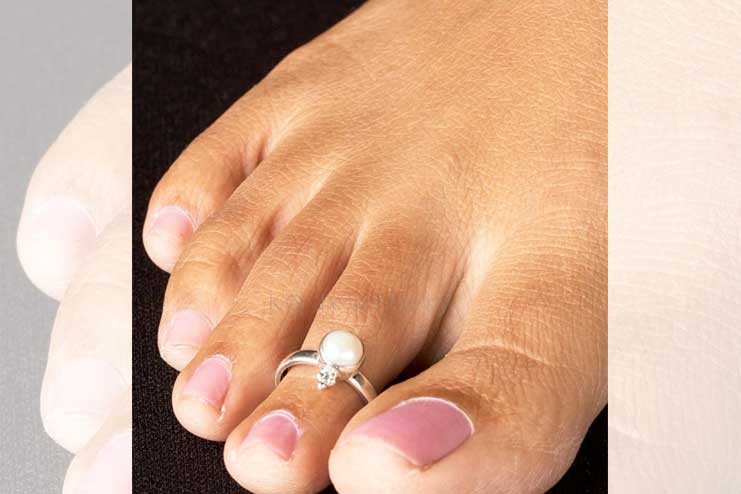 If you are planning to pick up a toe ring soon, you can go for any of the above fashionable toe ring ideas. All the above toe ring ideas are based on Indian traditions for women. Every trending feature is included in these 9 ideas of these ideas of toe rings. Following these ideas, you can cover both the sides Tradition and fashion.
FAQ: How many toe rings should I wear?
As said above, toe rings are generally worn on the second toe of both the feet. In few states, it is worn on four toes exempting the little one and in few states, women wear toe ring only on the second toe of both the feet. The number of rings are worn according to the respective cultures.