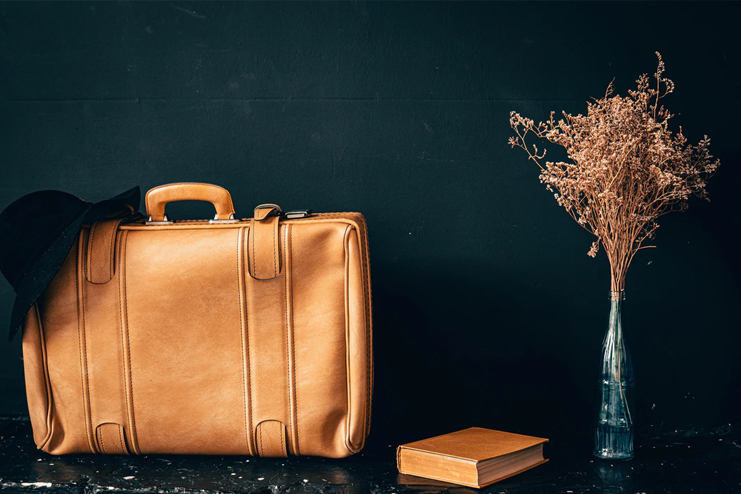 For a single handbag, we tour the entire store but it's tiring after some time. Then when we find that one iconic handbag, we get obsessed with it. Though you are a handbag lover, you commit mistakes while storing it. Not all handbags are wear and tear type. Leather handbags need to be taken care of to maintain it as classy as you bought it.
You feel worried seeing stains and scratches on your expensive leather bags. After all, you invested your money and time to find your favourite handbag, so it would upset you.
Did you notice your leather handbags getting damaged too early? It is always not about the brand or quality. The way you store is important too. Before getting your new leather handbag, first know the tips to store it well.
Why must you be mindful when storing your leather handbags?
It is not just because the bags are expensive but to maintain the quality and longevity of the product. Leather bags tend to oxidize if you don't store it properly. The constant sunlight exposure and the oils from your skin can change or fade the actual colour of the bag.
Storing it in the right place and right way can prevent oxidation. When you purchase a stylish and expensive leather handbag then storing it matters.
How to store leather handbags at home?
If you see, the handbags stay the same even after years hanging in stores. It is because the handbags are well stored in the outlets. You may use it for wear and tear but the care you take after using them makes the last longer. Now for you to store your leather handbag rightly, we listed a few tips
1. Clean the bag with a damp cloth

Leather catches stains and dirt easily which needs to be cleaned immediately or regularly. In order to clean the leather handbag, we don't advise the chemical detergents and liquids.
You need to damp a clean cloth and then wipe it on the dirt, stains or dust. Damp cloth can easily remove the mild stains. If the stains are stubborn, then dilute a gentle cleanser in the water then wipe with damp cloth. Be conscious about choosing the cleanser you are choosing.
2. Retaining the shape

If your leather handbag is going through the wear and tear, then it naturally deshapes over the time. It is hard to maintain the same shape of the bag that you are regularly using. So, how do you retain the shape of a leather handbag?
You see papers stuffed in the new handbag that you picked from the store. Right?
It is to maintain the shape of the handbag. So, gather a bundle of butter papers or smooth cushion to pack inside the bag. Don't over stuff it but just fill the bag with something that holds the shape right. Leave the bag for 2 days to retain its shape.
Another note here is- not to use newspapers to stuff inside the handbag. The crumbled newspapers can shrink the bag.
3. Protect from staining

You need to know something else about covering the bag for storing- never store the leather handbags in plastic bags. Also don't store in between your cloth or other handbags. Leather handbags easily colour rub which will stain your bag with a different colour.
Choosing a cloth pouch or a soft towel is fine to store your leather handbag when you don't use it.
4. Keep away from humid or moisture

When you have a beautiful leather handbag then also know the weather condition you are living in. Hot temperature can affect your bag with oxidation. It changes colour or quality may fall down due to hot temperature.
Always store your bag in a less moist place. For your bag to be prevented from moist, we give you a tip to use silica gel. Or you can also place your bag in a cloth pouch.
5. Avoid sun exposure

If you want to sun dry your bag then choose a less humid day. Exposing the bag to heat is cause for discolour of the leather handbags. The much better solution to dry your handbag is under the fan or cooler. It is a safe drying option if you want to dry the leather handbag after cleaning it.
6. Be careful with the straps

Metal straps are the fashionable elements for a leather handbag. The designer and high end brand handbags come with metal straps. Having metal straps for leather bags also has a drawback. There is a chance of scratches and damage to the leather fabric with metal straps.
So, you must be careful while storing the handbag. Keep the metal straps inside the bag when you are storing it. Otherwise, you can cover the straps with foam sheets. This can prevent your leather handbag from scratches with metal.
7. Just hang it up, don't fold it

When you are storing a leather handbag, choose a place where you can hang it. Folding it can damage the shape of the bag. It also creates the fold marks and wrinkles. And retaining the bag shape is tough after folding it for once.
I would ask you to just hang up your leather handbag in your closet. This will also allow your bag to breathe after using it.
8. Use handbag conditioner

You have leather bag conditioners which are specially formulated for leather cloth. The conditioner prevents your leather handbags from wrinkling or discolouring. As the leather bags tend to dry out sooner, you need to condition it.
Pour a few drops of conditioner on a clean cloth and wipe your bag with the cloth. Leave it to dry naturally.
It is not advisable to use any other conditioner. Different conditioners are formulated for different fabrics. So, be specific about choosing a conditioner that is specialized for leather fabric.
9. Also clean inside the bag

All your focus stays on cleaning the leather. That's good but don't miss cleaning the inside of the bag.
10. Place the handbag on a clean surface

It is fine to place the things vaguely on the floor. But only after checking if the place is clean. It is very important to place the handbag in the "no dust and no stain" area. After a long day, we all drop the heavy things on the floor and relax. Handbag is the first thing that you would put down once you reach home. So, think before you place your handbag down. Prevention is better than cure- this applies to handbags as well.
Having a leather handbag is to consider tips of storing it well. Knowing the tips to store the handbag can save it from damaging and maintaining the beauty. Now all you need to do is take right care of your leather handbag by implementing all these simple tips.