Indian calendar has a bunch of festivals of all religions. Among all the festivals, Navaratri is one of the biggest festivals. Navatri is a festival of 9 nights. Indian women all over will be engaged in many activities like Durga Puja, dandiya, garba and the most favourite is their looks. Women take their time to appear extremely traditional with their outfits and hairstyles and makeup.
Women are the most excited to celebrate navaratri along with traditions and cultures. Navratri, is meant for Durga Puja and complete devotional time. Navaratri is a festival of 9 days and celebrated with full of enthusiasm. (Every corner of the country will be filled with enthusiasm).
A month before itself Durga Puja arrangements will be started. People all around India start to discuss attires, jewellery to wear for Durga Puja. The noise of the festival with music, bells and lights all around the country enhances the beauty of the festival. Keep your energy high to set the look for Durga Puja with amazing attire, hairstyles and makeup!
Durga Puja Attire for Women
Attire is the first one to decide for the day. Until attire is decided, you can't move further with rest of the look like hairstyle, accessories and makeup even. Prefer to select an outfit which is lightly embellished but look elegant for Durga Puja. We should represent the Indian traditions at the time of festival and Durga Puja is one the best time to wear a perfect Indian traditional attire.
1. Saree:
Saree is the best version of the traditional outfit. No outfit can beat over a traditional saree. Young women can just wear a festive color suitable saree. Any saree of any style is best to wear for Durga pooja. You can just go with the grace wearing a saree this Durga pooja.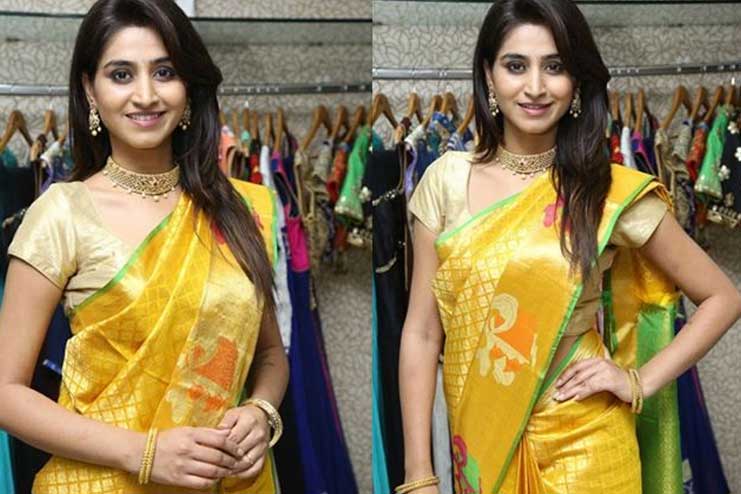 2. Assamese Mekhla Chadar:
This attire is the most traditional wear for Durga Pooja. The attire of the saree is divided into two. This saree is mode out (made out of) pure Muga silk in marron and cream color. Red and cream is the festive combination for women. So, this saree with proper traditional hairstyle will make you appear graceful and traditional for Durga Pooja.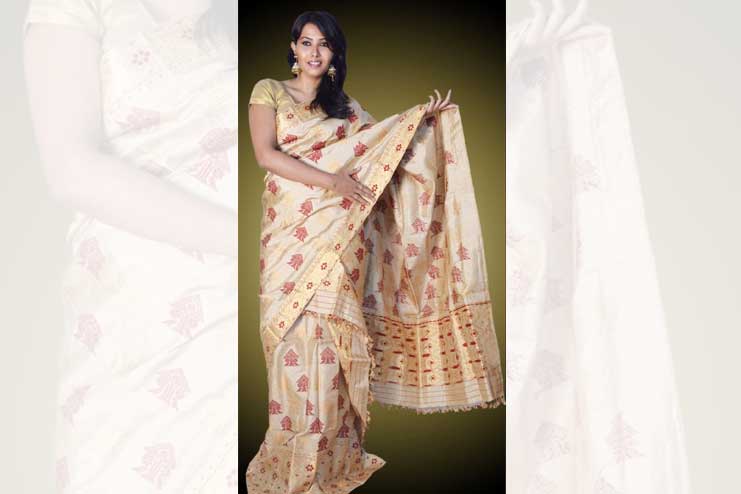 3. Anarkali Suit:
Anarkali suit comes in every festival just to help women look traditional and beautiful. Never an Anarkali will let down our Indian traditions. The traditional motifs and prints make the Anarkali outfit the most traditional outfit and you just can't get over these outfits for any festival. For this Durga Puja, you can go for an Anarkali and appear to be charming.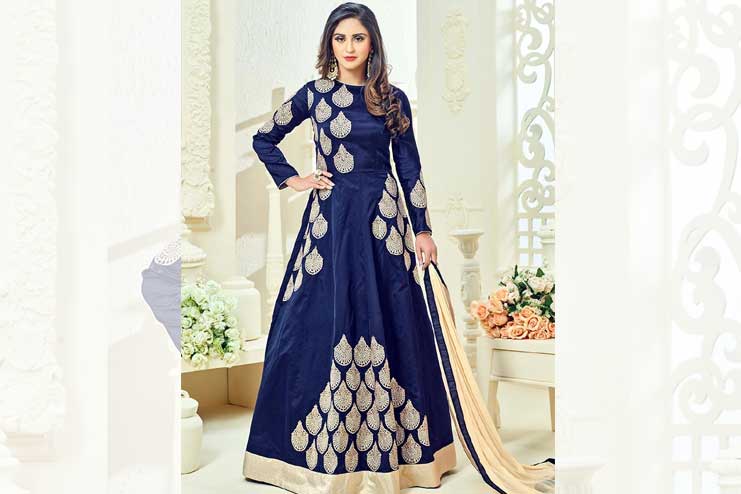 4. Ethnic Tops and Skirts:
Select a perfect ethnic top and a skirt matching with the top. Every bit of you should reflect the festive tradition. So, it is better to wear a full sleeve top or half sleeves top than sleeveless one. Wearing this outfit you look traditional yet fashionable. In the below image, Krystle Dsouza wore a top and lehenga. The outfit is simple but the combinations of the outfit(Cream and maroon) gives the perfect festive look.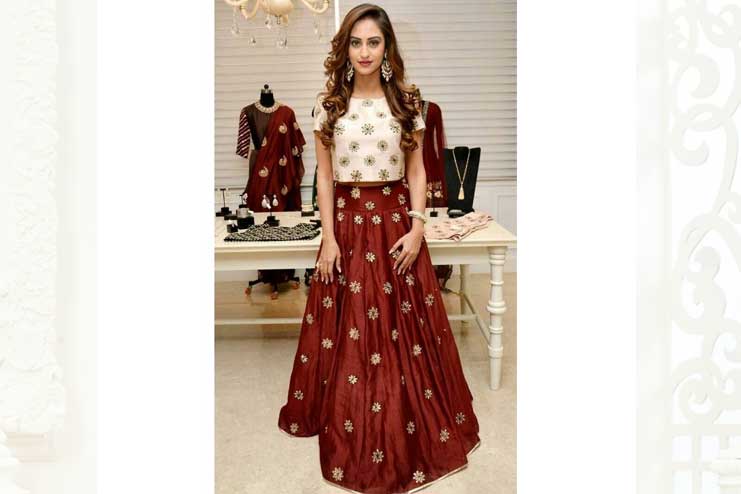 5. Lehenga:
Wear an ethnic lehenga and drape it properly with a dhuppata or put on the dhupatta casually. You can wear the dhupatta as per your convenience. In the following image Krystle Dsouza set her dhupatta in front with the help of a beautiful waist belt and with a set of bangles, she is just slaying with her outfit and overall makeover.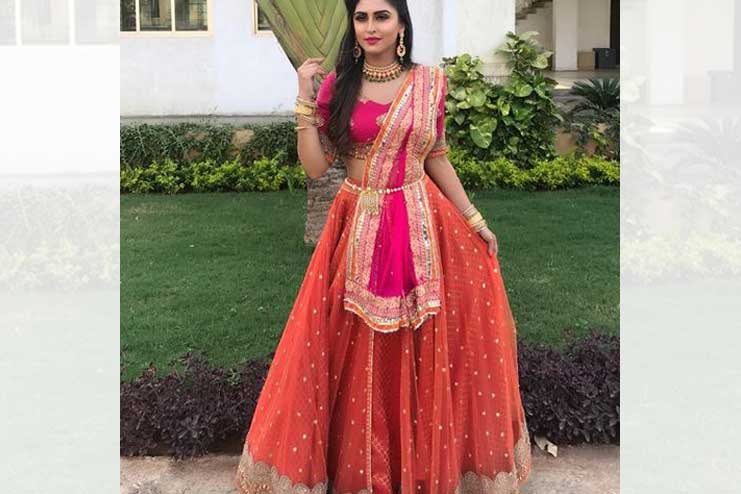 6. Half Saree:
In South Indian states, young girls generally wear half saree. It is a simple drape of dupatta on lehenga. Nowadays, half saree are available readymade. It is the most worn and preferred kind of attire by South Indian girls, for festivals. It is made with beauty enhancing embellishments. Half saree is a complete attire of tradition since ages. For this Durga Puja, girls can move with grace wearing a pretty half saree along with suggested hairstyles and makeup. In the below image it is well shown the look of half saree.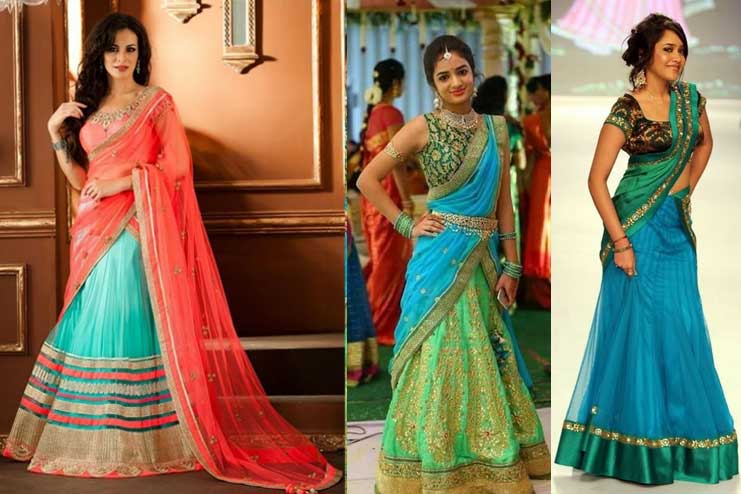 7.Chaniya and Choli(Garba Outfit):
Garba outfit designs are made out of Indian traditional inspiration. Garba attire is of multi colors with heavy embellishments. It is made with embroidery and mirrors. Long skirts that are worn with complete ethnic choli. Then, there is a duppatta as a complementary to chaniya and choli. The best way to get Garba attire is to select the outfit with mirror work to flaunt all the way. Chaniya Choil can also be worn without Garba style. A normal chaniya choli is also a form of Indian traditional attire for festivals.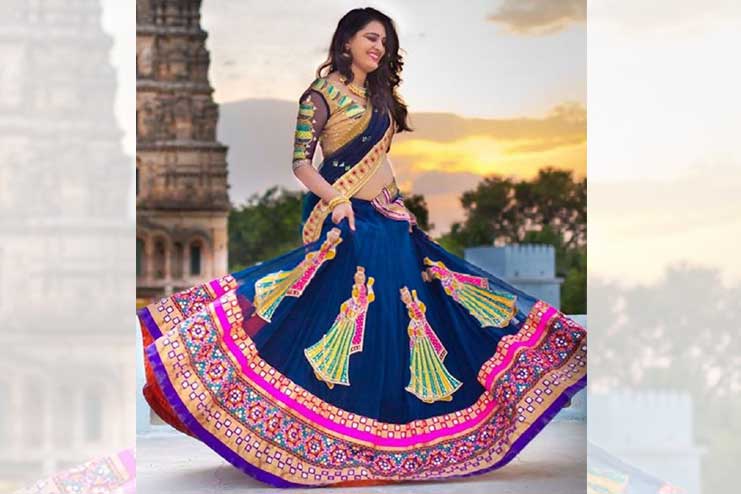 Durga Pooja Hairstyle for Women
You may doll up with a pretty outfit but hair should also work well with your outfit and makeup. Hairstyle has the power of making or breaking your look for the day. Nothing to blame women, if there take hours to make a hairstyle. Because, once everything is done with the look for the day hairstyle mess it off going out of control. Here are few hairstyles which are easy and will be suitable for your outfits for Durga pooja.
1. Flowers Around Bun: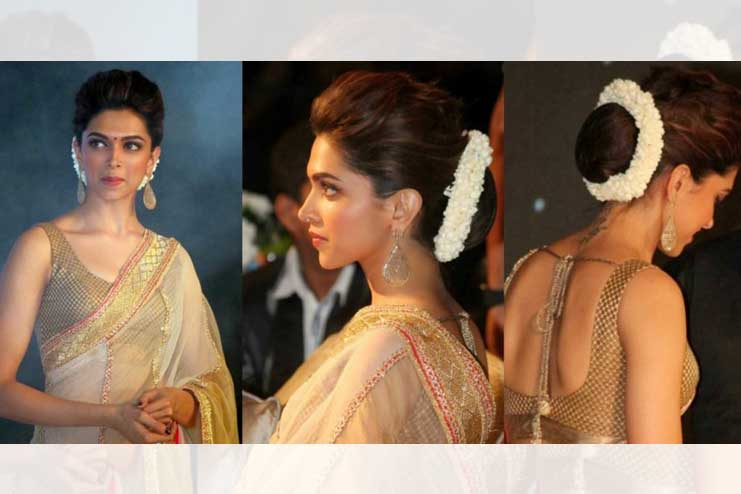 This hairstyle is extremely easy and fits for a traditional saree with long earrings. The flowers around the bun gives the ultimate traditional look, as Indian traditional look is incomplete without flowers. All of these combinations will be a fantastic look for Durga Pooja.
Steps:
1. You need well washed and straightened hair to make a perfect bun.
2. Spray your hair properly.
3. Make a donut like bun using all hairpins to tighten the bun and sit properly.
4. Wind up the hairstyle wrapping with flowers around the bun.
5. Attach the flowers by attaching required hairpins. So that the hairstyle looks perfect.
2. Half Circle Bun Hairstyle: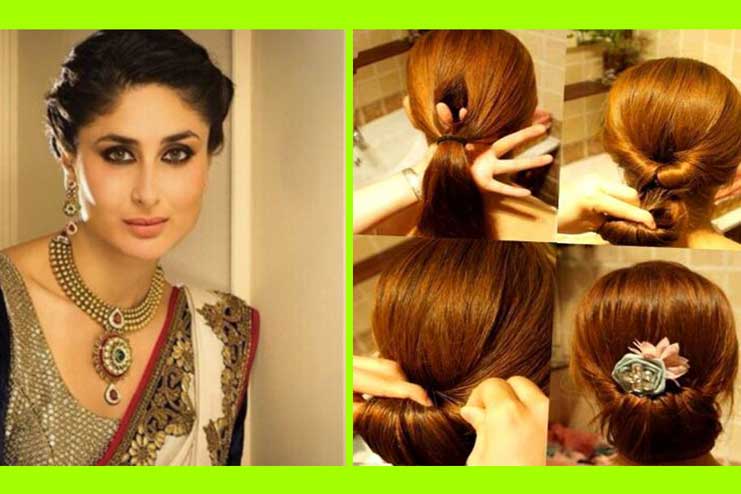 It is very much suitable hairstyle for traditional attire. The hairstyle is just simple kind of thing to do and looks elegant with a small hairdo. Just look at the procedure for your better idea to make this bun.
Steps:
1. Wear a casual pony(Not high pony)
2. Divide the pony into tow without opening the hair band.
3. A gap forms with the help of your finger.
4. Pull in the rest of the pony hair into the gap of the pony.
5. Take up the pulled pony to the middle of down head part.
6. You will a half bun following these steps.
7. Now pin the got bun without slipping from your hands.
8. Make it a secure and tight bun just not to drop down.
3. Fishtail Braid Hairstyle: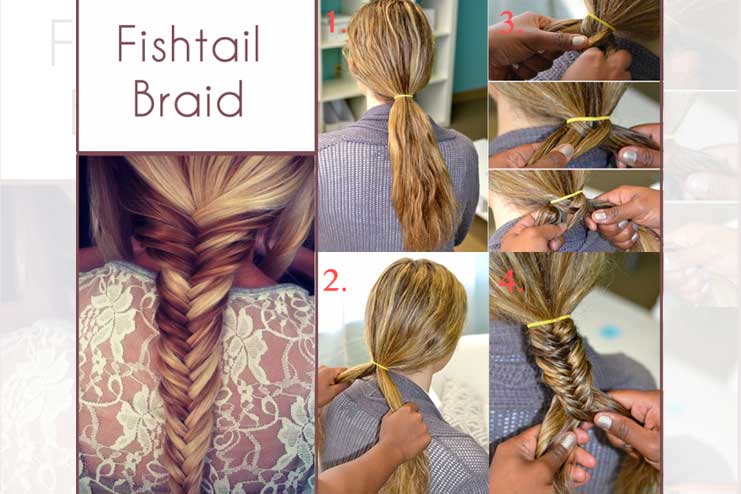 Nothing can be pretty when it is messy. But this hairstyle looks pretty if it is messy enough. Pair up your lehenga with the fishtail braid. You can also tie it up with zar thread at the end of the braid. This adds extra traditional look for your complete makeover for Durga Pooja.
Steps:
1. Wear a casual pony(Not high pony)
2. Pull the hair into low side pony with an elastic hair band.
3. Split the pony into two sections keeping the hair band.
4. Take a small piece from outside of any of the splited sections.
5. Put it cross into the inside of other section.
6. Repeat it on the other side.
7. Follow the same till down the way.
4. French Braid Hairstyle: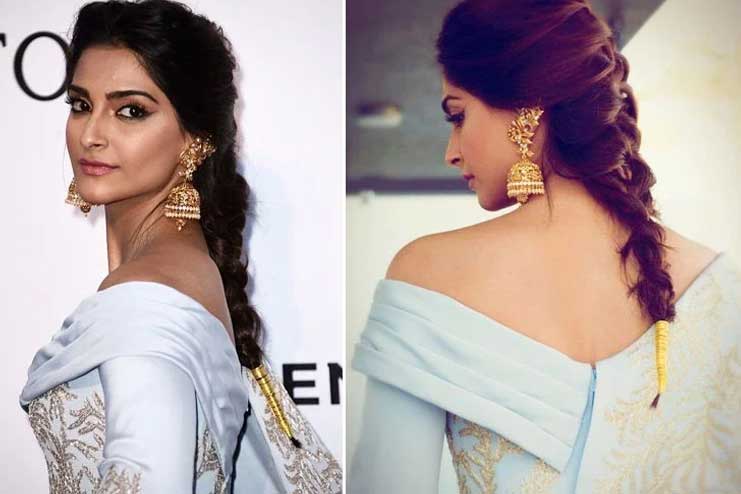 This is a basic french braid hairstyle which can suit your traditional outfits well. Without adding any hair accessories your hair look pretty with this hairstyle alone.
Steps:
1. Set your hair without any knots and bumps.
2. From the hair partition, gather a section.
3. Split the section into three equal strands.
4. Over the middle strand cross the right strand.
5. Over the new middle (earlier the right strand) cross the left strand.
6. Now before repeating the process add a small strand of hair to the right section.
7. Do the same with left section too. Continue till you reach the bottom.
8. Setup the braid with a set of hairpins.
9. Use a hairspray to keep your hair in control till the end of the day.
10. Make the strand messy and loosen to get the french braid look to your hair.
Durga Puja Makeup for Women
Makeup is the final touch but it is the heart of your look. All the accessories and minor elements can be part of makeup. We shall go through a few looks of makeup for Durga pooja.
1. Bengali Makeup Look: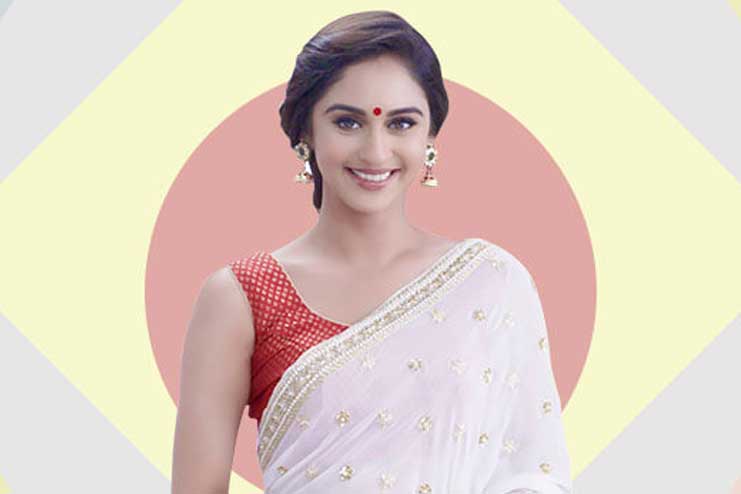 1. Firstly you should make your eyes look smoky and dark with proper eyeshades. Extend the flicks and wear 2-3 coats of eye shades to get a Bengali look.
2. A largely rounded bindi is a must for married women.
3. The Bengali jewellery for like nath, earrings make the stunning Bengali look.
2. Gujarati Makeup Look(Garba):

1.Triple dot on sides of the two eyes and chin.
2. Wear a maang tikka on the forehead, to get a Gujarati Durga pooja look.
3.Long heavy earrings.
4. For Garba dance, you can go with temporary neck tattoos.
Wear an ultimate charismatic look for this Durga Puja. Bright up the way with your smiles and festive essence. All the above ideas for attire, hairstyle and makeup are totally traditional and to bring you a unique appearance from routine. You can just flaunt in your own way even opting these ideas. May Goddess Durga, bless you with all success and happiness. Happy Durga Pooja!