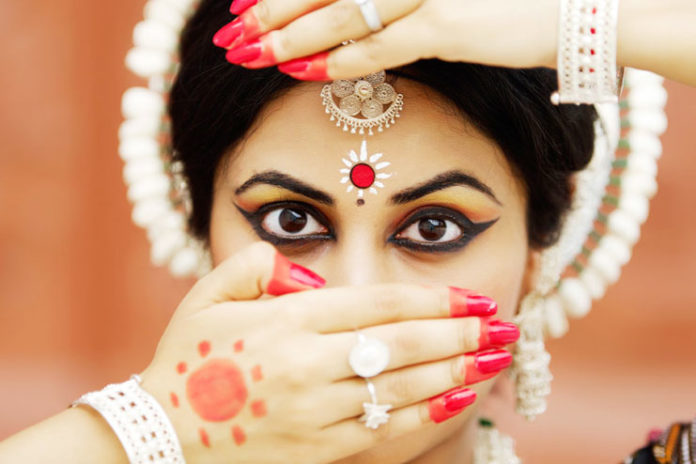 The Bindi is one of the traditional Indian 'Solah Shringar' that a women ought to put while getting married. The bindi has more importance than others, as it has scientific benefits because of its placement on the forehead. The 6th energy chakra of your body resides in between our brows and applying bindi over it requires pressing, which is known to stimulate your mind and soul. Indian women love applying their bindis and coordinate them according to the colour and type of outfits. So, if you have a party of function to attend, we have a list of best bindi designs to complete your traditional Indian look.
1. The Simple Round Bindi-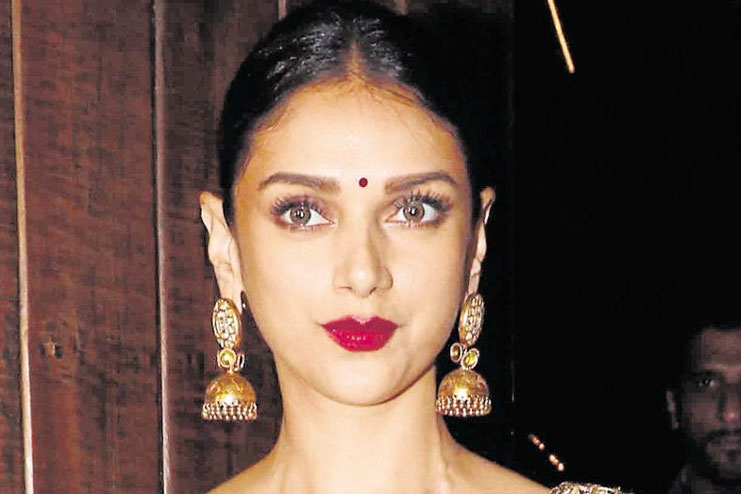 This is the most commonly applied bindi type. It goes with almost all the face types and traditional sarees. This bindi design is ageless and women of all age apply this simple red dot over their faces. It imparts an instant elegance to your face and pretties up the entire look. This shape also looks great in any other colour.
2. Geometrically shaped bindi-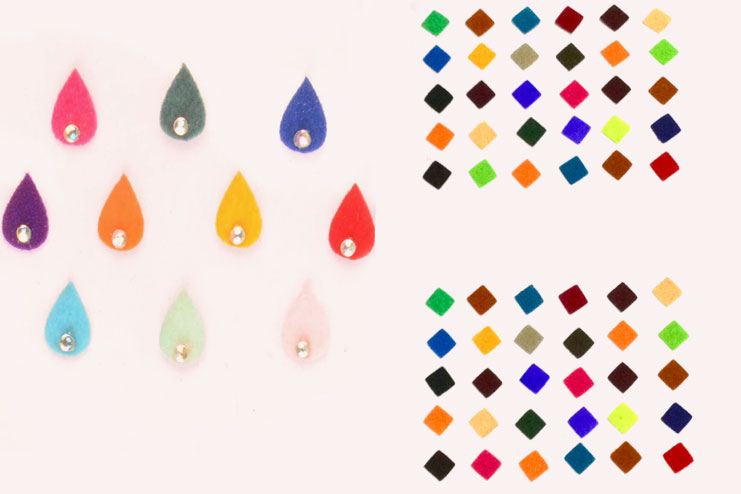 This is an edgy twist to a simple classic bindi. There are a multitude of shapes you can get a bindi in. It looks really fashion forward and looks best on traditional cotton sarees and zari work. The most common one is a square bindi. This will look really nice on people with heart shaped faces. As they have a narrow jaw-line it will even out the face.
3. The Long Sleek Bindi-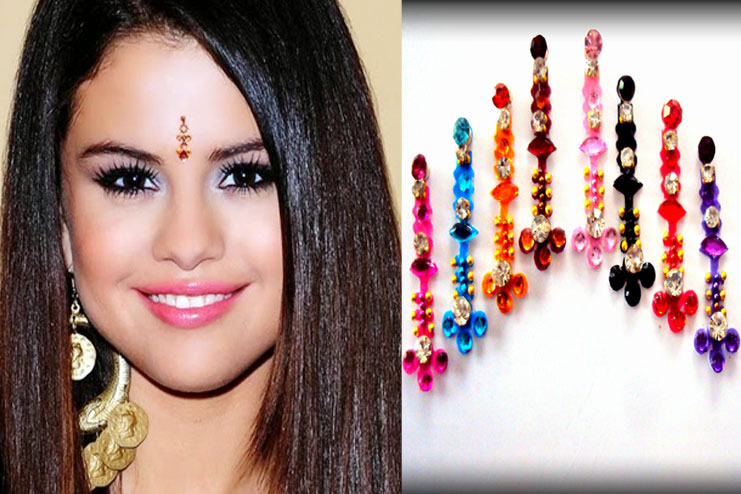 For people with broader faces and forehead. Sleek bindi will look perfect. It will tone down their face and give it a more structured look. This bindi comes in all sizes and colours. Usually, this design of bindi will look great with sarees and salwar suits of festive occasions. The long bindi is like a bold fashion statement with doing just the minimal work.
4. Chandra/ Crescent shaped Bindi-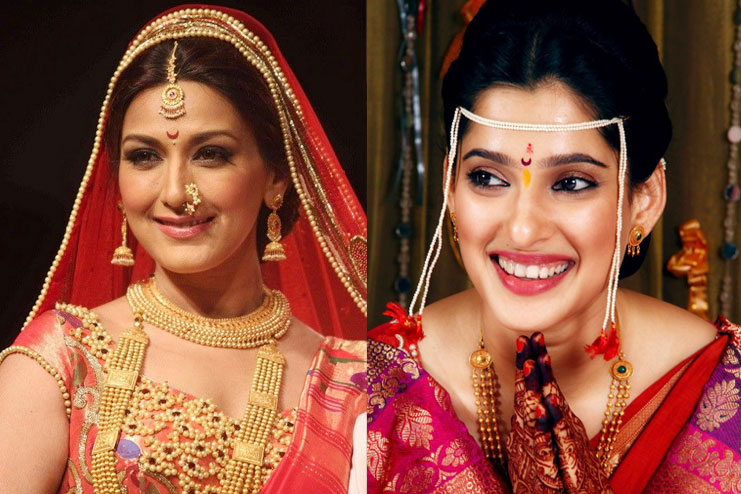 This is a really cute variant of bindi that is traditionally worn my Marathi women and is often also called the Marathi Bindi. This is basically a crescent shaped bindi which surprisingly looks great and every face shapes. The broader face shape can wear a smaller sized one and the smaller faces can put a bigger bindi size. It works best with silk sarees and Traditional Indian clothing the best.
5. Tribal Bindi-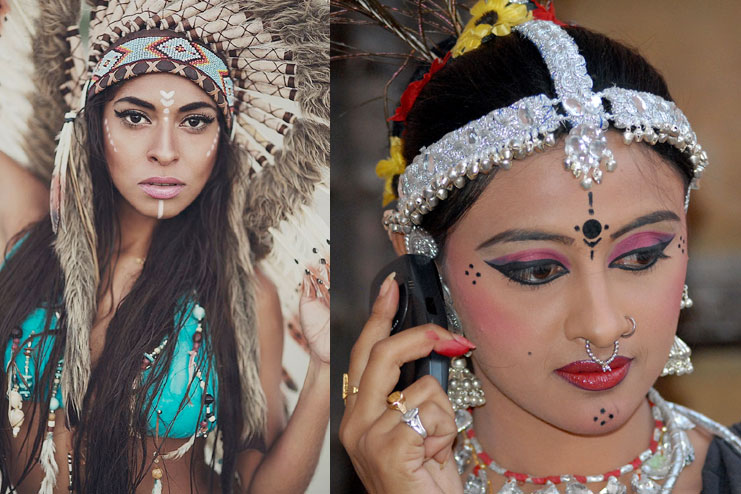 This is a type of bindi design is inspired from the way the tribals paint their faces. This includes putting multiple shapes together on a forehead. This is a very bohemian trend and this will go absolutely well with long cotton maxis, salwar suits and sarees that are bold and bright. This bindi is a perfect option for you if you have to do the conventional.
6. Floral Bindi-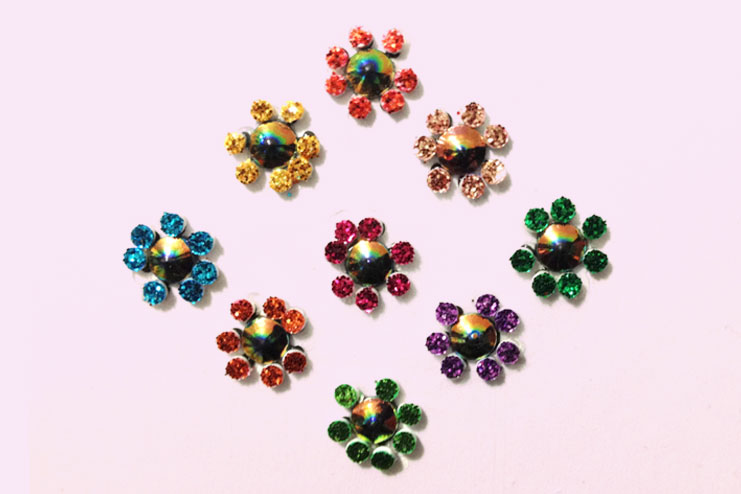 This is one of the most stylish bindis and this looks really great with sarees and salwar suits. This bindi suits mostly people with square and oval face shapes. This bindi can add that little extra to your face which can add a different grace to the entire outfit.
7. Kundan and Diamond Stone Bindi-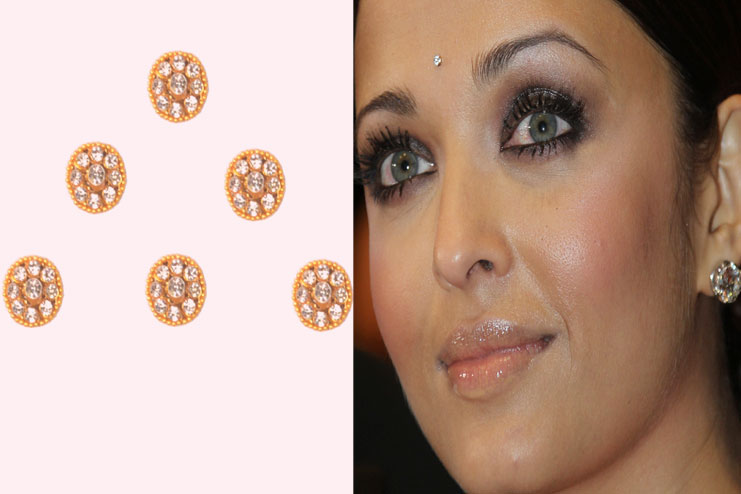 This bindi is a subtle way of donning the glitter and imbibing the shine even on your face. A lot of celebrities resort to either Kundan or diamond bindi as it adds glamour to the most simple makeup and makes you look festive. These bindis can have a small round dot shape or a large shape. It comes in all the shapes and colours to choose from.
8. Bridal Bindi-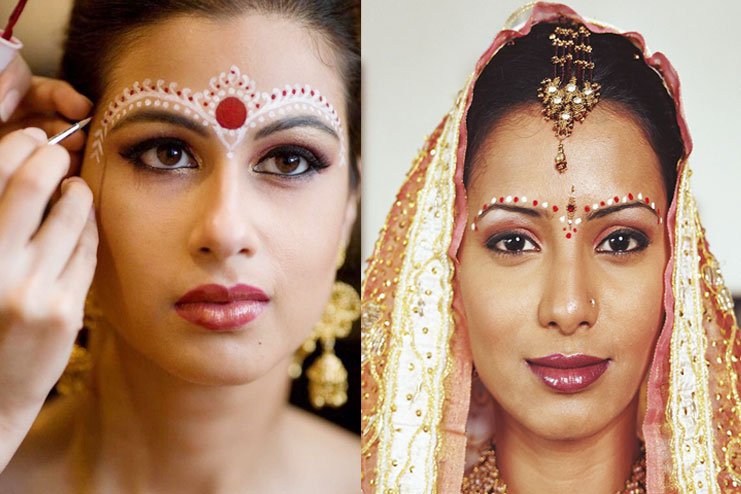 Bridal Bindi has altogether a different meaning our country. In a lot of cultures, bridal bindi means elaborate face bindi that is painted by bindi artists. Esp. In Bengali girls and also in women residing in certain parts of Maharashtra. The Bride looks simply beautiful with this elaborate bindi. While in some cultures the bindi is minimal but yet studded with Kundan or diamonds. This imparts a glitter to the bride's face and makes her stand out in the crowd.
Significance of Applying Bindi-
Initially, Bindi was considered a sign of a married woman in India, widows were not allowed to apply this symbol over their head but over time this has significantly changed. It is now, not just a fashion accessory but also a right of every women. Other than this religious reason, a bindi gives so many scientific benefits that we suggest everybody should wear a bindi. Even Men in previous times always put tilak or Vibhooti over their head before leaving the house, This is the reason why?
According to Yoga and Meditation, Our Sixth Chakra or the Agya chakra resides in the mind of our brows. It is responsible for the growth of our spirituality and intuition. The simple act of placing a bindi over it stimulates the chakra while pressing. This practice every day will keep you calm and connected with your soul. A lot of Yoga Poses like Dolhip pose, child's pose an even the pranayama Brahmari are performed to clear ththishakra.
Accupressure places great importance in the activation of this point. It in know to give you a lot of health benefits . This point is called as the Third eye.
Scientifically the trigeminal nerve, that passes through this particular area is known to be benefitted on applyind a bindi. Esp. If you have problem in your sinuses, this will help relieve it.
There are several medical procedure in the development phase to stimultae this nerve with mild electrical shocks to prevent mental problems like PTSD and depression.
This region is the convergence area of a series of cranial and other nerves, on pressing this area regularly it has known to improve hearing and also relieve recurring headaches.