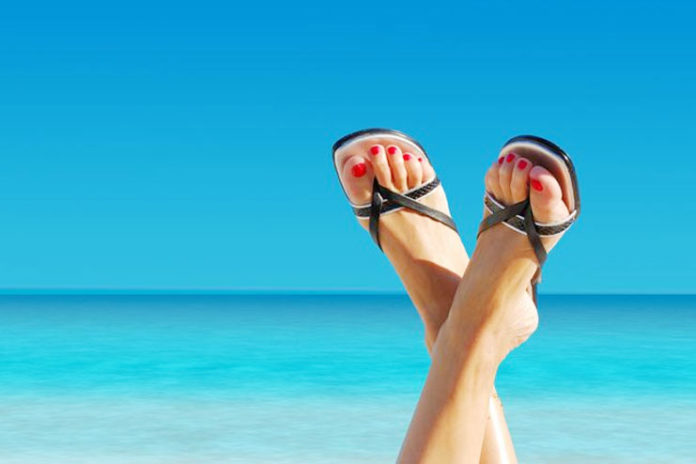 If you are not having a pretty or even a creative pedicure on the toes for this summer, then it is time to get painting! Summer time is one of the perfect time, where you can show off your toes as well as lovely pedicures until it gets cold again. You can choose from your favorite bright colors or even put a new spin to the classic French pedicure. No matter whatever you decide to do, always be sure to show off the tootsies with the adorable sandals, flip-flops, or even being totally bare feet. A creative pedicure tips mostly starts with the inspiration of some type of flowers, landscapes, fruit, or even summer toys. The creativity that you can apply to the nail art is completely unbridled. You can use your imagination and also come up with a creative pedicure tip for this summer to show off.
Pedicure Tips
Pedicure At Home
By doing pedicure at home, it can help to save a lot of money in long run. It can also allow or help you to creatively design your own pedicure nail art or even just a basic plain pedicure. Depending on the budget, you can even consider a luxury pedicure, that is complete with pedicure scrubs, a foot spa, soft towels, and even music for your relaxation and enjoyment.
If a luxury pedicure is not really kind, you can also consider a pedicure that can help to ignite the senses you can look for pedicure products which contain peppermint, such as foot scrubs as well as foot lotions. Whatever pedicure style you decide, do not forget the pedicure toe separators!
Pedicure Essentials
If you want to do your pedicure at home, then try to gather the following pedicure essentials:
a. Pedicure tub, or a basin, or a foot spa
b. A plush towel
c. A pumice stone or a foot buffer
d. A nail file
e. A pedicure lotion
f. A pedicure foot scrub
g. A nail polish remover
h. Some cotton balls
i. Your favorite nail polish colors
j. A clear topcoat
k. Other pedicure tools like a nail clipper, a cuticle nipper, and also an orangewood stick
Choosing A Creative Pedicure Style For The Summer
The sky is the limit when it comes to select a pedicure style that you can create at home. You can also use any kind of nail polish colors that you are fond of. In them you can add stripes or the polka-dots or even any kind of funky designs. You can also apply some nail decals, rhinestones, or any other type of fun nail art accessories in it.
Consider these fun and exciting summer pedicure ideas:
Bright And Bold Summer Pedicure

You can paint all the toenails in the brightest, to the boldest colors that you love for this summer. Try to consider bright orange, or hot pink, or deep green, or turquoise, or even yellow to do the job. You can even make a statement with a pedicure, which no one can ever miss. You can also paint all your nails in the same color, each in a different color, or alternate between the colors.
Pedicure Nail Designs

If you are some one who gets easily bored with a solid color pedicure, then make sure to spice up the things a little bit with a nice nail art design on the toenails. First paint all the nails in your desired base coat color and then try to spruce up a nail with a summery nail art design like it is in a watermelon slice, or a beach ball, or sunshine. You can also consider opting for less seasonal nail art ideas, like daisy or any other pretty flower.
How To Take Care Of Broken Nails
At-Home French Pedicure

If you are not confident on painting your own pedicure, then you can look for French pedicure kits that can help to get you started with a classic, or a timeless look. To create own French pedicure, just gather the right materials, that is, a white nail polish, a nude or light pink nail polish, and a clear topcoat. You can also consider using French Pedicure guides that can allow you to paint the tips of the nails more flawlessly.
Heel Appeal

If you have got rough heels, then you can grab a pumice stone to get your work done! Soak your feet in the warm soapy water for about 10 to 15 minutes. Then rub away the rough areas of the feet in a circular motion to exfoliate all the dead skin. When it is finished, always be sure that you rinse the feet as well as the stone. Then apply a moisturizer and relax. Try to repeat this in a couple of times if the heels feel like extra dry.
If you are not in the whole pumice stone idea, then one of the great way to get the heels feel soft, is to treat them in an overnight moisture session! Just apply Vaseline to all the dry areas, then cover them with socks. This trick must also need be repeated by depending on how dry the feet actually is.
Tidy Toes

Every body wants their toes to look like they have just stepped out from a spa, but not many can afford it! One of the favourite treatment for any kind of nail treatment is cuticle oil. Cuticle oil helps to moisturize dry cuticles by strengthening as well as nourishing the nail. Just rub the oil in the nail bed few times in a week.
Shaping the nails as well as the cuticles is one of the next step to get perfect spa nails. You can use orangewood stick to shape your cuticles as well as an emery board to file off the rough edges from the nails.
Finally, you can apply some bright summer polish while you relax. Do not forget the top coat. Top coats can give the colour an extra hit of the shine and keep the colour look fabulous.
Ways To Get Rid Of White Spots On Nails