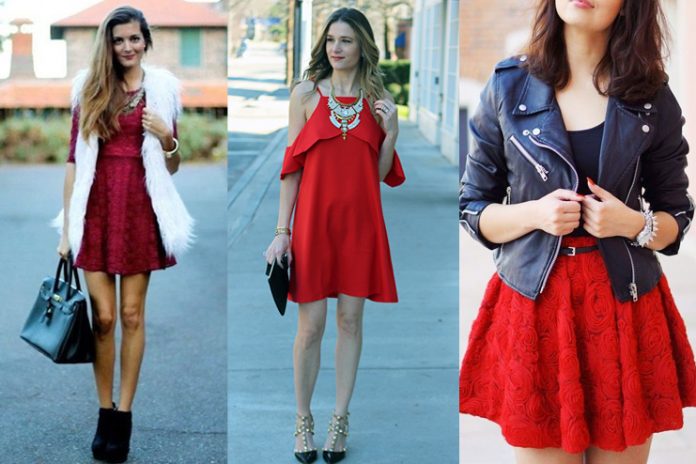 Valentine's day is coming close and you are still not fixed with your look. Not a problem when you get instant ideas and styles to wear on. Fashion and occasion are yours when you are really ready.
How do you set your look for V-day and from where do you start? Obviously! It is outfit any time which will stop you for the rest of the look for the day. So, start off with your outfit selection.
You love to wear red for many reasons on valentine's day. Red is the ultimate colour to show up, on Valentines day and looks great on you. But just wearing red dress, you are missing the fashionable ideas that are waiting for you.
You will be admired for your fashion, as you are representing yourself with attractive outfit. So, never let the chance go and just make him your admirer in every way.
8 Attractive Valentine's Day outfits- Impress your man with your appearance
We say, "love is not about appearance". But will you stop impressing your love with your beauty? It is all real you appearing in an attractive outfit. As valentine's day is meant to do something special for your beloved ones, you can dress up attractive and make him fall in love again. The trending outfits that are attractive can be styled the way you want and being yourself will impress your man. You can appear stylish and stay in comforts with these lovely dresses. And we have added some styling tips to help you out with the look. You must check the dresses and styles to get into a pretty outfit for valentines day.
1. Top with love/kiss symbols- Show your love through the outfit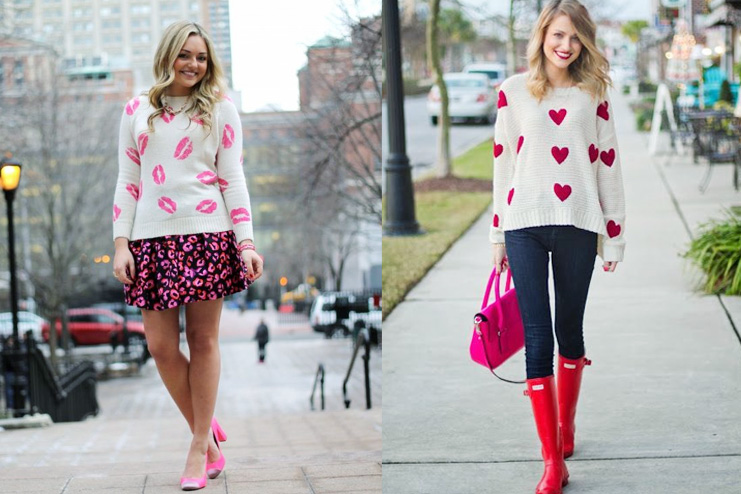 Wearing a top with love/kiss symbols is a cute and fashionable idea for V-day. As it is a tee, you can pair it up with a short skirt or a skinny jeans. Before your valentine giving you compliments, you will be obsessed and stick to the mirror looking at yourself.
How to style?
If you want to add some style to this lovely outfit, you can wear on leg warmers taking the chance of winter chills.
2. A Red Flared Short Skirt- Look and Feel Like an Angel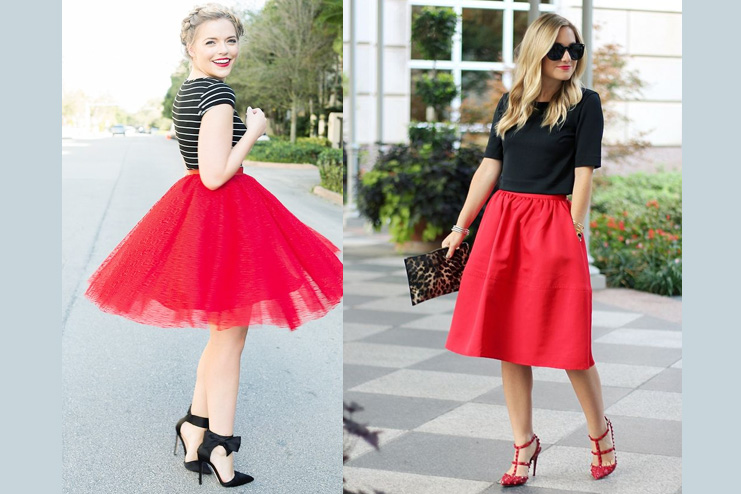 Don't you feel to turn around in a flared skirt. It is a every girls wish to wear a skirt and turn around. Such self love is a must before going for your Valentine's date. This bring the natural smile on your face. The red flared short skirt is also feasible to wear on any top or shirt. If you love to wear red on V-day, you can particularly choose a red flared skirt.
How to style?
You can choose a light coloured tulle skirt which is well flared. You can also tie a lace at your waist. This way it all pretty pretty!
2. Now its Time for Little Red Dress- Not Little Black Dress
Red is Just Love and More Hot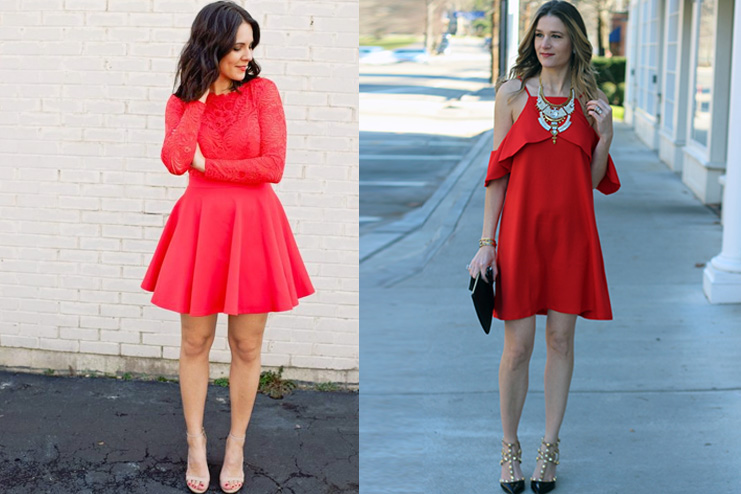 The little dress is always fashionable and the red one is for Valentine's day. You should go simple for a little red dress as red on is more than any accessory. This outfit will be the one for a romantic evening. You feel flawless and extra confident when you are synced in the fashion.
How to style?
You can go wrong with red little dress when you are paring it with heels. You can grab your black or white heels to pair up with your red dress. Red dress with loose hair is magical. Can be the hottest lady!
3. Long Floral Skirt- Your Walk Goes Girly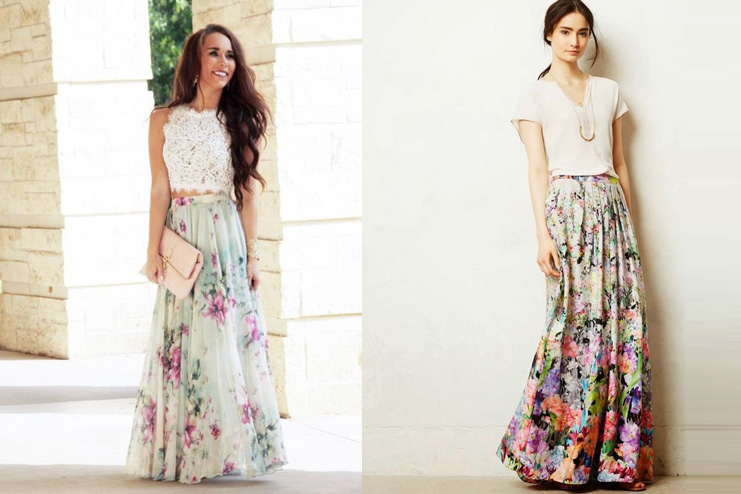 Wearing a long floral skirt, you look like a flowery girl. Nothing can match the prettiness a floral dress do on a girl. You will naturally feel girly with a floral skirt and it shows the delicacy in you just like flowers on your outfit.
How to style?
You can pair up your floral long skirt with a crop top or a trendy shirt. As your skirt is floral, you can pair it up with a plain top. Such styling is simple but classy!
5. Bring the right colours together- The Funky Style
If you want a funky look, then it is only possible with the splashing colours and combinations. But to wear a fashionable and funky outfit, you must get the right colours together. You are going to appear stunning with a cool fusion of colours. Such funky look is not for everyone but for the ones who want to try something unique and really stylish than routine.
How to style?
Accessorize in a funky way. The metal accessories are the best to appear funky. Wrap yourself with blanket scarf with as it the trendy way to look funky. Funky is always cute!
Red and black and Purple and white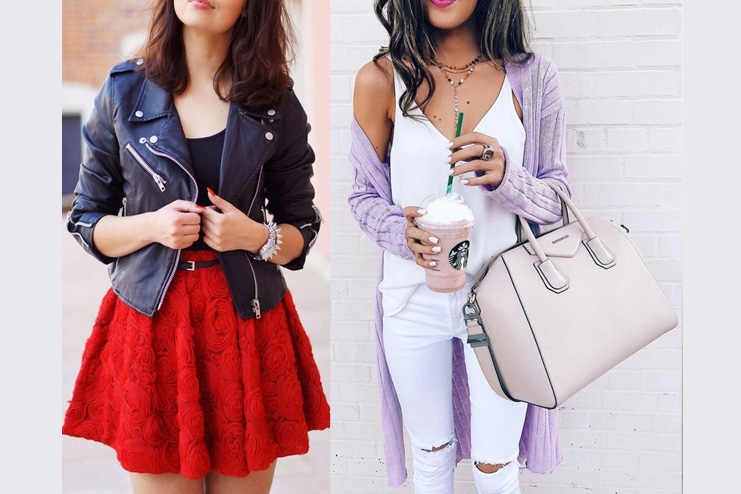 6. Long Sleeves Velvet Dress- All the Elegance on you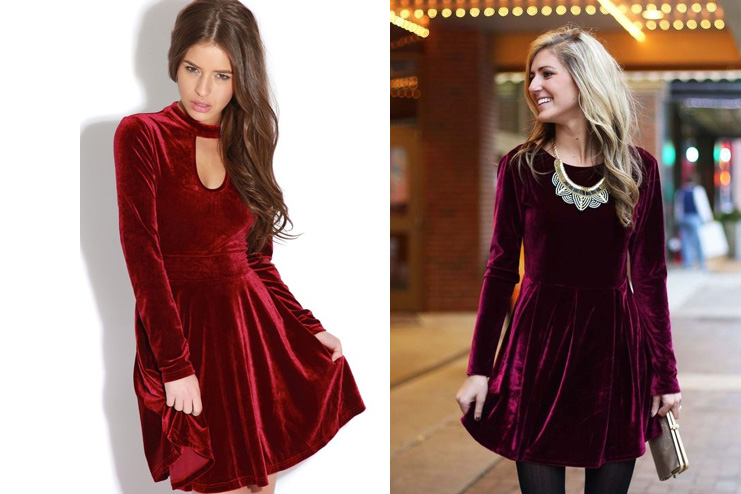 Velvet dresses are ever fashionable and more over it is perfect for winters with long sleeves. You feel elegant wearing a bright coloured velvet dress with long sleeves. Velvet dresses can go well with simple accessories without decking up too much.
How to style?
You can wear a sling bag or a hold a party wear wallet in hand which is more than enough to appear elegant- The rest is beauty is in you with a velvet dress.
7. Golden Bodycon Dress- Shine Bright all the Day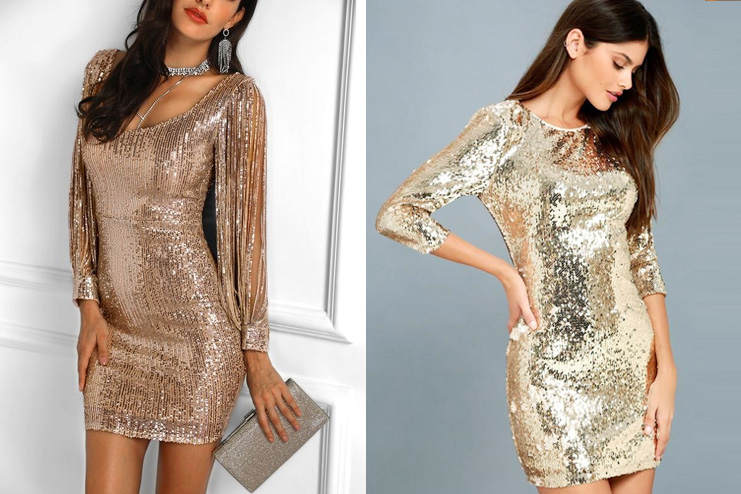 All the shine together makes you look brighter for the day long. This dress looks stylish with long sleeves. The little sparks in your eyes and golden bodycon dress will be matched for V-day.
How to style?
Wear a silver coloured neck piece and earrings. Wear the suitable lip colour that will be an add on for your look. Let silver and gold do the magic on you!
8. Blazer Over the tee/shirt- You are a Stunner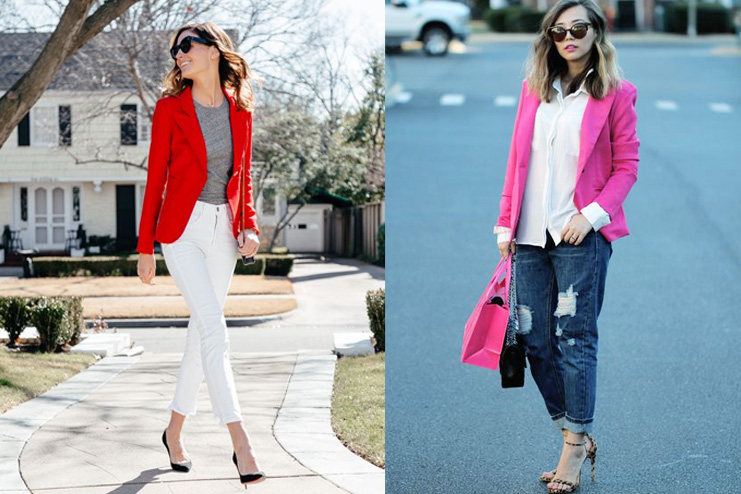 Blazers are chic and smart choice for women. You can just smile away with confidence when you wear the perfect outfit and blazer will let you do that easily. And remember that blazers are not meant for formal look. Blazers are can be well worn in trendy way over a tee/shirt.
How to style?
It is called smart choice when you do the right paring with blazers. To highlight the colours of love, you can choose wearing red or pink blazer. Keep the accessories minimal as you dont need much of them for this cool look. Blazers are chic and just formal!
Also read this: Expressive Ideas To Surprise Your Boyfriend On Valentines Day- 8 Affectionate Surprises
You can only love the outfit when it gives you the comfort and fashion standards. All the ideas and styles of valentine's day outfits are trendy. These ideas are just to glam up the beauty and highlight the hidden fashion in the simple outfits. Grow with love in relationship and fashion!