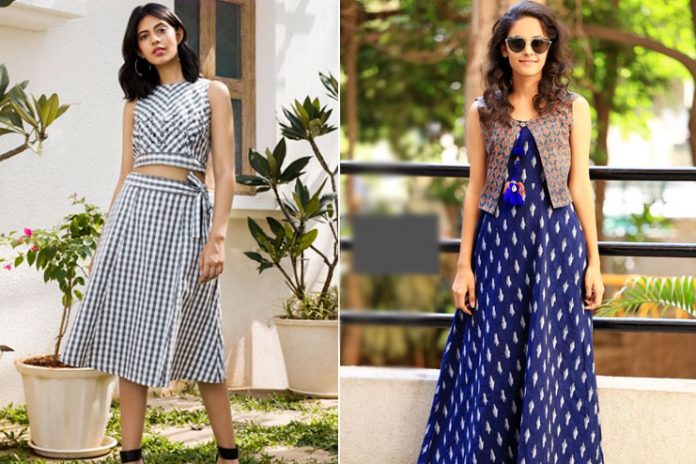 Every outfit talks about your personality and attitude. So, women love to change the outfits with the styles. Most of the love goes to the flexible styles which is of unlimited variations. Fashion goals give a free hand to explore in the fashion world. The way you explore your styles become fashion. The flexible style that is seen everywhere is street style.
Indian street style is trending with its comfort wear and variations. The accessories, footwear and hairstyles blend and make you slay in Indian street style. You can grab the ideas for Indian street style outfits. You can be a minimalist or a funky girl in Indian street style.
Do some fun with your appearance! Styling is not only to raise your fashion goals but to gain confidence. Some of the styles that made their place in Indian street style is brought to you. Grab your favourite ideas with styling variations and tips. Slay on!
Best Indian Street Style Outfit Ideas
These days girls are loving the western outfits with a bit of Indian styles. The modern outfits are pairing up with ethnic skirt and tops. The contrasts colours and a blend of colours in outfits also took wonderful place in Indian street style. So, here we are showing the Indian street style outfit ideas. Looking at these outfits and ideas you will know how the Indian street style is unique from other styles.
1. Striped Palazzo pants With Shirt/tee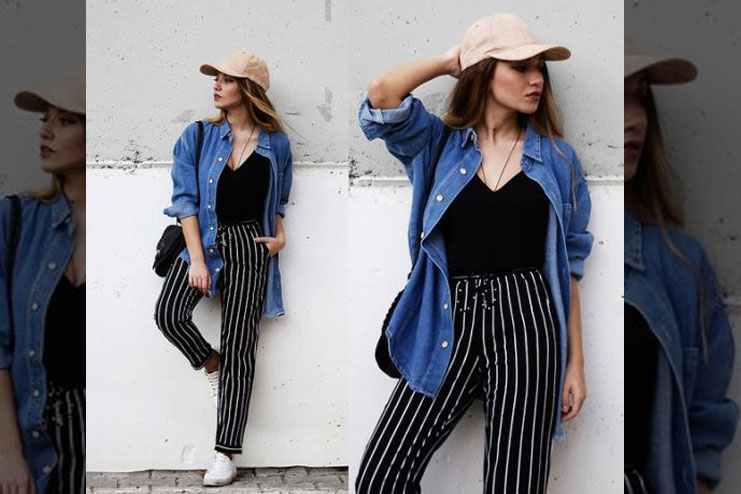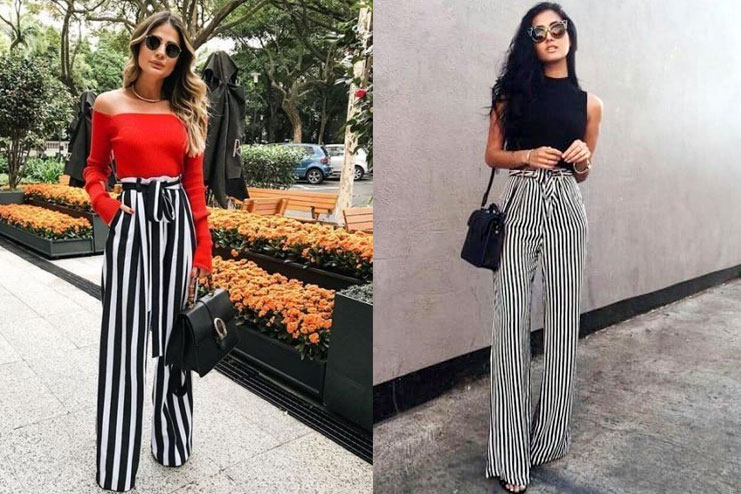 Few outfits run in trend for its comfort than the style. Here, striped palazzo pants are trending for both style and comfort. Striped palazzos make it easy for you to get that chic Indian street style. You can also wear a knotted shirt or tee with striped palazzo pants.  If you want it more fashionable you can choose off the shoulder as your top with the palazzo pants.
Style this way:
Messy pony with ribbon.
Sun glasses can style you up with your striped casual palazzo.
2. Denim jacket over one piece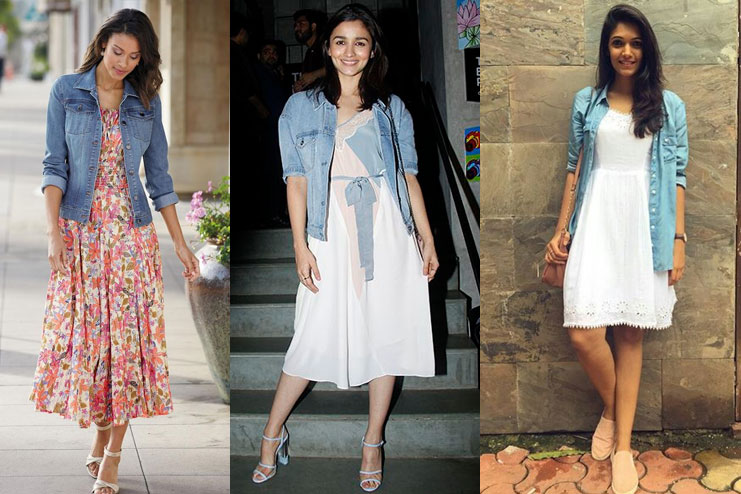 One piece outfits are not only for party wear. One pieces allow you to stay casual and simple. You can style them for a fashionable look on you. Pair it up with stunning denim jeans. This is a unique idea of Indian street style and you can wear a sling bag to look ultra posh.
Style this way:
Wear high heels for one piece outfit.
Sling bag is a smart idea for denim outfits.
3. Printed Leggings with Short Tops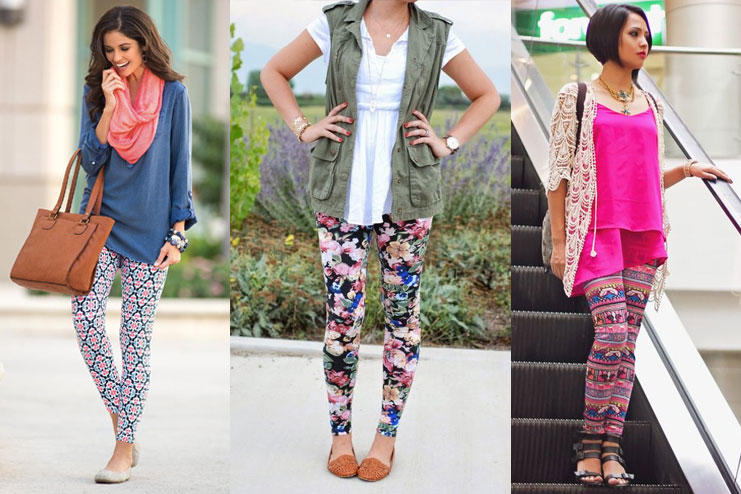 Printed leggings are trending with the long tops in Indian street style. This idea is also good for college style. The teenagers or young ladies can wear this outfit of two pieces to slay in Indian street style. The printed leggings are trending for their colours, lovely prints. Short top or a kurti will be a great fusion with printed leggings.
Style this way:
A side braid suits well for such a funky look.
Accessories like bracelets and bangles are lovely to pair with printed leggings.
4. Flared top with Dhoti Pants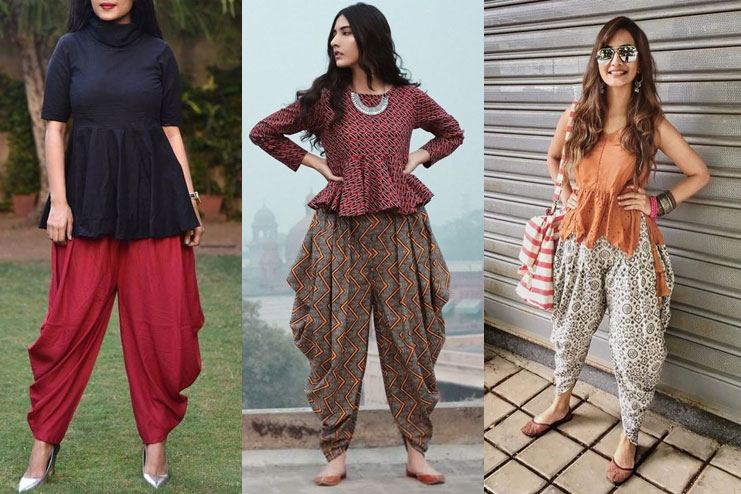 The flared tops make you look elegant. You will need such tops in summer with delicate fabric and pleasant colour. A flared top with dhoti pants looks great together. The fondness for Indian street style will be raised in you after looking at this idea. Flare tops can be plain or with little embroidery which is an addition of style.
Style this way:
Wear a neck piece over the flared top and this will be an impressive fashion idea.
Long earrings are much suitable for this outfit of Indian street style.
5. High Slit Kurta with Torn Jeans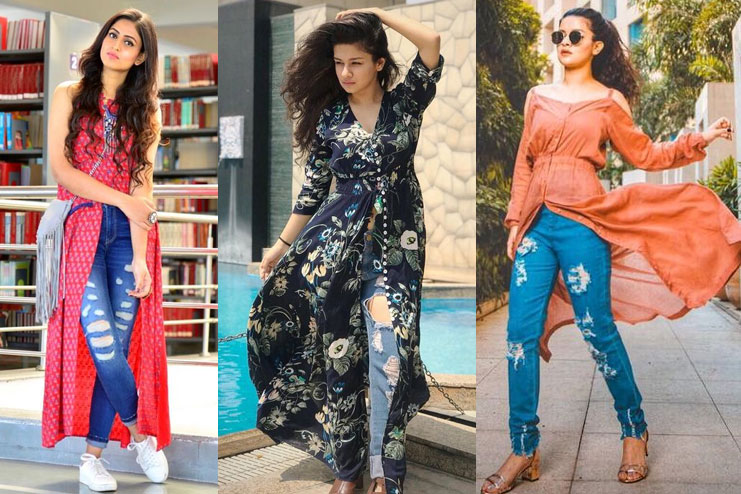 Are you a fan of torn jeans and you never get bored wearing them often? Then, you must also try this style with high slit kurta. The graceful attitude while walking comes for women when they are sure about the style on them. Wearing a high slit kurta and torn jeans, you will carry that confidence and it is a wonderful idea for Indian street style.
Style this way:
Side swept hair for slit kurta is a lovely idea.
You can wear heels which will match the style of a fashionable outfit.
6. Long shrug over Sleeveless Top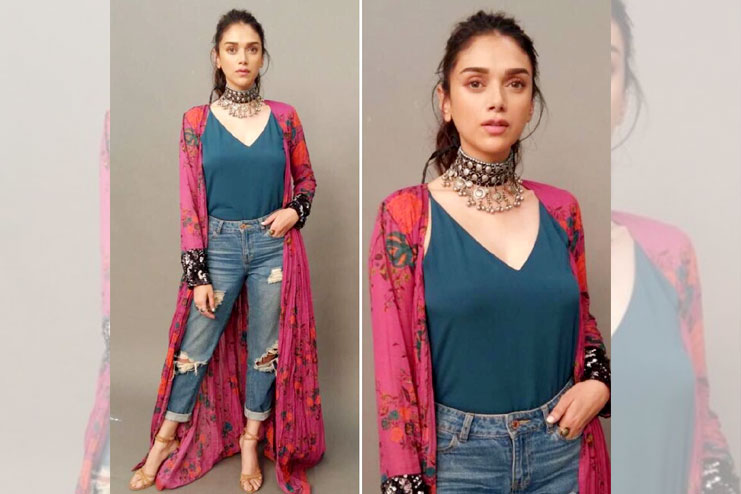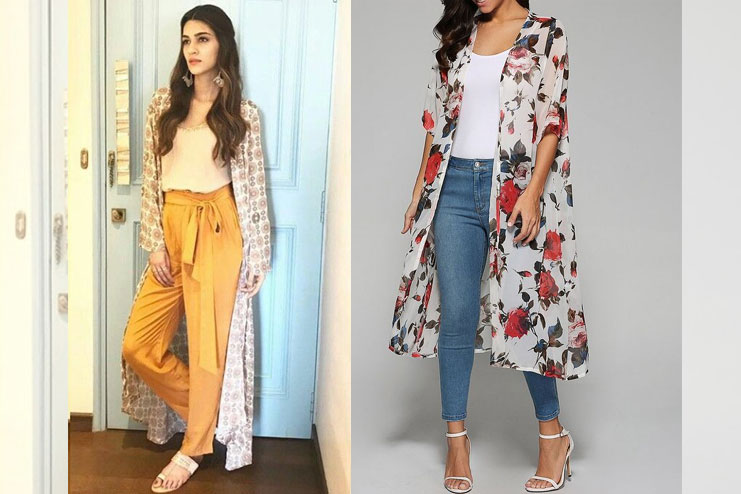 Long shrugs are the piece that women are not getting over for many days. The shrugs flare out and make the outfit look stunning on women. The modern Indian street style is dignified this way. The colours you choose must be blending into each other to elevate the style you desire. So, mix the light and vibrant colour for this outfit.
Style this way:
Puff hairstyle suits for this outfit of Indian street style.
You can fix your legs into heels for this outfit and the final look will be set.
7. Cropped pants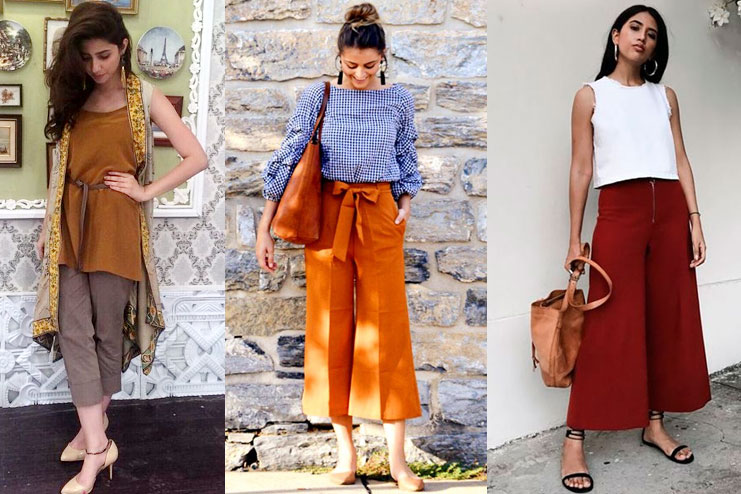 Cropped pants can make you look stunning or funky. The multi styles of wearing cropped pants full Indian street style. You can wear the standard colour pants for a bold and stunning look. The unique combinations like pink and green make you look funky in cropped pants.
Style this way:
The cropped pants make you look modish and you can style up wearing long earrings.
For cropped pants, ballerina or casual shoes make a street style.
8. Dungaree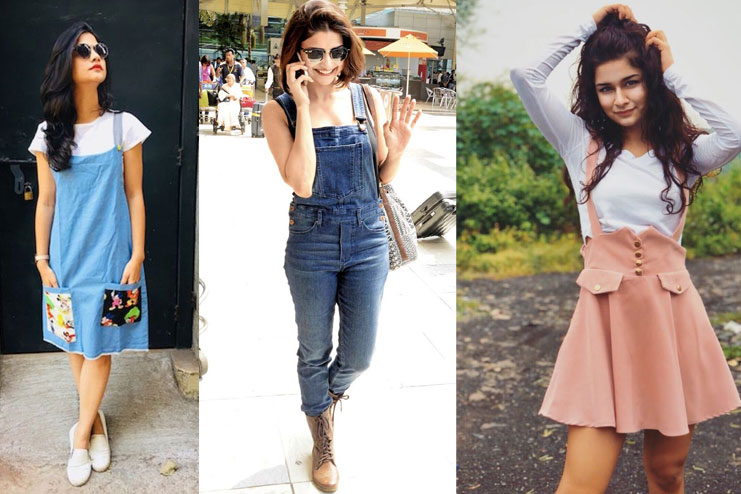 Dungarees are the cutest and fit perfectly into Indian street style. You look smart wearing such a unique outfit. You may not many wearing dungarees but you must know that it ever trending style. It makes you feel and look young when you wear such cute outfits.
Style this way:
Wear a high pony You will be a total stunner with this combo of dungaree and a high pony.
Wear a pair of ballerina shoe or boots.
9. Shirt Tuck with a skirt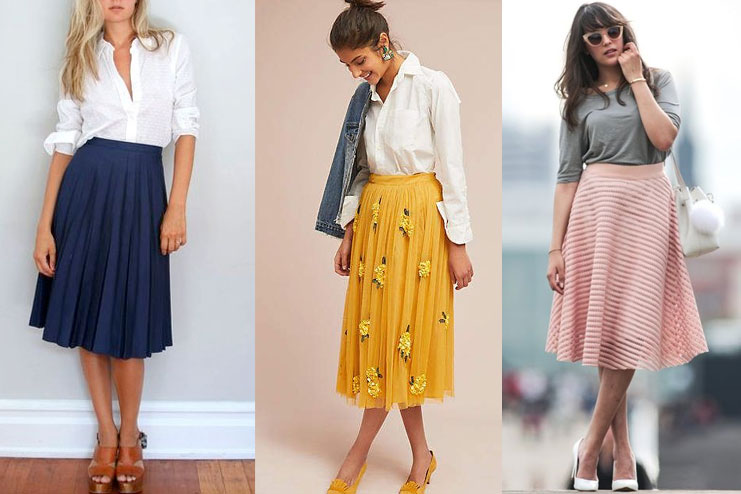 A classy short and pretty skirt are an ultimate combination. The long skirt with the shirt tuck puts on that elegant look. You will get to slay on the streets with this Indian street style idea. The stylish walk in this outfit will be admired. You can choose vibrant colours to be part of this outfit.
Style this way:
Tie your hair with a ribbon to rock with Indian street style.
Wear bold bangles or a colourful bracelet. This kind of hairstyle and accessories are perfect for the street style.
10. Scarf wrap on you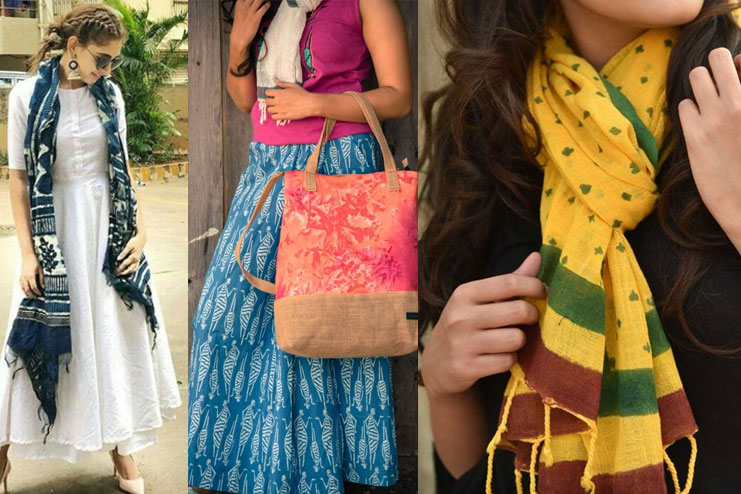 The way you wrap your beautiful makes you look casual and shows the street style. As you have many variations of wearing a scarf, you will not be disappointed with the styles. Scarves cannot be cornered any time as the fabric of scarfs are light and heavy.
The light coloured and lightweight scarf can be attire for you in summer. So, pull that delicate scarf and put on to get the Indian street style.
Style this way:
When you wrap a scarf, wear a messy bun. Your hair and scarf need to stay apart for a neat look.
Now, you will be ready to pull out the tops and bottoms to get that Indian street style. You know that the street style is your own style. The styles come out of passion and attitude. This is how your selections work for you and make a complete outfit.