Every face feature counts to have a prominent face. Imagine any of the features of face started to lose beauty due to any reason. Then, that will be the concern and make just feel uneasy. Few skin issues are caused eventually with growing age. But don't you think we can still hold on the things for our beauty to stay with us. It is very important to take measures to maintain the god gifted features.
So, now the hunting problem for many is sagging and drooping eyelids. Generally, you find your sagging eyelids after a tight sleep and that is normal to have for a few minutes. But if it is going permanent for long, then it not natural and can't be ignored. This is one of many problems. But can be taken care with natural remedies and ways. Few remedies are within you and few are at your home. So, let us look into the natural and home remedies to get rid of sagging and drooping eyelids.
Causes of Sagging and Drooping Eyelids:
Sagging and drooping of eyelids can be for one eye or for two eyes. Anyways there are various reasons that are causing the drooping eyelids. Here, we will look at a few causes of drooping eyelids in brief.
Due to natural aging
Medical complications
Eye Injury
Muscle weakness of eyelids
Skin loses elasticity
Fatigue
Firstly we will go through the exercises to get rid from drooping eyelids: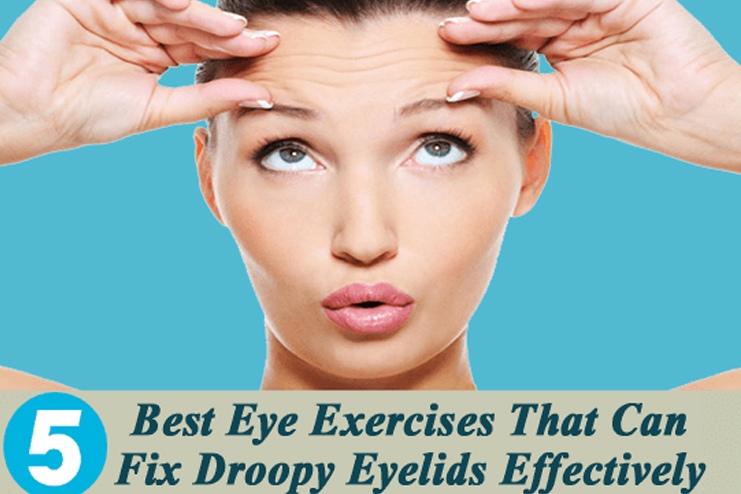 Exercise 1: To Strengthen Droopy Upper Eyelids
This exercise is to strengthen droopy upper eyelids. As the levator palpebral muscle controls the upper eyelid, here we focus on strengthening the upper eyelid. This automatically makes the upper eyelid to normal. Practice this exercise daily to get rid of droopy lids.
Start placing your index finger under your eyebrows and see that you feel your brow bone.
By holding your eye brow bone, slowly close your eyes. There will be a gentle pull while closing eyes.
Gently squeeze your eyelids and then tightly together fora strong pull.
Stay in the same position and hold it for five counts.
Then, slowly relax your eyes by setting free from your index fingers.
Repeat this for 5 times.
Exercise 2: To Lift the Upper Eyelids
This exercise is to lift your upper eyelids.
Place your four fingers with fingertips on your eyebrows.
Push upwards until you feel the eyebrow bones with your fingertips.
Keep yourself in the same position for five counts.
Slowly push your upper eyelids downwards and your eyes will close automatically.
Hold counting up to five and then release your lids to a count of three.
Now, you can relax your eyes from your fingertips and repeat the same for 5 times.
Exercise 3: To strengthen the forehead and lift the eyebrows
In order to perform an exercise to strengthen the forehead and lift the eyebrows, you can follow the steps below.
Keep your forehead normally and relax.
Then take your three middle fingers of both the hands to place under each eyebrows.
Push your eyebrows upwards with your three fingertips. Do it gently.
Then, try to push brows as high as possible for you. Extend the stretch of your fingertips and open your eyes wide.
Hold this position by counting five.
Now, push down your forehead muscles and count for five.
Relax and then repeat the exercise for 5-10 minutes
Exercise 4: To strengthen and tone the delicate eyelid area
Now if you want to strengthen and tone the delicate eyelid area, follow these steps:
1. Firstly close your eyes normally.
2: Take the index fingers across each eyelid.
3. Place the index fingers on eyelids.
4. Lift your elbows making them apart from your body.
5. Give some slight pressure on eyelids with your index finger.
6. With some more pressure applied, try to open the eyes to a count of five.
7. Repeat this for at least 5-10 times.
Exercise 5: To strengthen the muscles of the eyebrow area
When it comes to strengthening the muscles of the eyebrow area, you can follow these steps:
You need to raise your eyebrows as high as possible.
Now, open your eyes wide, as wide as you can and hold it for five counts.
Then slowly release your eyes.
Repeat this exercise for 5-10 minutes.
Natural Remedies to Treat Drooping and Sagging Eyelids:
1. Cucumber: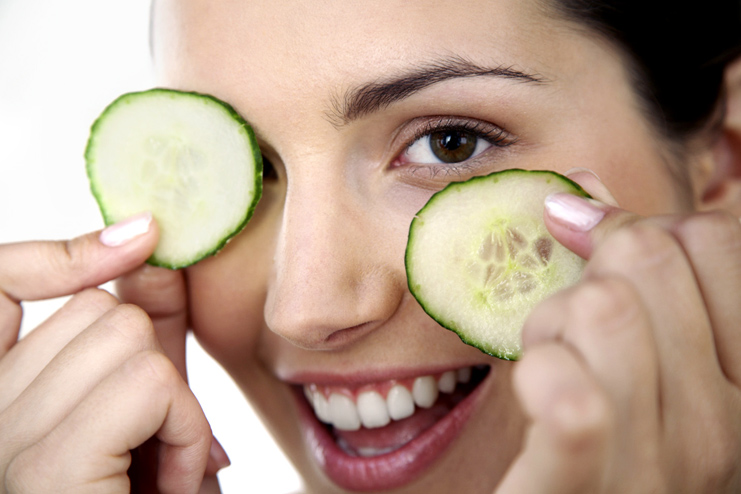 Cucumber can work wonders to get rid of many eye problems. The water content and the coolness of cucumber, can give great relaxation to eyes. All you need is cucumber slices. Cut the cucumber into thin slices and place them on your closing eyes. Let cucumber slices remain for 15-20 minutes. Do this daily until you find the difference.
2. Ice cubes: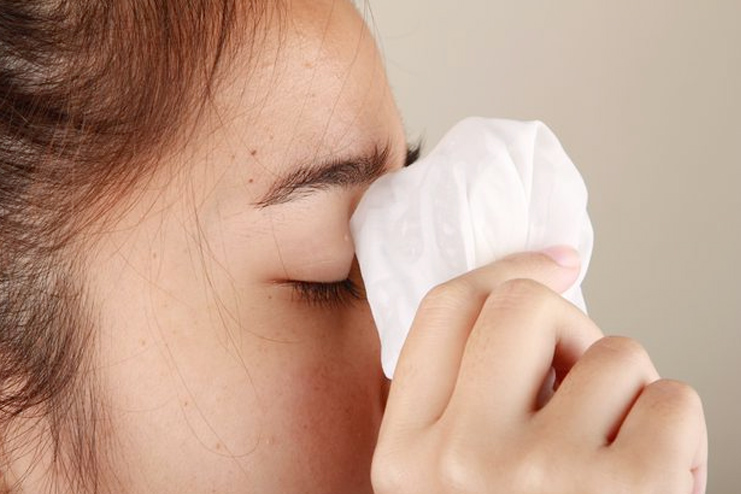 Ice cubes is the easiest and super remedy to cure drooping eyelids. This also works when someone is from an eye injury. Ice helps the eye to relax and at the same time, it will tighten the skin.
You need a ice cube and clean cloth. Pack the ice cube in a cloth and rub gently on your eyelids for 10 minutes. Do this for frequently, every alternate day to see the results.
3. Olive Oil: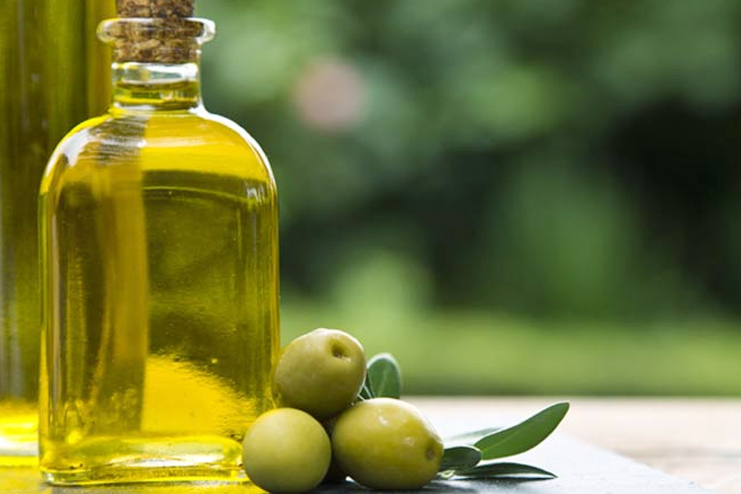 Olive oil can rejuvenate the drooping eyelids and make it normal. The anti-oxidants in olive oil aids to treat your skin of eyelids and bring them to normal shape. All you need to do is heat the olive oil until it becomes warm. Dip a cotton swab in the warm olive oil and then apply on your eyelids closing your eyes. Let the olive oil stay over night and wash it off next day morning. Do, this daily before bed time.
4. Egg white: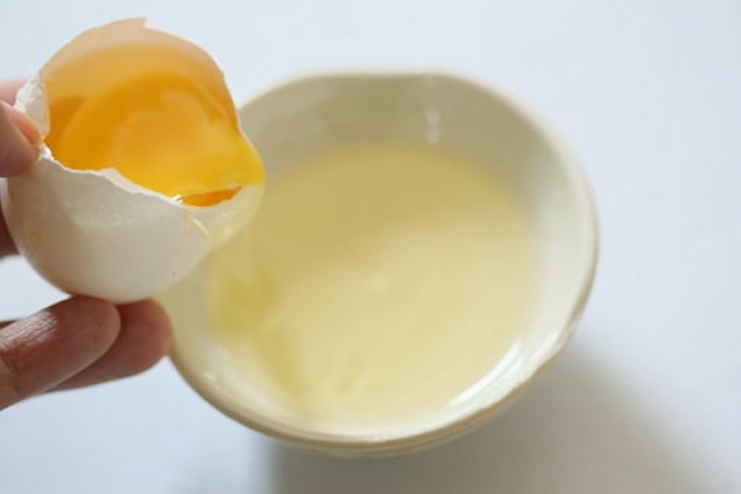 As we know egg has the power to tighten the skin. So, just seperate egg white and dip a cotton swab in egg white. Apply it on eyelids and wait till dries. Let it stay for 5-10 minutes. Then clean your eyes and pat day gently. You can follow the same procedure daily for better results.
5. Chamomile Tea Bags: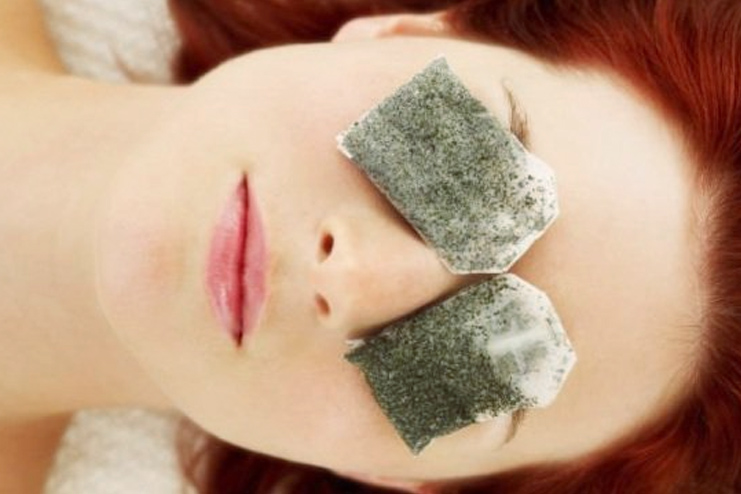 Chamomile tea bags can treat drooping eyelids as it has inflammatory properties. You need to place the tea bags for for few minutes in the refrigerator. Then, make them sit on your closing eyes for 20 minutes. Follow this easy remedy to see the magical results sooner.
6. Aloe Vera Gel:
4 tablespoon of aloe vera gel, 2 tablespoon of oat meal, fournspoon of plain yogurt, slices of cucumber, make a paste and apply and leave for 20 minutes
5. Eat Grapes: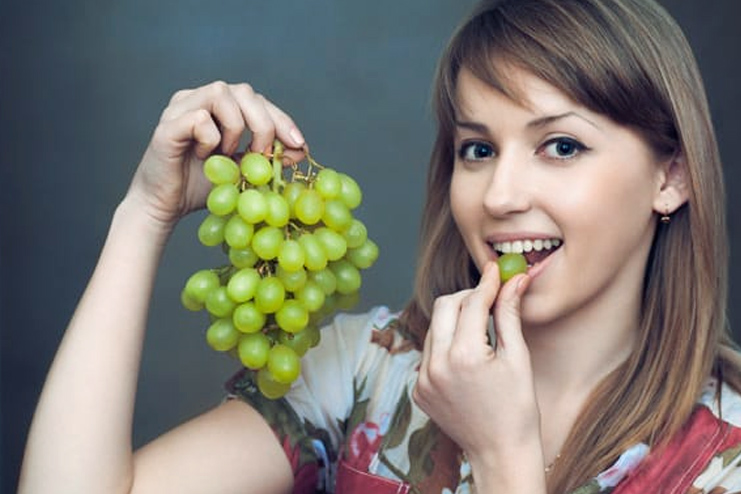 A new research found and made it evident that grapes can keep eyes healthy all the ways. As grapes have the content termed as resveratrol and that can help in aging skin problems. So, you can make the grapes part of your diet and kick off the aging skin problems, especially drooping and sagging eyelids.
6. Proper Sleep: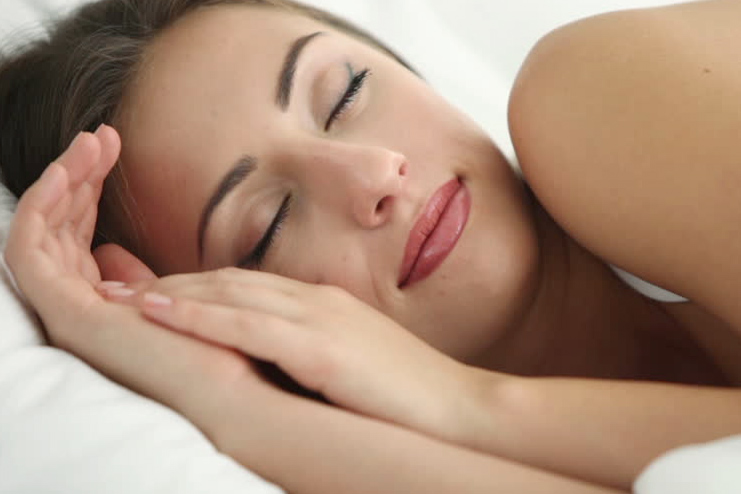 One of the causes for drooping and saggy eyelids is lack of sleep and fatigue. So, it is crucial to have sufficient sleep to sat away from saggy eyelids.
Follow both remedies and exercises to strengthen your eye skin. Along with the above measures having a proper diet is also important. Taking proper food and water as much as your body needs, keeps you away from many health and skin issues. Now, you should agree that, natural remedies are at home and few are within you just like the above exercises. So, only you can take keep your health and beauty as you desire. A final word for you is, Love your life to live your life!