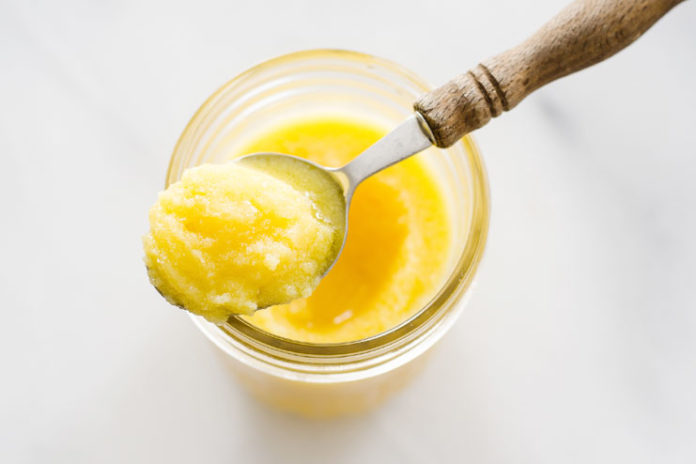 Ghee is a form of clarified butter used in a lot of Indian cuisine dishes. Historically made from cow's milk, It is made by simmering butter on low heat. Although extremely tasty, ghee is full fat and a lot of us ladies worry if we consume ghee, it will lead us to gain weight. So then how do you still make use of all the benefits of ghee without consuming it? Well, we know exactly how to do it.
What is ghee?
Ghee is a special preparation of clarified butter which is made by simmering butter on low heat and removing all the solid residue to get the clarified pure fats, called as Ghee. It is an Indian innovation and it is one of the main ingredients in a lot of Indian sweets and other dishes. Although ghee contains a lot of fat because of the process of its preparation, it is very easily digestible fat. It also contains Omega 3 fatty acids and is important in Ayurveda. In Ayurveda ghee is a remedy for a lot of ailments since ancient times. It is also used in auspicious occasions and in temples to light diyas.
Nutritional Value Of Ghee-
| | |
| --- | --- |
| Contents | Amount per 100g of Ghee |
| Total Fat | 99.5 g |
| Saturated Fat | 61.9g |
| Monounsaturated Fat | 28.7 g |
| Polyunsaturated Fat | 3.7 g |
| Trans Fat | 4 g |
| Omega-3 Fatty Acids | 1.447 mg |
| Omega-6 Fatty Acids | 2.247 mg |
| Omega-9 Fatty Acids | 25.026 mg |
| Cholestrol | 256 mg (85 % DV) |
| Vitamin A | 3069 IU (61% DV) |
| Vitamin E | 2.8 mg |
| Vitamin K | 8.6 μg (11% DV) |
How to Make Ghee?
Ghee can be very easily made at home. It is best if you use cow's milk to extract ghee. Homemade ghee has a lot of health and beauty benefits and it is very easy to make at home.
Here is all that you need to do-
Ingredients-
Cream (Collected for about 2 weeks from boiled and cooled milk )
Curd
Churning Device/ Electric hand blender.
Ice Cubes.
Vessel to heat it.
Steps to Make Ghee-
Firstly add a few tbsp of Curd to this cream collected from cows milk and leave it in the fridge for about 1-2 days.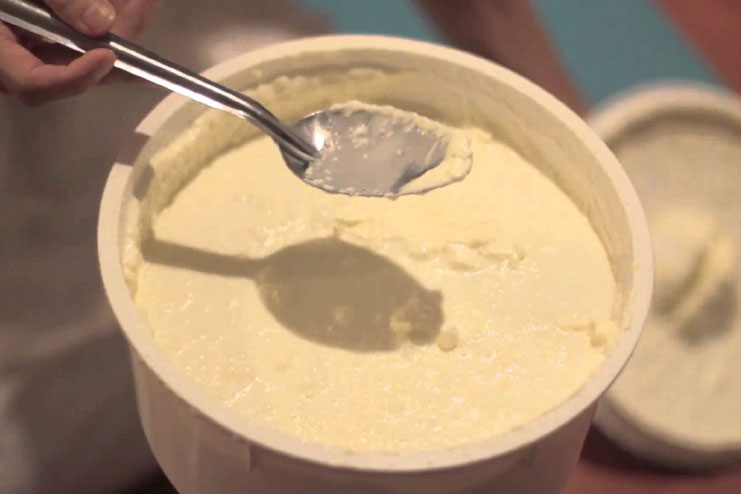 2. Take this cream out and Churn it. You may use a wooden whisk or electric blender.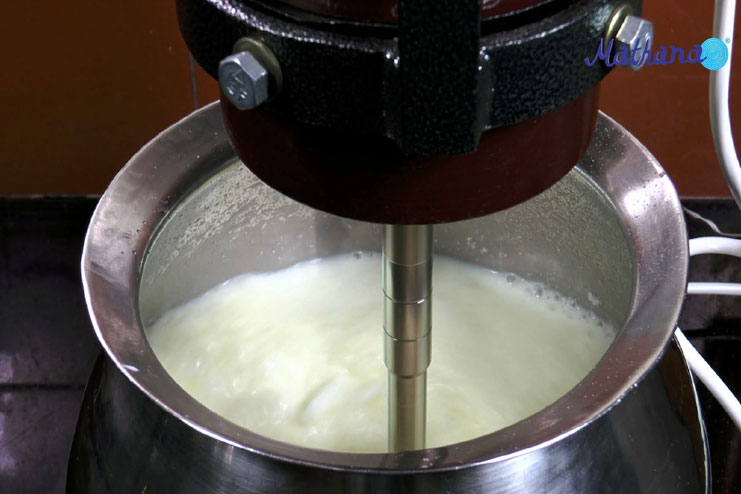 3. Add an ice cube to this mix and keep churning. The ice cubes will aid the suspended ghee to accumulate together.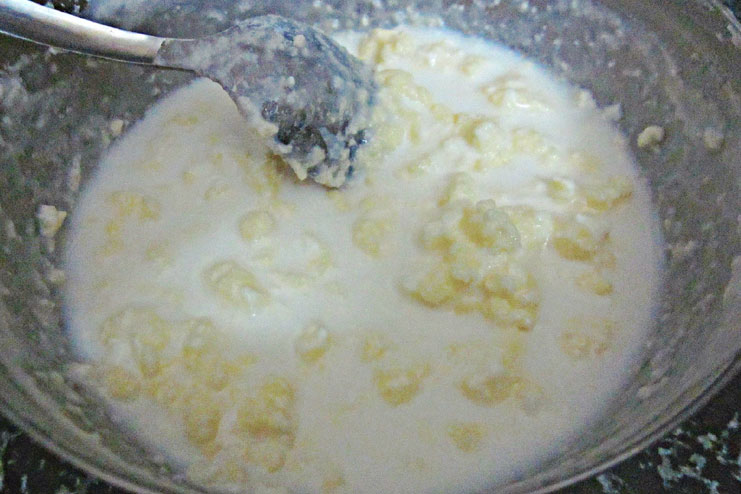 4. After 10 to 15 minutes of churning, you may start noticing a lot of butter accumulating and the separating the liquid from the mix.
5. At that point Remove the solids and churn the remaining till no more butter is seen.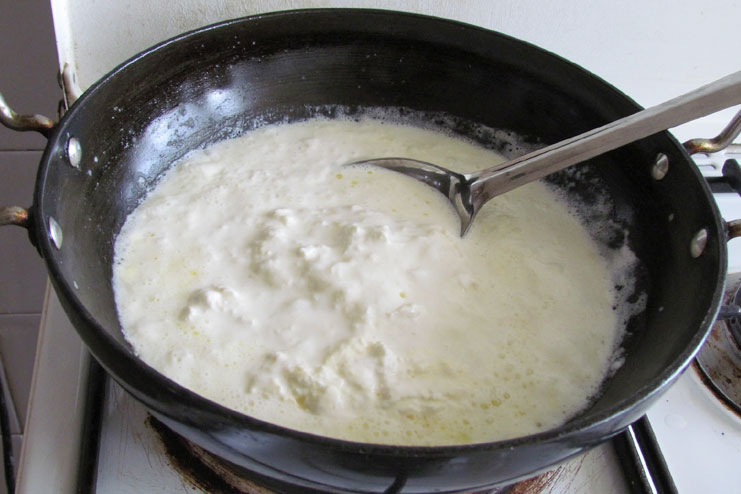 6. Take this butter in a vessel and start heating it.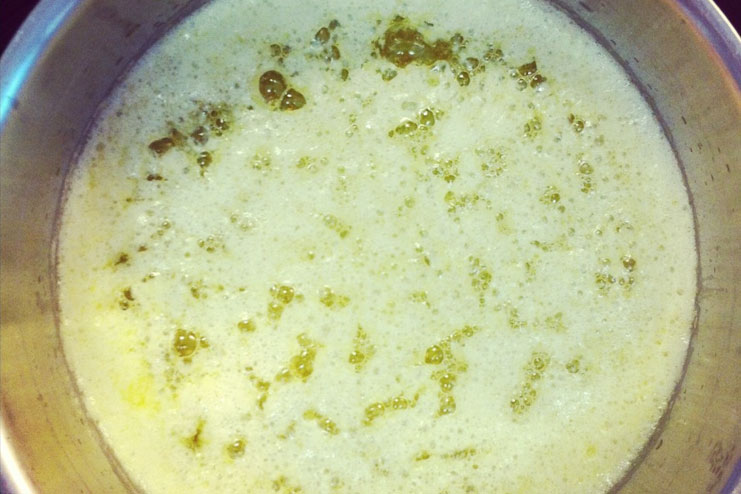 7. It will start to boil and burn. Keep it on low flame and let the solid burn down to golden brown.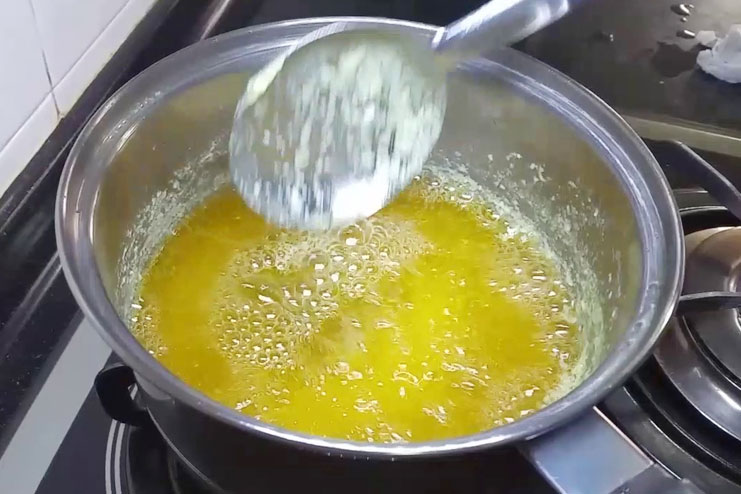 8. Remove from heat and sieve the solids out. And your Pure cow ghee is ready.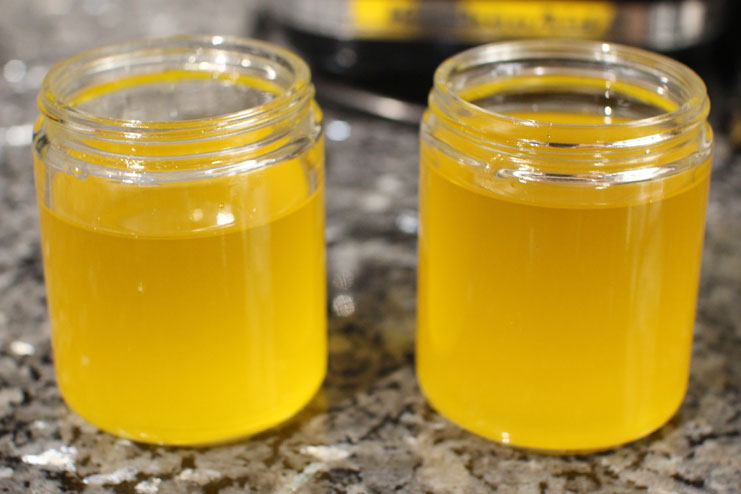 9. Store this Ghee in a container for later use.
What are Health Benefits Of Ghee?
1. Provides Vitamins-
Ghee can act as a good source of Vitamin A, E, K for the body. These are responsible for the better development of bones and heart muscles. These vitamins are fat soluble and blend well with the dietary fats that ghee contains and make it easy for the body to absorb them.
2. Aids Digestion-
Ghee digestion produces Butyric acid from the butyrate that it contains. This is essential in eliminating toxins from the body. It is a very good anti inflammatory medicine and helps the digestion of food greatly. Ghee is used in food to cure stomach infections or post food poisoning cases.
3. Improves Immunity-
Ghee contains Anti oxidants which are essential in maintaining good heart and body health. These anti oxidants help in absorbing all the good vitamins, minerals etc. That help in making the body healthier and develops a greater immunity. Ghee is good for health and also for its balance.
4. Treats Burns-
Ghee has been used as a treatment for burns since ages by Ayurveda. It causes the skin to soothe and it reduces inflammation of the skin. It also acts as a moisturiser to skin and helps heal the burn wound. This is one of the best ghee benefits.
5. Cures Cough-
Ghee is a well known cure for cough. It is eaten directly with A few Tulsi (basil) leaves and warm ghee. This is the best remedy for whooping cough and cold. It can also be optionally consumed with Ginger Juice and cinnamon powder. It cures Cough and prevents a body from such vulnerabilities in future.
6. Relief for Constipation-
Ghee can help relieve chronic constipation. For ages now ghee has been used as a medium for an enema in Panchkarma treatment of Ayurveda. Normally ghee can be had with a glass of milk every night before sleeping to prevent dryness in body and o prevent constipation.
7. Builds strong bones-
One of the pure ghee health benefits is that it contains Vit. K2 which helps in absorption of minerals including Calcium. This makes the bones stronger and healthier. It also helps in proper tooth health and prevents calcification of arteries.
How to Use Ghee For Hair and Skin?
So far we have always known ghee for health benefits, but ghee is also extremely useful in the beauty regimen. Here are 10 secret uses of ghee for beauty care.
1. Hydrates Dry Skin-
Ghee can deeply hydrate your skin as it contains fatty acids which can induce hydration in the driest skins and also help in improving their health. Just apply and massage all over a target area and leave it for half hour before washing off completely.
2. Imparts Glow-
Ghee not only acts as a strong moisturizer but also help in keeping the skin moisturized for a longer time, thus preventing it from the damage of environmental factors. Just add a tsp of ghee to your normal Gram flour, turmeric, and milk face pack and leave it on the face for half hour. You will be amazed to see the difference ghee makes.
3. Anti aging properties-
Ghee prevents your skin from aging as it improves the hydration of skin thus letting all the essential nutrients to stay intact and prevent it from free radical damage, This in turn helps your skin stay useful. For best result massage ghee directly to your skin and leave for 10 mins. Then wash off with any herbal cleanser. You can use Ghee for skin whitening.
4. Reduces Dark circles-
Ghee is known to improve circulation of the blood under yur skin. This acts as a great remedy for treating under eye dark patches and make you look more fresh and youthful. Just massage a pea sized ghee under your eyes before going to sleep. This will prevent it from looking dull and tired.
5. Chapped lips-
Ghee can reduced the occurence of chapped lips as it hyper moisturizes and seals the lips inner moisture within. Apply a little ghee on face overnight and you will never have to worry about your lips chapping.
6. Pigmentation of lips-
Massaging your lips gently with ghee will improve the circulation of your lips. This will reduce the pigmentation of your lips over time. Apply it everyday for best results.
7. Conditions Dry Hair-
An excellent remedy for dry hair, ghee can act as a great moisturiser for your hair. Ghee penetrates deeply into the hair and nourishes the inner shaft of your hair which will increase the life of existing hair and improve the moisture. Mix a portion of ghee with equal portions of olive oil or coconut oil and apply like normal hair oil and massage for a while before going to bed. This will improve dry hair right from the first use.
8. Repairs split ends-
Split ends occur most commonly with under nourished hair and dry hair ends. Ghee can nourish the dry hair and make your split ends to reduce considerably in a small span of time. Just applu pure ghee to your split ends and leave it overnight. Wash off in the morning.
9. Shine to hair-
Ghee can impart instant shine to dry and dull hair. It is known to improve blood circulation and nourish hair deeply. This improves the hairs health and gives them a lustrous shine and smooth texture.
10. Promotes hair growth-
Nourished healthy hair will flourish well and lead to improvement in hair growth. Applying and massaging warm ghee over your scalp can improve your scalp health and induce hair growth almost instantly. On using Ghee for hair loss you can see fewer hair fall and breakage. You can see a vast difference in your hair density on regular ghee usage.You can also use Ghee for hair regrowth.
Tips-

Ghee should not be consumed in excess everyday. Excess consumption of ghee can increase the risk of cardio-vascular diseases.
Obese people must avoid consuming ghee in their diet in excess amounts. It should be restricted to less than or equal to 3 tsps per day.
You should know always understand when not to consume ghee, If your lifestyle is sedentary and has minimum active work, Avoid having excess of ghee.
Pure cow ghee health benefits include anti viral, anti fungal, anti bacterial properties. It has antioxidants and fatty acids to promote health.
For a wholesome Desi ghee nutrition include a habit of adding a spoonful to your milk for everyday consumption.
Kalyani