Have you decided to lose your weight with healthy food and diet?
We tend to give second priority to health by running back of weight loss goals. Are you not happy trying something which can give you healthy and fitness simultaneously? Your health will forgive you once for your mistakes. But it gives you back by falling sick when you are repeating. So, determine to step into right ways and the one of the right way is making use of
avocado with some great recipes
. As losing weight with healthy food is not something latest but it is not recognized well. So, here we are happy to throw some light on avocado and it's efficient ways of burning fat.
Avocado for weight loss with recipes:
If you are in search of a fruitful way to cut down your weight, you must end your attempts by having avocado. Avocado is running forward with all benefits related to health, beauty and fitness as well. The butter fruit looks buttery but gives you the opposite factors of butter. Among many recipes of avocado, we brought you some to help with your weight loss. It is considered as one of the best food for weight loss. Know more looking at the benefits and avocado recipes for weight loss.
How Avocado is a Master for Weight Loss?
1.Avocado is an appetite-suppressant by making you feel full. You put on your weight when you intake food without any boundaries.
Now, tell me something, wold you consume any food when your stomach feels occupied. I will make it simple saying avocados stops the cravings and hunger for the food after it going in. As avocado is high in fiber and good fats, it takes longer time to digest. Half of the fruit can make you stick to it without skipping to other foods for longer. Are you ready to call avocado an appetite-suppressant ?
2. Pick avocado for healthy weight: Yes, healthy weight can be maintained with avocado. To understand this point, you should know the importance of weight management. Losing all the weight to get thread-like body or over weight with no limits cannot be termed as weight management. Weight management is something when a person is maintaining the healthy body weight considering all the factors like age, gender and height.
After getting to know the importance of weight management, it will not be fair to omit avocado for weight loss.
3. Healthy fats in avocado help you to lose weight: As many of them feel that food with fats will make you gain weight. You must check if you are eating of healthy fats or not. In that case, avocado is a master with full of healthy fats. It is an interlink of making your stomach feel occupied with foods that contain fats. Adding avocado to your diet, you can gain both the benefits of weight loss and gain health. Go for avocado, if you are looking for two sided benefits.
4. Butter Fruit is low in sugar: It is proved to be a unique kind as it contains low sugar compared to other fruits. Butter fruit contains less than 2 grams of sugar which is low compared to any other fruit.
Note this point that it also keeps the blood sugar level as much as needed. Start consuming avocado to have healthy blood sugar level. After finding these benefits of butter fruit, you should start calling it unique.
5. This Single Seed Fruit is Low in Carbs But High in Fiber: If you are looking to go for low-carb diet then take avocado into your list. Avocado is loaded with fiber and water than carbs. Fibre is always showing up for weight loss. The good amount of fibre intake will allow you to shed weight effectively. A cup of avocado will give you enough of fiber for the day long and can keep yours at good levels.
Healthy Avocado Recipes for Weight Loss are Here:
You must look at the healthy avocado recipes. Every recipe has the ingredients that highlights your diet with taste and health. Add the ingredients by following instructions and no one can stop you lose weight. Go with all positive thoughts and set your mind to see the fit you.
1. Blueberry and avocado smoothie: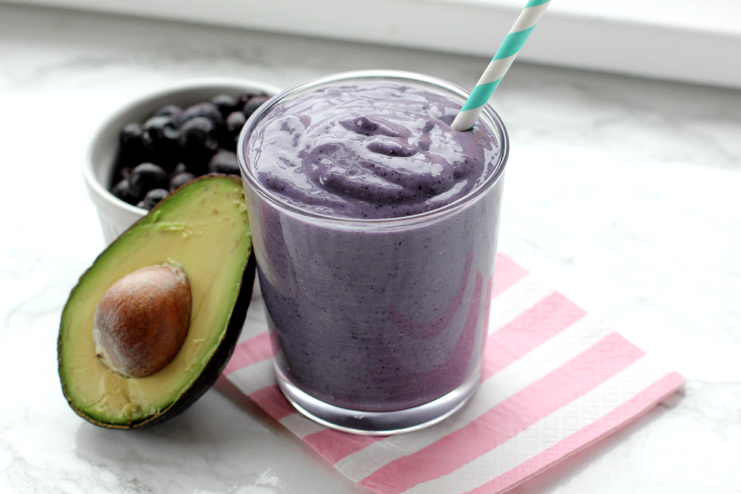 You will get all the nutrients taking this blueberry and avocado smoothie. The soluble fiber in chia seeds also a plus which will help you to lose weight. The other natural sources of energy are coconut water and banana. Blueberry and avocado smoothie is great for summer as it has cucumber to keep you hydrated which is crucial. Let every sip be a step of losing weight with amazing ingredients together.
Outline of this recipe:
Ingredients You Need:
½ Avocado
½ Cup Frozen Blueberries
¼ Cup Frozen Pineapple
½ Frozen Banana
1 Cup Baby Spinach
½ Cucumber
1 Cup Coconut Water
1 Teaspoon Chia Seeds
Directions to Prepare:
Put in all the natural ingredients into a blender.
Have the freshly prepared smoothie immediately.
When you have the easy recipes to make and taste, you should not waste your time. You will love to welcome your day having this healthy smoothie for your breakfast. The purple coloured smoothie is wealthy with natural fruits and veggies. More over, blueberries are gem of this smoothie that add gorgeous colour and yummy taste.
2. Avocado and aloe smoothie: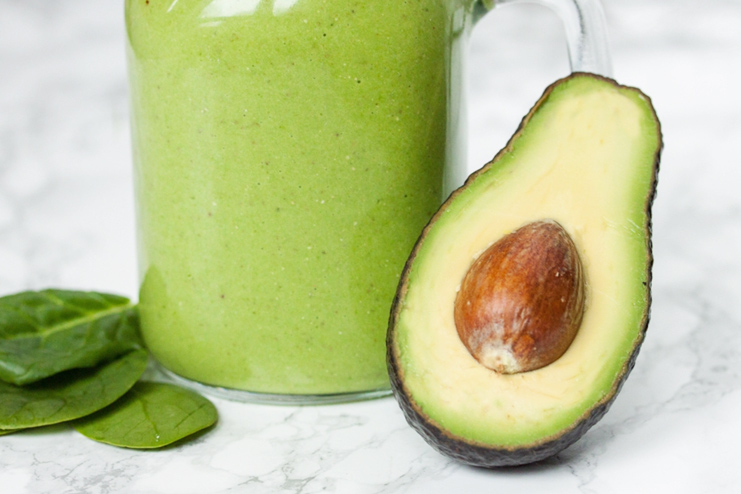 Aloe in this smoothie helps to detox your body. Spinach is good as dietary fiber along with many other health benefits. Adding lemon juice in avocado and aloe smoothie is a brilliant idea as it increases metabolic rate. Coconut water goes with avocado to help to make you feel full.
Ingredients you need:
1 cup chopped spinach
1 frozen banana
1/4 cup mashed avocado
1 cup coconut water
1 tablespoon aloe vera juice
2 tablespoons fresh lemon juice
2 to 3 dashes of cayenne pepper
1/4 cup coconut water
Directions to Prepare:
Place all the given ingredients in a blender.
Blend it till it turn into smoothie.
Then, have a glass of fresh avocado spinach smoothie.
Breakfast is a kick start of the day. The blend of avocado spinach smoothie will make you feel refreshed. Yes, am recommending this for your breakfast! And do not worry about the bittery taste of aloe as banana is there to turn it sweet.
3. Pearl Barley Salad with Pomegranate and Avocado: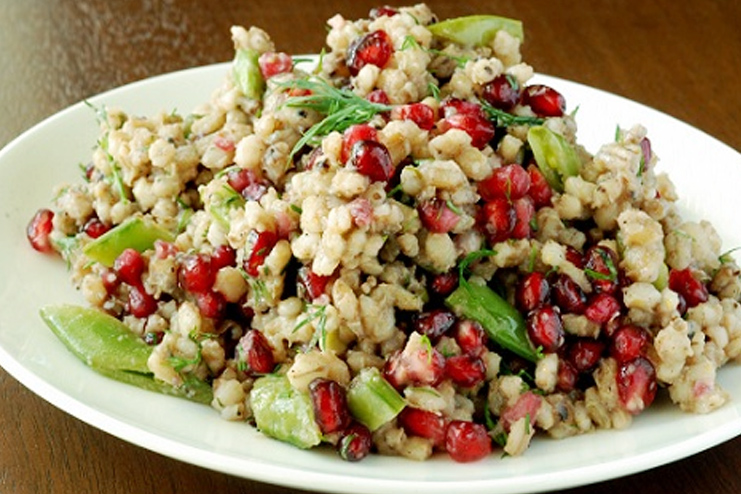 Taking this salad you are giving your stomach full feeling and that is because of loaded fiber in barley. Mint leaves add the flavour and give you a refreshed feeling. Pomegranate is also a natural suppressants says few studies. The ingredient that is rich in antioxidants is olive oil and with good fats.
Ingredients you need:
200 gm barley
200 gm pomegranate
250 gm avocado
30 gm mint leaves
20 ml extra virgin olive oil
10 gm lemon juice
5 gm salt
20 gm tomato
25 gm sauteed onions
The bowl of salad is filled with multiple tastes. This is a dream food for any one and you must try this salad to let your tongue experience the good food and tummy with healthy food. I love to give it other name " the healthiest bowl".
Directions to prepare:
At first start to soak the barley for 1 hour in luke warm water.
Then boil the barley for 7-8 minutes in salted water. Strain the water and bring to room temperature.
Chop the avocado and tomato into mall size cubes. Then add the cubes to barley.
Chop the onions finely into the bowl of ingredients.
Add pomegranate and mint leaves along with lemon juice and virgin olive oil.
At last, sprinkle salt for taste.
4. Black Bean, Corn and Avocado Salad: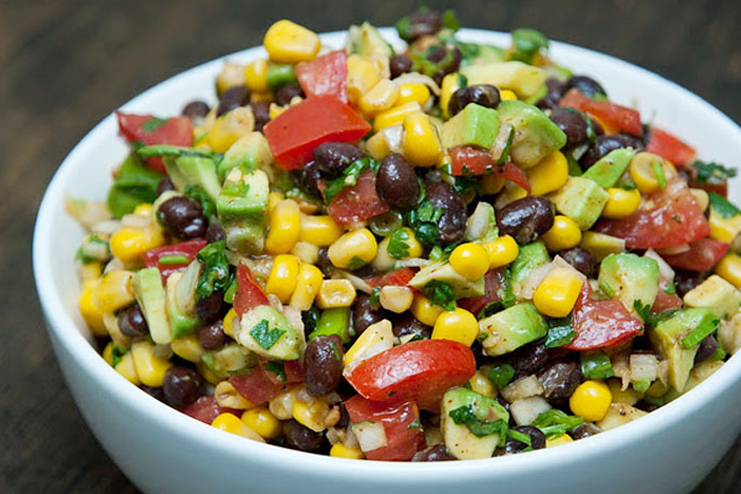 Black bean will show the results effectively as they are high in fiber and low in fat. It can keep the blood sugar levels stable and much important to add black beans to your diet. Cilantro leaves can promote your digestion and let you have a good digestive system.
Ingredients you need:
1 Avocado
1 Can Black Beans
1 – 2 Garlic Cloves
2 Tablespoon Lime Juice
1 Tablespoon Olive Oil
½ Red Onion
1 Can Corn
2 Jalapenos
Cilantro
Salt and Pepper
Directions to prepare:
Chop these ingredients (onion, garlic, jalapenos) into small pieces.
Then, add in the black beans, corn, lime juice and olive oil.
Place the avocado slices and add on Cilantro.
Do the last step of adding corn along with some salt & pepper, just for taste.
A bowl of beans with spices is not boring and they taste better together. So, you must wait to blend these ingredients when you have weight loss goals. No cooking and baking but ready to eat!
5. Avocado Watermelon Salad: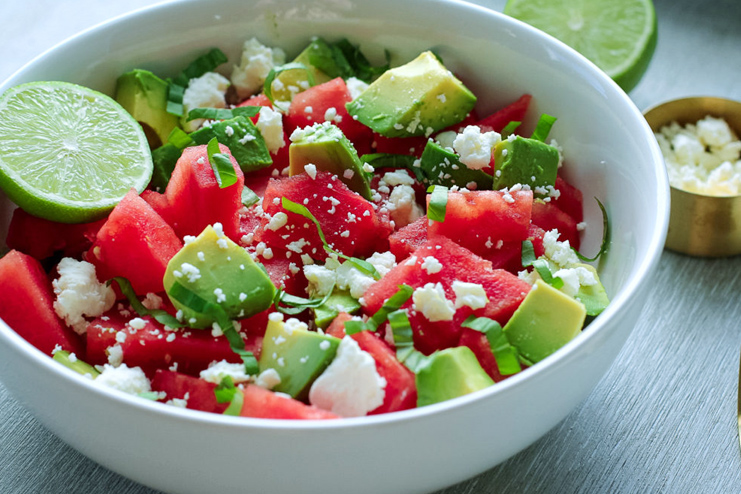 Using onion the calories intake will be reduced and salad can taste much better with onions. Lime juice will allow you to burn calories and store less fat which is required for weight loss.
Ingredients you need:
2 avocados
2 limes
1/2 red onion
Watermelon cubes
1 Tablespoon olive oil
1/2 bunch cilantro
salt and pepper
Directions to prepare:
Take a large bowl.

Add the sliced avocado, onion.

Then, add the chunks of watermelon.

Pour in the lime juice, olive oil. Sprinkle the rest ingredients cilantro, salt and pepper.

Mix up all together and your healthy salad will be ready serve.
Can anything be perfect than watermelon in a salad, in summer? Make this summery salad which can be your special food every day. Beat the heat with watermelon!
6. Ezekiel Bread with Avocado: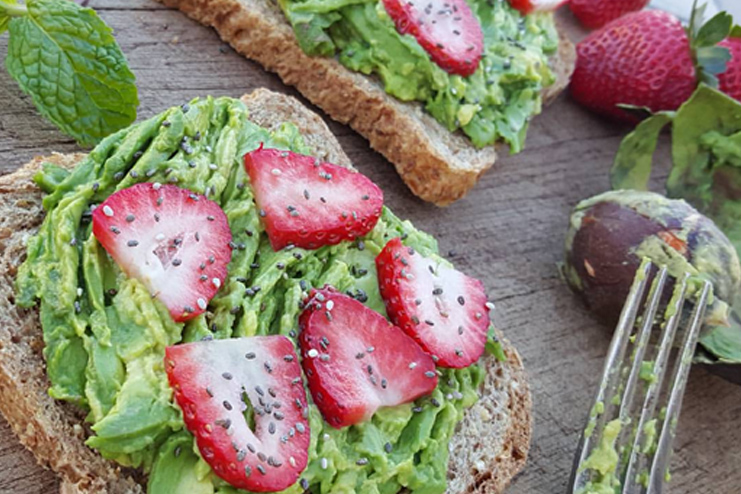 The Ezekiel bread is not added with sugar but made with barley, wheat and lentils. The ingredients that are used for for bread are high in proteins and it also absorbs the minerals. Ezekiel bread is obsessed for many reasons and weight loss can be one of them. These main ingredients avocado and Ezekiel bread can help you reduce your weight.
Ingredients you need:
1 Ezekiel bread
1/2 avocado
1 pinch sea salt
1 pinch red pepper flakes
Strawberries(optional)
Directions to prepare:
Take a slice of Ezekiel bread and toast it.

Mash the avocado and spread on the toast.

Add your favourite toppings like salt, red pepper flakes or strawberries.

This will be one of the flavourful toast that you can eat. The most attractive toast can be with strawberries. Try with your favourite flavour and enjoy your breakfast. A good start of the day!
7. Mediterranean Style Avocado Toast: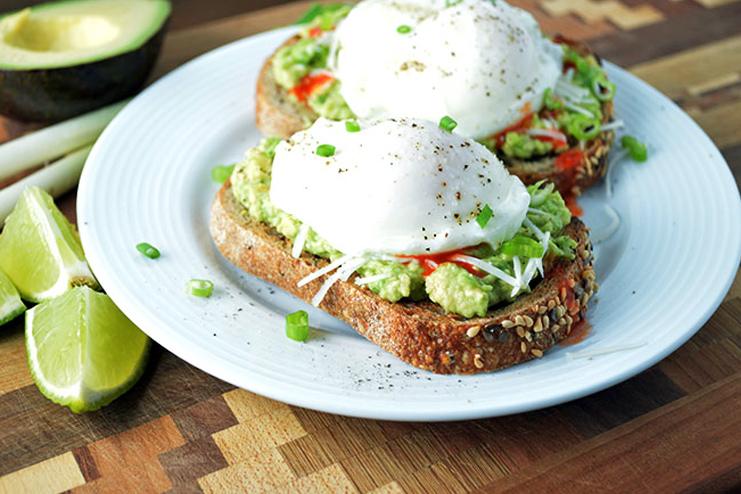 Eggs into your diet is a must. It can boost your metabolism which you are in need of. By eating eggs in various ways, you can grab all the proteins. Yes, I agree that cheese is a crime at weight loss time. But feta cheese has less fat compared to any other cheese and it also tastes up your toast.
Ingredients you need:
2 Slices Whole-Grain Bread
2 Poached eggs
Check out the video, how to make poached eggs
1 Tablespoon Lemon Juice
1 Avocado
4 – 5 Cherry Tomatoes
2 Tablespoon Feta Cheese
Red Pepper Flakes
Pinches of Salt and Pepper
Directions to prepare:
You can toast your bread in oven or a toaster.

Let the bread get toasted. Mean while mash avocado, lemon juice, red pepper flakes, salt and pepper.

Take the avocado crush you prepare and spread over your bread.

Slice the poached eggs and cover your toast with them.

Garnish with feta cheese and halved cherry tomatoes.
Hurry up! Make this colourful toast and eat the healthiest food. The combo of avocado and cherry tomatoes look and taste amazing. More over it can lock your hunger for long.
8. Broccoli Salad With Avocado: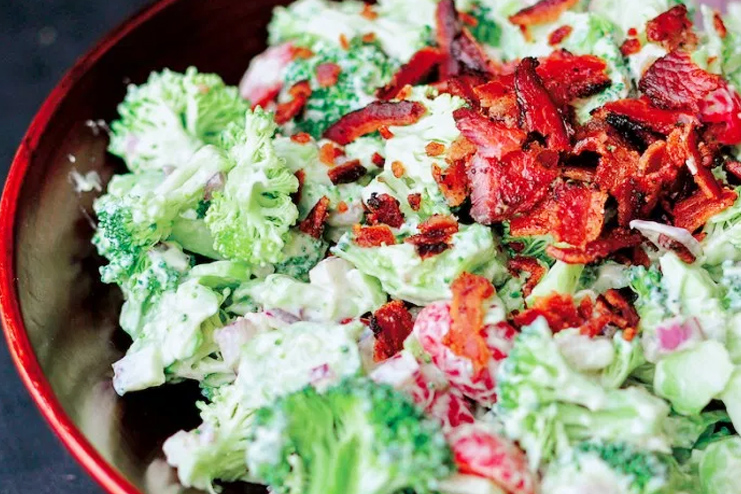 Broccoli is stuffed with many nutrients, vitamins and minerals. Adding broccoli as part of your weight loss diet is a wise idea as it contains dietary fiber too. Broccoli salad can help you balance the diet which is struggle for many. Mustard along with other ingredients will support you reach your weight loss goals by raising your metabolism.
Ingredients you need:
1 pound broccoli
1 ripe avocado
2 Tablespoons extra virgin olive oil
2 Tablespoons lemon juice
1 Tablespoon mustard
Directions to prepare:
Wash the fresh broccoli and make into small parts.

Steam or boil broccoli and drain the water out, put into a bowl of salad.

Make small cubes of avocado and then add into broccoli bowl.

Take a bowl to pour lemon juice and mustard.

Stir them well and then add into broccoli, avocado mixed bowl.

Mix all the ingredients to make the salad.
The salad can fit as the meal of your day. You can eat this nutritious bowl with all the good ingredients. You must have such healthiest food to see the real transformation. The fit you is the healthy you!
9. Avocado with Egg: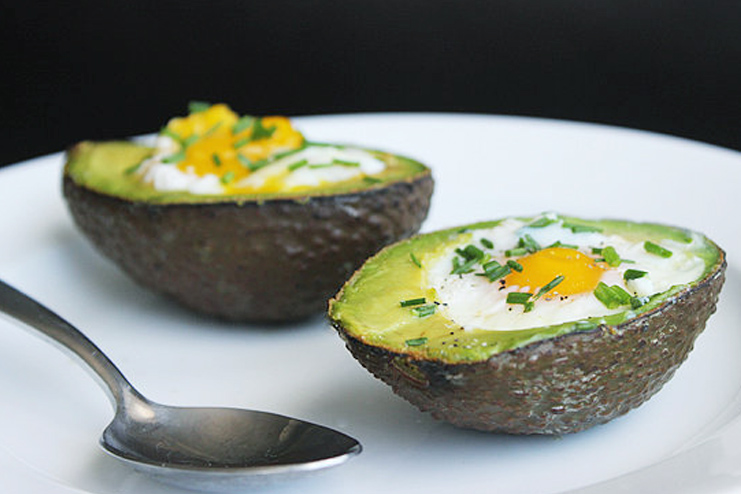 This two ingredient recipe is good with proteins and vitamins. The egg is the perfect option to team up with avocado.
Ingredients you need:
2 ripe avocados
4 fresh eggs
1/8 Teaspoon pepper
1 Tablespoon chopped chives
Directions to prepare:
You need to preheat the oven to 425 degrees.
Slice the avocado into half and dig out 2 tablespoons of avocado flesh from the center of avocado.
(This step is to place the egg in avocado properly)
Take a baking dish and place half cut avocados in it.
Take care while cracking the eggs into both parted avocados.
(You must try to spread the yolk and then fill the avocado shells with egg whites)
Place them in the oven and bake for 15 to 20 minutes.
Bring the avocado wedges out of the oven and then sprinkle with chives or pepper.
Making this recipe will be fun and post preparation, you can't wait to eat it off. The combo of avocado and egg can be an amazing mid day meal. Do not worry, an avocado and eggs will be filling your tummy for longer.
10. Veggie sandwich with sprouts and avocado: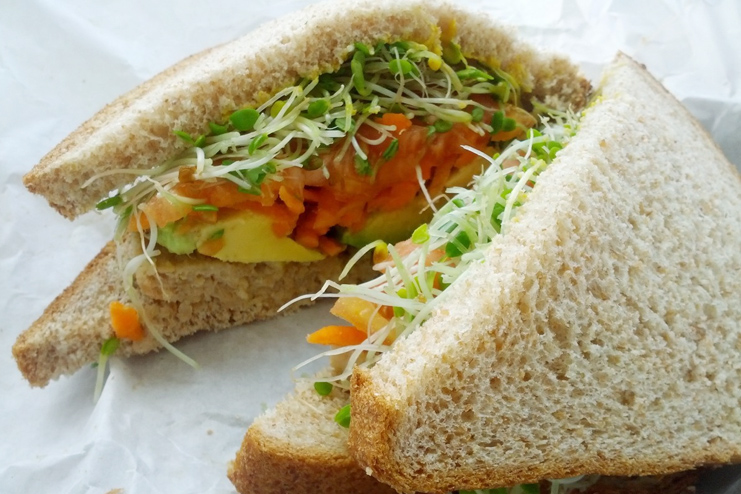 The sandwich with all veggies like carrot, cucumber and tomato. Alfalfa sprouts give the enough of calories adding into veggie sandwich. Hummus is to provide you proteins and fiber, which will fight on your hunger.
Ingredients you need:
2 slices of sprouted whole-grain bread
2 tablespoons hummus
3 thin slices of cucumber
2 thin slices of tomato
3 slices of avocado
1/4 cup alfalfa sprouts
1/4 cup grated carrots
Directions to prepare:
Keep all the ingredients to add.
Make the slices of cucumber, tomato, avocado.
Then grate out the carrot and keep aside.
Toast your whole grain bread and spread out hummus on it.
Add the sprouts and other veggies.
Stop counting the veggies and enjoy the sandwich. This sandwich stuffed with veggies will be covering your half empty stomach. Try and see if it can fight against your hunger. Am sure, you will feel full longer! A must try for fitness!
11. Chicken and Avocado Sandwich: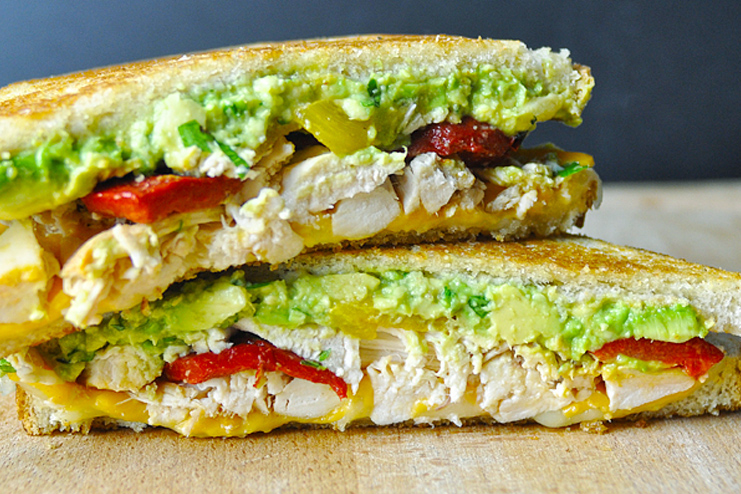 Chicken with other ingredients can make you feel full. Other ways of having chicken may not be for weight loss. But the cooked chicken without too much spices and oil is good for weight loss. The other key ingredient here is tomato which aids for digestion.
Ingredients you need:
Oatmeal Whole Grain Bread
1/4 ripe Avocado
1 Tomato
Cooked boneless chicken
Directions to prepare:
Take a bowl and mash avocado finely.

Cover the oatmeal bread with avocado mash.

Place the sliced tomatoes.

Then, add with cooked boneless chicken.
Start with a bite and go with bite on bite. Be happy that you have some tasty and healthy food. Good food does all good to you. Choose this sandwich as you good food for your meal.
12. Two Ingredient Snack with Avocado: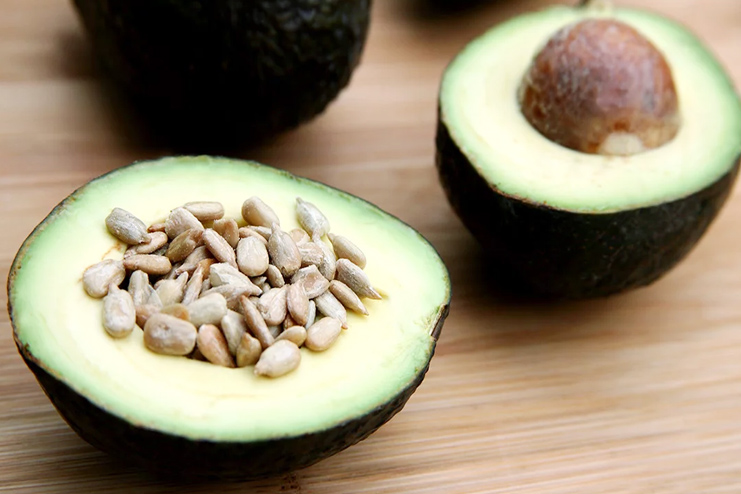 Sunflower seeds are helpful for weight loss, if they are taken in counted quantity. The various components in sunflower seeds raises the metabolism. You can happily focus on the proteins and fiber while adding sunflower seeds in your diet.
Ingredients you need:
1 Avocado
1 Tablespoon sunflower seeds
Directions to prepare:
Take an avocado and make it into half.
Remove the seed and scoop out the avocado flesh.
Fill the pit of avocado with sunflower seeds.
Say it's time to snack up with this easy recipe. You snack time is simple than any task. Think before eating unhealthy and do not think to start with something healthy. Just grab the food!
All you need to do is overlook at the existing sources. All the steps back from other ways and go with the natural ways. Avocado- a single seed fruit will let you she weight and if you are still left with the trials, try the above recipes. Keep your tummy happy with healthy food and make it feel good.