Women attire can never get outdated and boring. Especially these days! Because every outfit can be designed and go with some kind of twists. Shirts are turning into skirts and dupatta can be jackets. How interesting this fashion world is! These cool and creative ideas to a change to beautiful dresses are highly useful. Such ideas can keep you attached with fashion and your special outfits any time.
Since how long you are not using your bridal lehenga and since when it is cornered. Have you had a look of your pretty lehenga after your wedding, at least once? Once or not at all. You are not finding the right occasion to wear or it out of fashion you feel. Nothing is out of fashion when you have out your little efforts to keep yourself fashionable. Basically, you either wear choli or a blouse pairing up with bridal lehenga. So, you can just change the wearing style with multiple things.
Now, let us look at the multiple ways to reuse a bridal lehenga:
1. Bridal Lehenga With Long Kurti: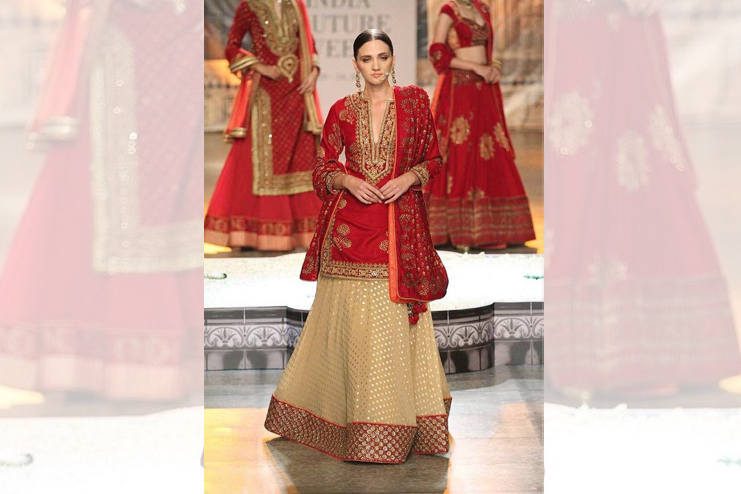 Long kurti with lehenga is a trending outfit. Just get a long kurti stitched or buy a ready made one and pair it up with your lehenga. You can also make your dupatta part of your lovely outfit. This is the smart way you can give to your lehenga and it looks fashionable, infact a unique outfit on whole. See that you are decked up nicely with beautiful acessories that can match your outfit, then you can flaunt with your bridal lehenga.
2. Bridal Lehenga with Jacket: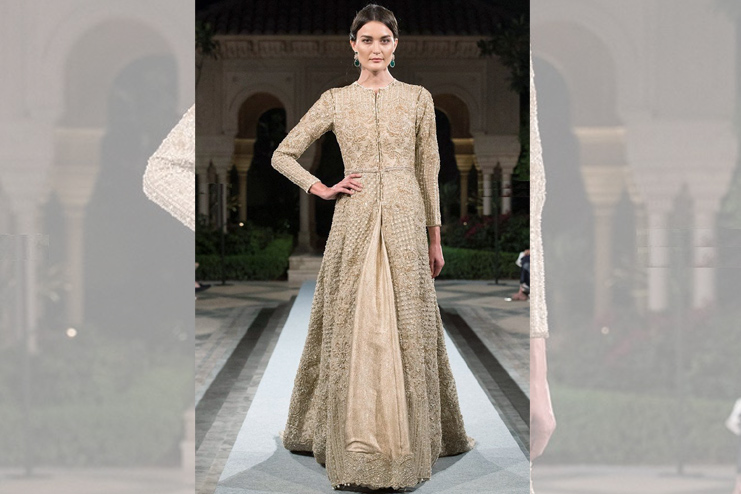 If your lehenga is too heavy, then you just add it up with a silk or sheer fabric jacket without much of embellishments and weight. Obviously! Bridal lehengas wold be heavy and you can make use of that heavy lehenga well with this way, with a simple jacket. And if your lehenga is simple then you can add up with a heavy designed long jacket. Either of the way to reuse a bridal lehenga are wonderful. You can look into the below image to get the picture how cool it looks.
3. Bridal Lehenga with a Cape: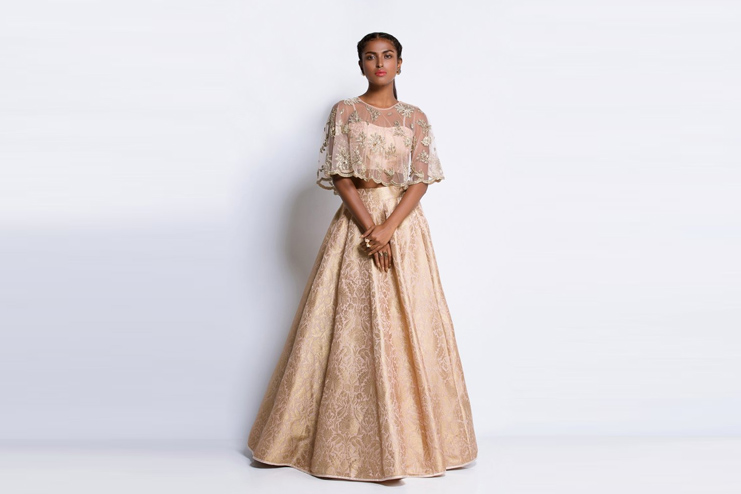 Capes are proving to be saviours for many outfits. Nowadays, capes are working well on traditional outfits than western. The Indian patterns and designs on capes are making the capes a traditional part of outfits. So, you can get a long cape to cover your lehenga. Or else a keep it short like a blouse. Cape on lehenga is a clever idea where you can promote yourself with fashion and also not let your bridal lehenga go. Remember, it is not a rule of fashion to match the lehenga colour. You can wear a cape that is full of tradition and bit of shine to be a part of your bridal lehenga.
4. Bridal Lehenga with Stylish Blouse: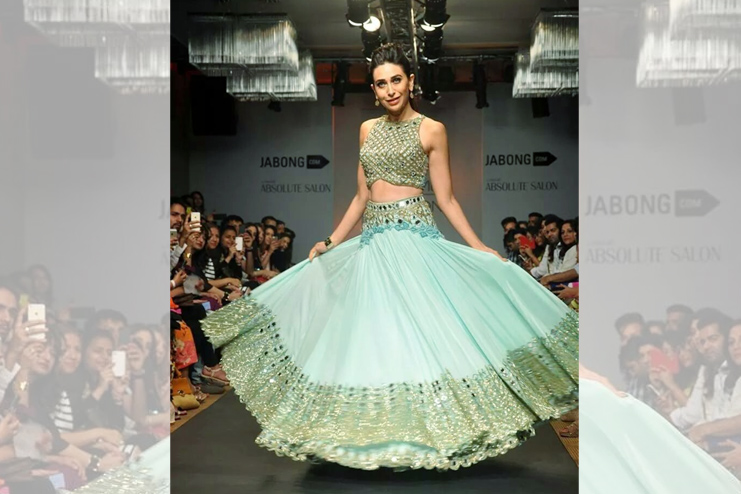 You cant wear the same blouse that you wore for your wedding with your lehenga. So, you can just go for some modern and stylish blouses like high neck, cold shoulder, halter neck blouse. This idea of making your lehenga a trending one is simple and easy with a blouse. And you know how well you can design a blouse and get the freedom to have various ideas. You can select any of the ideas from unlimited designs of styles, designs. You will love the magic of blouse does to your bridal lehenga.
5. Bridal Lehenga with Peplum top: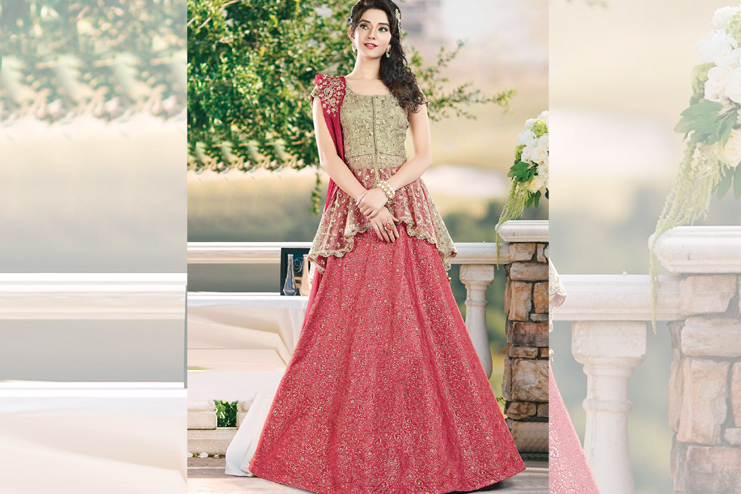 If you want to have a fashionable and modern look to your lehenga, then wear a peplum top with lehenga. As peplum tops got a completely different kind of style and it can be a modern version of blouses as well. A stunning peplum top with your bridal lehenga would look amazing just like in the image. You can select a pepelum top which is made full of embroidery work or a simple one, as your lehenga would be a heavier part of your outfit already.
6. Half Saree with Bridal Lehenga: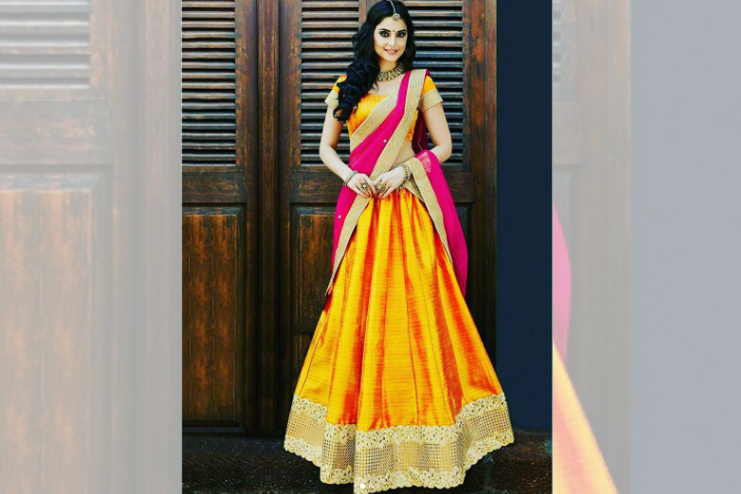 Half saree is a traditional outfit that is a complete traditional outfit. It is nothing but draping your dupatta in a different style to make it look like a semi saree style. You need a blouse and reuse your lehenga along with the same dupatta. To make it still a more unique idea of using your bridal lehenga, you can design your blouse with full or 3/4th sleeves. Half saree with a Banaras lehanga is even more beautiful, just by bringing a perfect half saree look.
7. Tuck shirt in bridal lehenga: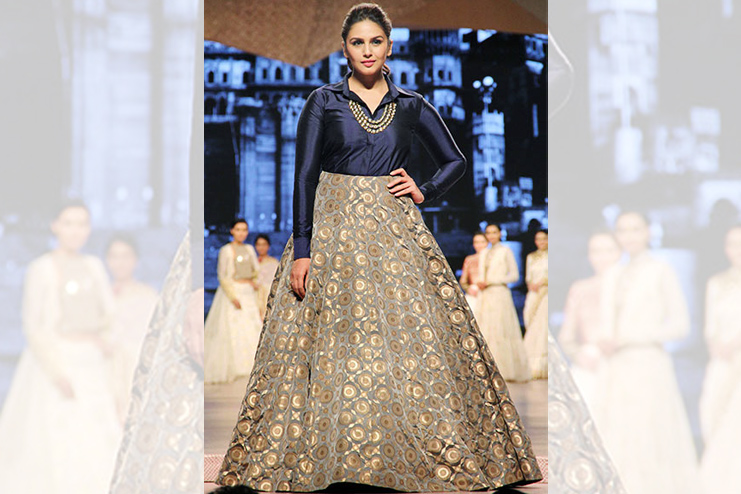 Bridal lehenga with a tucking shirt. This must be sounding strange as shirt and lehenga are two different kinds of styles. But their strange combination is wonderful. All you need is an ethnic kind of shirt, if possible a buttoned shirt and just tuck the ethnic shirt with lehenga. No doubt, it will be a great idea to reuse your bridal lehenga and it is another clever way. The collared style and buttons make it look an ethnic western blend. You can look into the image to believe the awesome work that a simple shirt can do.
8. The twist in Draping Style: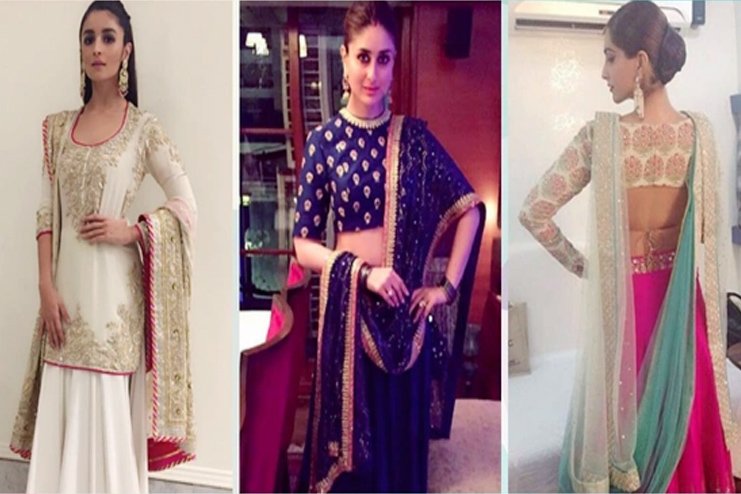 A dupatta can do wonder on any outfit. The way you wear the dupatta can make your outfit look a different one from time to time. Generally, dupatta works as veil to cover your head. Now you can drape it in different styles.
Now it is time to take your beautiful bridal lehenga and no more it should be cornered in your closet after these ideas and ways to reuse the lehenga. It is worthy of going with various styles and many times. Preserving your fairytale is simple and using it well is also simple. If you can make some more ideas out of your creativity, that will be great!