When it comes to makeup, it is very important to define your eyes which are one of the most beautiful pictures of the face. Eye makeup gives a complete different look to the face. There are various styles to do it how about peacock eye makeup is one which gives a beautiful aesthetic look to the eyes.
Eyes speak volumes about your style and when it's done right, it has the power to be immensely transformative. You do not have to be a professional makeup artist to give the peacock makeup look to your eyes. Or you do not even have to be a beauty guru to achieve those bold, beautiful and gorgeous eyes. There are endless ways of doing the easy peacock makeup and looks.
You do not have to any longer worry about your eye makeup for the next night out. We have got it covered for you here. This makeup is inspired by the colours of peacock which looks quite intense and extremely smoking with shimmer and matte finish along with various shapes of dark blue, silver, light green, and lots and lots of blending to make it looks the prettiest.
Various historical evidences have indicated that ancient Egyptian women decorated the eyes with great aesthetic care. But it is also believed that eye makeup a provides a psychic protection. An unadorned eye was believed to be pretty much unprotected and hence it is easily vulnerable to the Evil eyes.
We have peacock eye makeup step by step for you to learn. When it comes to awe-inspiring ideas, be it makeup or home decor, we steal a lot of ideas from our mother nature with his a true stunner. Taking peacock, for instance, we love it for the various visit colours which are such bright and defined in its feathers and is definitely worth incorporating it in the make-up too. Even though it is a male peacock from which we get inspired for the patterns and colours, it just makes a woman look beautiful and elegant. These are something that everyday girl could pull off easily.
Peacock eye makeup is bright, sexy, fascinating and definitely pretty much eye catching. It completely turns your evening attire into a glamorous one and jazzes it up. The peacock eye makeup is definitely not for the ones faint at heart. It is bold and iridescent giving you that perfect edge for any occasion. It is time that you play with colours and get that lovely look with a perfect peacock eye makeup tips. The simple steps can be followed by the beginners or the first timers easily.
Preparation Required For Peacock Makeup Ideas:
You will need cleansing and profession to ensure your skin's free from oil, grime, or dirt. You must not have any makeup residue and hence you must watch your face don't have that clean skin base to work with. You can do this done differently for your makeup to stay for longer period of time as well. The great step for makeup that you would need especially for the peacock eye makeup step by step.
How to prepare the base? Behind every good and long lasting eye makeup, there is a good quality day which is applied. Using your primer you must give a smooth and blemish free eyelid to work on. Apply concealer, face, and dust it off with face powder which is in high definition to get a smooth clean base for the peacock makeup look.
The Traditional Peacock Eye Makeup Look: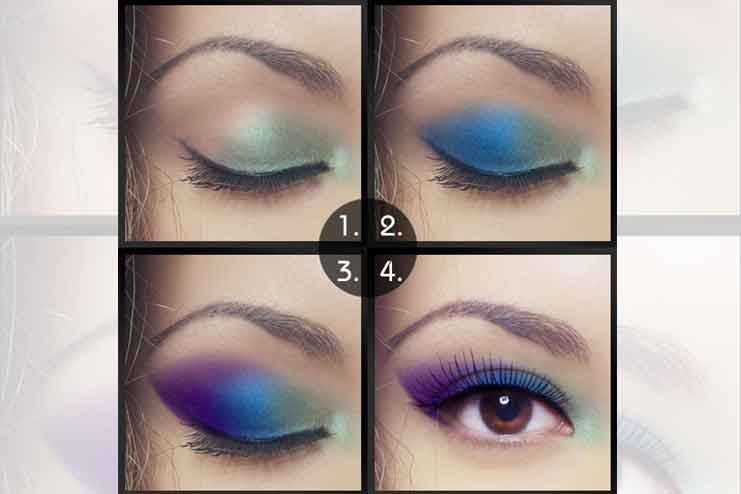 Once you are done with the preparations that is required as mentioned above, you must start with a pale yellow or a bronze colour eyeshadow as the base over the entire eyelid evenly spread.
Next, highlight your brow line with a highlighter in white. Using the same highlighter, work along the underside of the innermost corner of your eyes.
Apply the azure mist eyeshadow on the corner side of the eyelid inside but remember to use the stroke outwards such that while applying the eyeshadow you do not have to stop Halfway through your eyelids.
Use of bit of Turquoise to brighten up the eyeshadow especially when your eyelids begin to lift upwards.
Next, again, take a shade of bright azure eyeshadow to go over the central part of the eyelids.
Go until the outer corner of the eyes with the shade of purple. Remember to start from the outer extreme corner of the eyes right below where your eyebrow line ends until the centre of your eyelid.
Using a round tip brush, blend the colours to give a complete finished look.
You can apply your eyeliner now, going as close as possible to the large and keeping it smooth. Simply put it out line in the inner corner of the eyes and draw it outwards in a form of a wing towards the outer corner of the eye.
Curl your eyelashes with the help of mascara and apply to three fourth to make it look thicker and eyes open up. You can also use coloured mascara for your eyes lower lash line.
Using the white liner along the waterline of your eyes lower lid, you could give a complete peacock eye look.
Designer Peacock Eye Makeup: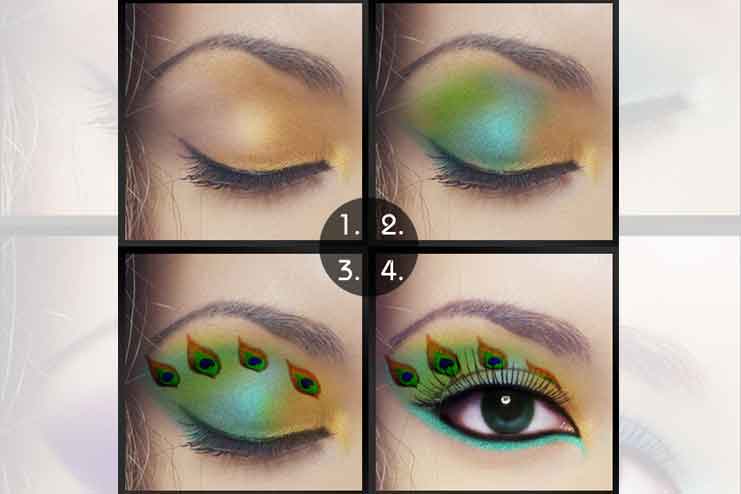 Use a neutral shade in order to go over the entire eyelid such that it forms the base for your bright colour.
Next, highlight your brow line and the inner corner of your eyes with gold and bronze highlighter.
Using a similar eyeshadow shade to cover the innermost corner of your eyes, cover only in a ¼th corner of your eyelid that it looks perfect.
Use a cyan blue shade to go over the central portion of your eyelid.
Using vivid green shades that you have in your eye shadow, go from the outer corners of your eye towards crease line of your eyelid.
Now use a dark blue Shadow to line up the outer corner of your eyes.
Blend the colours in such a way that you use a round trip makeup brush and gently mix it.
Using the golden eyeliner pencil, draw tiny flame shaped leaves along the natural crease line as shown in the picture. This might be tough the first time but you will get the hang of it in a couple of times of practice.
Use dark blue eyeliner to form the peacock eye.
With the help of black eyeliner, outline your lower lid smoothly.
From the shades of eyeliner, use a cyan shade to line the lower lid just below the lower lashes of eye line.
Curl up your eyelashes to finish the look with mascara.
Arabian Peacock Eye Makeup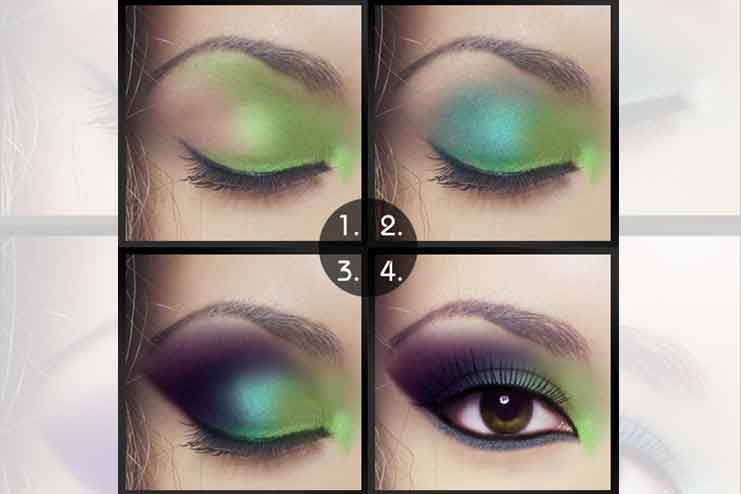 Start with a neutral shade of eyeshadow the line of the upper lids.
Using a highlighter with the pink tint, apply it below your brow line.
Line the inner corner of your eyes with lime green eyeshadow.
You can opt for sea-blue or green shadow from the palate to cover the central portion of the eyelid. Do not go over the natural trees of your eyelid.
Using a Cobalt blue shade of eyeshadow, cover the outer corner of your eyes.
Next, extend the on your upper eyelid over the crease line.
Using a bright purple eyeshadow above the crease line, you could bring in that Arabian look. Smoothly extend this shade toward the point where your brow line would meet your upper lid when extended upward.
Extend the black eyeliner on the inner corner of your eyes. You could have a slight went towards the outer corner for the dramatic look.
An electric blue liner could be used to line your lower lashes line.
Dust the lower eyelid with silver shimmer powder to make it look royal.
Complete the look with mascara by curling your eyelids.
Tips for Peacock Eye Makeup:
Use white eye Kohl pencil to fill in your eyes Water Line if you have smaller eyes.
You can skip the glitter part if you want to turn it down for a day look. Glitters would emphasize your eyes more and looks best for a party night.
You could tone the whole look of your peacock eye get-up by reducing the amount of products and practicing well on mixing and blending part of the eye makeup. You could use only 2 shade blended well for a simple and easy peacock makeup on the eyes.
You must always use an artistic brush that eases to line your eyes if you have the small eyeliner wand. It also decreases the direct contact of the brush and reduces any mistake. Artistic brush has long neck which makes it simpler for use and great enough to hold firmly for quick use.
If you like to add a bit of drama to your eyes, you must try false eyelashes. These are very simple to put and to remove giving you the dense and dramatic eyelashes. All you need to do is to pour a little amount of eyelash glue on the back of your hand, with a tweezer, hold the lash and sweet the ends of the eyelashes just over the glue enough to cover it evenly rather than dipping it completely. While you are still holding the eyelash with the tweezer, place it right onto your real eyelashes sticking the corner of the false one with your real ones. Let it dry for about 10 to 15 seconds. If you happen to see any dried up blue with shows white on the skin, cover it up with the black eyeliner.
You can also use the fake lashes with beautiful together towards the end.
You could talk on some under eye concealer once you are done with the whole eye makeup to look flawless.
You could also wear some colored eye lenses to enhance the peacock look.
Using clean liquid makeup looks and makes the makeup fresher and natural. The oil free, water based formula would not clock the poles and contain noxzema to care for the skin.
You could go online or buy the makeup products from the store for the beautiful peacock eye makeup. The best is to buy the eyeshadow palette which has most of the colors covered by the peacock eye makeup step by step tutorial above. There are various brands which offer the various vibrant and vivid colors in their eye makeup set.
More Eye Makeup Related Articles: