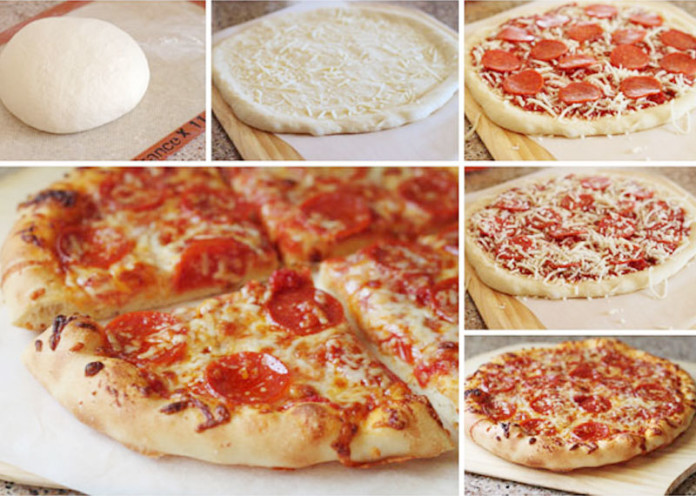 A great crust is the key for a great pizza, and this quick pizza dough recipe from yeast makes the perfect crust for an All American pizza loaded with cheese, pepperoni and a spicy homemade pizza sauce. Do you want to make pizzas often at our house, and if your family usually prefers a typical All-American pizza topped with a spicy sauce, pepperoni and cheese, then here's what you should be deciding to do.
One great thing about the recipe is that it uses instant yeast, so it's quick to put together and only needs a 15 minute resting time before you make the pizza. Sprinkling a little bit of your favorite cheese on the crust before baking it, would help keep the crust from getting soggy.
Ingredients
4 ½ – 5 cups bread flour
2 ¼ teaspoons (1 package) Red Star Quick Rise yeast*
3 teaspoons salt
2 cup water
¼ cup vegetable oil
Homemade Pizza Sauce
2 garlic cloves, minced or pressed
1 tablespoons olive or vegetable oil
1 can of crushed tomatoes in rich puree
1 teaspoon brown sugar
1 teaspoon Italian seasoning
½ teaspoon dried basil
¼ teaspoon salt
¼ teaspoon crushed red pepper flakes
Method of Preparation
In a small saucepan, saute garlic in oil until tender. Stir in the remaining sauce ingredients. Bring to a boil. Reduce heat; simmer, uncovered, for 30 minutes or until sauce reaches desired thickness. Sauce may be refrigerated for up to 1 week.
Dough preparation
In medium mixer bowl, combine 2 cups flour, yeast, and salt; mix well.
Mix water and oil, heat to 120° to 130°F and add it to the mixture.
Blend gently until moistened, and beat it for 3 minutes at medium speed. Using hand, gradually stir the remaining flour to make soft dough.
Knead on the floured surface for 3 to 5 minutes. Shape the dough into a ball, cover and then allow it to rest for about 15 minutes.
Divide the dough into 2 parts, with well-floured or greased fingers; press each part into greased 12- or 14-inch pizza pan.
Sprinkle ¼ cup of shredded cheese over the dough to prevent a soggy crust. Spread prepared pizza sauce on each pizza.
Do your favorite toppings – mushrooms, onions, olives, green peppers, pepperoni, cooked Italian sausage, anchovies, etc.
Cover it with shredded cheese of your own choice- Parmesan, Mozzarella and Asiago. Now bake at 400°F for 25 to 30 minutes until the edge turns crispy and light golden brown and cheeses melt.
Serve you American Pizza immediately
-Nikisha Uddagiri