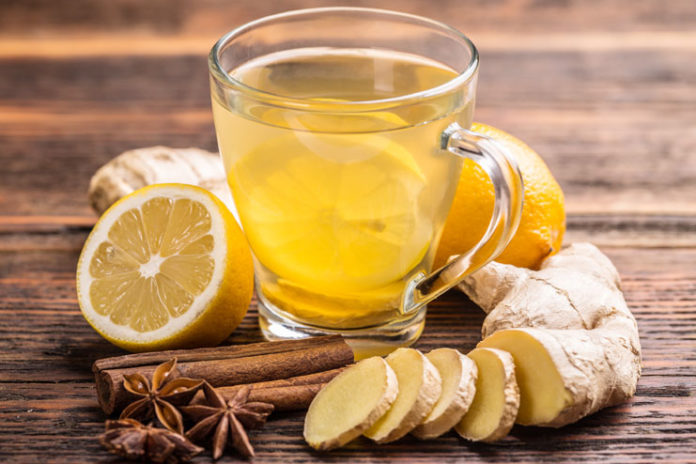 Ginger is basically a perennial herb, which is, native to China and India. It is obtained from a plant named 'Zingiber officinale'. It is also one of the most revered medicines in the Ayurveda. Ginger, has a history of being used as a spice since 4000 years. But, the medicinal factors of ginger tea for skin care, were been discovered at around 2000 years ago.
Ginger root are of irregular shape that comprise of bulbous joints, from which the small bumps grow. The overly-matured roots contain fibrils that is running through their center. Ginger also has a peppery flavor, with hint of lemon, as well as sharp aroma. Its pungent, spicy, as well as aromatic smell can also be attributed to the presence of all the essential oils and phenolic compounds such as the gingerols and shogaols.
It is because of its strong and spicy aroma, ginger have an important place in spices, delicacy, and even in medicine. Apart from it being used fresh, it can also be used dried, or powdered, or pickled, or in the form of juice or oil. Ginger tea is one of the favorite drink in Indian households and also a great remedy to battle cold and flu. So here, are few benefits and how to make ginger tea for skin care.
Benefits:
1. Aids Digestion

Ginger is considered to be one of the best herb for proper digestion.
Consumption of ginger can encourage your gallbladder to release bile, that can help to stimulate the digestion.
Ginger also help to provide relief from all the stomach cramps, diarrhea as well as bloating that is caused because of gastritis.
2. Anti-Inflammatory

Ginger is considered very beneficial to treat chronic inflammation.
It can provide substantial relief from the pain that is caused because of the inflammation and can also help to decrease swelling as well as morning stiffness.
It can also successfully inhibit cyclooxygenase and five-lipoxygenase-enzymes which can cause the inflammation.
3. Reduction Of Pain

The analgesic and anti-inflammatory factors of ginger are considered as a very effective product that can help to reduce pain and swelling from the patients who are suffering from osteoarthritis in the knee, rheumatoid arthritis, or any general muscle discomfort.
Ginger can also alleviate the pain and is beneficial to those who have to take painkiller to reduce any arthritis inflammation.
By adding ginger oil to the bath it can help to give relief in the muscle and joint ache.
To treat inflammation, ginger can be used both externally as well as internally.
4. Relieves Migraines

Ginger can help to provide relief from migraine, as it can help to inhibit the prostaglandins that cause pain as well as inflammation in the blood vessels.
Just apply some diluted ginger paste on your forehead to get relief from the migraine tension.
5. Manages Glucose Levels

Some research have suggested that ginger can help to lower the blood glucose levels in your body.
Since the glucose have direct impact on the weight gain or weight loss of your body along with how lethargic or even energetic you feel through the day, by regularly consuming ginger root supplements can bring quite a noticeable change in the levels of blood sugar.
6. Strong And Beautiful Hair

Whether it being an itchy scalp, or hair loss problem or a receding hairline, these psychological effects; sometimes lead to the edge of depression.
For some people who were suffering from hair problems, dermatologists often recommend some diets that are rich in vitamins, A and C. As they help in the production of DHT in the scalp, which stimulate the hair growth.
Since ginger tea is loaded with vitamins as well as antioxidants, you will be able to tackle the hair problems easily as well as naturally.
Cinnamon Face Packs For Glowing Skin
7. Smooth And Flawless Skin

Ginger tea has been used since many ages to stop or even cure many health related disorders.
They tend to have many countless medicinal benefits. One of the main reason behind it is the high vitamin content in it.
Since ginger is rich in antioxidants as well as Vitamin C, it can help to improve the digestion and clear the skin. Its antiseptic and antibacterial properties, can help you to enjoy a problem-free skin.
8. Enhances Immunity

A healthy immune system can help to keep all the diseases as well as infections at bay.
Instead of consuming medications to treat a condition, it is always healthy to take measures and prevent them.
Ginger root extract is a very helpful ingredient that can improve the immunity of the body.
By regularly consuming ginger in small amounts, can help to reduce the risk of stroke by eliminating all the fatty deposits in the arteries and keep proper blood circulation.
Ginger Tea For Skin Care
1. Ginger Lemon Tea

Ingredients:
a. Recommended cups filtered water
b. two to three inch sliced ginger piece
c. Tea leaves
d. One large lemon juice to taste
e. Sweetener of choice to taste (optional)
Method:
a. First combine water as well as ginger, in a saucepan and bring them a boil. Then remove them from the heat. In it add lemon juice and let it steep with tea for at least of 20 minutes.
b. You can steep longer, so that the ginger flavor can become more pronounced. Later you can reheat the water, before serving. Also you can sweeten to taste with sweetener of your choice.
c. Later, serve with or even without the slices of the steeped ginger as well as the slices of fresh lemon. According to the taste.
Variation:
You can add cinnamon stick to the saucepan with the lemon juice and ginger.
2. Honey Lemon Ginger Tea

Ingredients:
a. Peeled and grated ginger
b. Cups of filtered water
c. Tea leaves
d. Honey
e. Lemon juice
f. Cinnamon stick or nutmeg (optional)
Method:
a. Peel the ginger, then grate them in a tea pot, medium bowl, or even a large measuring cup. Grated ginger can help to give more flavour to your drink than with just the slices of peeled ginger.
b. In it pour one cup of boiling water and then let the water steep with tea leaves for more than three minutes.
c. Then you can put lemon juice as well as the honey in your mug. Then strain this ginger tea in the mug.
d. Now slowly stir to dissolve all the honey. Taste, and add more honey or lemon juice if you want.
e. In the end you can add a dash of cinnamon or a nutmeg or a cardamom.
f. These warm spices can help to add more than just some flavors, they add sense of comfort and also some magical herbal or homeopathic elements too.
3. Iced Ginger Green Tea

Ingredients:
a. Green tea bags
b. Recommended filtered water
c. Slice of ginger
d. Ice
e. Honey (optional)
Method:
a. Put a green tea bag in glasses and pour in the boiling water. Let the steep for some time, until the color changes and you feel that it is ready.
b. Then remove the tea bag and discard.
c. While the tea is steeping, bring a saucepan over a medium-high heat, in it pour the water from the glasses, the honey, and ginger to boil.
d. Slowly stir to dissolve off the honey, then remove from the heat, and then allow the tea cool down in a room temperature, for about 1 hour.
e. Then store the tea in the refrigerator until it is ready to serve.
f. To serve, first fill the glasses with some ice and pour the tea. You can sweeten, to taste, with a ginger syrup.
Natural Beauty Tips For Summer