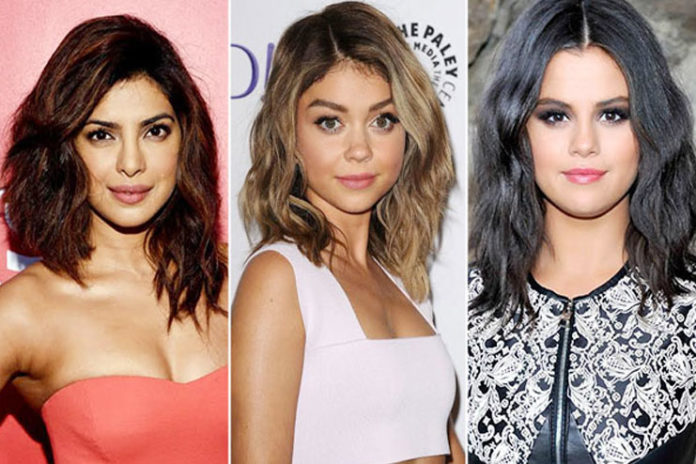 Feather cut hairstyle has been in popular culture ever since, and with the amazing variants now, they are more than glamorous for anyone to carry. Especially for after the hair color gained prominence, feather cut hairstyles have become the most cherished by everyone far and wide. Especially on Indian faces, these hair looking feather like cuts are trending. A socially skilled barber or hair stylist shapes the hair in beautiful layers in this feather cut hairstyle.
Some Wonderful Feather Cut Hairstyles:
For all those women who prefer to keep long tresses but not compromising on style and elegance, feather cut are your right match. Flaunt your beautifully done and long feather cut hair for a glamorous and trendy look. Some wonderful feather cut hairstyles include:
1- Layered and outward feather cut hairstyle:

Use curlers after the feather cut for this Velcro curling look. Use paddle brush with outward strokes for that layered out appeal. This feather cut look can be even enriched with stepped layered cut.
[Read: easy hairstyles for curly hair]
2- Sectioned bangs with feather cut hairstyle:

This one's a graduated and cute sleek look with patterned locks. The front bangs are sectioned with a good styling brush. Use spray for keeping them off your eyes for long. This one is a cute feather look for innocent appeal
3- Crimped feathered look:

Having long locks and wondering how to get perfect feathers, well here is your crimped ad feathered look. Crimp the entire hair length and make it more wavy with perfect strokes of brush.
4- Rolled and curly feathered look:

Having thick hair and willing to adorn feathered look, here is your stylish pick. The rolled and curly feathered look created by medium sized curlers to create small curls. Also the falling hair makes the look bouncy and appealing for your hair
5- Red feather cut:

Use the most red of the shades for this vibrant and colorful hair style. Make the fringes slide towards one side and the hair looks too mysterious. The differing lengths of feather cut make this style a sassy and glamorous one
6- Cleopatra fringes feather cut:

For every woman Cleopatra beauty and style is the most sought after one. Feather's cut hanging lose inwards from shoulders down and bangs or fringes puffed to cover eyebrows completely. Bring the curls forwards of backwards for the style you like. Even make an up do for this hair cut brings a variety of styles to adorn
7- Undercut feathered hairstyle:

This one is all about reverse layering and looks great with short hair or bob cut. Make this falling down feathered hairstyle more sassy with turning hair under. Victoria Beckham has made this style a very prominent one
[Read: Hairstyles for dresses]
8- Messy feathered cut:

A brilliant pick for blonde hair, very simple to carry. Intense layering with bangs help in giving variation to the short hair. A side parting or a centre parting, this hair style can be great for formal evening dinners
9- Feather cut for corporate look:

A simple and plain hair down without many feathers or layers is a classic formal look for all your office wear. Graduated and layered haircut with hair straightened to perfection. Use gel or fixing spray to keep the hair in place for long
10- Feathered with highlights at ends:

Apply lighter shades on ends of layers and augment the classic look. Use curlers or brush to roll the bangs out for glamming up your look
11- The page boy look feathered cut:

A blunt which is short and has front fringes and ends at shoulder length. get feathered look with lot of under layers. Curl the insides for making it elegant and stylish
[Read: How to have waterfall braid]
12- Short and feathered like Princess Diana:

Use brush to wave the feathers out and highlight or adorn blonde shades. The hair stays above head and this is a no hassle hairstyle which stays on forever.
13- Short feather cut bob hairstyle:

Inverted feather cut bob is a chic and sassy hairstyle for trendy appeal. Undercut is just right in length, and front looks charming and yet mysterious.
14- Symmetrical feather cut with bangs:

For straight and silky hair this symmetrical feather cut with bangs is just perfect. Use brush to let the length fall in after shoulder and side part with hair falling down.
15- French fringe feather hair cut:

A great French version of feathered hairstyle. Great for blonde hair shades, textured for medium length hair and feathers fringes all over forehead for hide and seek appeal.
The above compilation on Feather cut hairstyles is to help you glam up and charm your style with these evergreen and pompous selections. These are your never fail style mantra for every look you ever wanted to adorn with your hairstyles in place.
Stay stylish and send us your feedbacks, we love hearing from you!