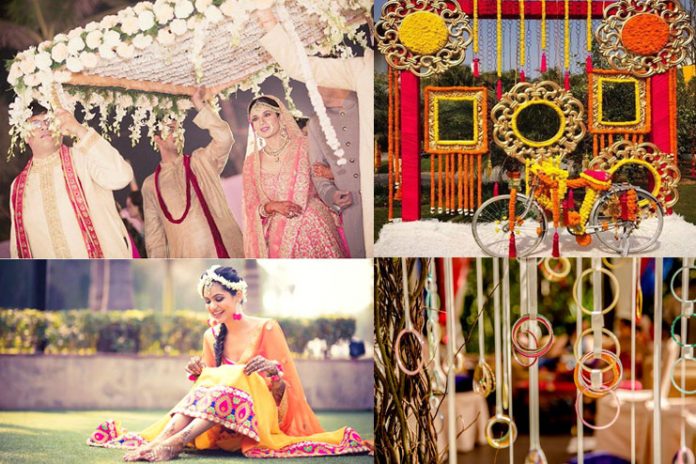 Weddings are a happy affair, but it's the wedding preparation that takes a toll on all the excitement. Talking about Indian weddings to be specific, it's more like a 4 to 5-day festivity then a simple divine ceremony. Another thing that remains common among all wedding preparation, whether done in a modern or traditional fashion is sticking to the budget. No matter how big or small you want the wedding to be, there's always a finance sheet to hold.
With the onset of wedding season, we came across many to-be brides and their bridesmaid looking for DIY options that not only are easy and quick to do but are practical for an Indian wedding. Most blogs available online give DIY options suitable for western wedding, not helping our desi brides much.
We did a little research of our own, made a list of desi wedding essentials and figured out what among them can you DIY. So, all you brides, their sisters, mother, and helpful relatives out there, here's a list of 10 things you can DIY and save a few bucks.
1. Save the date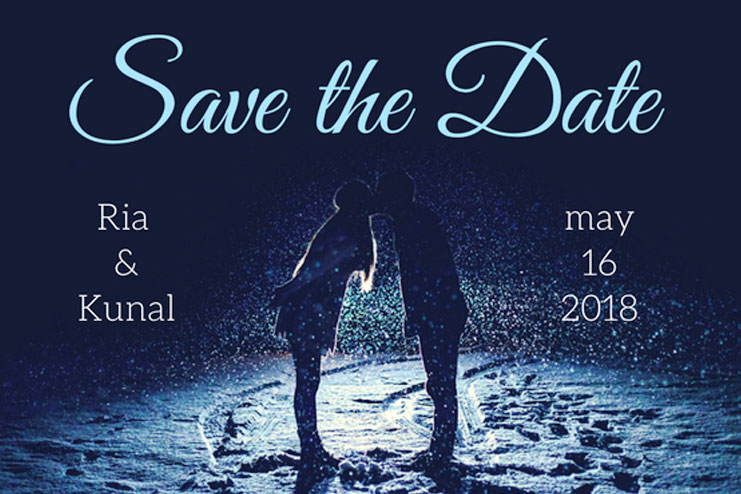 In the past few years, wedding 'save the date' has gained a lot of popularity and have become a norm to follow. But the big problem is where to find a designer to design a beautiful, one-of-a-kind wedding save the date. Even if you get one, the price they charge doesn't seem to justify the merger task. We say forget those designers, and instead get your laptop and design your own save the date. There are a bulk of online designing portals that lets you upload images, write text, and apply filters, thus giving you full control of your save the date design. Below are some Save the Date card designs I designed for free.
2. "Phoolon ki Chadar"
As long as we remember, 'phoolon ki chadar' is a wedding trend popularised by Bollywood movies. Though essential in a traditional wedding, modern brides seem to love to have a pretty chadar over their head. Trust me girls, if you haven't included this one in your list, you need to look your sheet again! This one element can add typical Bollywood touch into your grand entry. No matter how beautiful and breathtaking your lehenga makes you look, this one element can earn you million compliments when you put your first foot forward. After all, this is your wedding, you can't afford anyone else to steal your thunder, right?
The beauty of a bride putting her first foot forward, escorted by her brothers holding a chaadar will make all the guests role their eyes. And no matter how much nervous or excited it makes you feel, it is your big day and you deserve all the attention.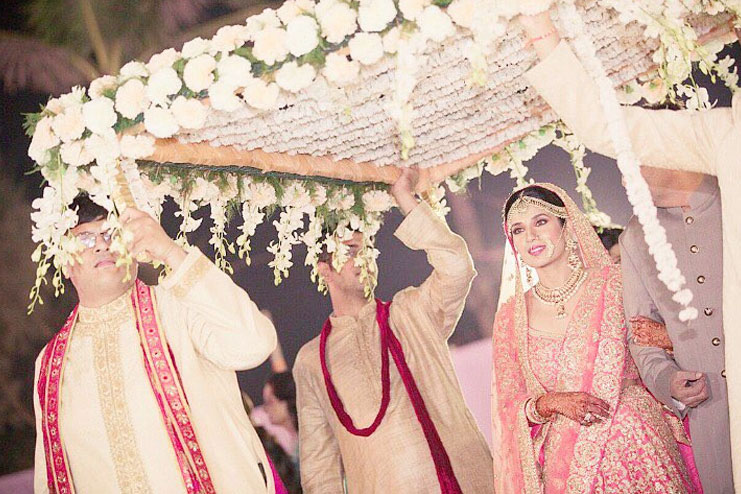 If you think getting one would be expensive, you are right, but making one is not. To make a chic 'phoolon ki chadar,' all you need is a basic chadar (a full-size dupatta) in shades of red or pink. You can decorate it with tassels, fairy lights, and real flowers, as you like. Just use a hot glue gun for the task and make sure everything is secure.
3. Photo Booth
No matter how many candid photos your friends and family has got captured, your personality might not always shine in those pictures. Getting a photo booth not only gives you more beautiful pictures but is a great fun activity for your guests too. Be it the mehndi ceremony, haldi program, or even the sangeet/Shaadi event; photo booths are a must-have in wedding decor. Whether you have a college gang striking for weird poses or grandmother giggling, a photo booth is treat to the eyes. And thanks to the Instagram, Snapchat, and Facebook generation these booths will be used to full potential.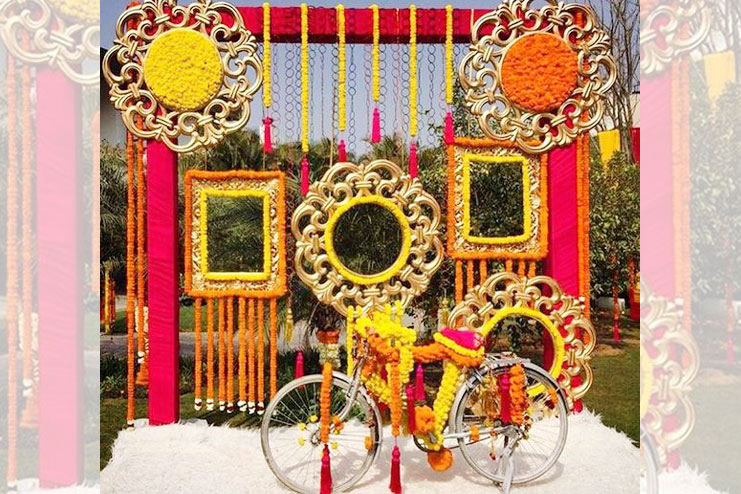 Well, don't spend money on buying or even renting such decor items and if you have hired a wedding planner better ask him to cut you some slack as you'll be taking care of the photo booth yourself.
A few cardboards, colourful wrapping paper, fairy lights, and artificial flowers is all it takes to make a beautiful booth.
[Also Read: Outdoor Wedding Decoration Ideas]
4. Wedding/Mehndi favours
Mehndi and wedding favours are an essential part of a wedding ceremony. Big or small it is always a good idea to please your guest with cute wedding themed favours. But girls, did you know bangles are not the only option you have to gift your lovely guests. Just like all other things, wedding or mehndi favours have also gone modern.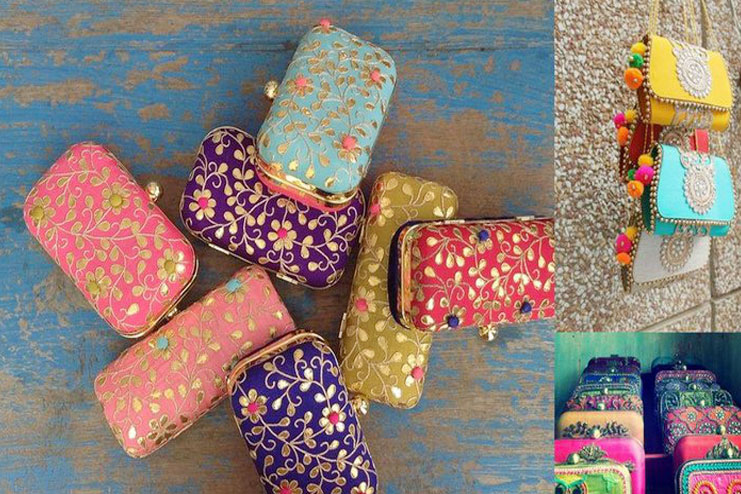 And while your bridesmaid is going haywire over the search of the perfect favour that not only fits the budget but is unique too, we have got some amazing ideas for you. Better, you can create some on your own too. In our opinion, it's best to create beautiful wedding favours all by yourself. From gota hairpins, rings, brooch and other such accessories you can create them all quickly with basic items available at the nearby craft shop.
5. Flower Jewellery
Who doesn't fancy those beautiful flower jewelry to wear on their mehndi function. These floral jewelry items have become incredibly trendy nowadays. No matter from which culture the bride belongs to, they no longer prefer sparkling gold jewelry, especially for functions like Mehndi, Haldi, etc. With sensitive like Mehndi, they look very pretty and add the much needed natural look.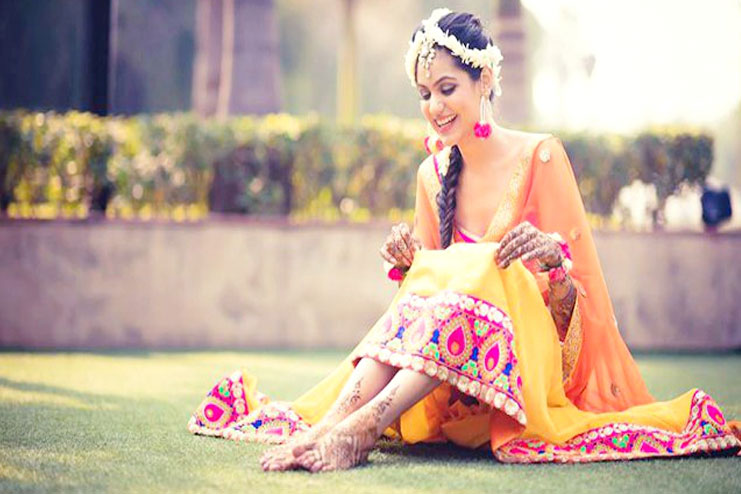 But we see vendors charging exceptionally high prices for jewelery pieces made from basic material that you won't be wearing ever again. Therefore, it's better to bring along your creative cousin and friends and ask them to help you create a flower or Kundan jewelery for the day. You can look over the internet for fabulous ideas.
[Also Read: How To Look Stylish For Mehndi Ceremony]
6. Wedding Envelopes
Envelopes are a must-have in any wedding preparation, their outflow starts from every minute things get final between the two families. You can make an impression by giving away personalised envelopes to your immediate relatives.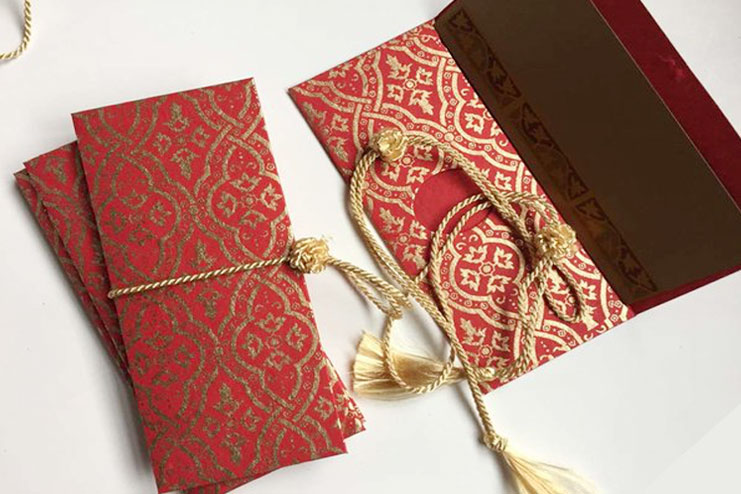 And here's where your DIY talent comes in. All you need is a few basic crafts material, a Pinterest inspiration, and you are good to go.
7. Ceremony Decor
After food, it's the decorations that make all the difference in a wedding. And a fancy decor request undoubtedly adds to the budget. We say go with the basic package and then add items – from your home or trash store by yourself making the setup pop-out. You can ask the local florist to hang flowers, put up large frames, or make bangle strings creating a beautiful personalised ceremony decor.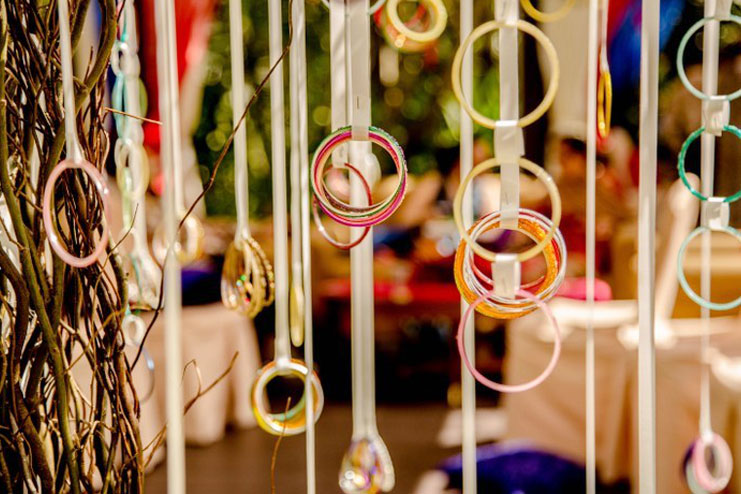 Some of the DIY wedding decor ideas you can go ahead with are:
You can collect some beautiful old color coordinated bangles and create chandeliers out of it.
Grab some tea glasses, put lovely flowers into it and use them as table centerpiece.
Hunt yours and your relatives' houses for beautiful bottles and color them. You can either hang them or use as table centerpiece.
8. Wedding Invitations
After wedding venue and trousseau shopping, the next thing that comes to mind is selection, printing, and distribution of wedding invitations. Going by the conventional manner, it all starts with a visit to a known wedding card store, picking up a design from a stock of designs we remember seeing on a distant relative's card.
But girls, we are talking about DIY here. So, we recommend going for online wedding card shopping, where you'll find fresh designs that can be customised to your choice.
Go to legit sites like Canva that stocks professional wedding card designs covering every possible template like vintage, floral, traditional, modern, classic, and more. What's even better is designing portals like these lets you send invites online to guests, giving you enough time to concentrate on other preparations. And did I tell you, you can design these cards for free too.
Many of my friends have designed cards using these online tools, let me show you some.
9. Music Arrangement
Music is such a beautiful way to express your wedding emotions. It also helps setting a mood for your lovely guests and create lifelong memories. Especially in India, all wedding ceremonies are incomplete without some desi Bollywood grooves to infect the guests with the wedding vibe. Can you imagine an Indian wedding without the song "Din Shagna Da Chadeya"? Well, I can't!
But getting a professional DJ surely is an expensive affair, instead, you can ask a friend or cousin who is somewhat into music to create an awesome playlist. Once the playlist is ready, rent some speakers, hit the play button, and get the wedding bash started.
10. Trousseau Packing
Our last DIY pick is an important one, wedding trousseau packing. In a country like India, wedding trousseau expresses a stunning traditional as well as mystic move. The process displays the beautiful journey the bride is about to walk. It comes with beautiful accessories, gorgeous clothes and some other things that represent her personality.
Bridal trousseau is basically the things a bride-to-be collects before getting married. It usually comprises clothes, accessories, lingeries, makeup items, footwear, etc. And these days, all of the relatives and friends are keen to see this, which is why people add more exotic touch to it by packing it in a fancy way. This not only create curiosity but works as a lovely gift for the bride too. Based on the theme of the wedding or traditionality, there are multiple ways to pack trousseau in a classy manner.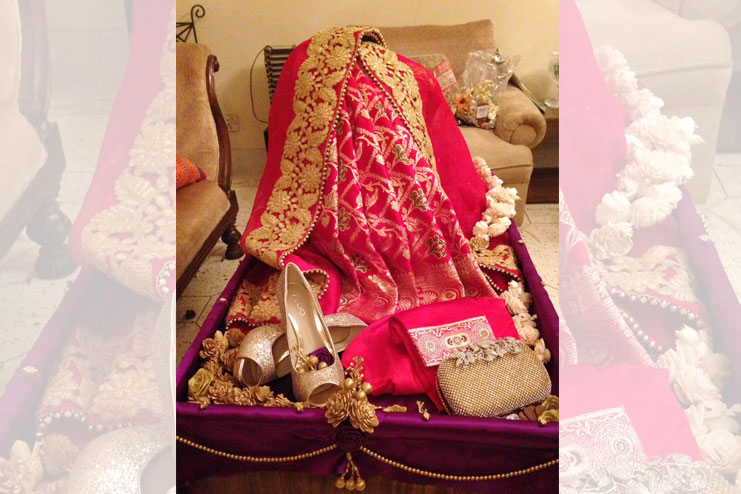 Professionals charge a hefty amount for their efforts and item they use in packing (out of which many are to be returned, till a specific deadline). Better is to do your trousseau packing yourself, not only you'll be saving money, but you'll exactly know which item is where. Though it'll require some serious time commitment, you'll enjoy the whole process of sitting together, reviewing your shopping, and packing it the way to feel is right and beautiful.
Wrapping it up!
With this, we come to the end of our list but remember there are many more things you can DIY and save. All you require is some creativity, time commitment, and basic raw material.
Go for it, give it a try. You'll surely enjoy the process and built beautiful memories.
– Kavita P
She is Independent Marketing Analyst and Blogger. When not glued to her laptop, she can be found making travel plans that rarely happen 😉