Silk saris are one of the most soul-soothing pieces of garment, any woman could own. The grandeur and grace of a silk sari are unmatched by any other outfit and no matter how simple the silk sari is, it always ends up stealing the show. Even though wearing a silk sari in itself is a statement, but pairing this piece of fine silk with a complementing blouse make it is even more graceful and elegant. Although you may have all kinds of silk sarees, Ranging from Tussar, Uppada, Paithani to Benarasi. We have a catalogue of all the latest blouse designs for silk saris, that will suit all the different silk pieces you own.
Silk Sari Blouse Designs
1. Raw Silk Blouse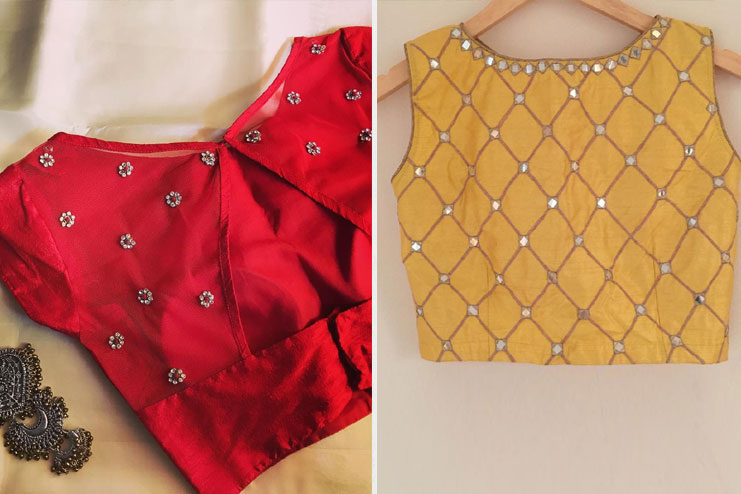 Add a hint of colour pop by pairing your hand loom silks with a raw silk blouse. The raw silk fabric adds an element shine and richness to the otherwise simple hand loomed Tussar or Muga silk. These blouses will be a great option to pair with printed silk saris and saris with a muted colour palette.
2. Brocade Blouse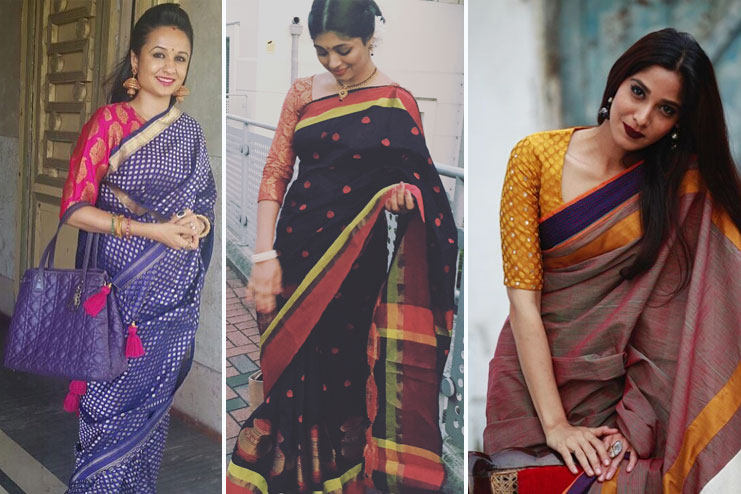 The evergreen brocade fabric is like the 'One size fits all' of silk sari blouses. The brocade fabric is available in all the colours you can imagine, in different motifs and even varying sizes in motifs. This makes it one of the most versatile fabric for making blouses. A brocade blouse has the potential to completely change the look of an office wear silk sari to a more festive and wedding appropriate one. It makes the look very rich and expensive. This blouse is best for all silk saris. Including the brocade saris too.
3. Blouse with Net Sleeves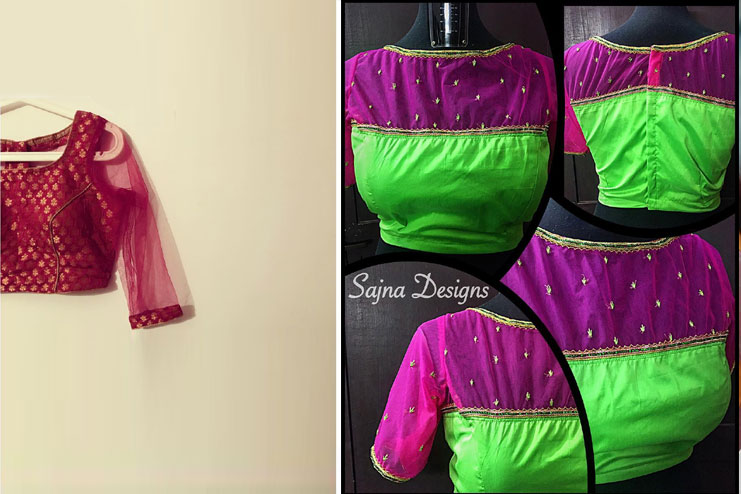 For adding an element of fun to your outfit, Add sleeves of net fabric. These sleeves will increase the style quotient of your look and make you look much party ready. Pair it with zari border sarees or with sarees that have heavy work like Banarasi etc. It is a perfect silk sari blouse for every sari.
4. Embroidery on sleeves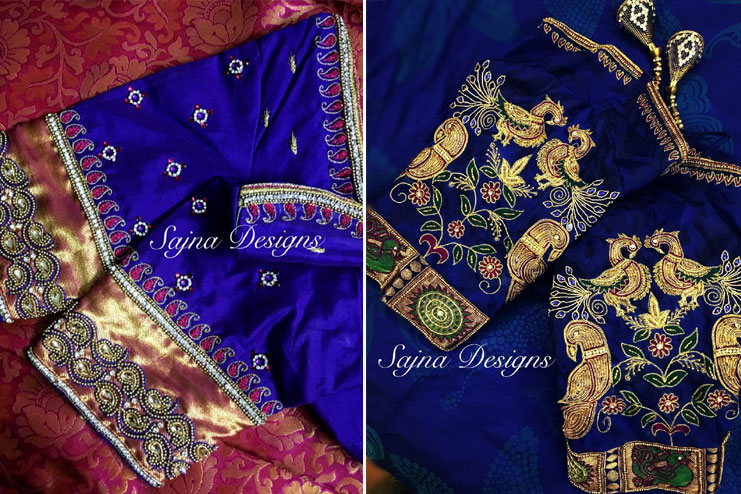 For silk Kanjeevaram sarees, which are wedding appropriate, always pair these with a blouse that has embroidery on sleeves. This adds to the overall grandeur of your outfit and makes you look really well put together.
5. Kutch work Blouse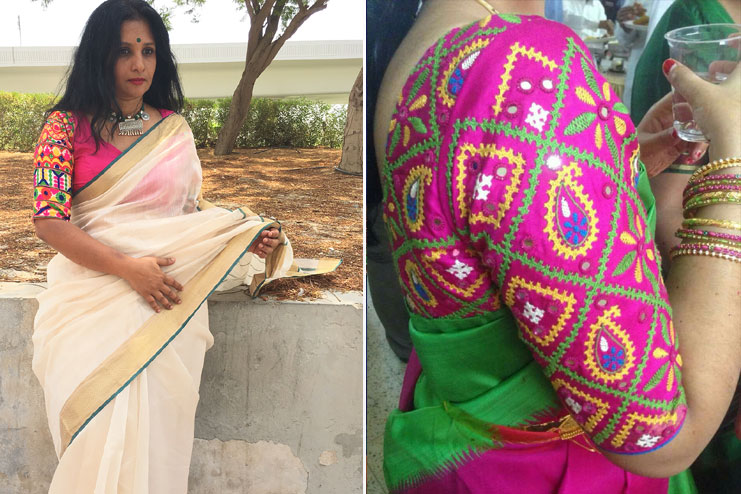 The bright colours used in making the kutch work make it look really quirky and super fun. It is actually a fun way to jazz up a simple saree like a kasavu sari. It works well also with plain Uppada and cotton silk saris also. This blouse is best suited for occasions when you want to just have fun. This is a perfect blouse for a mehendi function or for sangeet as well.
6. Kalamkari Blouse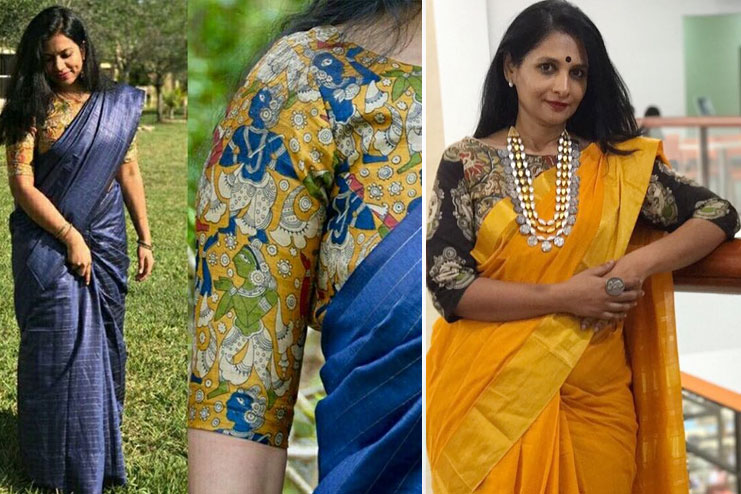 The regal kalamkari work is a great option to pair with your silk saris as it has a lot f character in itself and it can instantly add so much more subtance to the whole look. Kalamkari pairs really with Tussar and Kantha work silk saris. It is the most muted way in which you can diversify a silk saris appeal. Go for a boldly printed kalamkari work if you have a subtle solid saree. Otherwise, opt for a fine print kalamkari blouse to pair with a bigger motif silk saree.
7. Printed Blouse

For handloom silk sarees that are basically in a single solid colour, Opt for this fun printed blouse to make the look more summery. Pair it with your Chanderi silk sarees and with lighter crepe silk one too. The printed blouse is a very nice colourful choice over those simple solid zari blouses.
8. Heavy Bridal blouse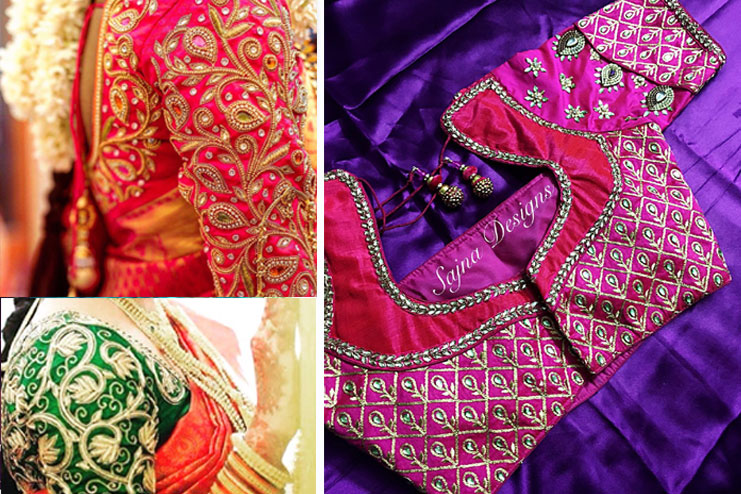 One of the best blouse designs for silk sarees, the bridal blouses are super amazing to pair with Kanjeevaram and other expensive silk saris. The rich colours of the silk saree threads are complemented perfectly with the heavy Zardozi and Kundan crystals. The bridal type of blouse includes heavy embroidery and sequins work all over the blouse and it is the best way to make the saree look even more heavy and grand.
9. Contrasting Blouse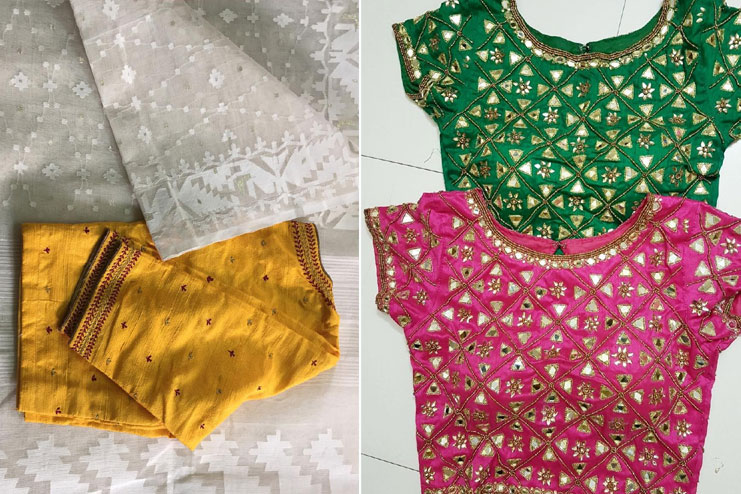 If you own a simple tissue silk or a silk jamdani saree with a very subtle class that you do not want to mellow down with the same colour blouse and yet keep it looking fashion forward and trendy this is the type of blouse you should wear with it. A contrasting colour blouse will make it look really chic and bohemian. This blouse will look great with chunky jewellery and muted makeup.
10. Zari Sleeves Blouse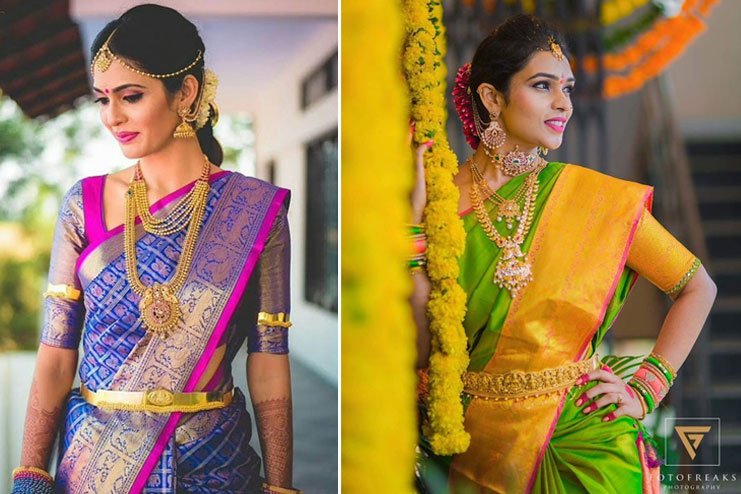 For sarees that are more traditional and you do not want to lose the traditional charm of it. Always choose the same saree fabric with the zari for sleeves. This is a classic blouse pattern that will go well with Uppada silk, Kanchipuram, silk baluchari sarees and it will look best paired with them. This can also be a great option for women who do not want very shimmering bridal blouses and want to keep it more traditional and charming at the same time.
11. Blouse with Back hole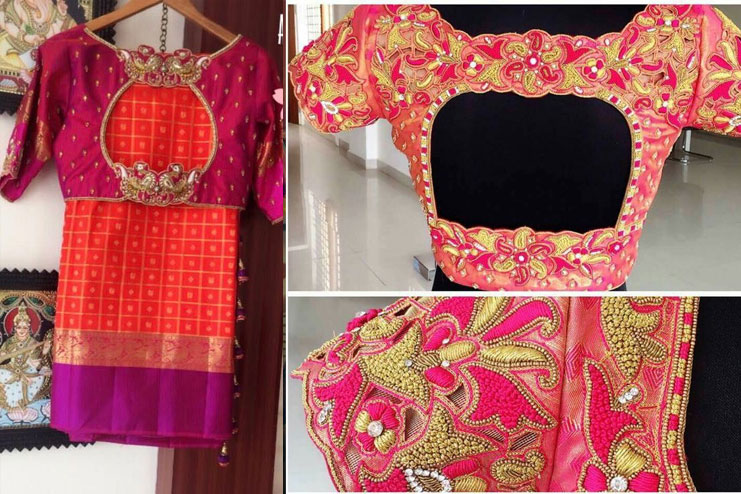 To add an element of surprise add an embellished back hole to the silk blouse design and it will make your outfit look really fashion forward. This blouse can be either complete with heavy work or add a few border work to keep it minimal yet festive looking. You can also a pair or Kundan tassles to make it more interesting.
Tips
Always keep your designer blouses in a separate bag and do not leave it open. The moisture in the air can oxidise your embellishments or the zardozi work.
Always use mild liquid soap to wash the silk blouses.
Do not put your pick out any loose thread that might be hanging out from the blouse fabric. It can ruin the work over the blouse or the fabric too.
More Related Articles: