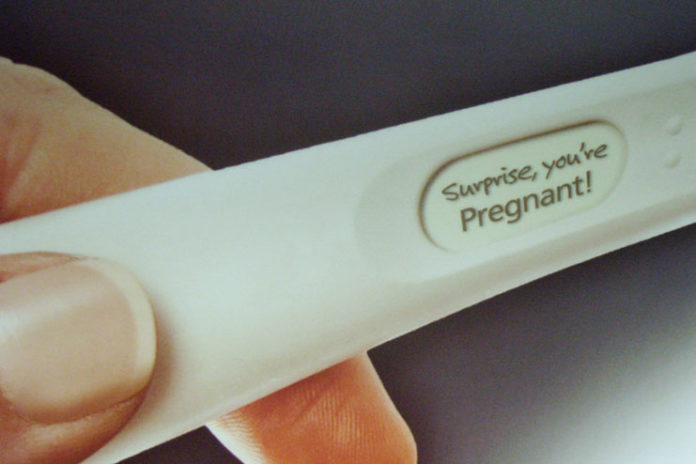 Pregnancy is a beautiful experience. It is that life altering change that leaves the whole of our life transformed. But, for some couples, it is not always this feeling. Pregnancy can bring about a lot of changes in one's life. It does not only mean your body is going to change but it also requires a certain amount of financial, emotional and spiritual preparedness. Hence couples usually prefer to plan their foray into parenthood. But sometimes plans don't always work out the way they are supposed to, and you may accidentally get pregnant before you would want to.At such moments you should calm down and know you're not the only one. Many women go through this feeling. Initially, it seems like the end of the world. And feelings of anxiety, nervousness, Guilt, confusion, and worry are very common to occur but what is important is you take the time to let that feeling sink and accept, that an unplanned pregnancy is not bad at all.
An unplanned pregnancy can be a blessing in disguise. Firstly, you should be thankful that your reproductive system is healthy and working great and you should celebrate you didn't have to face any problems trying to conceive, unlike a lot of couples having fertility issues. It gives you chance to lead a more healthy and responsible life. An unplanned pregnancy can bring about a lot of changes in a women's world and she should be prepared for all the new experiences she is about to have. And with this small guide, we tell you How to deal with an unplanned pregnancy.
How to Accept & Care for an Unplanned Pregnancy-
While being nervous and the sceptic will be your first natural response to an unplanned and unexpected pregnancy, the best thing to do in such situations is to take it slow. Do not over stress and overreact in that situation. Take a baby step, consider your concerns and find ways to deal with them. We have found the common issues an unplanned pregnancy can bring about and here is how to deal with them.
1. Take Time To Accept it :

Since the pregnancy is unplanned the mother usually comes into a state of shock. It may take a little time for her to accept her pregnancy and be happy about it. This surprise can hamper the women's mental health if she feels stressed for an elongated period of time. It is thus important that the women should de-stress as a lot of stress can affect the baby's health. At such times the mother should express her concern to the father or family and friends and figure out a way to go about it. If she is still unable to feel comfortable then she should attend counseling. Keep thinking of the good and focus less on the negatives.
2. Find Yourself A Support System:

It is essential that a woman finds a support system to help her through the changes that are bound to happen. This support can come from anyone that she feels comfortable with. Ayurveda suggests that this is the time that the parents of the unborn bond the most, and as much as possible they should stay together. The father can provide the much-needed support to an expecting mother. But, if by chance that is not possible then the woman can find a suitable group of friends or family to hold her hand throughout this time. It is of utmost importance that she feels comfortable and taken care of with them. Do not shy away from expressing your concerns no matter how silly you think it may be. It will help you feel supported and cared for throughout the pregnancy.
3. Read Some Reliable Literature-

While second time mothers can be a bit more prepared, Those having their first pregnancy can be really confused as to what they expect and what they should do, Above all, the pregnancy myths and scary stories they have heard can really put you in great stress. But, Do not worry, Find a good reliable book that contains some certified information that will help you guide through the pregnancy maze and keep you sane. Do not believe in any or every piece of information you read on the internet. Sometimes, you can find very contradictory information here, In such cases always contact your doctor for best advice. The important thing to remember for expecting others is to have a broad overview of what to expect from these books, rest everything else can be worked slowly as you move ahead with your pregnancy.
4. Care For Your Health:

For a smooth sailing pregnancy and birthing experience, It is advised that the expecting mother should take care of her vital healthcare and maintain her health and strength throughout. She should have healthy foods and eat at regular intervals. Don't forget to have dates, raisins, pomegranate, soaked figs and leafy vegetable to enrich the haemoglobin and keep energy levels optimum.Any unhealthy fried food or extremely sour, spicy, salty and junk food should be avoided to prevent any blood pressure issues during late pregnancy
Difficult to digest food should be skipped during dinner and portions should be monitored even during lunch and breakfast.
A balanced diet will keep the mother satiated and healthy. It will optimize her energy levels and keep her light and healthy.
5. Practice Yoga For Better Health-

Yoga should be performed regularly to maintain a healthy balance of body and soul. The yogasanas prescribed can be according to one's constitution. Other than Yoga, some other physical exercises like Pranayam, Walking, Light exercises etc are allowed. Yoga is an all-encompassing therapy. It is beneficial if performed with proper technique and caution. It must not be performed without the medical physician's advice. Take baby steps and keep yourself on your toes. Do not over stress or over exert your body for these few months.
6. Meditation Can Help-

Meditation is a must for women with unplanned pregnancies. It is a great way to calm down your inner turbulences. A lot of time it helps in finding out inner answers and clearing the mind of doubt. Meditation and music therapies help women to maintain their femininity and equilibrium at all levels and times. It is a way to connect with your spiritual self and achieve that inner state of calmness. It is the one way where you can find meaning to the madness.

Finally, this pregnancy is the best way of bonding with your husband. Make sure to spend as much time as possible with him. If you still have apprehensions about you're soon arriving baby, discuss and share with your partner your concerns, strengthen your relationship before needing to give your attention to the new arrival. Plan for the future, discuss work, finances or any other worries you may have. In the end, It will all fall into the right place and when you're little bundle of joy arrives you'll be more than happy it happened the way it did.