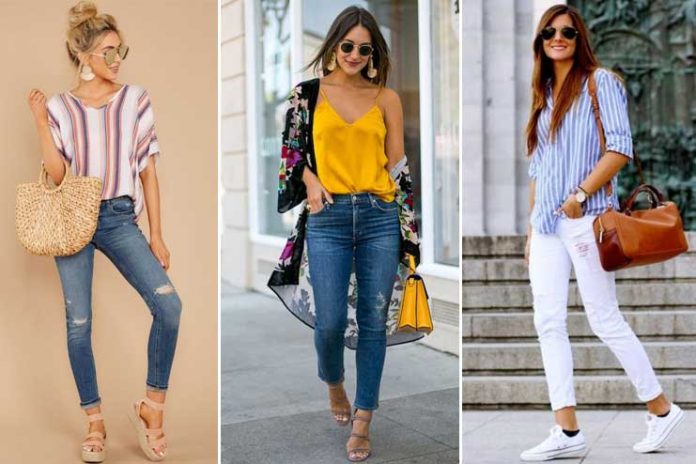 Summers give a tough time for clothing. On one side, you want to choose a comfortable outfit which is boring on you. The outfit that is not close to your heart cannot become your friend in any season. You must choose the outfit that makes your look trendy and keeps in comfort all the day.
You can make a comfortable outfit with various tops and jeans. Prefer dresses which are light coloured and lightweight. There are a set of outfits that can pair up with jeans for this summer. Your trendy jeans and stylish tops make a cool outfit for this hot summer.
If you are hating summer for not letting you go fashionable, then you are in need of some outfit ideas. Let yourself set in the comfort of fashion and trends. As young women prefer jeans, we came with ideas to set outfits with jeans for this summer.
Summer Outfit with Jeans
1. Cotton Kurti with Jeans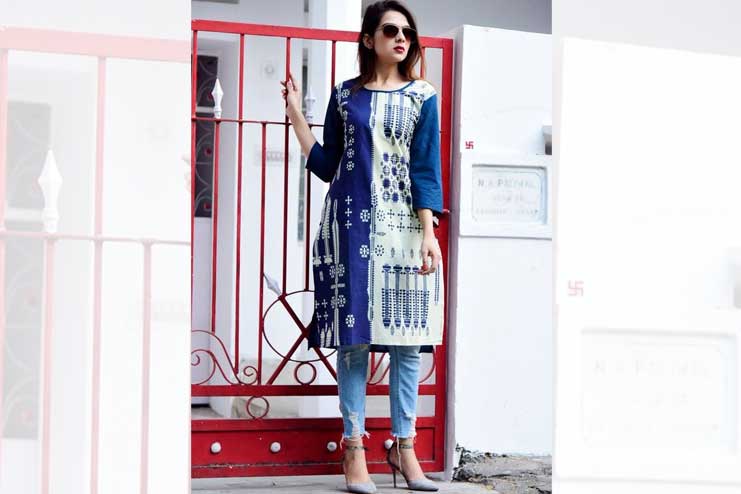 If you feel this is not a good idea to look fashionable, then your fashion sense is talking wrong. Cotton kurti and jeans are wonderful summer outfit. You will love to wear the outfit for casual walks and outfits as well. This will be the most decent outfit even for travelling.If you are a working woman, cotton kurti and jeans can be your first choice. It makes a decent fashion outfit in the summer. As you get kurtis in light colours and beautiful prints, you will not have a shortage of choosing a few. They can become your favourite and best choice that can make you do some pretty styles with hair, accessories and footwear.
2. Shirts with jeans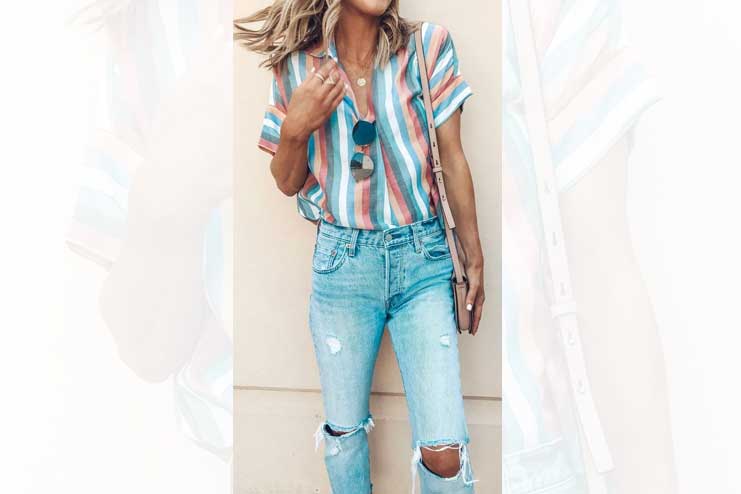 The thin shirts can cover your whole day in the comfort that you need in hot summers. You can hunt on stunning shirts which are trending this summer. You get plain shirts which can be used formal wear and office wear. You also have printed and light embroidered shirts. A shirt and jeans are routine wear and nothing is innovative here. But the colours and fabric you prefer to make them the perfect summer outfit.
3. Crop top with jeans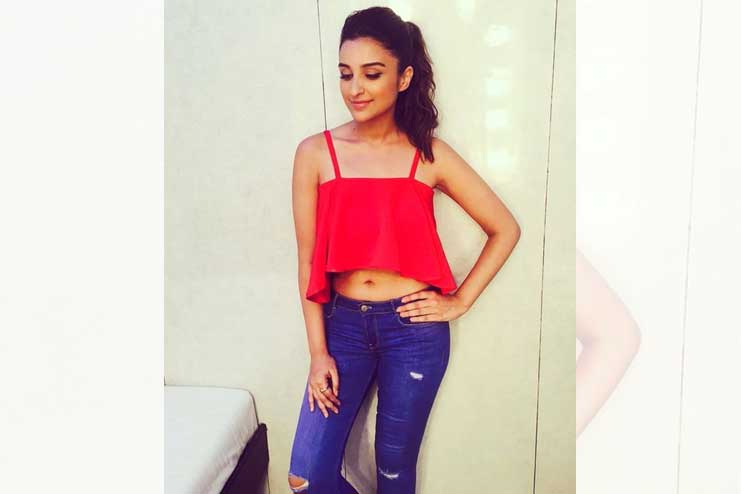 Crop tops are chic any time. They make the outfit look cute and you can accessorize the style in an adorable way. They look the best with jeans and it makes a complete western outfit. The crop tops are skin fit which may irritate your skin. So, we suggest you wear flared crop tops which are also thin. If you want a playful look, it is easy with crop tops and jeans. The outfit is perfect for evening street walks, evening parties and for a girls night out.
4. Flared tops with jeans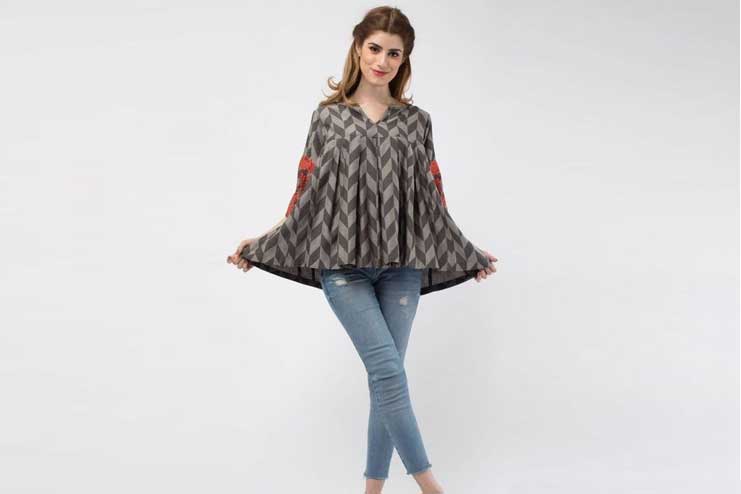 Flared tops are of two types which are printed with Indian motifs and other is western. Both of flared tops can be worn in summer days. You look pretty and ultra-posh in the flared tops. The attractive colours that are suitable for jeans. If you are wearing black or navy blue jeans, you can wear light colour flared top. This two piece outfit keeps you restful all day in summer. It is a breathable outfit as the top is enough flared. The full sleeves don't make you feel uncomfortable as it fully flared.
5. Sleeves top and jeans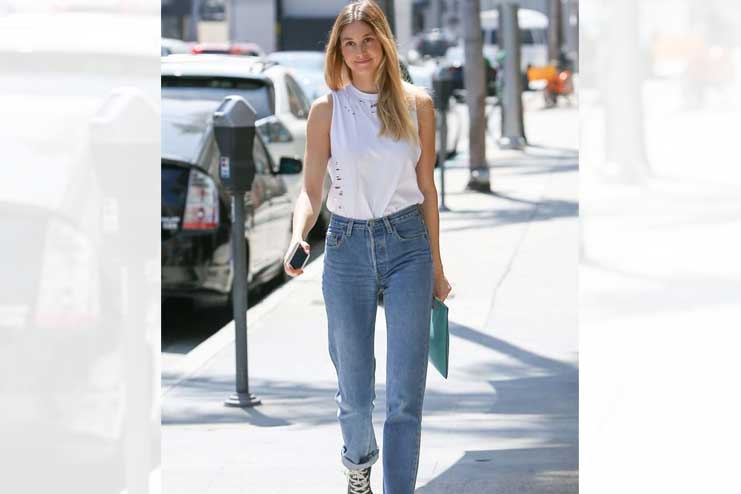 A sleeveless top is the most favourite during summers. You can find a flared sleeveless tops to slip into the comfortable and fashionable outfit. Pair up the sleeveless tops with jeans pants or jeans shorts. If you love to wear something really chic, then you must prefer wearing sleeveless tops with shorts. You will look stunning and hot competing with humidity of summer. The outfit can be worn for evening walks, parties or a day out with friends.
6. Off Shoulder Tops with jeans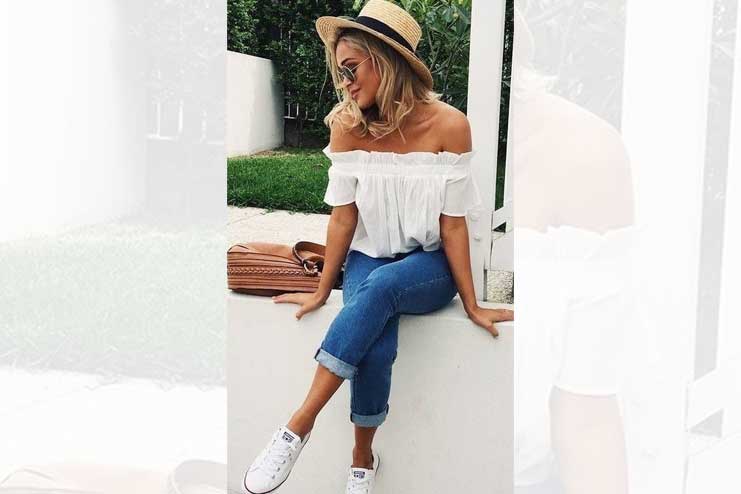 If you want a trendy outfit that keeps restful all day in summer, then you must try off-shoulder tops. Off shoulder tops are blending with jeans. You must be in a dilemma to pair up a top with your trendy jeans. Now, you can overcome other choices and choose an off-shoulder top with jeans. Trendy jeans are worth pairing with a trendy top.
7. Shrug Over Top with Spaghetti Straps and Jeans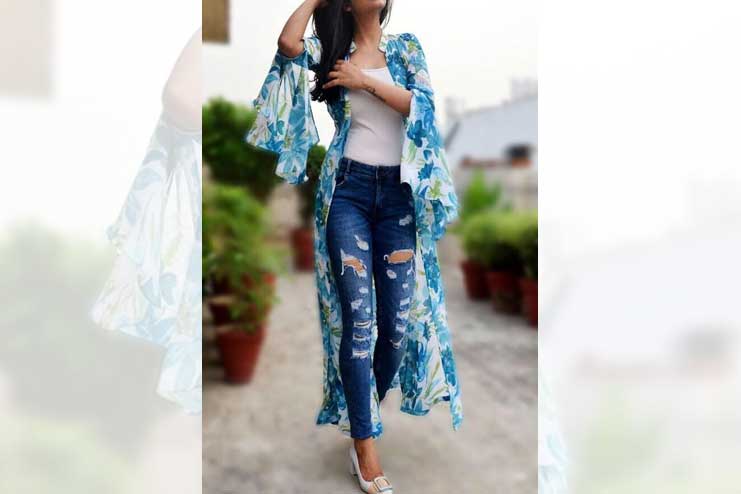 Even in summer, can wear the shrugs which are lighter like paper. Adding a shrug can make the outfit stylish. So, choose a top with spaghetti straps and add a shrug over it. Then, you are ready with the top and take the jeans to pair up with the shrug and top. You will love the style more than just tee and jeans. You can wear the outfit with beautiful accessories.
8. Cold shoulder Top and jeans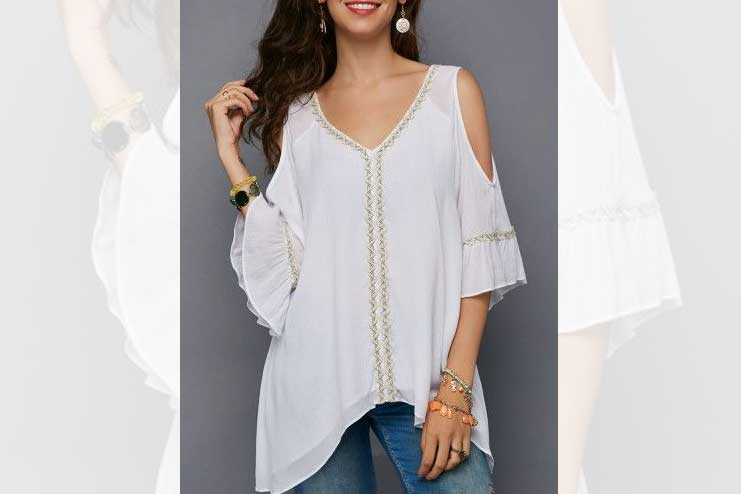 Cold shoulder T-shirt are in the latest outfits with jeans. You can wear the cold shoulder tops which gives you a trendy look. The cold shoulder can be worn in different ways and the best among all the styles is with jeans. You can wear a silk or cotton cold shoulder top with your stunning jeans. Cold shoulder top and jeans can be your casual wear for shopping, airport. Even it is comfortable to wear for travelling.
Let the season not stop you from fashion. Each outfit of summer is paired with jeans which the most preferred for easy and casual wear. You will also not be in confusion to pick your outfit to appear the best in summers. The list of trending outfits for summer will be all comfortable to wear.