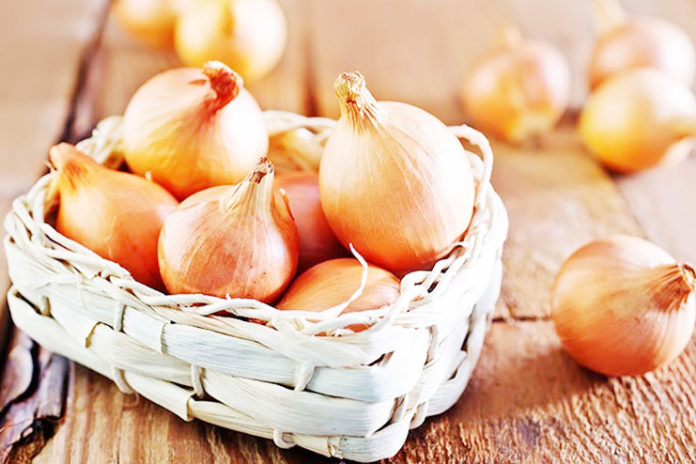 Have you ever felt that your brush have more hair than your scalp? It is quite very disheartening to deal with hair loss and hair damage. There aregazillion products, which can promise to help to restore the locks and bring it to its former glory. But do they really live up to their claims? If you are looking for a way to achieve hair growth, then there is one product that have been unconsidered or even overlooked, it is the humble piece of vegetable known as onion. It is inexpensive, and pretty readily available in the market. There are many benefits of onion juice for hair growth, that can really make your hair shine and blend.
Do not mind on all the tears that it brings, the onion is basically an ally into the fight against all the various ailments. This amazing member of the lily family can not only make your food scrumptious and yummy it also have many important ingredient. Onions contains nutrients like phenolics and flavonoids, which can have a potent like anti-carcinogenic, antioxidant, anti-inflammatory and anti-cholesterol properties.
Owing to the efficacious values, they are always been recommended as an amazing curative forfever, pigments, hair fall, infertility, etc. Hence, it is also one of the best thing to drink a glass of onion juice on an empty stomach in morning. If you are having a burning sensation, then a glass of warm water with spoon of honey can also soothe the throat. So here, are some of the remedies of onion juice for hair growth that you must know about.
How To Prepare Onion Juice For Hair Treatment
Well, it is not that tricky to prepare onion juice for hair treatment, here is the method:
a. First peel off the onions and cut it in four part.
b. Then blend the pieces into a grinder.
c. Add in a little water and then filter out the juice using the muslin cloth.
d. Ensure that non of the onion chunks are stuck in the hair while you use the juice.
e. Remember to strain out the juice properly using a cloth. as while using itthe chunks get stuck, then it can create a lot of problem while removing.
What Are The Benefits Of Onion Juice For Hair Growth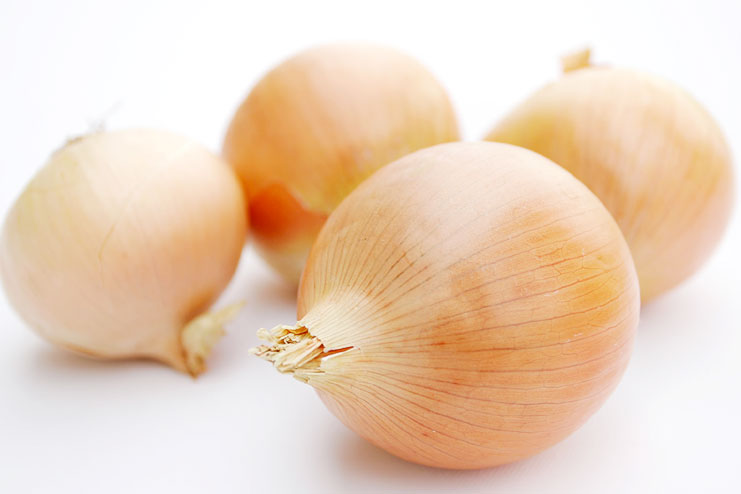 They are rich in antibacterial as well as antifungal properties. The main use of onion for the hair can truly help it keep the hair loss at bay. Here are some of the benefits of onion juice for hair growth that you must know about:
a. Onions are considered great ingredient that can prevent hair loss. Raw onion can also be applied directly on your scalp to foster new hair growth. The onion juice is considered as an excellent product to stimulate the blood circulation and expedite the hair growth.
b. Onion can help to prevent premature graying of the hair.
c. Onion, with rich sulfur content, is also an excellent tonic for hair thinning. Regular application of the onion can help to thicken the hair by improving the volume.
d. Several researches that are being conducted on the hair fall have established that the onions have many great healing properties. They are effective in treating the conditions such as the androgenic alopecia or female pattern baldness.
e. The presence of antibacterial properties on the onion can aid in treating many scalp as well as hair infections that is caused by the fungi and yeast.
f. They are known to be very good product for the hair follicle nourishment and can help to restore the lost nutrients on the scalp.
g. They are also very rich in Sulphur, that can minimize the breakage and thinning.
h. They have many potent anti-bacterial properties which help to fight the infections from the scalp. Which, in turn also helps to reduce the hair fall.
i. They are naturally potent antioxidants, which can help to reverse the effects of premature graying.
j. It can lend a healthy shine to the hair, which can also become permanent when regularly being used.
k. They also make the hair uninhabitable for the lice.
l. It can add volume to the hair.
m. It can also be used to fight off the dandruff owing to the rich anti-bacterial properties.
n. They can improve the blood circulation which is a way to contribute hair growth.
How Does Onion Juice Helps In Hair Growth
Onion have a very high concentration of sulfur which can help with many numerous hair conditions that can cause hair to fall. But first, it is also necessary to understand proper structure of the hair and its causes of the hair fall in order to understand why the onion is an effective remedy.
Basically, human hair is made up of the proteins, out of which the keratin gives hair the strength. It is because of all the abundance of sulfur that is present in it. It is the chemical bonds with sulfur that determine the texture of the hair, as well as the health. In fact, the hair loss have also been linked with the absence of the high sulfur proteins. Ahighly absorbable source of sulfur, known as Methylsulfonylmethane can be found in the onions. It can help the formation of the keratin in the hair, which results in the hair growth.
The topical application of the onion juice can help with the alopecia areata. Alopecia areata is the auto-immune disease where the body can attack the hair follicles, and it can result in the spot baldness. Onion juice can help with the re-growth of hair in these spots where the hair has fallen out.
How To Use Onion Juice For Hair Growth
Here are some remedy to use onion juice for hair growth that can help to give your hair permanent shine and longevity:
1. Onion Juice Scalp-Soaking Solution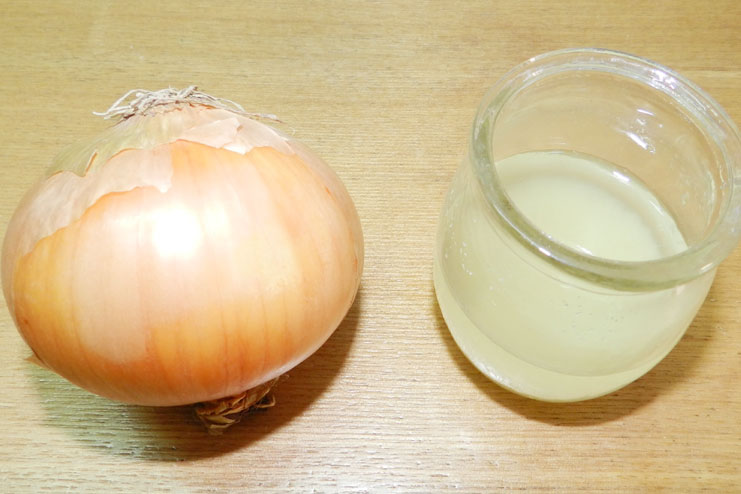 Ingredients:
a. One large onion
b. Grater or blender or juicer
c. Strainer
Method:
a. Wash all the onion thoroughly, peeling off the outer layers.
b. Then chop the onion in smaller pieces and toss in the blender.
c. Then place the pulp into the strainer and try to squeeze out as much of the juice as possible.
d. Massage this juice in your hair, concentrating mainly on the roots as well as the scalp.
e. Try to keep it for at least 30 to 45 minutes before washing with shampoo.
f. Try to use this treatment once or twice in a week.
2. Onion Juice After-Wash Solution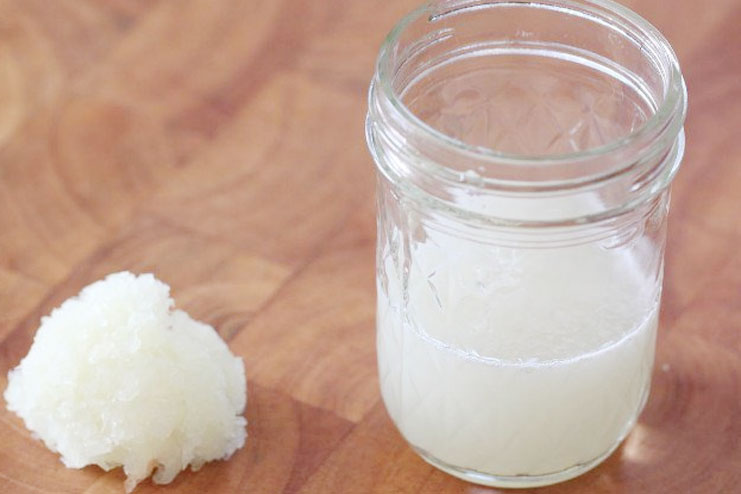 Ingredients:
a. One tablespoon of onion juice
b. a liter warm water
Method:
a. First add the onion juice to a liter of warm water.
b. Then use this mixture as one of the final rinse after the shampoo.
c. This onion juice mixture can be used in alternatively.
Caution:
Remember that the odor of onion will be there in your hair until the next time you shampoo.
3. Onion Juice And Coconut Oil Pack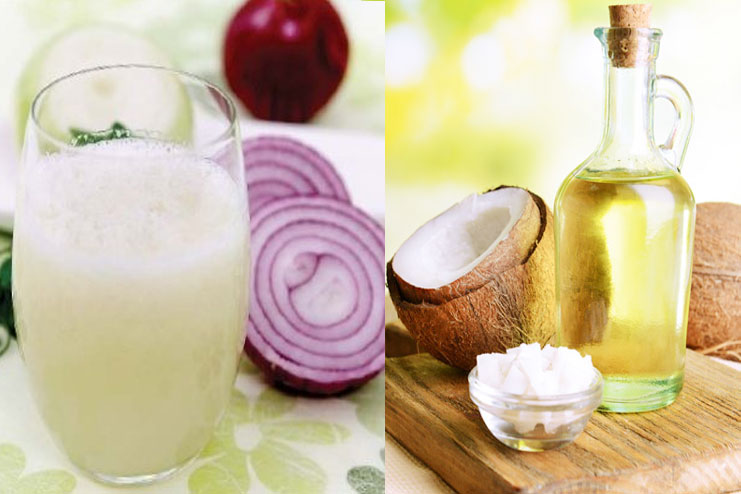 Ingredients:
a. One tablespoon of onion juice
b. Two tablespoons of coconut oil
c. Few drops of an essential oil (optional)
Method:
a. First mix onion juice with some coconut oil.
b. Then add few drops of essential oil to concoction. This step is completely optional, but essential oils can help to mask the strong odor of onion.
c. Later massage the mixture in the scalp and keep for at least one to two hours.
d. This mask must not to be used more than once in a week.
4. Onion And Rum Potion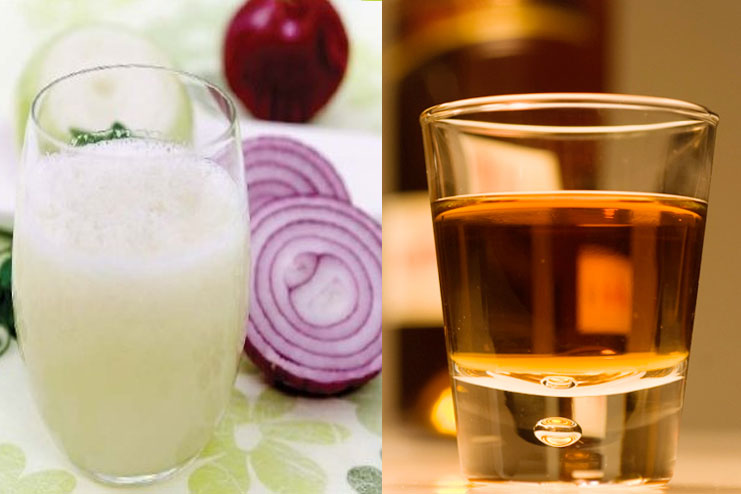 Ingredients:
a. One small onion
b. 60 ml of rum
Method:
a. Chop off the onion in small pieces.
b. Then place this chopped onions as well as rum in the glass jar, and let it sit overnight.
c. Now strain off the mixture and apply it on the scalp.
d. Later rinse off with shampoo as well as warm water.
e. Use this treatment once in a week.
Caution:
Rum can dry out the hair. Therefore, try not to apply this potion more than one time in a week.
5. Onion Juice And Honey Hair Mask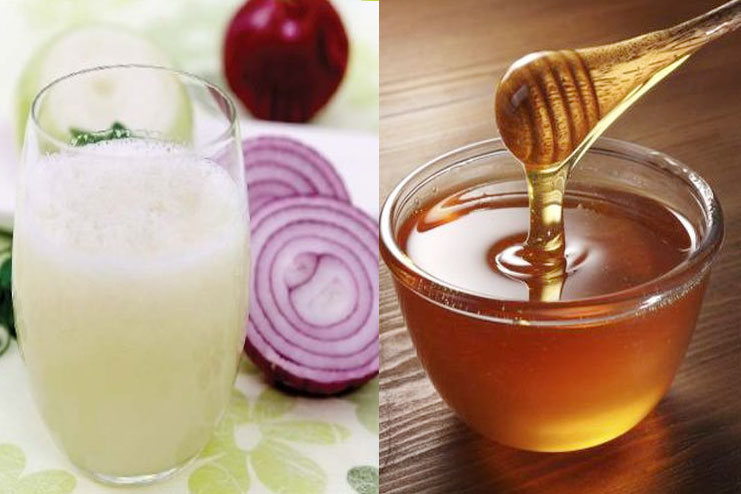 Onion juice for hair growth, is one of the best way where you can have the raw onion orally. Just take two tablespoons of onion juice, in it add a tablespoon of honey. You can intake the juice directly, or can even apply the mixture to your scalp.
Ingredients:
a. Two tablespoons of onion juice
b. One tablespoon of honey
Method:
a. Mix two tablespoons of onion juice with honey.
b. Then apply them to your hair and keep it for 15 minutes.
c. Now shampoo it thoroughly to get rid of all the traces of the onion pack.
d. This onion juice for hair growth must be used once every week.
6. Onion And Curry Leaves Hair Mask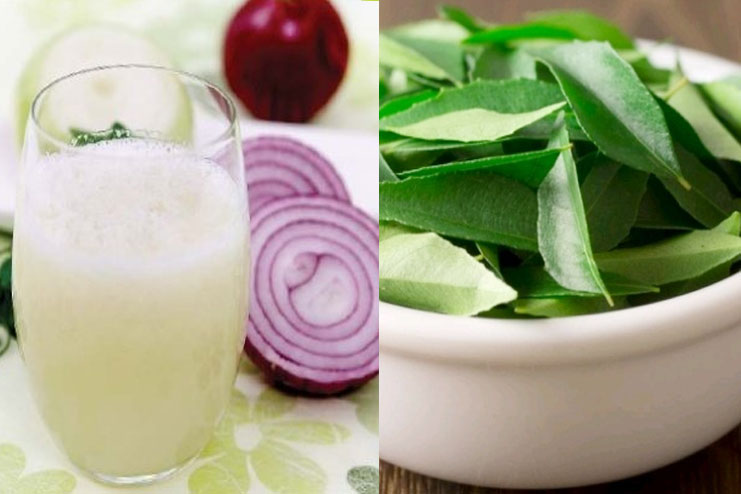 Curry leaves are also known for its many benefits for hair. It can help to strengthen the hair, prevent it from graying as well as boosting the hair health.
Ingredients:
a. Curry leaves
b. Onion juice
Method:
a. First blend some fresh curry leaves into a paste.
b. In it add two tablespoons of onion juice
c. Apply the hair pack on the scalp
d. Later wash it off with a mild shampoo
7. Olive Oil And Onion Hair Mask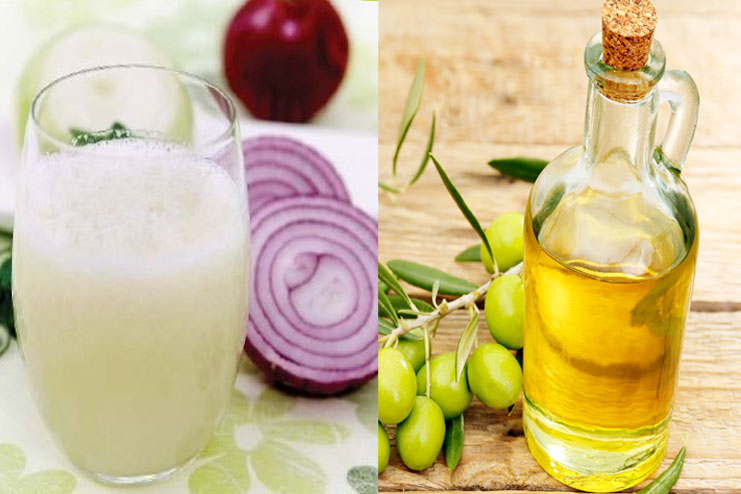 Ingredients:
a. One small onion
b. Two tablespoons of olive oil
c. One cup of beer
Method:
a. Chop all the onion in smaller pieces, later blend using the blender.
b. You can also use the leftover pulp from making the onion juice.
c. Add beer and olive oil to the pulp to convert it into a paste.
d. Apply the paste to the hair and keep it on for about one to two hours.
e. Later rinse thoroughly with shampoo.
f. You must use this pack once in a week.
With the oral consumption of the onion it can be equally benefitting for hair. Onions are known to be an excellent taste enhancers and can also make the food taste nice as well as rich. Hence, if you are unable to stand the overpowering smell, then you can try to add onions in the regular recipes. This can also offer you same benefit as it is in applying the raw onion on scalp.
8. Yogurt And Onion Hair Pack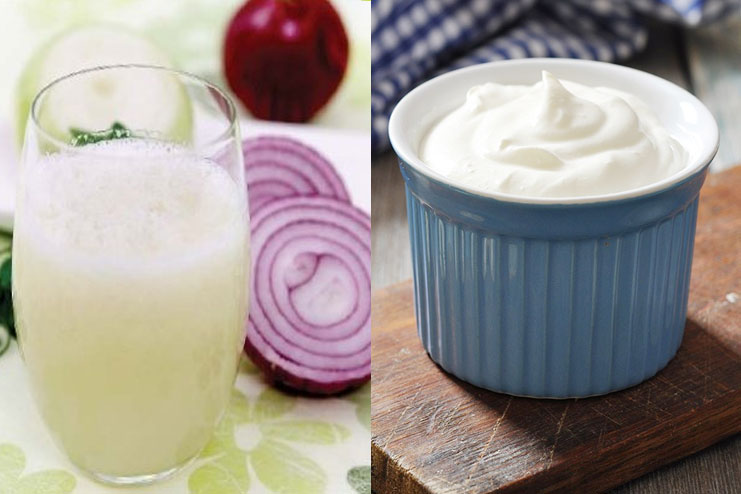 Yogurt can help to fight the hair fall and when it is added with the onion juice, it can help in the process of hair growth.
Ingredients:
a. Yogurt
b. Onion juice
Method:
a. Mix at least two tablespoons of yogurt with fresh juice of onion in a bowl.
b. Then apply the hair mask on the scalp
c. After an hour, wash off the mixture with a mild shampoo
9. Onion Juice And Beer For Hair Growth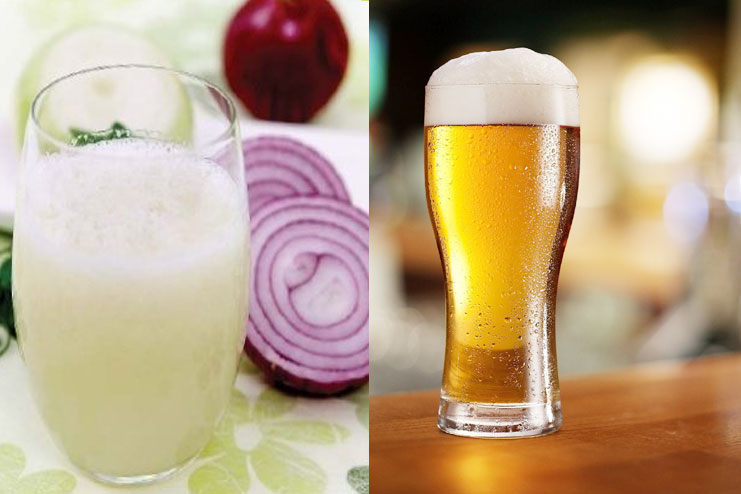 Ingredients:
a. One and half tablespoon of freshly extracted onion juice
b. One tablespoon of beer
Method:
a. Mix the onion juice with beer to form a hair mask.
b. Apply this amazing mask on the scalp and massage gently for five minutes with the fingertips.
c. Leave this mix on for almost about half an hour. You can also wear the shower cap that can help to protect the mixture from running.
d. Later rinse off using the shampoo with regular water.
e. For much better results, you can use the mixture about twice or thrice in a week.
Disclaimer:
While beer can help you to maintain your hair, we do not encourage the use of beer. Use this remedy, only when you are okay with the ingredient.
Side Effects Of Onion Juice For Hair Growth
Here are some of the side effects of onion juice for hair growth:
a. Always remember to filter out the juice, so that to avoid the flaky onion particles in the hair. Removing the flakes from the hair can be a painful task. So it is better to filter the juice with a cloth before applying on the scalp.
b. Always remember to use a mild shampoo to wash off the onion juice from the hair.
c. You can also use garlic, apple cider vinegar to add the benefits of onion juice
d. If you are unable to stand the pungent smell, then you can add few drops of any of your favorite essential oils in the juice.
e. Always remember to perform the patch test before using the onion juice to prevent from any of the allergic reactions