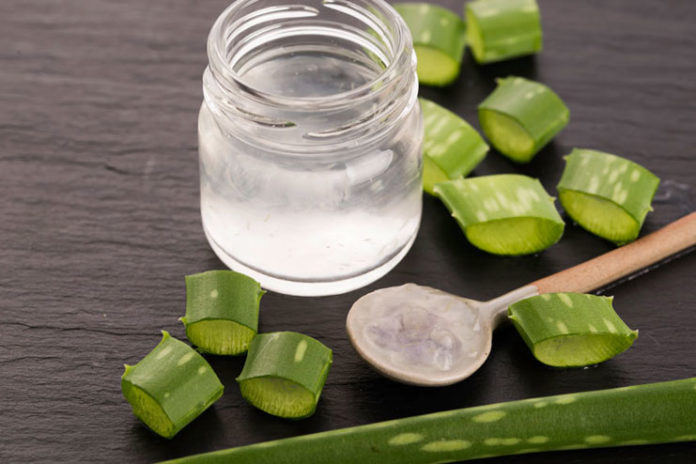 Aloe Vera is one of the most valuable gifts of nature that has a myriad of uses and benefits all encompassed in a tiny little plant. Almost everyone is aware of the benefits of Aloe Vera, it is a natural healer, it cures sunburns, it improves skin texture, It makes your hair healthy and also soothes skin from irritants and infections.
Because of its recent popularity, it has become one of our must buy products from the chemist every month. And even though it make not be too expensive but it doesn't last for long and you have to keep running back and forth to keep refiling. Well, not anymore.
Just buy a plant of aloe vera and every time you want to use it, just whip up this process to have your own 100% natural homemade Aloe vera gel with zero preservatives but all the goodness of a store bought gel.
DIY Aloe Vera Gel at Home
It is a super simple process to prepare aloe vera gel and it will take only 10 minutes once you have all the ingredients in place.
You can preserve it for two weeks without preservatives otherwise you may add preservatives to keep it going for 2 months.
Things you will need-
Aloe Vera leaves
Kitchen Knife
Bowl and spoon.
Blender to Blend
Vitamin E Capsules. (Optional)
Vitamin C Powder. (Optional)
Essential Oils. (Optional)
Steps to follow
1. Take out 2 to three leaves from the aloe vera plant. Since this gel is best made fresh it is advisable to use up a batch in about 2 weeks. So take only around 2 to 3 leaves.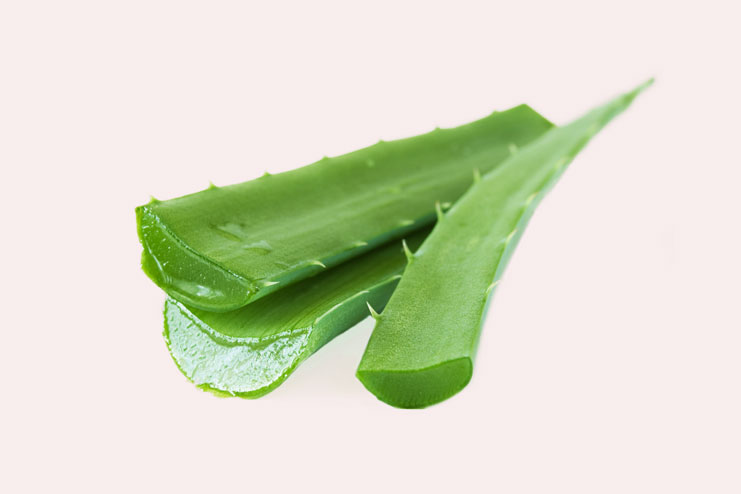 2. Keep them aside for 10 minutes. Setting them aside will make them drain the brownish resin from the cut. This is best because this resin is latex and for people with sensitive skin latex acts as an irritant.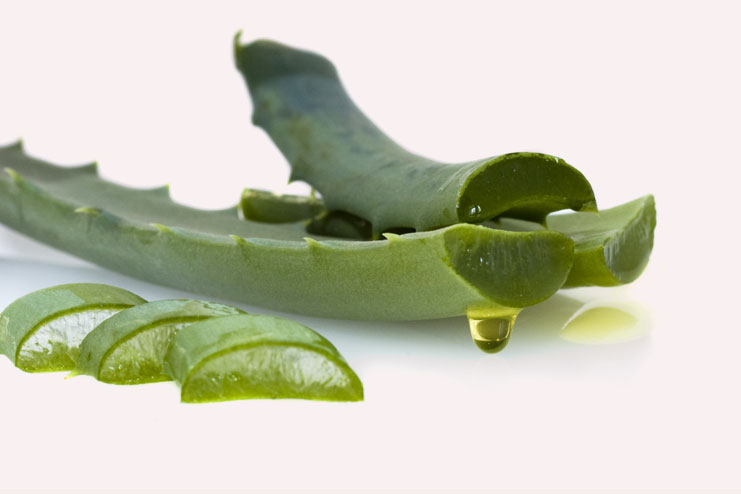 3. Now cut off the spikes from the edges of the aloe vera leaf, and slice the leaf laterally from the middle.
4. Take a spoon and scoop off only the whitish gel off from the leaf into the bowl. Remove gel from all the leaves similarly.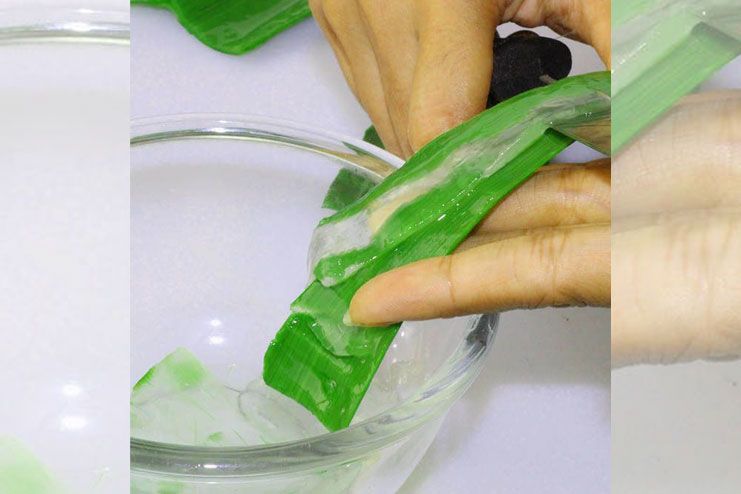 5. Take a blender and pour all the gel into the blender. If you wish to use up all the Aloe vera gel at once you may simply blend it. But, if you wish to make extra and store it then for every 1/4th of a cup, you should add one Capsule of Vit. E 500 Milligrams and Vit. C powder to the blender mix.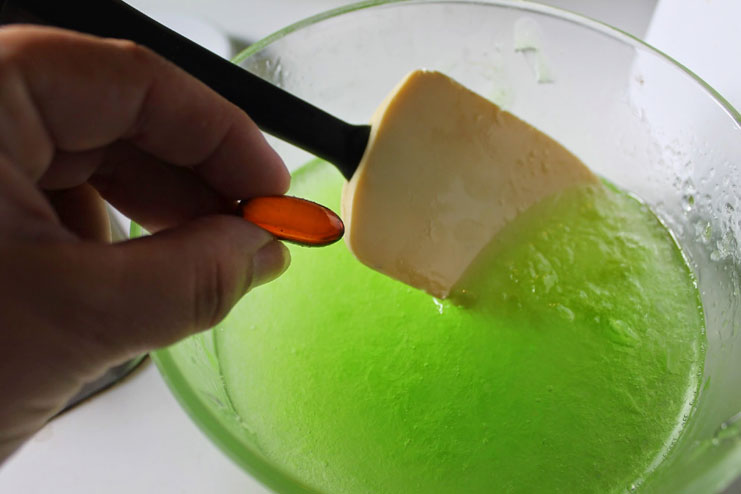 6. Blend it completely till it is thoroughly mixed. You may add a few drops of essential oil if the smell of vitamin E capsule bothers you.
7. Pour it into a sanitized glass jar. Preferably the jar should be airtight. The gel will initially look frothy and turbid but let it settle for a while and it may look like normal aloe vera gel.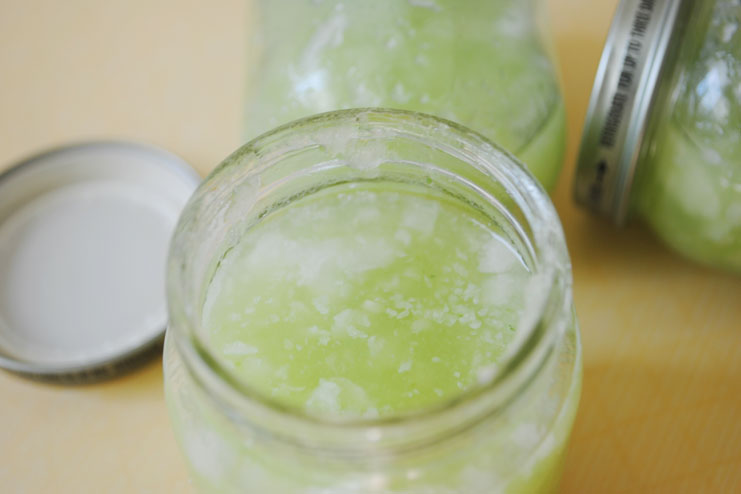 8. Store this aloe vera gel in an airtight container inside a fridge. And apply it whenever you please.
How to Use Aloe Vera Gel-
For Skin
Apply a generous amount onto to your skin directly and let it sit for a while.
Then massage for a good 2 minutes.
You can let it stay on your skin or wash it off as per your wish.
Using Aloe Vera Gel has Following Skin Benefits
It reduces aging process and improves the health of your skin.
It reduces acne and soothes the painful ones.
It also reduces any acne marks over your face from previous breakouts.
It is a very good moisturiser for your face and body.
Heals sun burns extremely well. This is a holy grail sunburn healing remedy
Removes tan caused by sun, And evens out skin tone.
Soothes infections on skin and acts as a retardant of fungal growth.
It heals cuts and bruises.
For Hair-
Take a good amount of this gel and apply it directly to your scalp.
Leave it for 2 minutes and massage your scalp with very light hands in circular motions.
Leave it on for another 15 minutes and wash it off using a mild shampoo.
Using Aloe Vera for hair has Following Benefits
Promotes hair growth and increases hair density.
Moisturizes the scalp and reduces dandruff to great extent.
Gives conditioning to hair and improves the health of your hair.
Provides shine and reduces frizz in your hair.
It conditions your scalp too.
Aloe Vera Juice Recipe
Consuming aloe vera is another way of using this beneficial plant. The essential minerals like iron manganese, zinc, potassium and calcium along with Vitamins B1, B2, B3, B6, B12, A, C, and E make it a perfect healthy drink. Especially if you are looking for a targetted cure from this wonder plant. For making an aloe vera juice, here is what you need.
Things you will need
1 Aloe vera leaf extract.
1 Cup water or fresh juice of any fruit.
Lemon Juice
Sweetener like sugar or honey. (Optional)
Recipe For Aloe Vera Juice-
Wash aloe vera leaf thoroughly and remove any dirt particle. Dry it with the help of a cotton napkin.
Cut the spikes off the leaf and slice it from between.
Remove the pulp with a spoon and collect in a bowl.
Add about 2-3 spoons of this aloe vera gel in the blender and add water, 1 tbsp lemon juice, and Sweetener if you wish for the juice to be sweet.
Blend it smooth on low speed and your juice is ready. Add ice cubes to serve.

Health Benefits Of Aloe Vera Juice-

Aloe vera Juice reduces cholestrol and balances the blood sugar levels.
It is an effective cure for acidity and acid reflux.
It helps build immunity
In a lot a studies it has proven to lower the rish of cancer.
It is very good for oral health and prevents bacterial build up in the mouth.