Fashion is going back and coming with a new variation every time and fans of fashion always accept the recreation. Few go with the flow of fashion. Few keep checking what is trending now a days and what not is trending now a days for fashion updates. And some of them follow fashion of their own. That simply means fashion is nothing to be in limits. It is all unlimited, unlimited in colours, designs, patterns and shapes.
The latest fashion that is ruling fashion world is Ikat. The simple designs and patterns have turned into several outfits. Ikat is no more a limited option with less designs.These days Ikat is not designed only on cotton fabric but going much on other fabrics. Ikat style gained a huge popularity.
What is Ikat: Ikat is kind of fabric in which yarns are combined. Ikat is identified with desired patterns and motifs. The patterns and motifs of on Ikat are made out of inspiration from Indian culture and tradition. The fabric is also dyed with various colours to bring a beautiful look and texture. Ikat is got into fashion world these days and one of the expensive fabrics of India as it is woven on hands. Ikat is only made in three countries Japan, India and Indonesia. In India, Ikat is made in Patan and Gujarat.
Ikat outfits and ideas to style them:
1. Ikat sari: Before talking about any other outfit, we should first talk about Ikat saris. Because Ikat was first known for saris and started trending with various dresses. The fabric and designs of Ikat blend the style of sari. A traditional outfit with much traditional fabric is a perfect thing for Indian woman. So, Ikat is not losing its fashion on saris till now. A Ikat sari with a well deigned blouse look extra ordinary and a hang of heavy earrings is enough.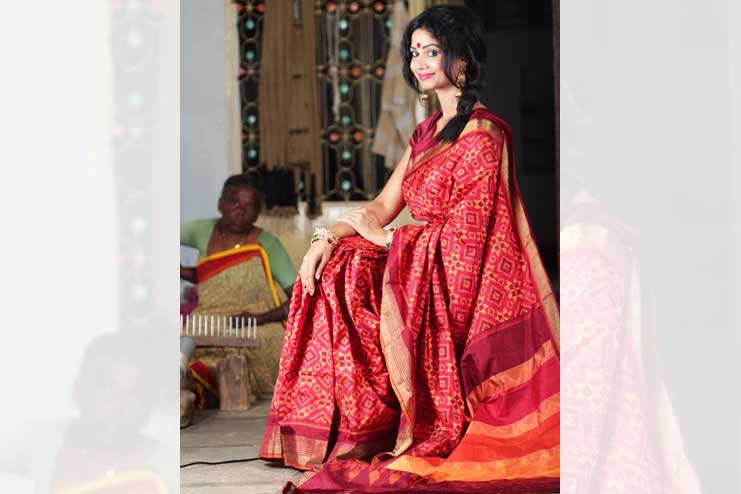 2. Ikat Floor length outfit: Now a days Ikat long length outfits are trending. You can wear these casual outfit. They look beautiful and natural on any one. You can simply pair long kurta with a contrast coloured legging. If possible pair up your Ikat outfit with Ikat footwear. Ikat footwear is also available. The long earring and Ikat outfit make a perfect day for you. You can wear on a dupatta of silk fabric, if you want to style and look more traditional. This can be the latest traditional outfit with a elegant appearance. In the below image, white pant is worn as a contrast of black kurta.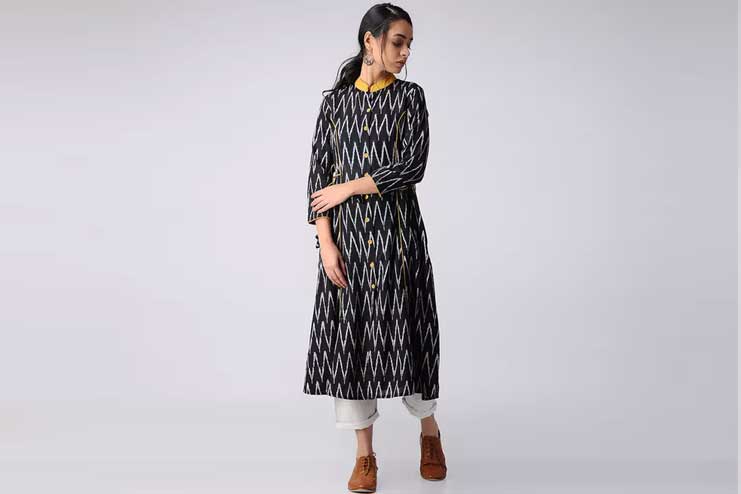 3. Ikat Gown: Gown is much beautiful in sheer or silk fabric. But this is history in fashion world. Gowns can be beautiful in different fabric as well and Ikat proves it well. Long Ikat gowns look classy and stylish too. The Ikat designs on a normal fabric is also trending. Many of the outfit of Ikat are not are really not woven but only made using the Ikat designs and style. Ikat style is unique. So, young ladies are falling for these Ikat designs and wanting Ikat styles on their outfit. If you want to style your outfit in a different way, you can belt it up. It looks fashionable and chic doing this.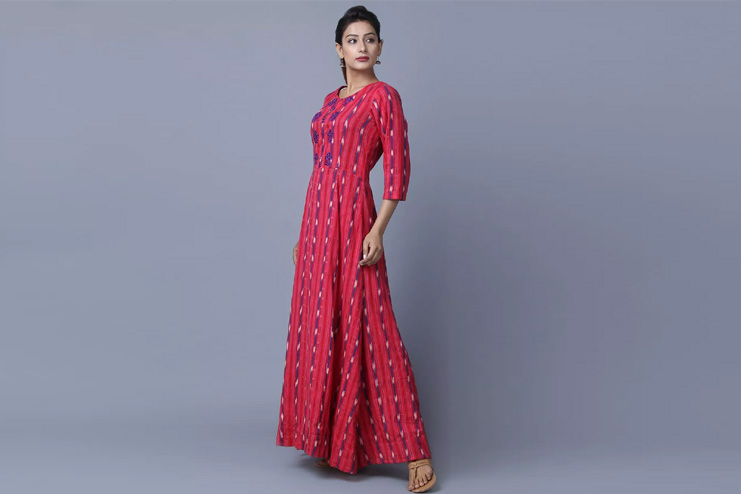 4. Ikat Lehenga: You can pair up your crop tops and cholis with Ikat lehenga. The top need not be of Ikat fabric or design, a normal top of your choice and Ikat lehenga can make a lovely outfit. The new traditional attire can bring a complete different change. This can be an outfit for house parties as well. Try to doll up with long earrings that can give you a grand look. Stepping out simply with ikat outfit also works well. After all, it is ruling the fashion world and you can be completely into fashion wearing an Ikat outfit.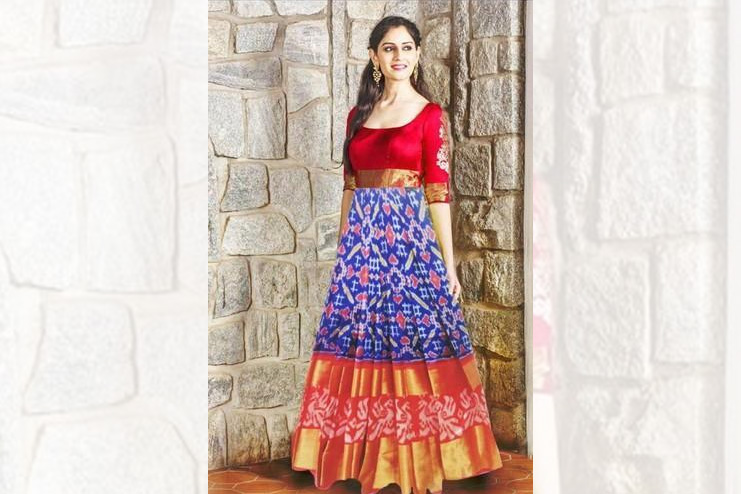 5. Ikat Jacket: Wearing a simple tee and Ikat jacket on it, makes an awesome outfit. You can sound fashion aloud wearing a Ikat jacket. You may think, Ikat is on western outfit. It is blend of western and Indian wears and we can simply call Indo-western in fashion terms. The lady in below image, paired up the the Ikat jacket with a full white shirt and looks stunning. Now, you will be convinced to wear Ikat jackets after looking at the image.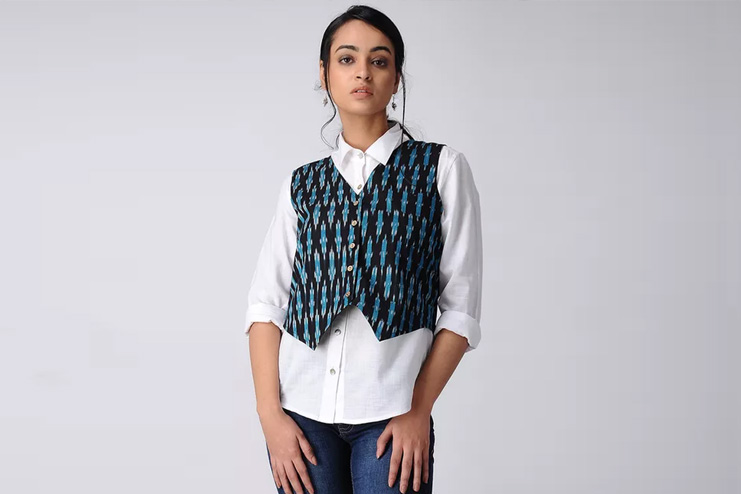 6. Ikat top: We are very much attached with crop tops. Crops tops being in trend only with various fabric. But have tried something cool and unique. A Ikat top with simple skirt or cigarette pants can be stylish outfit. You will be amazed to see your lovely outfit. It is a simple and pretty outfit that you can wear any time and any wear. You know how crops tops can actually be designed to get stylish and fashionable look. For a Ikat blouse, you can go for a cold shoulder or high neck blouse as well.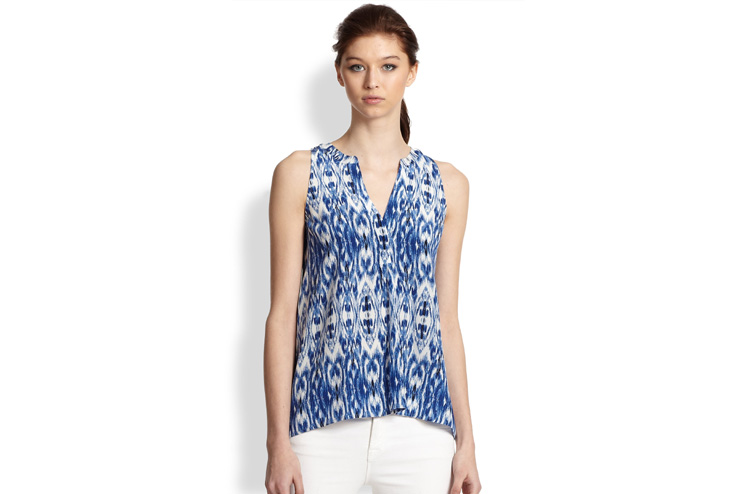 7. Ikat dhupatta: Ikat dhupattais can be the colourful part of your attire. A silk dhupatta with Ikat design is all you have to choose for. Ikat style is largely getting printed on various fabrics. So, you can easily find a Ikat styled dupatta. You can pair up the Ikat styled dhupatta on a simple light colour kurta and flaunt away making a style statement.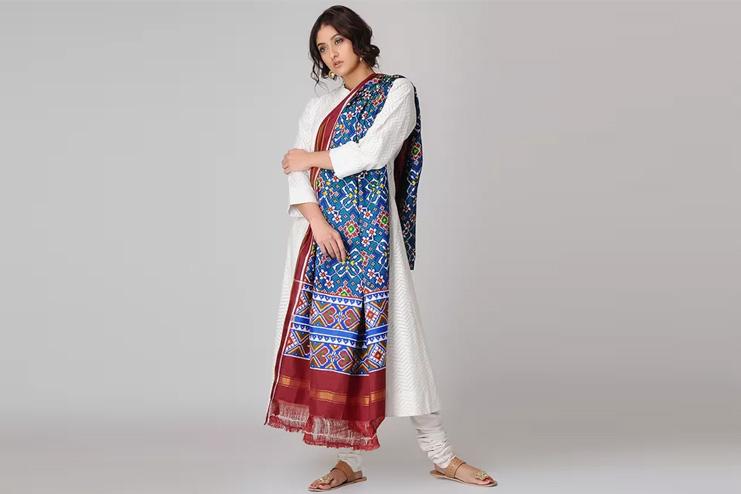 By reading the article till end, you will get an idea how to style Ikat. The various ideas of Ikat can make you look fashionable like any other outfit that generally does. Make a unique outfit and call it Indo-western. No one can deny Ikat is a fashion wear and will continue to rule long.