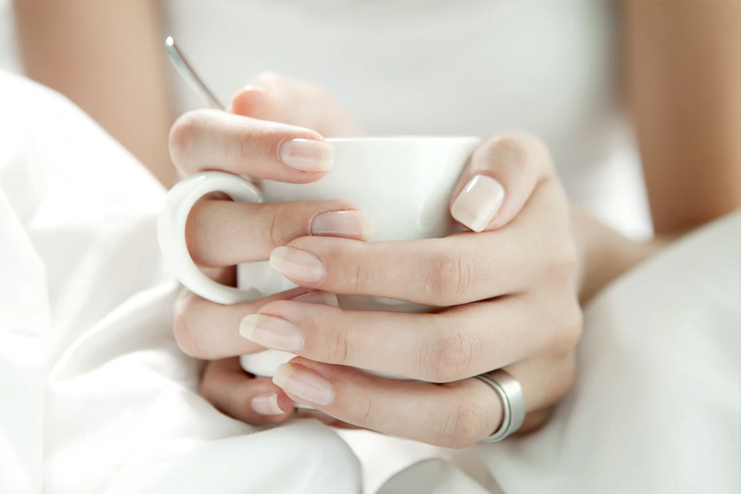 There is no special care for your nails until you see them breaking or pale. But still we happen to look at nails to say if we are healthy. This is to say that nails need your care. Nails are very much a part of your body and you need to show some care. Not as much as for your skin or hair but at least a little less. Otherwise, you see your nails peeling off, brittle, breaking and turning pale. If you are seeing your nails peeling off then here treating with home remedies is good enough.
The simple kitchen ingredients come in use to keep your nails healthy and beautiful. The home remedies for treating peeling nails are natural and effective. Your nails need the most minimum care.
Just add a little more time for personal grooming and beauty to treat peeling nails. Here are a few natural remedies that you can try even today and notice the results in a short time. Of course, you will see positive results as you are giving your nails some nutrients which were missing all these days.
Causes – Why Is The Top Layer Of Nail Peeling?
Nails are covered with the protective layer keratin which is similar to hair and skin layers. This is a fibrous layer that protects the underneath nail layers which makes the nails strong. When there are external and internal causes harming the top most layer, it starts peeling or splitting.
One of the internal causes is deficiency of minerals and vitamins. When there is deficiency of iron, it may cause nail peeling. When coming to external causes, there are multiple.
The common causes of nail peeling are:
Doing household chores without gloves
Often washing hands
Chemical nail products- nail remover, nail polishes
Buffing or filing nails in wrong direction
1. Essential oils

Essential oils are to nourish your brittle and dull nails. The anti inflammatory properties and nutrients help in strengthening your nails. There are many options of essential oils to use for healthy nails. Here we are giving you a recipe with inclusion of different essential oils and carrier oils for your peeling nails.
The oils are a natural combination to moisturize your nails. When your nails are moisturized they are less at risk of breaking or peeling. You have lemon essential oil to remove the dull layer and shine your nails. The best time to use the remedy is before going to sleep.
Ingredients:
15 Drops lavender oil
10 Drops lemon essential oil
4 Drops myrrh oil
1 Tablespoon almond oil
1 Tablespoon jojoba oil
What to do?
1. Mix all these oils and store in a bottle.
2. Take 3-4 drops on your nails and massage for 5 minutes.
3. Leave it overnight.
How often?
Do this everyday.
2. Sea salt

If you have noticed, your nails got dry out before peeling off. This is due to lack of hydration. When there is proper hydration, your nails don't become weak or peel off.
Sea salt consists of minerals which are nutritious. Sea salt hydrates your nails and makes them look more healthier and sheen naturally.
Ingredients:
1 Half cup lukewarm water
1 Teaspoon salt
1 Teaspoon baking soda
1 Teaspoon lemon juice
What to do?
1. In a bowl of lukewarm water, add sea salt, baking soda.
2. Then add lime juice drops and stir the water.
3. Let the ingredients dilute for 5 minutes.
4. Then soak your nails in the water for 10 minutes.
5. Now scrub your nails with a soft brush.
6. Rinse off your hands thoroughly with water.
How often?
Use it twice a week.
3. Lemon juice

The most popular component of lemon is vitamin C. If you are wondering that nails become stronger with vitamin C, then yes.
Lemon is a natural treatment for your nails to become healthy, shiny and stop from peeling. Using lemon alone is not that beneficial. Instead it makes nails dry and may also irritate your skin.
So, here is the best way to treat your peeling nails with a natural remedy using lemon as a main ingredient. You can use it as a nail mask to treat your peeling nails.
Ingredients:
1 Teaspoon lemon juice
1 Tablespoon olive oil
What to do?
1. Heat olive oil for a few seconds.
2. Add lemon juice in the lukewarm oil.
3. Let the ingredients blend together.
4. Apply the nail mask to your nails and massage it into your nails.
5. Leave it for 30 minutes and then rinse it off with gentle soap.
6. Pat your nails with a cloth and apply a cuticle oil or moisturizer.
How often?
Do this 3-4 times a week
4. Apple cider vinegar

If your nails are more exposed to bacteria, then you need to cleanse it well. Soap washing is not everything that you need. Apple cider vinegar is acidic naturally and it thoroughly washed out the bacteria. It also protects your nails from bacteria or fungal infections as it contains antibacterial properties.
Ingredients:
½ Cup apple cider vinegar
1 Cup water
What to do?
1. Dilute apple cider vinegar with water.
2. Soak your nails in the water for 10-15 minutes.
3. Rinse your hands and pat dry.
4. Apply a mild moisturizer to your hands and nails.
How often?
Do this 2 times a week
5. Honey

If you are a follower of home remedies then you know the role of honey. It is another natural moisturizer. It helps strengthen your weak nails along with lemon. If you don't have access to essential oils and other ingredients, then this is a better alternative.
Honey softens the peeling and dry nails. Gradually, your peeling nails cure with the balanced moisture. This remedy is also like a cleanser to your nails. As honey contains antibacterial components, it protects your nails from bacterial infections too.
Ingredients:
2 Teaspoons honey
1 Lemon
What to do?
1. Blend both the ingredients together.
2. Apply the mixture to your nails.
3. Massage it for 2-3 minutes and leave it for a few minutes.
4. Wash it off with water and pat dry.
5. Apply a gentle moisturizer or a natural oil to moisturize your nails.
How often?
Use it 3 times a week.
6. Garlic oil

The remedy is to increase the concentration of antioxidants and minerals for your nails. This helps in promoting your nail health. Nail health includes treating peeling nails as well.
As garlic contains antifungal and anti inflammatory properties, it keeps your nails away from any infections. Olive oil and almond oil are to increase the regeneration of your nails. It is a natural moisturizing lotion that you can make at home for healthy cuticles.
Ingredients:
8 Garlic cloves
½ cup olive oil
¼ cup almond oil
What to do?
1. Make paste of the garlic cloves and the oils to it.
2. Mix the garlic paste and oils well.
3. Leave it for 2-3 days in a dry and dark place.
4. Extract the oils from the paste and store it in a jar.
5. Apply to your nails before going to sleep and leave it overnight.
How often?
Use it everyday
7. Olive oil

Olive oil is a natural moisturizer not only for skin but also for nails. You can use it everyday to get rid of peeling and chipping.
Vitamin E in olive oil can keep your nails to be stronger and shiny. It also improves blood circulation which results in healthier nails.
Ingredients:
2 Tablespoons olive oil
What to do?
1. Heat the olive oil until lukewarm.
2. Apply to your cuticles and massage for 2 minutes.
3. Leave it overnight to nourish your nails.
How often?
Use it everyday
8. Tomato juice

Tomato juice is soothing and a good treatment for peeling nails. I must say it is just not a nutritious vegetable but also medicine for weak nails. Tomato contains biotin which keeps your nails stronger.
You can also use this remedy for shinier nails. It is also a solution for hydrating your nails. You only need simple ingredients to treat your peeling nails with tomato.
Ingredients:
1 Tablespoon tomato juice
1 3-4 Tablespoons olive oil
What to do?
1. Mix both the ingredients and apply to your nails.
2. Massage your nails for 5-10 minutes with the mixture.
3. Leave it for 20-25 minutes and then wash it off with plain water.
4. Pat dry your nails with a cloth.
How often?
Do it 4-5 times a week
9. Egg shells

We eat egg as it is a powerhouse of proteins. Not only eggs but egg shells also contain proteins. It also contains healthy minerals like calcium, potassium which are required for nail health.
Your nails need to strengthen which comes out of proper nutrients and regular moisturization. So, this remedy also includes the natural moisturizer milk. Other ingredients, almond and flax seeds are to feed the nutritious components to your nails. This remedy can naturally cure peeling nails at home.
Ingredients:
1 Egg shell
3 Almonds
1 Tablespoon flax seeds
1 Teaspoon milk
What to do?
1. Crush eggshells into powder.
2. Then powder the almonds and flax seeds.
3. Mix all the powders together and store it in a clean jar.
4. Then take 1 teaspoon of the powder and add drops of milk to it.
5. Make a smooth paste and apply it to your nails.
6. Leave it for 25 minutes and then wash it off.
7. Apply a mild moisturizer to your nails.
How often?
Use it 2 times a week
10. Orange juice

Another alternate treatment for your peeling nails is orange juice. As your nails need a dose of vitamin C,you can use this natural remedy for weak, brittle nails. It strengthens your nails with hydration as well.
Moreover, if you are looking for a natural remedy to grow your nails stronger and longer, then you can work on it with orange juice. Folic acid in orange is to promote nail growth.
Ingredients:
½ Cup orange juice
2 Tablespoons olive oil
What to do?
1. Mix orange juice and olive oil.
2. Let the ingredients dilute.
3. Now apply the mixture to your nails.
4. Massage it into your nails for 5 minutes.
5. Let it remain for 25-30 minutes and then rinse it off with water.
6. Pat dry your nails.
How often?
Use it 2 times a week
Tips To Prevent From Nail Peeling
● Avoid excess water soak
The habit of washing hands often can dry your nails. Only wash your hands when needed and also don't let water stay on your nails after washing. Use a clean cloth to pat dry your hands immediately after washing. This prevents drying nails and also peeling nails.
● Don't use nail polish remover
Nail polish remover contains high content of acetone which can dry out your nails and result in peeling. Try to remove nails polish with the nail remover that is free from harmful chemicals.
Also do not use nail remover excessively. If at all you are using nail polish remover on your nails, then rinse it off properly and don't forget to moisturize. Look out for non toxic nail polishes to style your nails which is a safe to an extent.
● Wear gloves while doing chores
Make a habit of using gloves while doing household chores. Don't let the chemical detergents and cleanser get into your nails. This can cause harm to your nails. Chemicals affect drying your nails and lead to peeling, weak cuticles and breaking of nails too.
● Don't use your nails as a tool
When you want to open lids and caps of the bottle or containers, you tend to use your nails. Remember that your nails are not the tools. This weakens your nails and may cause peeling of the nails or breaking. Weak nails are prone to peeling and breakage compared to strong nails.
● Don't apply chemical products on nails
If you are fond of nail art and nail painting, then see that you use chemical less products. The excess use of nail polishes can reduce the nail quality, weakens your nails. This is a cause for weakening your nails.
● Moisturize your nails
Invest in a moisturizer or cuticle cream to pamper your nails. Moisturize your nail every night and leave it overnight. You can also use the natural oils mixing with essential oils to treat your peeling nails. As moisturizing nails is important, don't neglect or skip it.
● Healthy food
You will be able to see when your nails need your attention. Along with the home remedies, you must also take healthy food. In fact, your diet comes first and then the treatment. Include fresh veggies, citrus fruits and proteine oriented foods in your diet for healthy nails. Also eat biotin rich foods as it plays a big role for nail health.