Is a small living space restricting your inner artist from decorating the house of your dreams? Are you facing troubles coming up with functional ideas for the best small space decor? Well, you won't anymore. We have a list of the most simple yet superb ways in which you can jazz up a tiny living room and turn it into the most fun corner of your house. Minimalist decor is the new taste of the town and we sure appreciate this since, it gives us, even more, inspiration to go about making a tiny living room pretty and calming both. Make use of these simple tips to decorate a small living room and turn your house in a haven of beauty. Here is how to do it,
1. Add a mirror on the wall: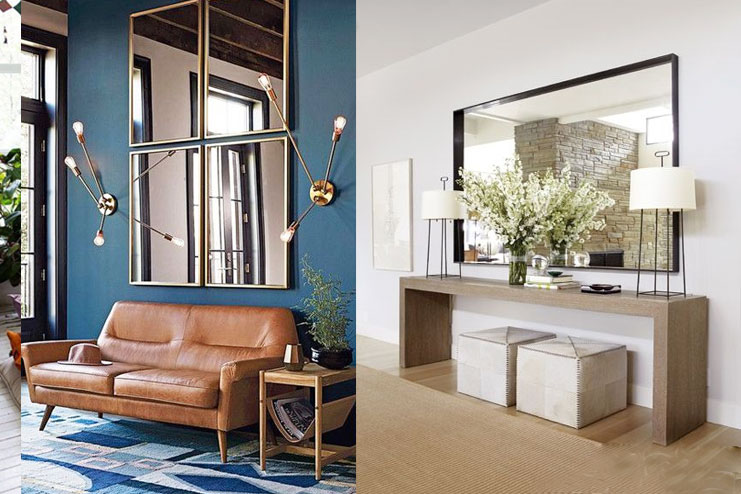 This simple tip can make your room look bigger that it is. It will reflect the morning light and fill up the room with more energy. If you put up a mirror cover major part of the wall against the source of light it will make an even bigger effect of space in the room. What more, It is also great to keep admiring your pretty face every hour.
2. Lose the Bulky Furniture: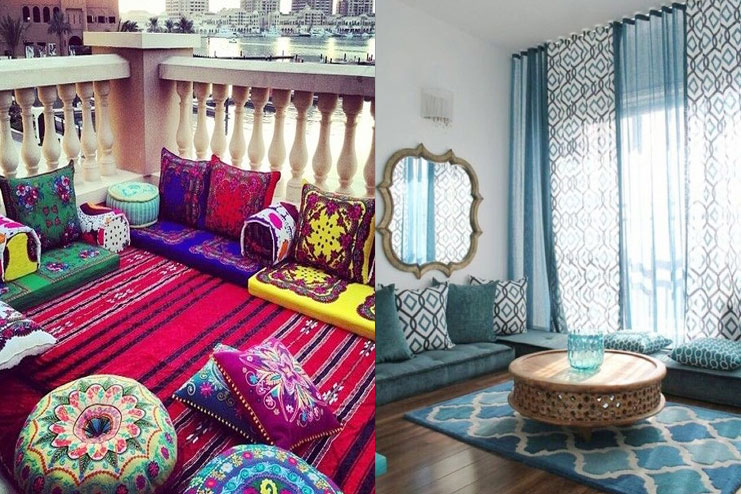 Small space will turn even smaller if you have furniture that eats up your floor space. Do away with couches and sofa sets, Keep small ottomans, mooda or stools. You can also choose funky floor cushions and a nice little rug instead. These will make your living room functional and keep the provision of change viable.
3. Hang a Ceiling Lamp: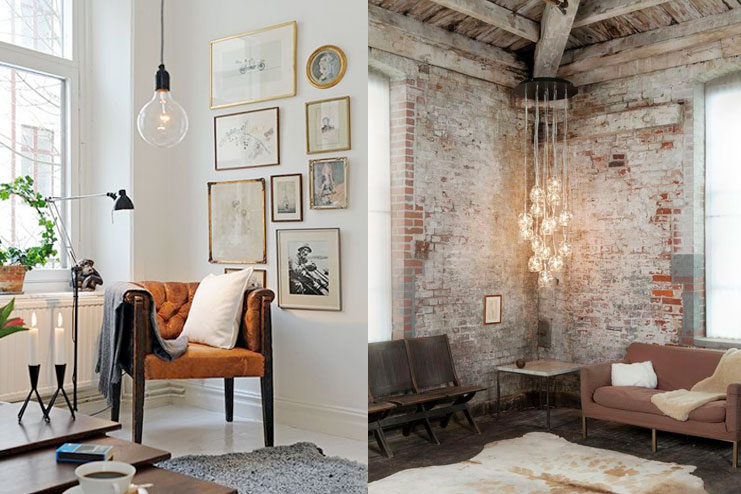 Create a nice corner with nice warm lights. Since space is limited keep it on, hanging from above. It won't take the floor space like a normal lamp, and will also utilize the vertical space. So basically checks in two boxes of decorating small living room. You can also use fairy lights if you do not want a single bulky pendant lamp. Put in inside a wine bottle and hang it up in a corner. Will make your own unique DIY lamp.
4. Shelves are Your Saviors: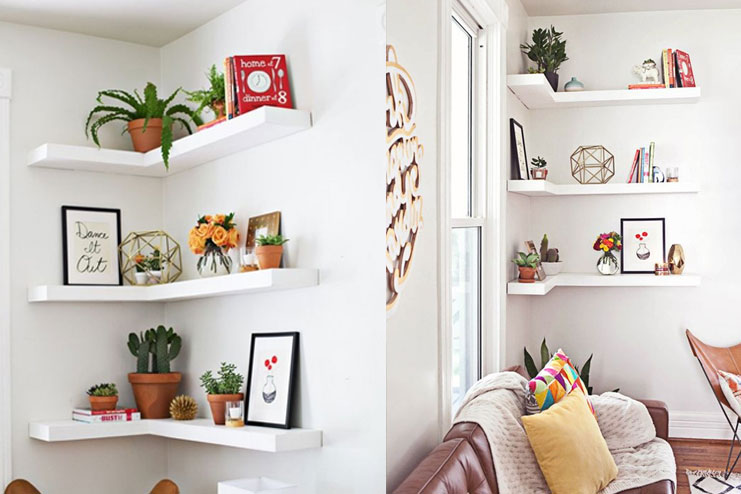 For enough storage space or just a nice element of decor, Wall shelves come in super handy for small spaces. Stack your books and they impart an instant character to your space. Use small decor ornaments, or some little succulent planters. This idea is perfect to use for decorating small living rooms since it does not hinder your space feel.
5. Hang Your Photo Frames: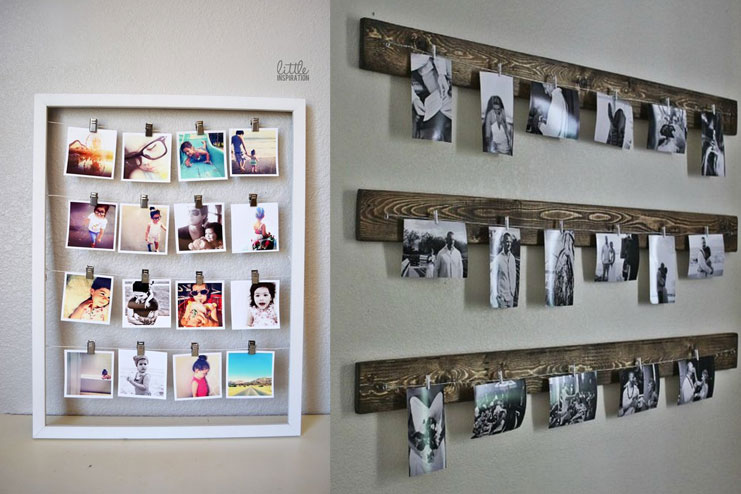 This is a great way to utilize the vertical space and decorate your small room. Personalize your house and make the home of your dreams. Put up pictures of your wedding or your friends or parents. It will make you feel more like home. After all decorating small living room shouldn't mean you don't have space for some pictures, right?
6. Use Colorful Hanging Planters: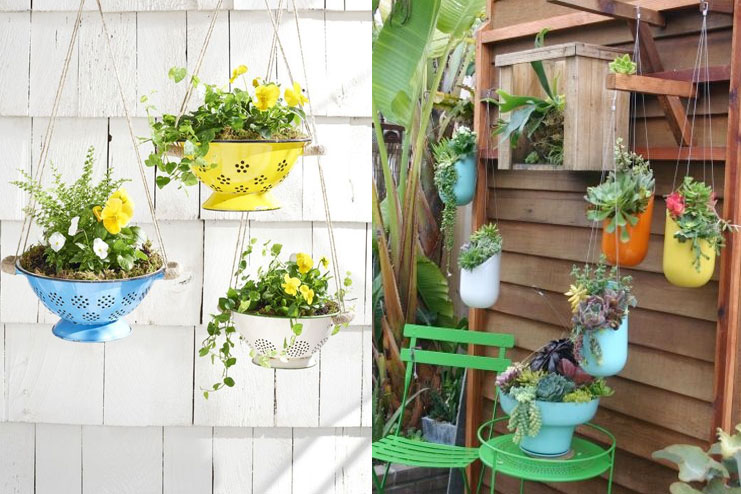 These quirky planters will add the green soothing effect to your lovely space and yet consume no floor space at all. If your room is otherwise neutral use some accent pieces like these small bright planters with lush greens to add that pop of colour. Turn your dull room into a wonderful space full of character and class. Don't forget to water them less or the excess might drip off down.
7. Say No to Bold Printed Curtains: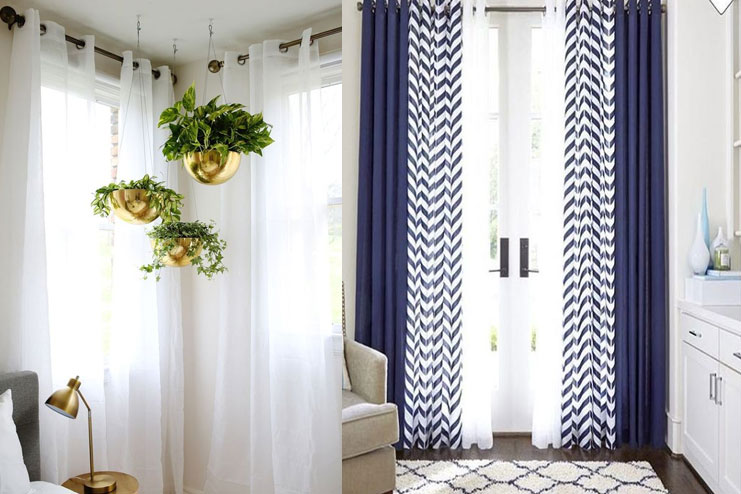 The big prints on the drapes usually suit bigger areas, for smaller spaces make use of nice sheer curtains or if you want some cover, use either solid or tiny prints of curtains. It will instantly transform into an illusion of more space. You can also add solids with prints or stripes, they will gel really well together and keep an intrigue element that draws attention away from small spaces. Keep the bolder prints for bedroom decor.
8. Skip the Center Table: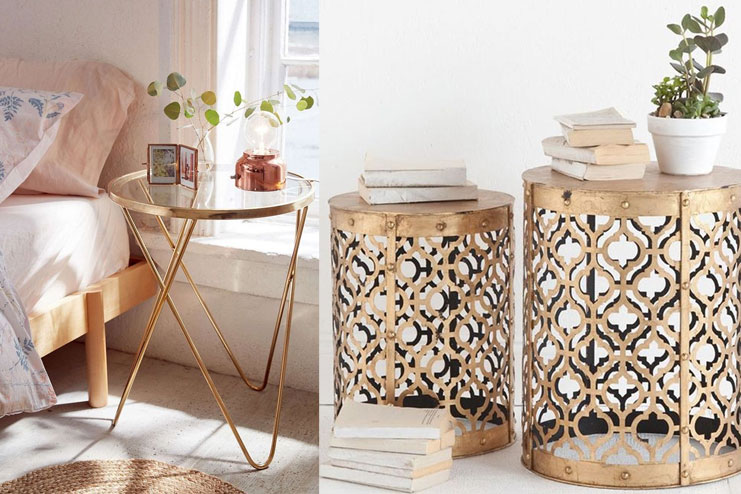 The center space will look great with just a rug. Instead of a big center table choose few smaller side tables of small height in the corners, to complement your floor seating. We suggest your decorate your small living room with the new rose gold copper stools. They look absolutely edgy and amazing. You can also make use of small height coffee tables if you absolutely want a center table.
9. Color the room bright: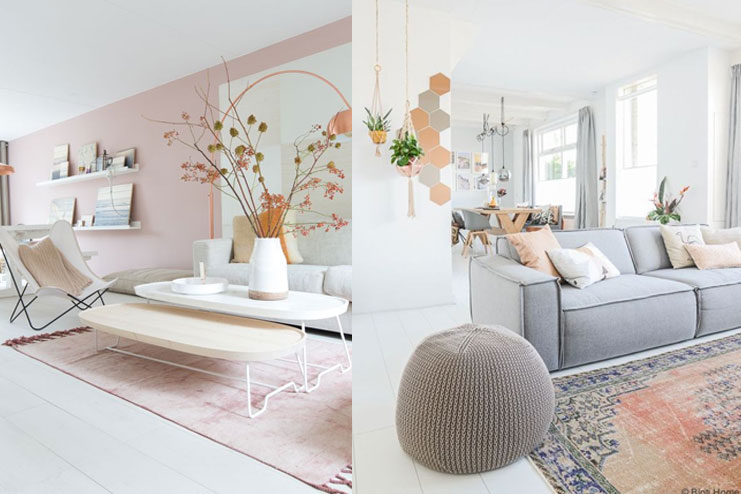 Dark colors absorb light and give a feeling of smaller space. You should choose a light color that reflects light makes your space look well lit and big. You should also make sure that tiny living rooms will look bigger if the entire room is in a single colour, Also mostly in neutrals.WHite is also a great option. The using of a focus wall dark colour may not be a cup of tea for your small living area. Choose really light colours to keep the freshness vibe.
10. Hang out some quirky posters: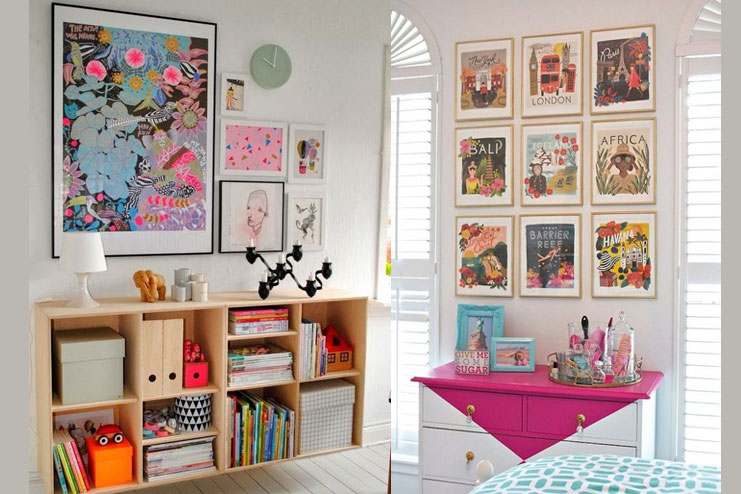 Something you love, or a quote you truly believe, a nice poster can be a great conversation starter. Give your guests something engaging to admire. This is great since smaller spaces have less options to experiment with in decor items. Posters can be a great way to either increase the base wall colour appeal or add a pop of bright colour. Make sure you keep the colour of your poster in mind before buying. Use something to coordinate it with before buying. Like the colour of your planter of the lamp etc. This will be a perfect solution to making a small space quirky fun and even bohemian if you choose the right prints.
We hope you enjoy the lovely cozy outcome of these amazing tips, and when you finally end up having the perfect little space. Remember, with right decorating advice even the most smaller of space can be transformed into the most beautiful yet functional space ever. Give these simple small room decorating tips a go and transform your house completely. Do not forget to share the outcome with us, We will be thrilled to know how it turned out.
Happy Decorating!