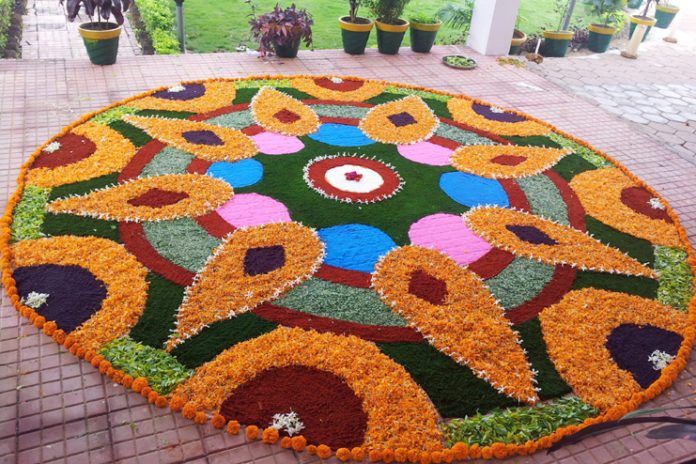 Rangoli making in India is not just an expression of art but also a very sacred and holy process. Almost all cultures and religions have rangoli designs for ornamentalizing their deity and celebrating the festivals in its true vibrant vigor. Rangoli is put on the front yard, in pooja rooms and in drawing or living rooms too. Specially significance to the most intricate designs during year end festivities.
There are rangoli's with colors, cereals, flowers, paint and many more items. All these rangoli designs depict some of the other cultural basis. The passionate art forms called rangolis are customary for their caste or sect and even as a form of art these are acquired or learnt.
What is Rangoli:
Rangoli is a native Nepali concept or art, and it is a Sanskrit word meaning the creative expression of art by means of colors. It is known by different names in India like Mandana in rajasthan, Kolam in South, Chowkpurna in North, Alpana in Bengal, Aripana in Bihar, murja in Odisha, golam kolam in Kerala and so on. Most famoulsy rangolis are made during diwali all over India.
Types of Rangolis:
Indian rangolis are diverse and offer a variety of options to decorate and highlight. Some rangolis are temporary and get spoiled in a few days, some are more permanent and some even forever special ones are made from wood or carved inside the home or even painted. Major types of rangoli in India include:
1- Structured shapes rangoli:
Proper shapes like dotted circles, squares, rectangles and more are used to draw wonderful rangolis. These are more prominent in south India where these kinds of rangolis are made to decorate the courtyard or front porch.
2- Free hand rangoli:
More than anything else, a free hand rangoli brings creative explosions From peacock to mango to traditional flower shaped ones these free hand designs of rangoli are made from colors or sand and are very common in every household
3- Floral rangoli:
Made from full flowers and petals of the flowers, these floral rangolis are more sacred than any other rangoli. These are specially used for decoration around the deity.These floral rangolis are delightful and bring fresh smell truly rejuvenating the ambiance
4- Alpana: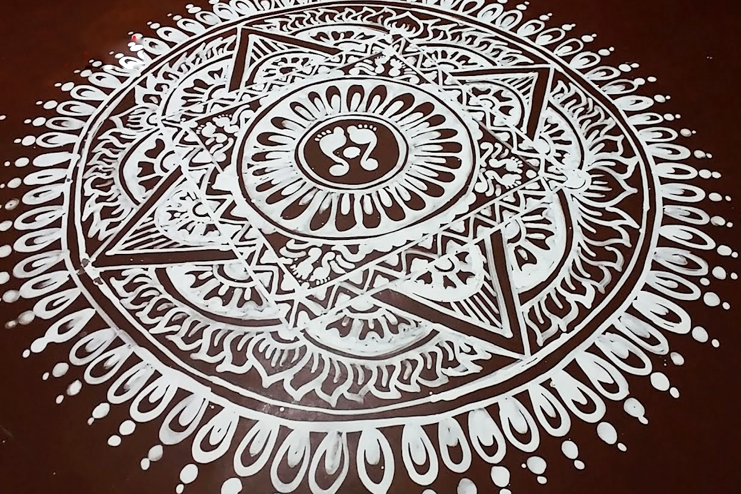 Alpana is the traditional variant, with just two major shades. It is more permanent than the floral or color made rangoli. This can be made by chuna or grinned paste of rice. Geru or brown stone is wetted and a base is made of it, white chuna or rice paste is used with a brush to draw wonderful shapes. These are the most ritualistic of rangolis in India. Specially prominent during Diwali, Durga puja, and Dussehra.
5- Wooden rangoli:
Wooden rangoli is carved and pasted on a wood, with marvelous colors. These are more permanent and are used for their decorative and ornamental values inside home. These are available at stores and come in fixed pieces which can be made to form a specific shape and do not get spoiled easily
6- Floating rangoli:
A mesmerizing and welcome decoration at most hotels and educational institutions. A bowl or pot is filled with aromatic water and petals or full flowers are added in beautiful shapes for this floating rangoli. Diyas and more can be added for glimmer and shine
7- Glass rangoli:
lass pieces are colored and shape to form a wonderful rangoli design. These rangolis are made from ready made and painted glasses.
Some Floral Rangoli Designs:
These floral rangoli designs are specially famous for their auspice and appeal.
1- Floral Rangoli Around Deity:
A beautiful floral rangoli arrangement is done around the puja sthan. With flowers and shape depicting our faith and belief. These are special during the festival times when elaborate pujan is performed at home.
2- Swastik Sanskar Rangoli:
Swastik is a sacred symbol of Hindus in India. We put this every place where we do pujan or our shrines at home are situated. This calls for a sacred and traditional floral rangoli design.
3- Rangoli at the Door:
Specially during festival times, when we meet and greet families, this kind of floral rangoli is popular and is made in semi circle or triangle just at the door of the house.
4- Floral and Floating Rangoli:
This is specially used for decorating our homes or entrance. Even for events like weddings and small functions, such kind of rangolis are very popular. We can also use leaves and stem too for the decoration. In a pot filled with water flowers and petals along with leaves and more are added for awesome shapes and designs.
5- FloraRangolili around diya and candle:
These rangolis are extremely popular at schools and colleges during competitions and assembly also at various organizations with guests to welcome. A diya is tall and situated at the centre or any place suitable and floral ragoli is made around to decorate.
6- Floral Rangoli Ganesh Ji:
Lord Ganesha is the ultimate Hindu god of beginning. For any puja, festival, or occasion a Ganesha's idol is made and decorated. Two most prominent shades used in Ganesha floral rangoli are Orange and red.
7- Full Flowers in a Rangoli and diyas:
Using full flowers and arranging and decorating them beautifully in a shape can be very common during Diwali and Durga puja celebrations all over India. Placing diyas at corners and at center makes this rangoli even more auspicious and wonderful
8- Simple floral rangoli with Paan leaf or beetel leaf:
Paan leaf is an auspicious one in Hindu culture. And using lotus and paan leaves for this simple floral rangoli decoration during any small festival or occasion is common all over India
9- Floral Rangoli scenery:
These kinds of rangolis are drawn in learning art and for competitions at schools and colleges. These are truly inspiring and scintillating
10- Floral rangoli's at weddings:
Flowers bring purity, freshness and ornamental value too. they are pleasing and delighting everyone. So Indian weddings are incomplete without flowers, Beginning from decoration, rangoli to Jaimala flowers are used as most auspicious part of any India weddings
11- More floral rangoli designs: