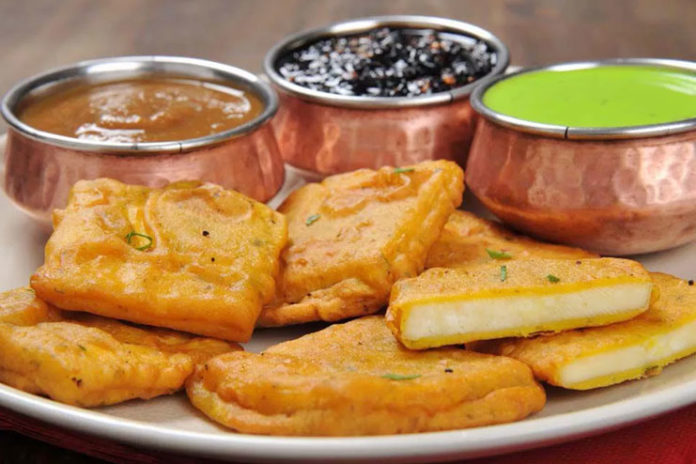 Paneer Pakora is a delicacy. The marinated paneer dipped in a batter and fry makes a crispy, mouth-watering appetizer. Crispy outside and soft inside.These pakoras are addicting! A perfect snack with evening tea. Follow this recipe.
Preparation Time: 15 min; Cooking Time: 15 min; Servings:3-4
Ingredients
1 1/2 cups paneer (cottage cheese) cubes
oil for deep-frying
To Be Mixed Into A Dry Powder
1/4 tsp carom seeds (ajwain)
1/2 tsp chili powder
1/2 tsp garam masala
1/2 tsp coriander-cumin seeds (dhania-jeera) powder
1/2 tsp dried mango powder (amchur)
1/4 tsp turmeric powder (haldi)
1/2 tsp chaat masala
salt to taste
For The Batter
1 cup besan (Bengal gram flour)
1/2 tsp chili powder
1/4 tsp turmeric powder (haldi)
2 pinches of asafoetida (hing)
1 tbsp hot oil
2 tbsp chopped coriander (dhania)
a pinch of baking soda
salt to taste
Directions
For the batter
1. In a bowl add besan, chili powder, turmeric powder, oil, baking soda, chopped coriander, and salt along with ½ cup of water and mix it well and keep it aside.
How to proceed
2. In a bowl add the prepared dry masala and add paneer and toss well.
3. Combine the paneer and the prepared dry masala powder in a deep bowl and toss gently.
4. Heat the oil in a deep non-stick kadhai, dip each masala paneer cubes in the batter and deep-fry on a medium flame till golden brown in color from all the sides.
5. Drain on an absorbent paper.
6. Serve it hot with green chutney and tomato ketchup.