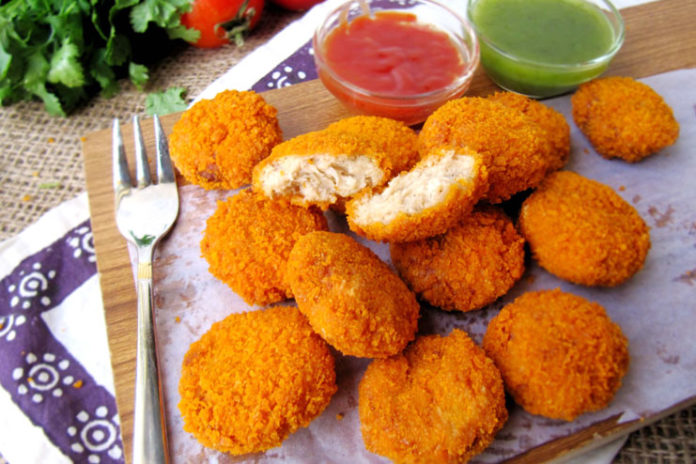 Chicken Nuggets are one of the most commonly eaten dishes in fast food centers. Now this recipe can be prepared easily at home. No need of consuming unhygienic nugget the form the fast food centers. Follow the recipe.
Ingredients
Breadcrumb powder -1/2 cup
All purpose flour-1 cup
Pepper powder-1 teaspoons
Thyme-1/2 teaspoons.
Salt to taste
Butter Milk– 1 cup
Chicken- 500 grams
Egg (beaten) -2
Parmesan Cheese- 2 tablespoons
Directions
1. Take a bowl marinate the chicken pieces with buttermilk, salt, chili powder, ginger garlic paste, leave it for 3 to 4 hours.
2. Then squeeze out the excess liquid from the chicken pieces.
3. In a bowl add salt, thyme, pepper powder and chicken pieces.
4. Season the flour with salt, pepper powder, Parmesan cheese in a bowl and keep it aside.
5. Beat the eggs in a bowl and keep it aside.
6. Coat the chicken pieces in the flour and deep it in the beaten egg then put it in bread crumbs, and place the pieces on the tray.
7. Heat the pan with oil and deep fry the chicken nuggets until golden brown in color.
8. Serve hot with your choice sauce.