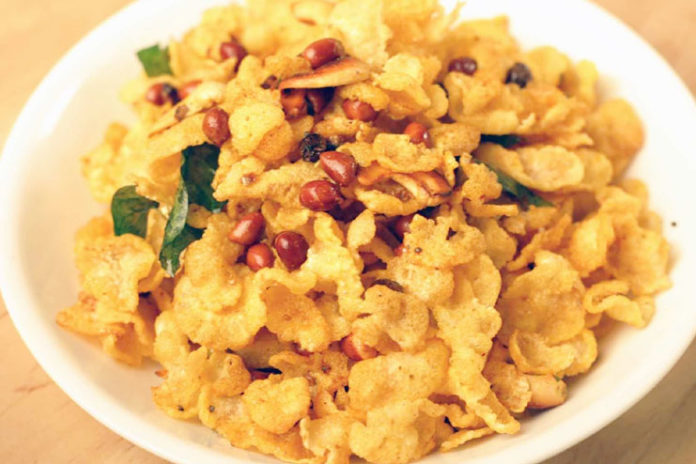 Corn Flakes Chaat is a very healthy and tasty chaat recipe. This chaat is nutritious. It is a low-calorie. The Corn Flakes Chaat recipe is very quick to make. Corn Flakes chaat is good snack option.
Ingredients:
Corn Flakes – 1 cup
Red chili powder – 1/4 tablespoon
Black salt – To taste
Cucumber – 1/2 cup chopped finely
Tomato – 1 /2 cup chopped finely
Onion – 1 small sized – Chopped finely
Green chilies – 1-2 chopped finely
Salt to taste
Tamarind chutney – 4-5 tablespoon
Oil – 1 tablespoon
Directions:
1. Mix corn flakes with red chili powder and black salt in a bowl and keep it aside.
2. Heat oil in a pan and add the corn flakes along with the spices.
3. Roast the corn flakes for 1- 2 min and take out on a plate and let it cool down.
4. Combine chopped cucumber, tomatoes, onion and green chilies in a bowl.
5. Add the masala roasted corn flakes and salt to taste.
6. Mix well.
7. Before serving just add tamarind chutney and Mix it.
8. Serve it.
Notes:
To make tamarind chutney, boil tamarind pulp with sugar, roasted cumin powder, and rock salt.
Eat the chaat immediately after mixing the tamarind or else it will turn soggy.