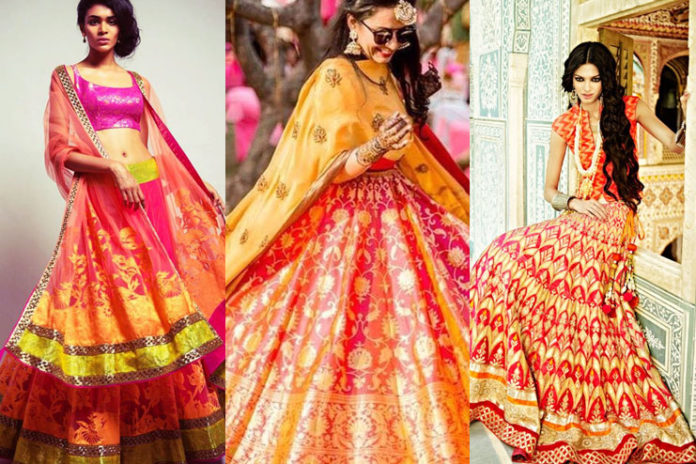 No women or bride is complete with shringar, and one of the main part of shringar is to wear a delicately, beautiful wedding dress. That can be anything from bridal lehenga to bridal saree. No matter whatever your tradition be, whether to wear a saree or to wear a lehenga, when you become a bride to be, the first thing that come to mind is to wear a lehenga at least for the pre wedding ceremonies. So, here are some amazing neon bridal lehengas that you can wear in your wedding or pre and post wedding.
Neon Bridal Lehengas
1. Orange And Pink Neon Lehenga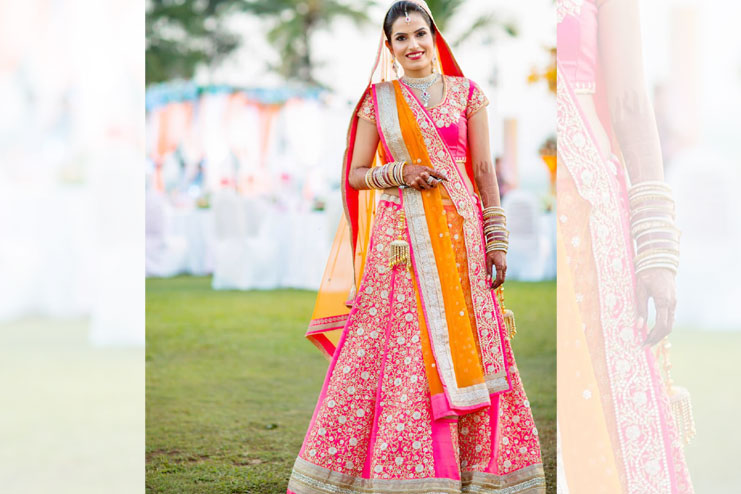 This amazing pink and orange neon bridal lehenga is the one that you must try wearing on your wedding. It can be one of the best wedding dress, and make you stand out of the crowd. The lehenga dupatta is of neon orange, and the lehenga and its blouse of neon pink with a lot of zari work in it. Don't feel like it can fit in as your wedding dress, then you can try this out for your reception party. A something that you must have with proper jewelries and makeup.
Colorful Bridal Lehenga-Choli Combination
2. Ombre Neon Bridal Lehengas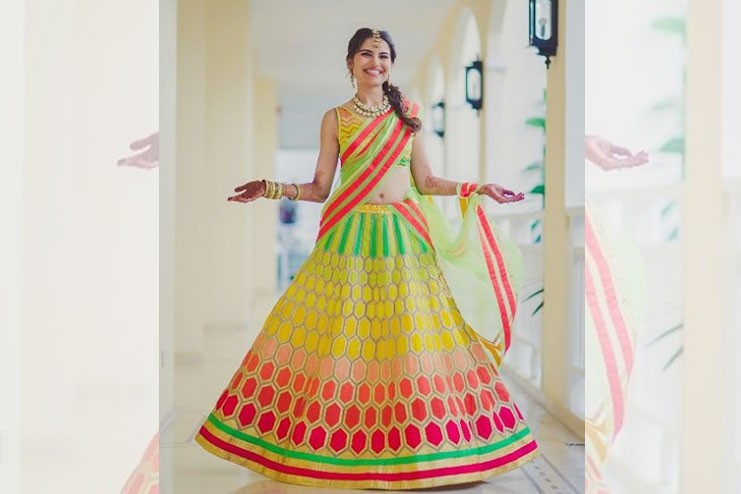 Ombres are always favourite when it comes to making your wedding more colorful. If you are a kind of person who loves a lot of color, then this neon bridal lehenga is just for you. It is colorful, bright and a great look for an outdoor wedding. It has the combination in very unique way with neon colors like green, yellow, pink in different geometric designs,that can light up the whole wedding. No one will be ever compared to you. Try to wear stone or kundan jeweleries along with this lehenga as it can help to match up better. You can also use this one for your pre or post wedding for sure.
3. Beautiful Ombre Neon Pink And Black Bridal Lehenga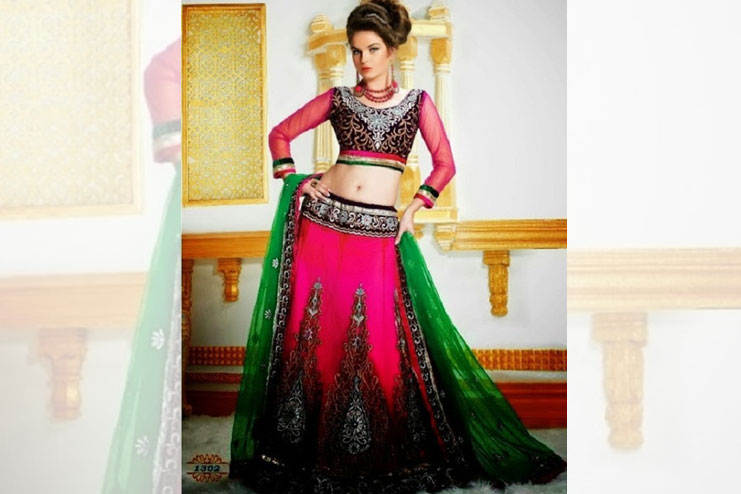 Now all the lovers of black or goth lover, ofcourse there is something for you and the best part is it is in ombre shade. Yes, the shade that everybody falls in love with, a touch of neon pink and neon green dupatta. With this lehenga you can show your love for black. Try out this lehenga with stone jewelries as they will help you to glow more with this lehenga style.
4. Neon Green Bridal Lehenga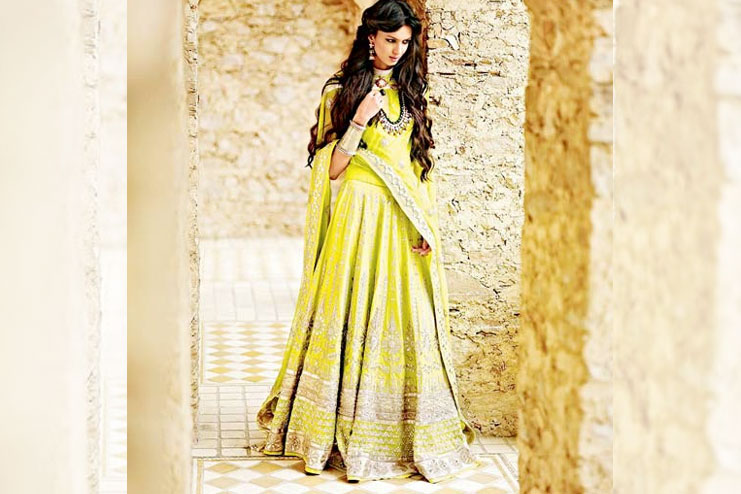 Well, bridal lehenga do comes in various shapes as well as sizes. This one is particularly for the brides who loves minimalism. This lovely bridal wear is made of neon colors and silver designs. This dress will not only shine bright on your wedding, but also make you shine like an angel. Try to wear something traditional or silver jewelries to match up with the combination. A perfect minimal attire for a perfect minimal bride.
5. Neon Pink Bridal Lehenga Choli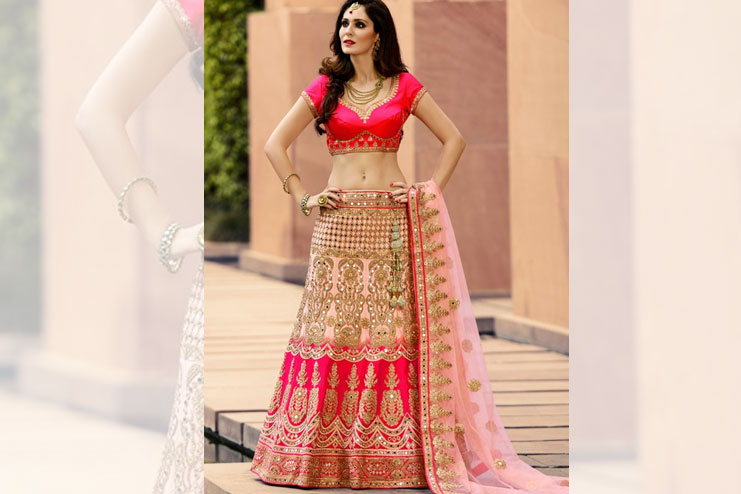 Pink and peach is one of the most amazing ombre combination. They look very contrasting as well as they do match up pretty well. You would love to include this lehenga for your wedding day as it also have a lot of golden zari work in it, that makes it a perfect wedding dress. You can wear it at your night wedding and even in your day wedding. The jewelry that go with this lehenga is your traditional or not golden jewelries.
Trending Fashion On Bridal Wears
6. Lemon Yellow Neon Bridal Lehenga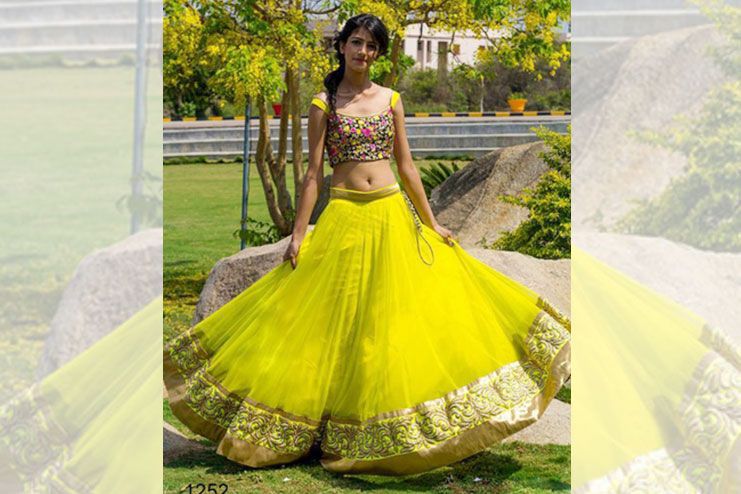 Now, this bridal lehenga is one of its kind. The blouse is printed all over with different colors and the lehenga is exactly neon color and golden work done on the border. It is a great choice for a minimal bride, but if you think that it is too plain then why don't you try this one out on your pre wedding ceremonies, or even pre wedding bridal shoots. They will look great on anyone who wears it.
7. Red And Green Neon Bridal Lehenga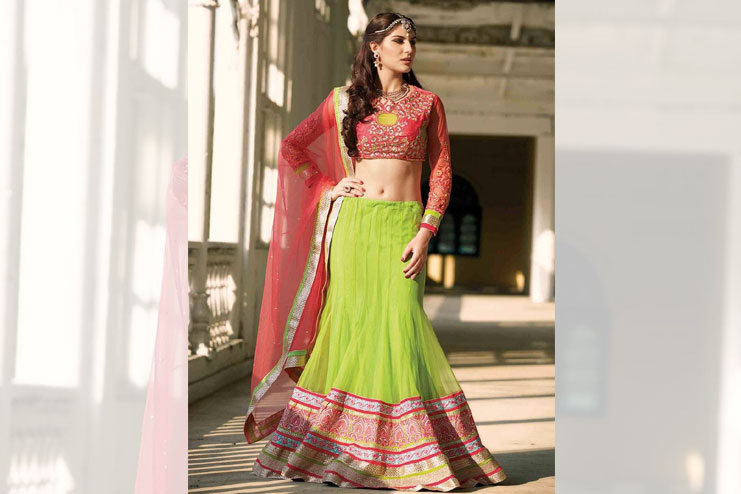 Another amazing neon bridal lehenga that you will love for your wedding or reception party is this beautiful combination of red and neon green lehenga. The whole blouse is red and have the silver zari work in it, and in the lehenga the border is red as well as have silver zari work in it. Another great bridal wear for a minimalist bride. Try to wear silver jewelries with it, to match up with the style and combination.
8. Peach And Green Bridal Lehenga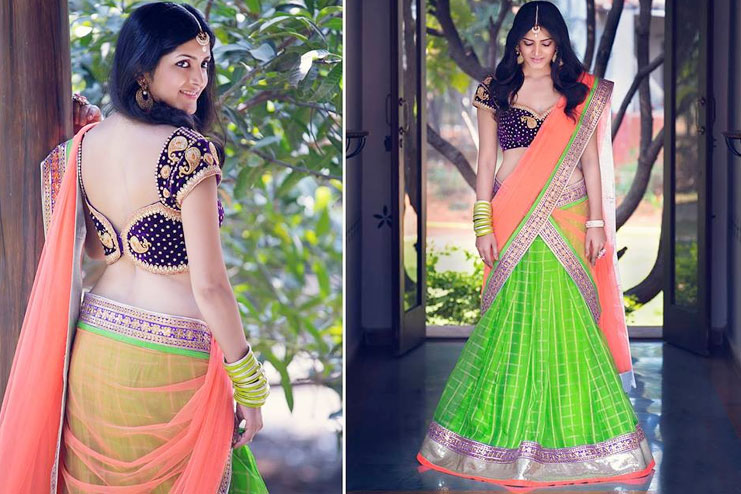 Green has always been the color for neon. You can never look at a neon color that doesn't have green in it. Just like this beautiful half saree or neon bridal lehenga, that have amazing silver work done on the border of lehenga and dupatta, as well as the dupatta is of neon peach combination that can really enhance your look with a velvet blouse.
9. Fluorescent Peach Colored Bridal lehenga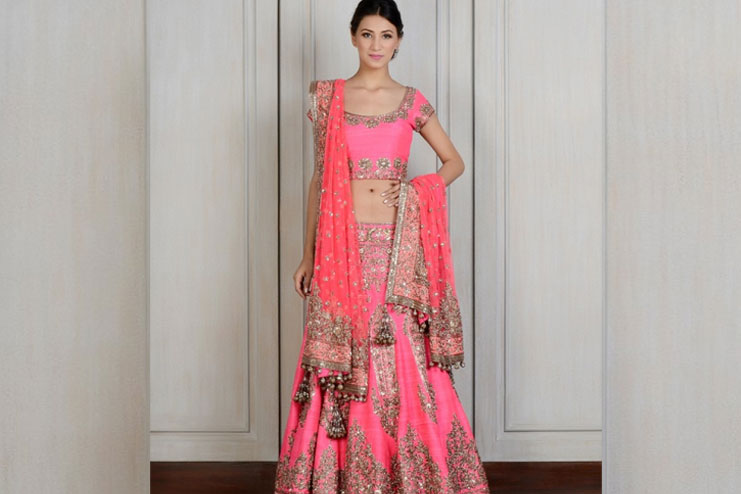 This beautiful fluorescent peach colored neon bridal lehenga, is designed for a bride who loves to wear a lot of karigari in her dress or who is not at all a minimalist. This one can be your one of the choice to love your wedding always. It can make the glamour come out of you, and make you look like a real defying bride. You can also wear golden or silver bridal jewelries with it. As they can really go with your total bridal look.
10. Yellow And Red Neon Bridal Lehenga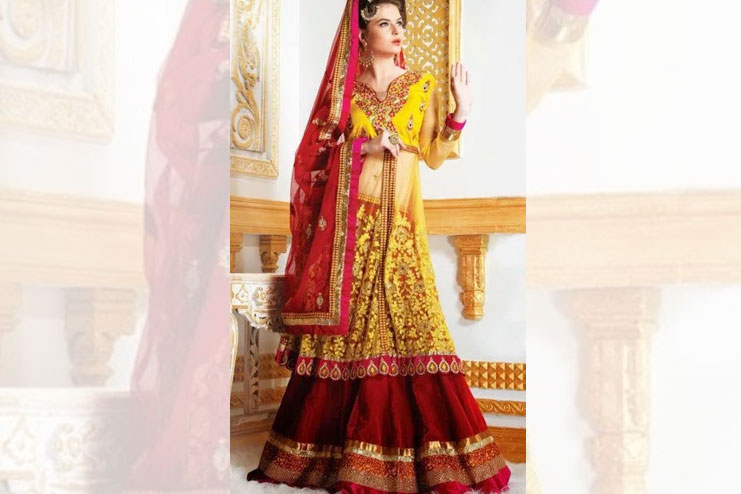 Another not for a minimalist bride, it is an amazing neon red and yellow lehenga with a lot of golden zari work it can elegantly be worn with traditional gold jewelries and look like a mesmerizing woman.
Combination Colors For Bridal Designer Blouses