A trousseau is basically a tasteful collection of things a bride collects for our wedding. it is usually associated with clothes, linen and crockery. But these days it is also used specifically for wedding clothes a bride buys before marriage.  makeup trousseau is however a collection of all the makeup products that a bride to be buys for our use in the wedding and afterwards.  it is important for every bride to plan her bridal makeup trousseau, so as to make the best selection of products and also maintain a budget. here we have an Ultimate Indian bridal makeup trousseau shopping list, that gives out simple bridal makeup trousseau shopping hacks for every bride and explain you how to plan it according to every budget.
Ultimate Indian Bridal Makeup Trousseau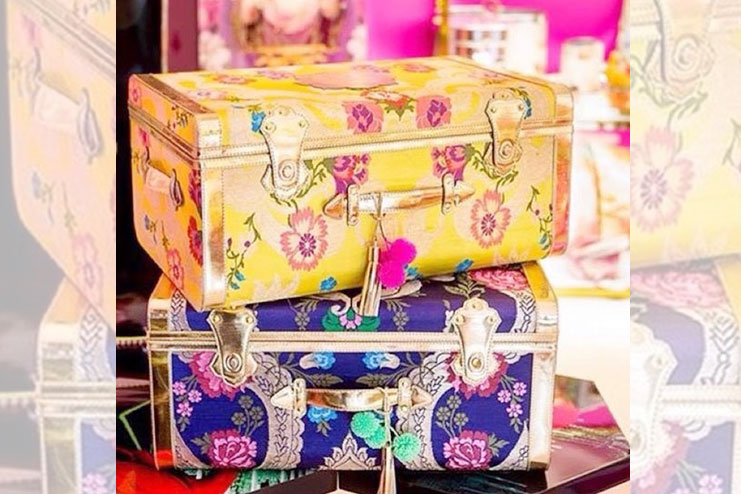 1. Foundation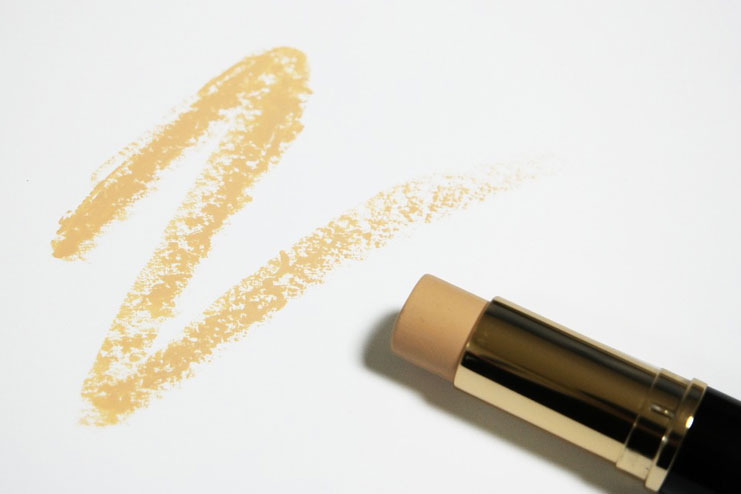 Foundation is one of the most important things you buy as a bride. While you may have MUA (makeup artists) for every small function of your wedding, post marriage you will have so many lunch, dinners to attend or just small functions carried out at home etc. where you would want to look still bridal and perfect but wouldn't necessarily call a MUA. In such cases a good foundation is everything you need. Keep in mind to buy a foundation that photographs well. Before you buy a foundation, test it out on your jawline and not on the back of your hand. Go for something that has workable consistency and pigmentation, at the same time is easy to blend and work with. Stay away from Medium to High SPF foundations as they tend to reflect light and make you look white in pictures. Buy a good moisturizer to go with the foundation.
2. Powder/ Compacts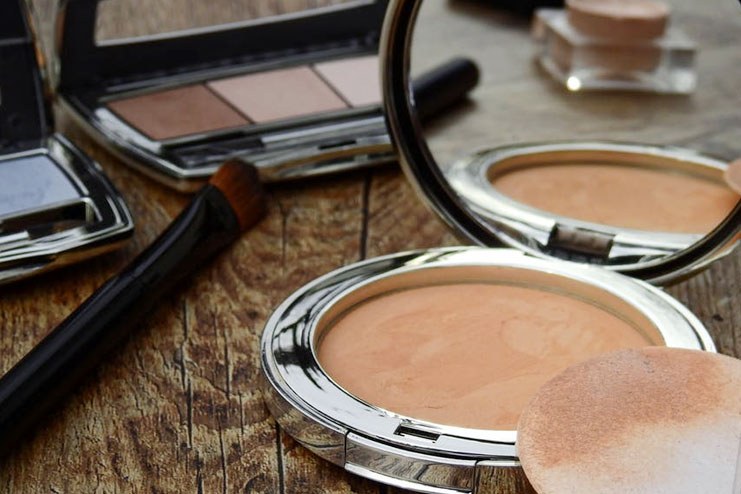 Every bride needs a power to set her foundation, or just to dab it on days when you don't want to go for full face foundation look. This is the simplest way to look refined. You can either choose a pressed powder compact or a loose mineral powder, often used to set the foundation. This can be a life saver for women who have oily skin since it is super handy to use at any time and it can instantly give you that matte look. Ladies who have dry skin can give this a miss. It can be drying for them since their skin is already low on moisture.
3. Concealers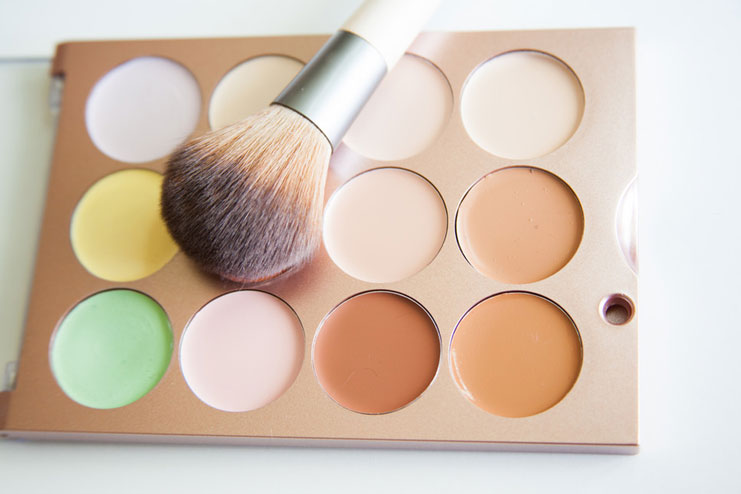 Concealers are a great way to hide any flaw or dark circles that might be caused due to all the previous nights DJ dance or late night events.  It is a perfect way to conceal any last minute breakouts, zits or acne marks that may come up due to extra stress that your skin or body is put through. A concealer can be handy for a bride who suffers from dark circles or puffy eyes. It will serve as a quick fix on some days. For ladies who do not have these special concerns and are blessed with a super fine skin texture you can give this a miss.
4. Eyeliners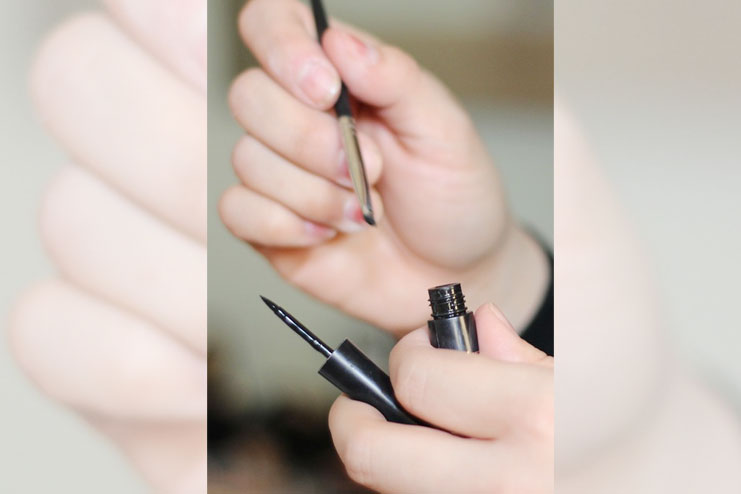 An eyeliner is the most fun element of every bridal makeup trousseau.  It is the perfect way to customize every outfit with your makeup.Buy some good creamy pencil liners in different colours and experiment with them in different outfit looks. Some of the most beautiful shades are Jade blue, Gold,  forest green, Jet black And bronze. Do not spend much on the pencils, as tend to expire in year. Buy some basic drug store brand pencils, make sure that they glide easily and do not look dry and patchy.
You can also buy liquid liner for better precision and pigmentation. we suggest that you buy 1 basic black  matte liner for simple outfits. you can also get colours in liquid Liners these days.
5. Blushes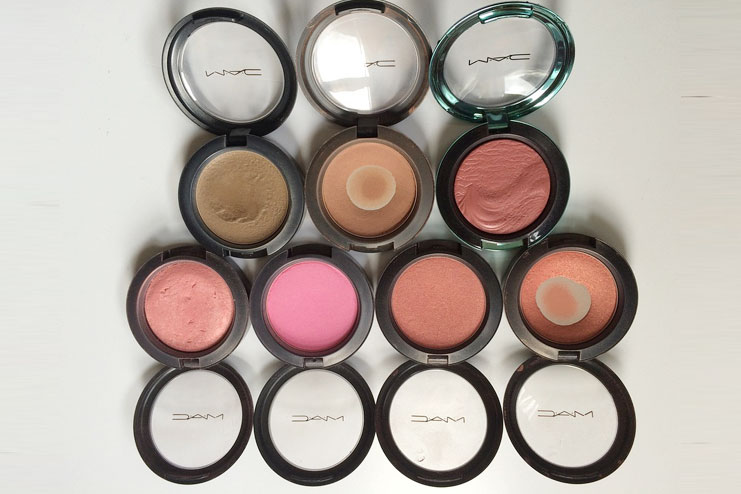 Now, a blush is something that every bride needs,  why you may be already glowing with a pink blush on your face. a little bit those rosy flushed cheeks will never do harm.  we are a big fan of blushes and we think that every bride should have some basic colour of blush in her makeup stash. peach glitter blush, Rosy pink colour, another Golden Shine blush and a subtle Coral blush for complimenting those polki bride bridal lipsticks.  on days when you don't want to put on a lot of makeup just rub a little bit of cream blush on the apple of your cheeks and blended well. Complement it with dramatic mascaras and lip balm and you will still look very much the pretty bride.
6. Lipsticks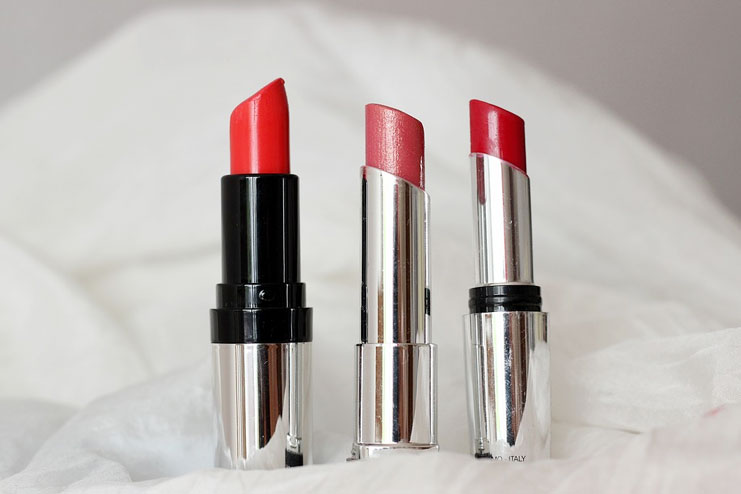 When it comes to lipstick nobody can have enough. they will always be a new formula, a new colour, some  out of the world fragrance or even a cute new packaging in the market that will lure you into buying new ones every once in a while. For this sole reason do not end up adding too many lipsticks in your bridal trousseau.Instead spend your money buying lipsticks which are ageless and are considered as classic colours every girl should have. you should definitely have one bridal red lipstick, a Fuchsia pink for special occasions, nude lip colour that goes with every outfit  and a mauve or Maroonish Brown To add little bit of drama to any outfit.
There will be a lot of tempting offers on E-Commerce portals that will make you consider buying your bridal lipsticks online. a suggestion would be to fight these temptations and go to a store yourself and try out the shade on your lips. this is something that you do not want to go wrong. eBay mix collection of various formula lipsticks.  no matter how much you like your mad colours always make sure that you have one or two lipsticks each of  glitter and shine finish.
7. Lip glosses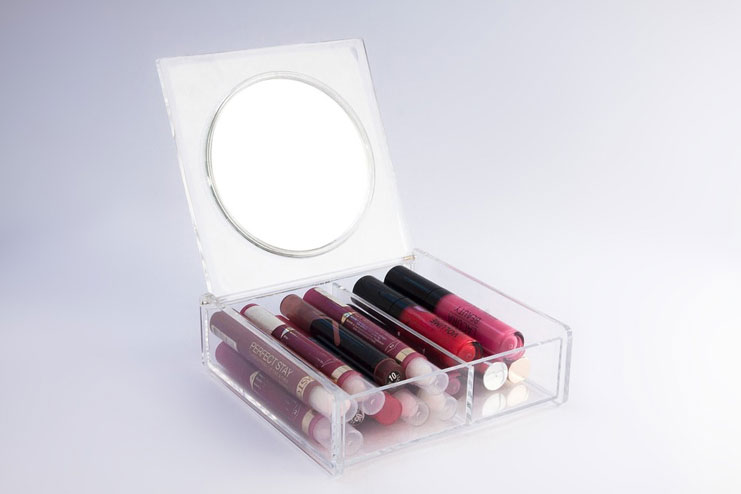 A lip gloss is an added effect to your lips. You can completely do without it also, but it give that glossy finish to your lips that completely brightens up your face. As a bridal trousseau item, you can have a few lip glosses. do not overspend on gloss as it is not something very important.  you can use a gloss for normal day small events after marriage. some of our favourite are  the Chambor glosses that come in super pigmentation and an array of colours.
8. Mascara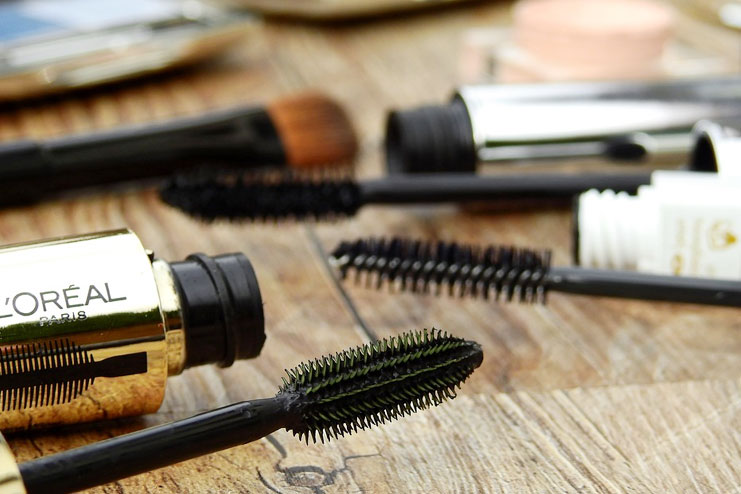 The most important things of any bridal makeup tomorrow is a mascara. but even though this  Cosmetic product is so important, it is best to keep while buying a mascara. the reason is, tends to try out very soon. even if it doesn't dry it only lasts for 6 months effect by a very soon. the best bet would be to buy either a medium range mascara  a lower range mascara with different variants in coverage or colour. simple swipe of mascara on your lashes can make your eyes pop. it may not be very visible but it is that little something which makes you look very polished.
9. Eye shadow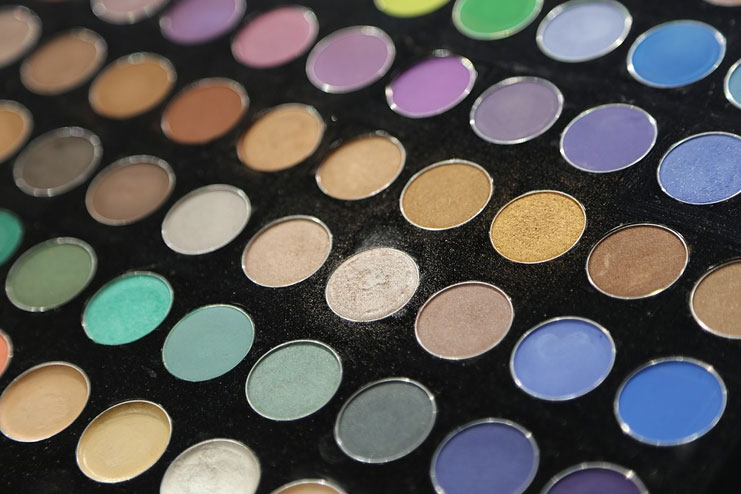 Eyeshadows are something that every bride should invest in. It is a time when you want to collect something useful in your bridal makeup trousseau that will be useful for a very long time. and eyeshadow is a must for any bridal event or post wedding events that you might have to attend.  there are some basic colours that every bride should have, shimmery  peach, a satin gold,  dark brown, beige,  pink, black, Green and Purple.  you can go for basic eyeshadow palettes that are available in a lot of brands or you can select individual eyeshadows.  the  palettes are more cost-effective and often a better option for every budget.  if budget is not a restriction for you, you can mix and match where is individual colours in certain brand and by a big eyeshadow palette from the others. Make sure your bridal makeup trousseau has some good pigmented eyeshadows.
10. Primers/ Eye base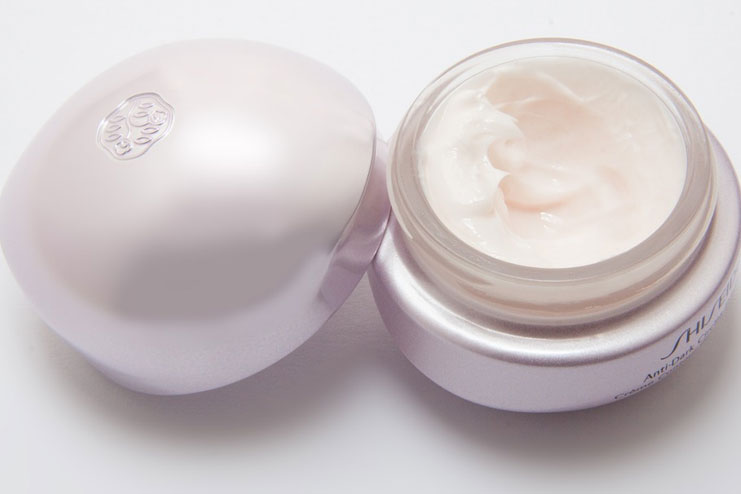 A primer is something that is a must use product in weddings or events in which you want a long stay makeup.If you are buying your bridal makeup trousseau for use during your own wedding you should definitely buy a good primer for makeup base.  but, if you are buying makeup products for later use, this is something that you can give a miss. or else by a medium range eye makeup base or primer.
11. Highlighters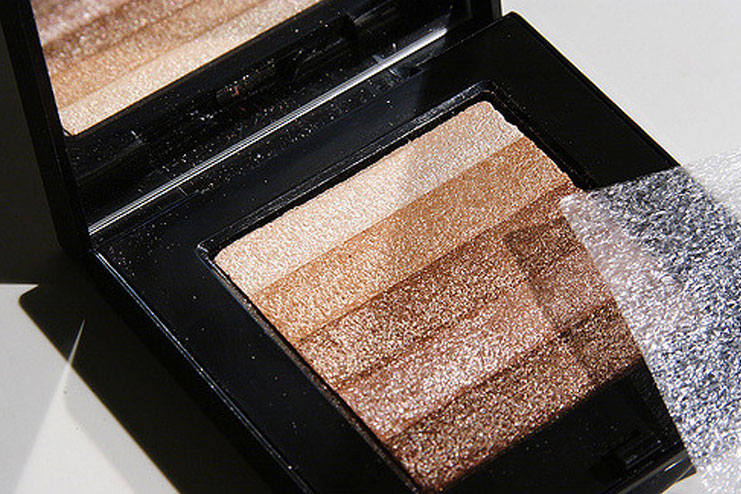 Have you ever noticed how a bride makeup no matter how ever simple it maybe it's still a lot different than anybody else? well, if the highlighter that does it. highlighter is responsible for giving a bride her Trademark glow.  and yes, you can have that bridal glow everyday with just a good highlighter.  we suggest you to definitely invest on a good highlighter which can be used for specific events all parties.  A  highlighter is a long term investment, and A little can go a long way and it will make every penny worth in the end.
12. Kajal pencil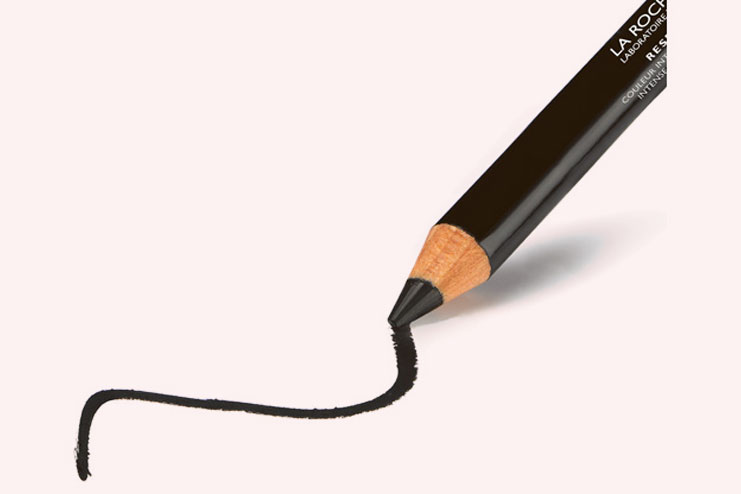 While, you may already have a lot of Kajal pencil,  when you set out to buy a Kajal pencil for your bridal makeup trousseau, make sure that you buy a high end Kajal pencil.  the wedding is an occasion where you do not mind splurging on makeup.  invest your money in buying a good Kajal pencil that is not smudge, is waterproof and have some great amount of pigmentation.  for a bride it is important that he carries a Kajal pencil even though you may not use it that often. Kajal is a must for that festive look on any face.  make sure you keep a good makeup remover Handy along with the pencil in your bag.  smudge proof pencils can be difficult to completely remove, and you definitely do not want to look like a panda in the morning.
13. Brushes and tools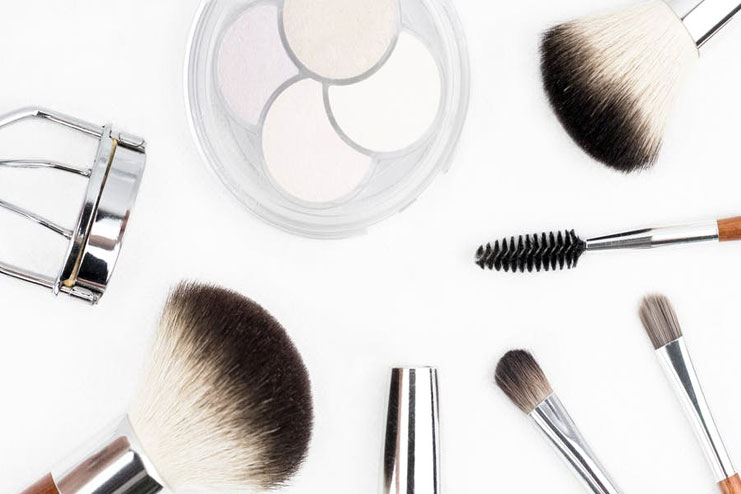 Buy some luxury brushes and tools that you wouldn't otherwise invest in, and also mix it up with some economic budget buys that have good reviews.  make sure you buy it well in advance so that you get used to using it properly. especially a blending tool,  either a blending form or brush.  keep all of your brushes safe and covered and by a dedicated bag to store them.
14. Nailpolishes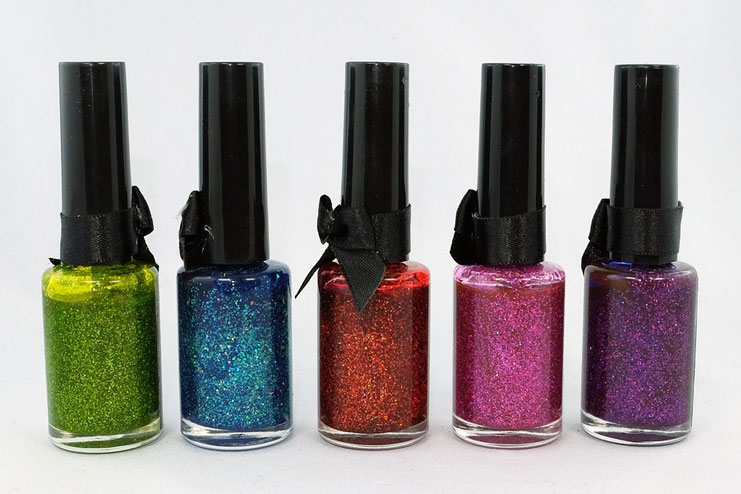 Buy some basic nail polish colours that a bride would need. do not overspend on nail polishes no matter how tempting it would be. you can always buy a good nail colour even post marriage. make sure that you keep your bridal nail polish write in your bridal bag and touch it up if you get some chipped nail polish during the ceremony.
Keep in mind this amazing bridal makeup trousseau shopping hacks,  and splurge only on cosmetic products that can be used for a longer time with better efficiency. some products can be cheated upon.  and with this ultimate Indian bridal makeup trousseau list, you now know which ones  matter the most. we really hope that this list is important to every bride to be.  hope you find this information important. Do share with us what you think, we will be thrilled to know your views. Happy Shopping Ladies.