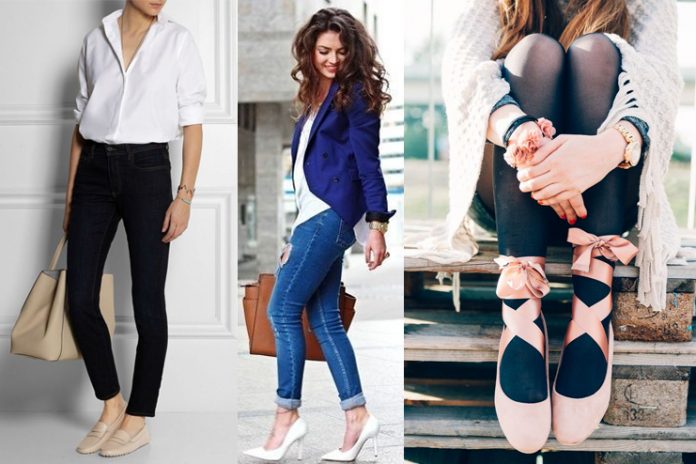 Your footwear rack is more filled with shoes than any other footwear. The way shoes match up all the outfits made you choose multiple pairs. A pair of shoes can also give you comfort any time and anywhere.
Shoes are women's best choice with any outfit. The shoes are perfectly worthy of wearing with western or semi-western outfits. Shoes are a conclusive option for women. If the women are confused to wear the outfit, they can look at their shoe collection and then decide the outfit for the day. Shoes gained such importance in women's fashion.
Here you find the top trending shoes for women for various outfits. Also, grab the ideas of styling the shoes for different occasions. Your choice of the footwear that don't go wrong when you wear it right with the right outfit. So, you will get to know if you are styling your shoes as they are to be.
Do You Own The Shoes That Match Up With Jeans?
1. Running Shoes

Running shoes are comfortable to wear for any women. They become the best friend for women for all causal walks and daily wear. The winter times need running shoes to feel comfy and warm. The shoes also are available in dynamic colours and models. Running shoes are available in all reputed and big brands like Adidas, Nike, Puma and the list the too big to give away here. So, browse the running shoes online to match up your trendy jeans.
2. Wedge Shoes

Wedge shoes make women look fashionable with the elegant walk. The fit in with all kinds of jeans. Wedge shoes come with various designs that grab women's attention in seconds. The wedge shoes with jeans cloth stunning.
You can wear a blazer over the top and skinny jeans with a pair of wedge shoes. There you will get the chic look you were trying to set. You also get the funky look with a coloured wedge shoes.
3. Shoe Heels

The women who want to newly trend up especially with footwear and jeans must try shoe heels. The shoe heels are embellished with stunning and bold designs.
These are the ultimate choice for party wear t-shirts. The party look comes with the outfit, accessories and footwear you wear. When you are wearing shoe heels, you are in the complete party look.
4. Loafers

Loafers are trending for women for comfort and easy wear. To get a fashionable look, women had to wear footwear with straps and buckles. But now, a simple pair of loafers can make women look extremely trendy along with a pair of jeans.
Loafers are also the ultimate option for office wear. The formal outfits need a pair of loafers with standard colours like black, gray or brown.
5. Sneakers

Sneakers are amazing with the versatile wear for women.You need not doubt the look or fashion that is running wearing sneakers. They are in fashion even for party wear. The sneaker shoe colour you choose says which outfit it is suitable for.
If you are wearing torn jeans or boot cut jeans, it is for both types. White sneakers with black top and jeans is a stunning look in the above image. If you want to wear them for a formal or casual outfit, you can happily prefer them.
6. Ankle Boots

Your favourite jeans are worth trying ankle boots jeans. The combination of jeans and ankle boots is chic. You can also set a formal look. The plain boots with standard colour can make you look complete formal.
A western outfit and ankle boots are an ultimate combination for women. A denim jacket and jeans with ankle boots make the chicest look. You can wear a stylish scarf for the winter look.
7. High Boots

High Boots give a stunning and dynamic look for any women. This is a trendy winter look with a pair of jeans and high boots. High boots can give the extraordinary look. The boots come in various colours but the brow and black colour can never lose the craze in fashion.
8. Ballerina Shoes

Ballerina shoes are flexible shoes for young ladies. The ballerina shoes come in prints like floral, geometric designs. They are an amazing option for party wear outfits. A sparkling top with pencil jeans and ballerina shoes is the chic look that young girls love to wear.
Ballerina shoes also come with glittering colours which are loved by the young girls for college wear. Such glittering ballerina looks great with the fancy crop tops and short kurtas.
9. White Shoes

The colours are trending along with the designs. Women may choose white shoes over any other colour. The white shoes look more pretty if there are some pretty designs like floral, stars and geometric designs.
You know the wonderful combination of jeans and white. This is a fashion driving combination with white shoes and denim jeans.
10. Brown Shoes

Brown colour shoes are of unique kind of footwear. Any style with straps or lace, the shoes look awesome in brown. As this is a standard and preferred colour it suits for multiple outfits.
Your skinny jeans need brown shoes with straps and your look chic look needs a pair of brown shoes with boot cut jeans.
Now your shoe collection must be used in the right way. Let them not go wrong fashion and styles. Your jeans and shoes can come together to set your trendy, formal, casual look. As shoes are the most versatile footwear, we gave you multiple ways to style them up.
Related Articles: