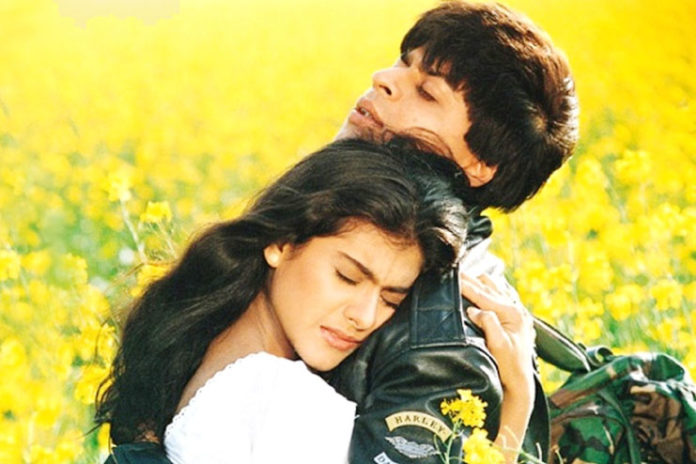 It is a given that we all love watching movies. Maybe of different genre, languages or type, but when it comes to watching movies we all love sitting with a cup of hot coffee or the staple popcorn and cold drink and watch the movies till late at night. And while we love our thrillers, Comedy, horror, Rom-Com and Sci-fi films, we have a special place for romantic films in our hearts. Why shouldn't we? In the land of the Taj Mahal, Love should be given its due importance. Right ladies?
Like Hollywood, Bollywood too has had its own share of wonderful cinema, but there are some great love story movies in Bollywood that you have to watch just once to become a fan. These movies have now become classics and every true Bollywood lover will have watched all of these at least once. Here are out top 8 picks in no particular order, of the most romantic Bollywood films ever made.
1. Dilwale Dulhania Le Jayenge (1995)

One of the favorite love movies of all times, DDLJ has become a classic enjoyed by people of all generations. This iconic film directed by debutante director Aditya Chopra, Son of Yash Chopra is about a young NRI man named Raj who meets Simran on a group trip to Europe. They fall in love and wish to marry, But Simran's traditional father won't allow, as he had already promised his friend to marry Simran to his son Kuljeet. The film revolves around the characters Raj and Simran who try to make their parents to accept their love and allow them to marry. This Film has a record of running successfully in the Maratha Mandir theater of Bombay for 1000 weeks. This film won 10 Filmfare awards that year and also received a national award for the best popular film.

One of the cutest love stories of Bollywood, this film shows a love story of two young lovebirds, Suman and Prem whose parents have been friends since childhood. They fall in love but have to face many hurdles to finally unite. This film shows the innocence of first love perfectly and is definitely one of the best Bollywood romantic movies of Bollywood. Directed by Sooraj R. Barjatya this film became a super hit and gave Salman Khan the stardom he has till today. Definitely watch this film for the sheer innocence of both the protagonists. This is a very well written movie with nicely done characters and a strong plot.
3. Hum Aapke Hain Koun…! (1994)

Another twisted plot of director Sooraj R. Barjatya, this is one great Bollywood love story movies
With all the elaborate family and friends uniting and celebrating each occasion made all the people in 90's fall in love with this family and each and every character. The sacrifice that Nisha (the female lead) and Prem (the male lead) are willing to make for the sake of family in the end keeps the audience engaged and running for tissues to wipe the tears. One of the most enjoyable Rajshri production films, Hum Aapke Hain koun has set a bar that even after generation many films can't achieve. We love the simplicity of the characters and the intriguing plot of the film.
4. Qayamat Se Qayamat Tak (1988)

At the time when love marriages between different classes were considered a taboo and looked down upon, this film showed the world how love means just love and no categorization can differentiate the bond two hearts share. This film is based on the very famous novel by Shakespeare Romeo and Juliet. The debut film of Aamir Khan and Juhi Chawla. This film won 7 Filmfare awards and a national award for for Best Popular Film proving Wholesome Entertainment. This film is still a classic that seems so relevant even today. For youngsters who want to watch the best romantic movies Bollywood has made, QSQT is a great start.

This amazing love story of the fictional characters Veer and Zaara could not have been made in any better way than Yash Chopra did in 2004. This film is based on the conflict between India and Pakistan and how 2 innocent lovers get caught up in the mix and spend their lives passionately loving each other even though both never could be together. This love story ends up giving you goosebumps every time you watch it. This film was also taken very nicely by the audience and became a super hit. Considered as one of the Hindi movie classics this film several awards including the national award that year.

One of the classic Bollywood love story movies, Kuch Kuch Hota Hai is a story of three friends stuck in a love triangle where two of them end up marrying, but only realising later that he actually loved the other friend. A true complicated love story that shows how love can be really weird sometimes but till it is always justified. We love the three characters of the film so much that we wish we were them Anjali, Tina and Rahul had become the rage in the 90's and everyone wanted to be like them. The film was a superhit and even now, After 20 years we have so many people whose favorite has never changed over these years.

A love story between three people again, Dil to Pagal hai also remains a top favorite among Bollywood fans for the wonderful musical love story that it is. The powerful and dreamy characters f the well-written film have so much to mean even in today's world. This ageless movie holds true even today. One of the most popular films of all time this Yash Chopra classic Bollywood love story touched everybody's heart and it still continues to rank very high on the romantic movie radar even after 20 years of release. Watch this film if you feel deeply connected to your love but you just can't figure out who when and where you will meet him.
8. Hum Dil De Chuke Sanam (1999)

Another classic romantic Bollywood film that will keep you glued to your screen till the last moment is this Sanjay Leela Bhansali 1999 superhit film Hum Dil De Chuke Sanam. A story of Nandini, who falls in love with Prem, her father's student from Italy. But her father doesn't approve of them and married her to Vanraj. After he finds out about the first love of Nandini, he takes her to Italy to reunite the lovers. In the end, it will melt your heart to see how not just Nandini but the audience too want love to lose and dedication and respect to win. It is a classic Bhansali film with twists and turns that will leave you waiting to breathe. This film won lots of awards and has been one of the best works of both the actors.
From the above list of top 8 love story movies in Bollywood, each and every movie will live up to the title of a classic romantic Bollywood film that everyone should watch at least once before they die. These movies have all the lovely emotions of love, separation, sacrifice, dilemma, and family. If you want to have a perfect experience of Bollywood drama and good cinema. Don't forget to watch these gems.