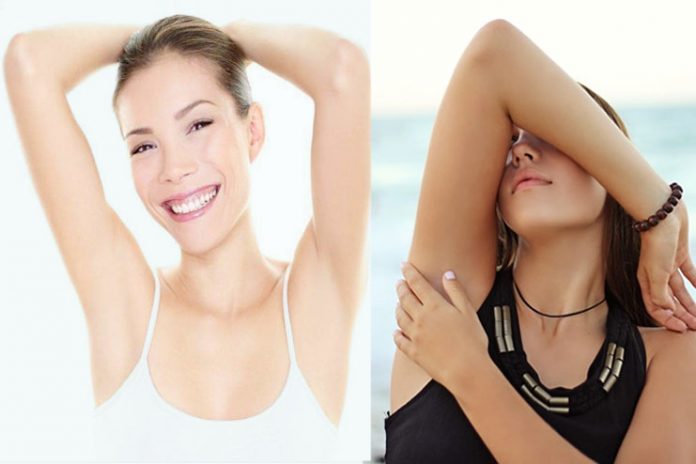 One of the biggest nightmares of every girl is having dark underarms. Worse thing that can happen after that is the dark colour getting darker due to improper care. While it is mainly because of some lifestyle habits, sometimes it is also caused due to medical issues. Although prevention and early detection is the best way to remove it quickly, there are some excellent home remedies that have been known to treat your dark underarms naturally and help you lighten them easy and smoothly. Here are 12 different but amazingly effective home remedies that can help you lighten dark underarms at home easily.
What Causes Darkening Of Underarms-
Dark-skinned people are more prone to excess pigmentation in their underarms due to the presence of extra melanin in their body.
Pregnant ladies can get really dark underarms during the course of pregnancy. The weird hormonal changes in your body at the time of pregnancy can make your body have some unexpected changes.  One of which can be darker underarms. The good news is it can get cleared in a few months after childbirth
Diabetic people have inflated levels of insulin, At times this can lead to skin darkening at places like the underarms.
Bacterial infections like Erythrasma can cause excessive darkening of the underarm skin. It can be treated by a dermatologist and you should once get his opinion if the remedies don't seem to work for you.
Too much shaving eventually causes darker underarms due to an accumulation of dead skin cells.
Ingrown hair on the skin can make it look darker. Shaving can also cause ingrown hair and make underarms darker.
Also, Read: How To Fight Flabby Arms With 8 Simple Exercises
How To Lighten Dark Underarms At Home.
1. Potato-
Take a fresh potato and cut a slice.

Rub this slice over your dark underarm area for 2 mins.

Leave it on for 10 minutes and rinse off with water.

Repeat twice daily for best results.

Potato acts as a natural skin bleaching agent And is responsible for lightening underarms skin. It soothes irritable skin and can be used by ladies with sensitive skin too. Potato reduces skin patchiness and is responsible for even toning your underarms. This simple but effective home remedy will keep dark underarm skin at bay.
2. Cucumber-
Take a fresh cucumber and slice it into few pieces.
Extract juice out of half of it.
The remaining slices should be rubbed on your clean underarms for about 5 minutes.
Now take the juice and use a cotton pad to apply it over the affected area.
Leave it on for about 10 mins.
Wash it off with plain water and let it air dry.

Cucumber is a widely popular remedy for under eye dark circles and puffy eye bags. Reason being, cucumber has natural cooling properties, it is responsible for soothing the skin and reducing any kind of inflammation. This reduced inflammation makes it easy to reduce pigment cucumber in itself is a skin lightening agent. This remedy also acts as a great cure for reducing underarm pigmentation and lightening them. A perfect cure for ladies who have sensitive underarms that are prone to infections.
3. Baking Soda-

Another great way to reduce underarm pigmentation is using the baking soda paste. It has been known for the good results, here is how to use it.
Add 2 tsp of baking soda in a glass dish.
Add water to bring this to a paste like consistency.
Apply this paste all over your underarm and try to scrub off the dead skin cells.
Wash it with plain water and pat dry.
Baking soda has good skin exfoliation properties. It is known to reduce armpit pigmentation by removing the dead skin cells built up over it. These dead skin cells are one of the most important reasons why skin gets discoloured and leads to patches of dark underarm skin. Baking soda can also help you get rid of bad odour and reduce the underarm darkening and helps you forget about it completely over time.
4. Orange Peel-

Orange peel has multiple applications and benefits that rarely people know of, and another excellent benefit of orange peel is lightening underarm skin.
Take 2 tsp of orange peel powder.
Add water to turn it into paste like consistency.
Apply it over your underarms and scrub it off.
Let it sit for 5 mins.
Wash it off completely with water.
Orange peel has both skin exfoliating as well as skin lightening properties. It can be a great natural home remedy to make underarms fair. The orange peel scrub is extremely effective in reducing the dead skin built up on the underarms, this scrub would be a great way to scrub off clogged pores of the underarm and keep them naturally aerated and nourished. Thus, preventing any further blackening of the area. Use it twice daily for quick and easy results.
5. Apple cider vinegar-
Take a few tsp Apple cider vinegar in a bowl.
Add 2 tsp baking soda to it.
Let the mix fizzle out and mix it well.
Apply it all over the underarm area and let it sit and dry for 10 mins.
Wash it off with plain water

Apple cider vinegar is a multi use natural remedy. It is known widely for its help in weight loss. It also helps reduce skin darkening as it contains mild acids which are really safe for skin. These acids, remove any pigment built up and dissolves them. It can slowly not just reduce your underarm pigmentation but also cure the issue completely. Try this remedy twice daily for best results.
6. Aloe vera-
Take a fresh aloe vera leaf and cut the base of it.
Let it sit for few minutes and drain out the brown resin that oozes out from the leaf.
Cut it lengthwise and apply it over your underarm area.
Leave it on for about 20 mins.
Remove the leaf and wash your underarms with water.

Aloe Vera contains Aloesin, this ingredient has properties that inhibit the tyrosinase enzyme, which is responsible for skin pigmentation.  This pigmentation reducing the action of aloe vera makes it a great remedy for underarm skin lightening. It reduces skin inflammation and skin irritation because of its antiseptic properties. Aloe vera is a healthy and non intrusive remedy to cure the skin darkening of armpits the most natural way.
7. Turmeric-
Take 2 tsp Turmeric.
Add 1 tsp each of milk and honey and mix it together.
Apply this mixture to your underarms and leave it to dry. For about 10 mins.
Wash it off with plain water and pat dry.
Repeat twice a week.

Turmeric has been historically used to lighten the skin. Remember brides given turmeric packs before the wedding. Well, it is implicit how great it works at skin lightening.  This turmeric's property of skin whitening combined with collective properties of lactic acid will whiten the underarm skin in a decent amount of time
8. Olive Oil-
Mix together 2 tsps of olive oil and brown sugar each.
Apply this over the affected area and scrub your skin.
Let it remain over the underarms for 10 mins post scrubbing.
Wash it off with warm water and pat dry.
Repeat 2-3 times a week.

Olive oil and sugar form a great combination that can whiten your underarms. Olive oil is a great moisturiser and can deeply nourish skin cells. The brown sugar in this scrub acts as a great medium to remove clogs from pores and dead cell built up in the skin.
9. Lemon-
Freshly Cut lemon into thick slices.
Rub and scrub your underarms with these slices for 5 mins.
Leave it on for 10 mins and let it dry.
Wash with water and follow up with a natural or herbal moisturiser.

Lemon contains citric acid that will help you bleach and lighten the underarms perfectly. It is a natural bleaching agent that can also help reduce your body odour problem. Use it wisely and do not leave it on for very long or for the entire day as it can dry out your skin with the acids present in it.
10. Castor oil-
Take a few drops of castor oil and apply over the area.
Massage for 5 mins gently and leave it on for another 5 mins.
Wash off with warm water.

Castor oil is one of the great natural home remedies for dark underarms. It is known for removing clogged pores and impurities that impart the dark colour to your skin. It also improves the health of your skin as it is a great skin conditioning agent.
Also, Read: How Castor Oil Helps Hair Growth
11. Tea tree oil-
• Add a few drops of tea tree oil in 100ml water
• Put it in a spray bottle.
• Spray it over your underarms.
• Let it dry naturally and leave it on for the day.
• Repeat every day

Tea tree oil is anti microbial and extremely healthy for skin. Just a few sprays of this essential oil will give your good amount of antioxidants that will improve the underarm skin health and make it lighter with its skin lightening properties.
12. Activated Carbon-

One of the most interesting home remedies of underarm skin lightening. This method id a perfect quick fix for improving skin pigmentation. Here is the miracle method to reduce underarm skin darkening.
Take 2 activated carbon capsule and take the powder out.
Add honey to make a paste.
Apply over the dark area and leave to dry.
Use a wet cloth to remove.
The results are almost shocking. This is a perfect way to quick fix as activated carbon uproots deep embedded impurities and pigmentation. The honey prevents it from making your skin dry and keeps it nourished and soft. Definitely give it a try.
Tips-
Waxing is a much better option rather than shaving. It will regularly reduce the dead cell built up.
Ladies with Sensitive skin should use products made for their skin type only.
Protect your underarm from over exposure to sun. As such the underarm skin is sensitive and delicate. And can turn dark pretty soon.
Wear loose clothes as perspiration and over sweating can lead to clogged pores and pigmentation can build up due to rubbing of the fabric extensively.
Alcoholic deodorant should be kept away. Use mild herbal methods of deodorizing instead.
Hair removal creams are intrusive and can burn up the skin leading to instant ugly black patches. If at all you use it keep it strictly for said amount of time and not even a minute more.
Consult a dermatologist if dark underarms still prevail after trying out multiple of these remedies. It may be a sign of underlying health issue.
Use any of these above home remedies for dark underarms and whiten your underarms with ease naturally. The best part is that they have no side effects and if one doesn't work for you just try another one. Dark underarms are soon going to be a thing of past for you and with the new sparkling bright underarms skin you may now happily wear that perfect dress with cut sleeves or noodle strap that you were dreading for months or even years. Just keep in  mind these few tips to prevent any darkening further and live a carefree life forever.