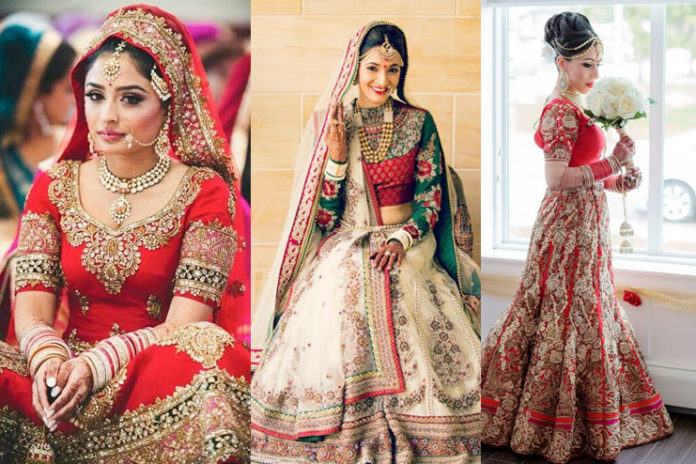 Marriages in India is filled with celebrations as well as rituals, which continue for several days. The tradition they follow is in between two families, that is bought together socially by the married couple. Marriage is the union of two people mentally and physically. Knowing about the different customs prevailing in India in different communities are very much interesting, especially about the ceremonial costumes. Let us know about the interesting Punjabi Khatri bridal wears.
Amazing And Beautiful Punjabi Khatri Bridal Wears
Dress

In a typical Sikh wedding, the Punjabi Khatri bridal wears will mostly wear a red salwarkameez or sometimes even a red lehengha to their official wedding. While sarees are still preferred, they are not that popular as in the traditional Punjabi attire. The dress must always be red for the Anand Karaj, as red basically symbolizes prosperity as well as auspiciousness in the bride's married life. Some embellishments like, beadings are also common.
Ethnic Bridal Wear Of Kashmiri Pandits

For an unusual Punjabi Khatri bridal wears who likes a lot of work on her lehenga can also try something like in the picture. A mirror work lehenga will look best with hand woven work done all over it, even in the dupatta and in the blouse too. It can look stunning in your wedding day.

Another stunning feature is combining the color of the blue and red. Just like the picture, it can look gorgeous on the bride with all her attire.

For an unusual bride who does not like only red or red for her wedding. This orange lehenga with mirror work in it can give you anultimate bridal goal with silver shiny blouse as well as the jewelries.

When coming to lehengas, how can one forget about peach. The gorgeous color that is suitable for any complexion. Just like the picture, you can make the lehenga look gorgeous with your bridal swag, mirror work and an amazing mirror worked blouse.

You can also never miss out on the multi coloured lehenga, that can give you an ultimate goals of bridal swag. Why bore your only wedding with just one color when you can mix as well as match different colors just like the picture. Just don't forget to give a right attitude.

What can be more awesome as well as beautiful than red velvet lehenga for a wedding? A red lehenga, with golden works done on them can give ultimate bridal goals as the most beautiful bride. With the right jewelry you can create your own, swag.

How for a change with red in the reception party with a golden lehenga? Changing the style can be difficult, but being beautiful with changing style cannot be hard. A golden lehenga with orange border can give the most beautiful bride on the stage a chance to show off her beauty.
Dupatta

A Punjabi Khatri bridal wears has to cover her head as well as her shoulders with a draped dupatta, in the presence of Guru Granth Sahib, in the gurudwara where she is supposed to be wed. The dupatta is basically pinned discreetly with some safety pins or even worn freely, as long as the hair is covered in the main ceremony.