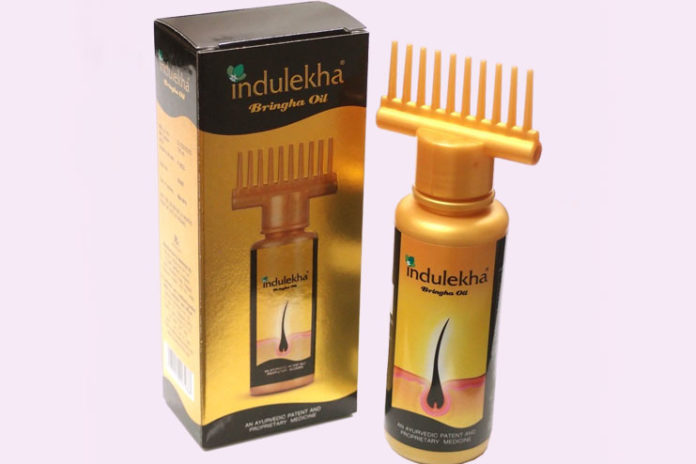 If you are synonymous with hair fall, a lot of times you might have scrolled through the magazines, internet, and phone search options desperately looking for some miracle remedy that would stop your chronic hair fall and balding hair patches. One of the famous names that pop up these days when you think of hair fall in Indulekha hair oil. A lot of times you would have thought does this hair oil really work?
Well, We are here to tell you some pro's and con's of this Indulekha Ayurvedic oil and if at all this miracle Indulekha Bringha hair oil usage actually reduces hair fall.
Ingredients of Indulekha Ayurvedic Oil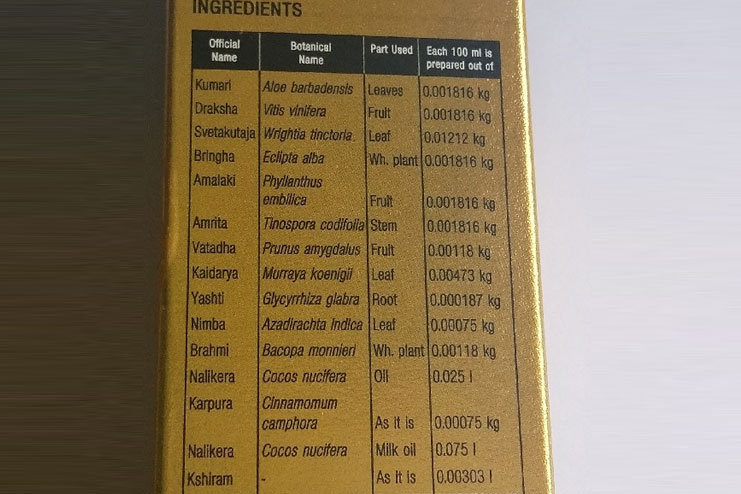 Indulekha Hair oil contains only herbal ingredients. All of which are known to be extremely beneficial for hair growth and health. Here is a list of all the Indulekha Bringha Hair Oil ingredients.
| | | | |
| --- | --- | --- | --- |
| Official Name | Botanical Name | Part Used | Each 100 ml is prepared out of |
| Kumari | Aloe barbadensis | Leaves | 0.001816 |
| Draksha | Vitis vinifera | Fruit | 0.001816 kg |
| Svetakutaja | Wrightia tinctoria | Leaf | 0.1212 kg |
| Bringha | Eclipta alba | Wh. Plant | 0.001816 kg |
| Amalaki | Phyllanthus embilica | Fruit | 0.001816 Kg |
| Vatadha | Prunus amygdalus | Fruit | 0.001816 kg |
| Kaidarya | Murraya koenigil | Leaf | 0.00473 kg |
| Yashti | Glycyrrhiza | Root | 0.000187 kg |
| Nimba | Azadirachta Indica | Leaf | 0.00075 kg |
| Brahmi | Bacopa Monnieri | Wh. Plant | 0.00118 kg |
| Nalikera | Cocos nucifera | Oil | 0.025 l |
| Karpura | Cinnamomum camphora | As it is | 0.00075 kg |
| Nalikera | Cocos Nucifera | Milk only | 0.075 l |
| Kshiram | – | As it is | 0.00303 |
Where to Buy Indulekha Hair Oil and Price?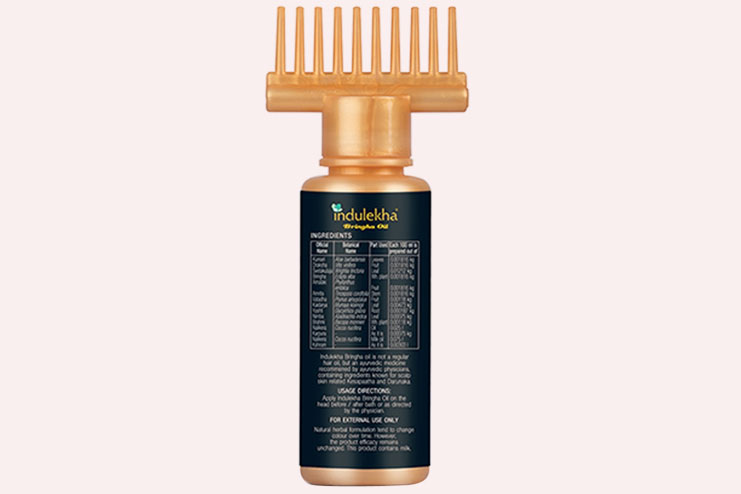 This hair oil can be easily bought at any pharmacy stores or even super markets. This Indulekha Ayurvedic hair oil is also available online at a lot of eCommerce websites. It is priced slightly on the higher side, with A bottle of 100 ml For 430 rupee.
How to use Indulekha Hair Oil?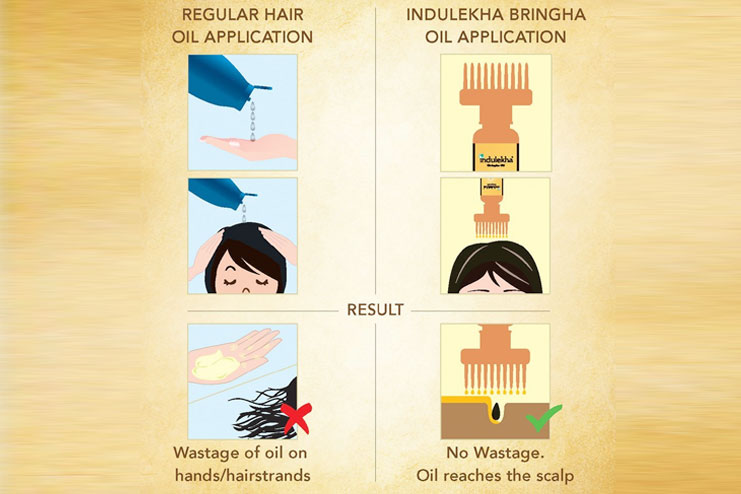 This Hair oil comes with a striking feature that is hard to forget. The bottle cap. It is called as the selfie bottle design that has a little comb like structure attached to the cap and you can pour out this oil directly onto your head. It is a superb idea That has been patented by this company And is an instant hit with all its customers.
To apply Indulekha hair oil.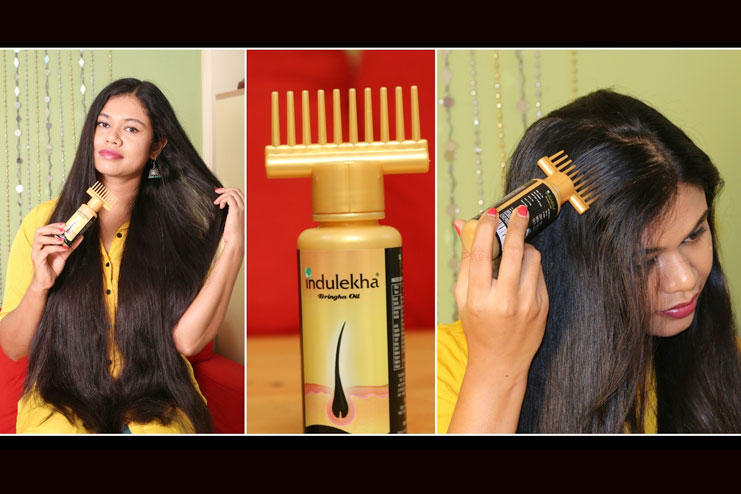 1. Detangle your hair by brushing it properly.
2. Now part it into multiple sections and separate each section.
3. Apply this hair oil directly to your roots by squeezing the oil directly out of the selfie bottle.
4. Massage this oil gently into your roots and leave over night.
5. Do not Use the oil on the shafts of your hair. It is meant only to be used on the scalp.
Indulekha hair oil benefits-
Following are the benefits of using Indulekha Bringha hair Oil.
It is a herbal hair oil with all natural ingredients, so this Indulekha oil benefits everyone.
It has Brahmi and Bringha that are known to strengthen the hair and increase their life.
Indulekha Hair Oil has benefitted a lot of people suffering from hair fall.
It helps in fighting Scalp dryness.
It is Ayurvedic so it can never cause allergies.
Side effects of Indulekha hair oil-
Indulekha Hair oil Side effects are very minimum,
It is a herbal product so it does not cause any severe side effects on people.
Indulekha Hair Oil Side effects include the smell of this oil, It is very strong and a lot of people who do not like extreme smelling substance may develop a headache.
This oil is thick and greasy, so it can attract dirt and dust.
Pro's-
100% Natural so it is safe for everybody.
Comes in a very practical selfie bottle that makes application really easy and fun.
Combats hair fall.
Makes hair strong and increases hair growth.
Con's-
A very strong smell.
It comes at an expensive price.
Does not come off very easily on washing.
The bottle may leak sometimes.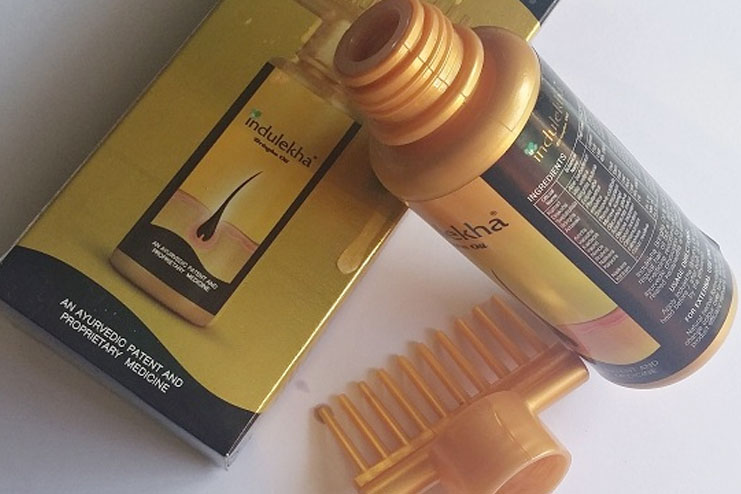 This Ayurvedic Concoction of special herbs in not just any hair oil. It is a herbal medicine for hair fall. Indulekha Bringha Hair oil Does a great Job at reducing hair fall. But a lot of Indulekha Bringha Hair oil Reviews claim that it is not as effective in fighting dandruff. Even though it may not be an effective remedy for dandruff for some people. This Ayurvedic hair medicine does what its claims with the hair fall department, It is definitely bringing smiles to a lot of people's Lives.