India is strongly standing with unity in huge diversity. The mixture of Indian cultures, traditions, and rituals is equally colorful as VIBGYOR. Every color in VIBGYOR has it's own importance to appear in a rainbow, it is the same with Indian states. Every culture and tradition of Indian religions have their own significance. Indian essence is well displayed in devotional times, weddings and various occasions.
In this modern world of the 21st century, we promote living standards by globalization but never skip the originality of our country. One of the greatest occasions to show Indian originality is Indian weddings.
Indian traditions are fully visible in wedding decorations, bridal looks, and food.
Every woman has a wedding fairy tale in her mind. Very natural!
Indian bride will have a natural pink shade of blush on cheeks on her wedding day. Indian bridal looks let our eyes linger along the way. The going to be Queen must appear like a QUEEN! Being a bride is an unforgettable episode of Indian Women.
Pink on cheeks,
Red on lips,
Sparks in eyes,
She is an Indian bride.
We need many things to make up an Indian bride and get that perfect Indian bridal look. We will now get into details and description of various Indian bridal looks.
Indian Bridal Looks
1. Telugu Bridal Look
Telugu bride wears kanjeevaram or Gadwal pattu saree and well-designed blouse. The saree color is preferred to be red, maroon, cream, yellow and green with suitable combinations. It is an important tradition to have a clearly visible bindi on the bride's forehead. Ornaments required for Telugu bridal look are, set of gold necklaces with ear chains & earrings, set of bangles on each hand. Wasit belt(Odanam) and maang tikka(papidi billa). Bridal wear of Telugu, are embossed with flora and fauna prints and designs. (Like leaves, peacocks) Hair should be plaited with jasmine and crossandra flowers. In modern days Telugu bride love to fill her hands with beautiful mehndi designs.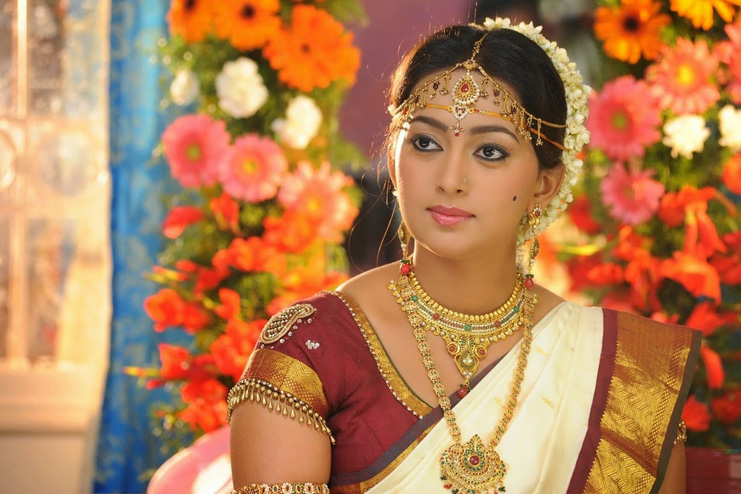 2. Bengali Bridal Look
In Bengali weddings, mostly bride is seen wearing Banarasi Saree. Favored jewelry is heavy gold necklaces and neck chokers with a pretty pair of earrings(Jhumka). Nose ring(nath) is a must ornament to appear with Bengali bridal look. Hair is tied up making a low bun. Big round bindi on forehead and brow bindis are compulsory for a Bengali bride. Bengali bride wears tiara(Mukut) on her head and tiara adds the elegance of the Bengali bridal look of India. Maang tikka(Tikli) is worn at the parting of the bride's hair. Bro bindis can be of own choice and designs. Without any of these accessories, Bengali bridal looks incomplete. She appears like a goddess with her bridal look.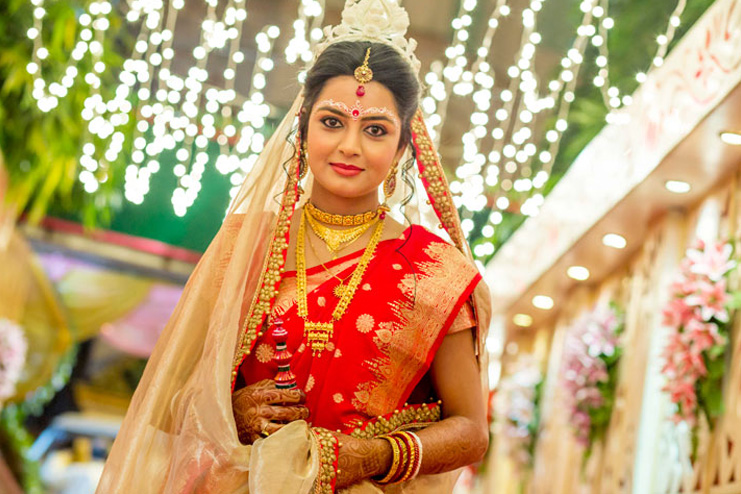 3. Punjabi Bridal Look
Punjabi bride mostly wears pink or orange with white mixed lehengas on her wedding day. Next comes, tikka on the forehead and it can be of pearl or stoned. Dhuppatta or goongat is a must attire to wear for a Punjabi bride. She wears chooda or bangles of red and gold colored bangles. Kaleera is an accessory of Punjabi wedding bride which is attached to chooda as hangings. Kaleera can be small or long hangings attached to chooda. Punjabi bride is incomplete with mehndi designs on her hands and legs. Punjabi bride walks on with a heavenly look with all the Punjabi traditions of India, inculcated in her appearance.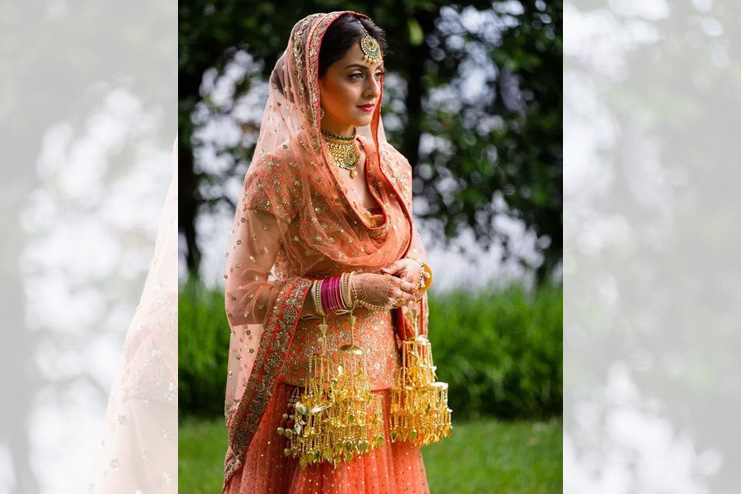 4. Gujarati Bridal Look
A Gujarati bride dresses up with a white and red saree. The Gujarati bridal saree is termed as Panetar. Modern brides of Gujarat choose to wear lehenga choil of red with cream/white. The ornaments worn by Gujrati bridal look includes heavy earrings(Jhukas), a nose ring(Nathani), necklaces, armlets, and anklets. Gujarati bride makes you fall in love with her charming bridal look.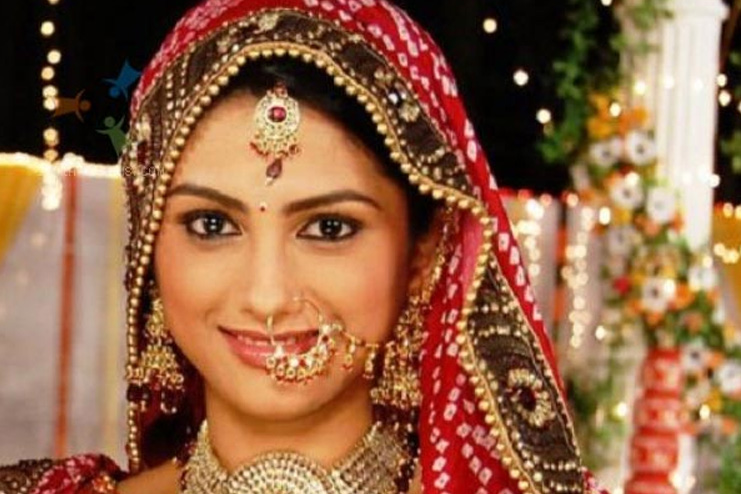 5. Muslim Bridal look
For a Muslim wedding, the bride chose to wear salwar kameez, saree or saharara. Muslim brides always need to cover their face from the head with dhuppatta or ghungat. The attire is preferred to green as it is considered as an auspicious color for Muslims. She mostly wears common ornaments like bangles, neck pieces of gold but nose ring is a compulsory accessory for Muslim bride. Nose ring must be put on her right side of her face. The other accessory which gives the Muslim bridal look is jhoomar (a modified version of maang tikka) which is supposed to be pinned on one side of the hair, generally on the left side. You can't step away without appreciating a Muslim bridal look of India.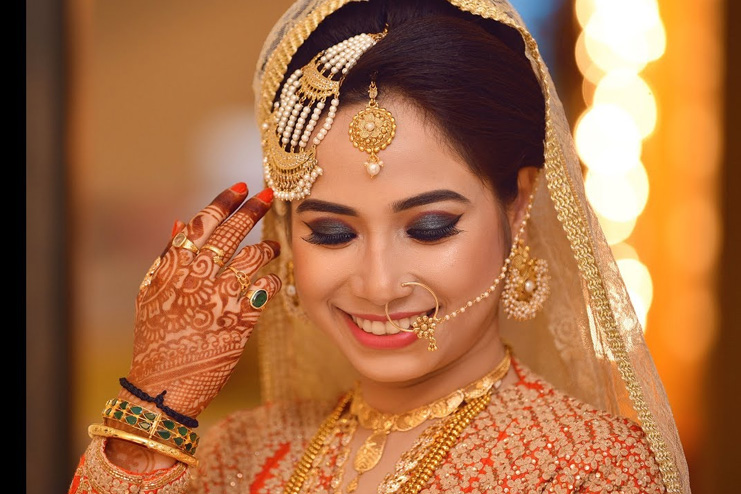 6. Goan Bridal Look
Goan bride dolls up with a silk and satin gown of different embellishments and along with a veil. To get the Goan bridal look, she needs to wear a tiara on the head and bridal gloves on hands. She looks like an angel while walking down the aisle on her wedding and this angelic look is possible only wearing gown and tiara.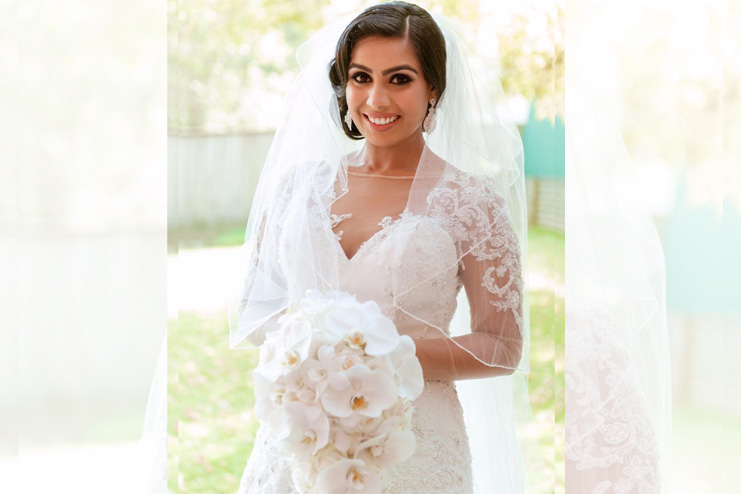 7. Tamil Bridal Look
Tamil bride generally wears pure kanjeevaram silk saree. Bridal hairdo of gold can be worn on the front side of the head or back side of the head and it is optional for Tamil bridal look. Maang tikka, toe ring, anklets, waist belt are commonly worn ornaments by Tamil bride. Her woven Kanjeevaram saree gives her the royal Tamil bridal look. Tamil bride represents the Tamilian essence in her appearance.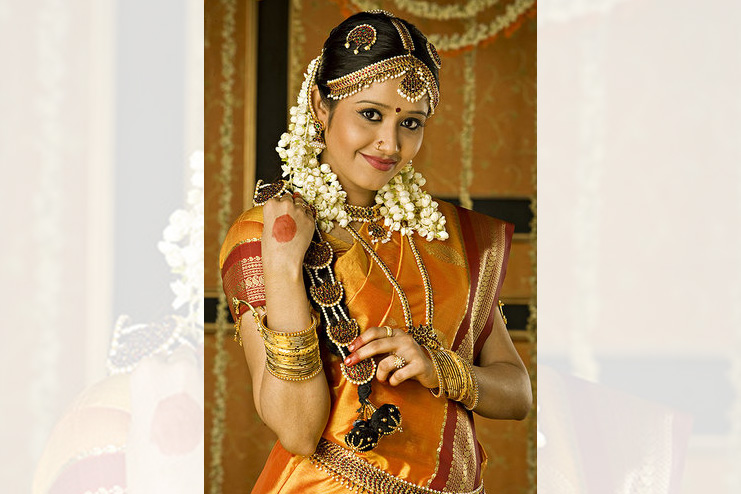 8. Assamese Bridal Look
The dress worn by the Assamese bride on her wedding day is known as Mekhla Chadar in Assam. Mekhla Chadar is out of Muga silk and woven with gold and silver threads for a wedding, especially. Mekhla chadar is a tow part of attire. One of the parts is draped on the body and other part covers the skirt in front, simply like a traditional Indian saree. Even after many variations of the attire, an off-white base is chosen to wear. The bride applies Alta on her feet. Ornaments mostly worn by the Assamese bride are Necklace(Jun Biri). Jun biri is a handmade ornament designed with silver and covered with gold. The designs of Jun biri are out of inspiration from nature. We can simply say that Assamese bride is made in heaven by looks.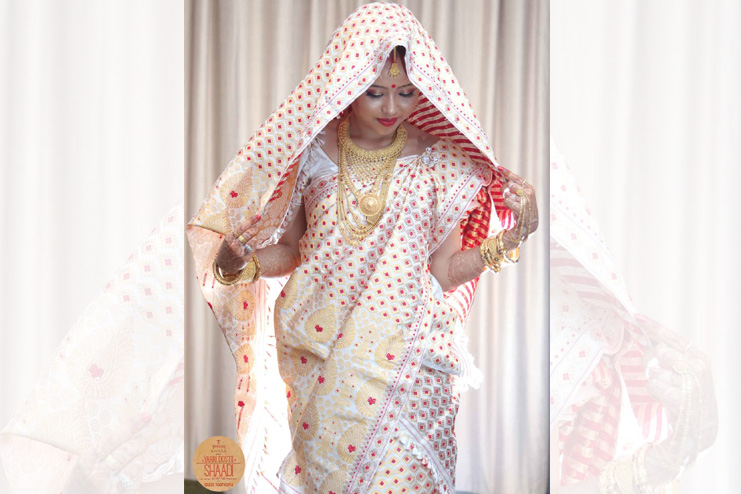 9. Christian Bridal Look
For Christian brides, a gown is not the customized attire to wear on her wedding. Mostly Goan and Konkani brides wear gowns. South Christian brides prefer to wear sarees(made out of gold and heavy zari) and with brocade blouse. Christian brides of India also wish to wear dresses made of crochet, silk and satin and pairs it with a tiara.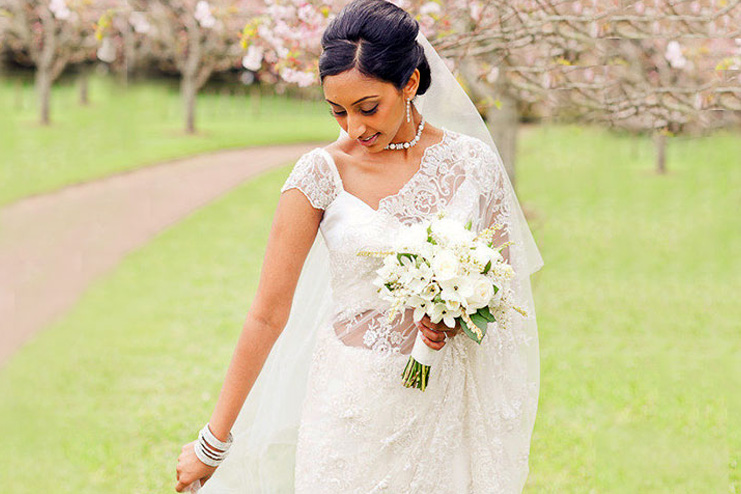 Kasaavu saree with golden border and golden blouse, are worn by Kerala Christian brides. They team up the saree with gold and diamond jewelry.
10. Maharashtrian Bridal Look
A maharashtrian bride can be identified with a nose ring(Nath) and half moon shaped bindi. The ornaments she wears are neck choker, Mohan mala(Necklace) which has many layers of chains. Lakshmi haar and Rani haar are the ornaments well preferred by the Maharashtrian bride. The most important ornament to be worn by a Maharashtrian bride is Kolhapuri Saaj which is as precious as mangal sutra. Ambada, a traditional hairstyle like a bun and pinned with a bun pin. Gold ear cuffs with pearls or stones.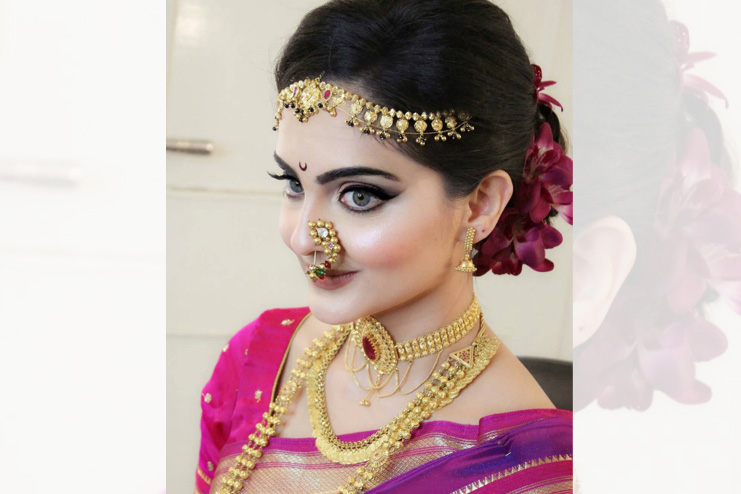 11. Marathi Bridal Look
Marathi bridal look can be identified with the special ornament called as mundavyla. It is tied up across the forehead of the bride. Mundavyla is made up of small tiny pearls. Kolhapuri saaz is equal to mangal sutra which signifies the marital status of a Marathi woman. It consists f gold beats and big round pendant. Choora (Glass bangles) is the other important accessory. Marathi bride appears to be like a golden traditional doll.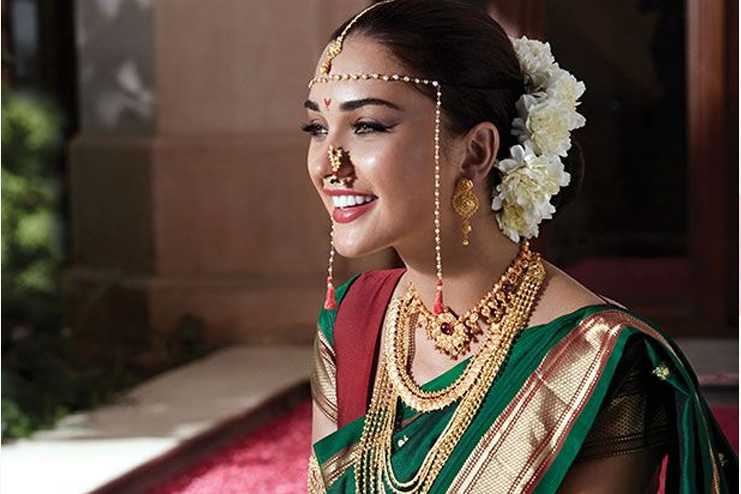 12. Kashmiri Bridal Look
Kashmiri Bride wears an attire termed as Pheran which is kind of salwar kameez. The pheran worn by the bride is heavily embroidered with zari work and also traditional Kashmiri thread work. The attire is preferred to be in red, maroon and shades of orange mostly. She wears ornamental bangles and payals. Kashmiri bride is one of the captivating brides. Because of her uncommon look, she makes a unique presence. This unique look is possible with the unique gold wear and her attire.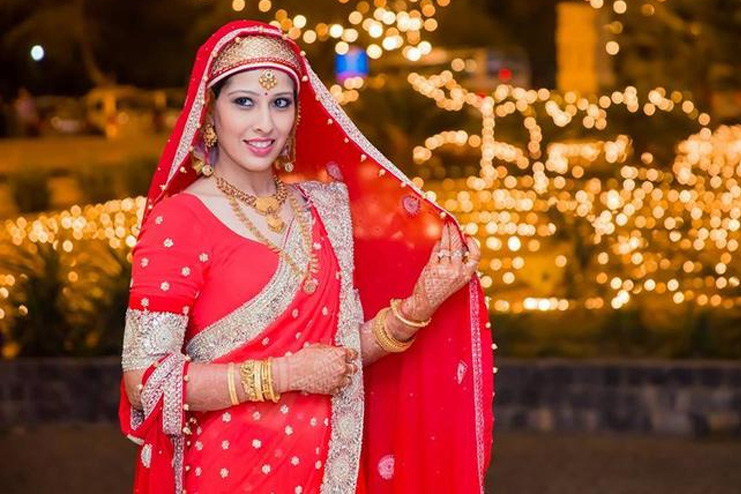 13. Rajasthani Bridal Look
Rajasthani bride decks up with many jewelry pieces. Rakhri is the bridal jewelry for the forehead, Timaniyaan(neck choker) with diamonds, Chooda is actually a set of gold bangles, Bajuband(armlet) with gold and stones, Bichhiya(toe-ring) for feet and Nath(nose ring) made of stones. Rajasthan brides generally wear choli and lehengas which is made out of pure silk with semi-precious diamonds, pearls, and stones. Wearing odhni to cover her head is a compulsory tradition. She grabs all our attention towards her with one sight, such pretty bride she is.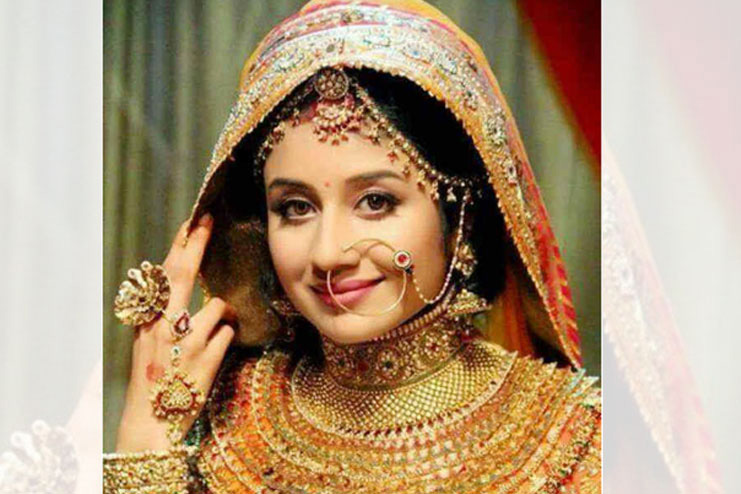 14. Karnataka Bridal Look
Karnataka bride appears in red saree with cream border. The saree is draped in usual traditional style. Hair can be plaited or tie up into a bun. The only preferred ornaments for Karnataka bride is tikka and necklace. Rest all ornaments like bangles, earrings are commonly worn. The saree and gold on her body of Karnataka bride looks godly.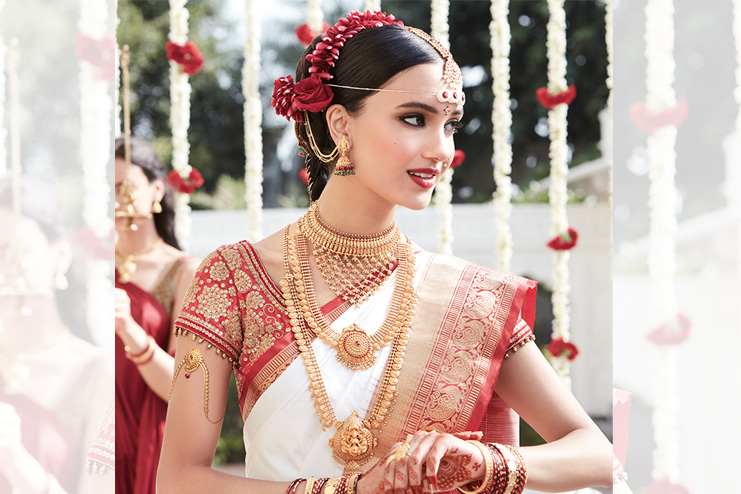 15. Bihari Bridal Look
The Bihari bride appears in a red, golden or yellow attire on her wedding day. The saree is draped in Bihari way in border being in front. The saree plays a crucial role in Bihari culture as a bride needs to easily cover her head with pallu as the veil. The style of wearing the front border is called seedha anchal. The saree or lehenga is made of zari, silk, and chiffon. The bride also needs to wear a bindi/tikli on the forehead and wears ornaments like any other Indian bride. She wears the customized apparel and ornaments, to sizzles the wedding floor. Each bit of her is connected to Indian culture and traditions. She can just rule the beauty world with her bridal look.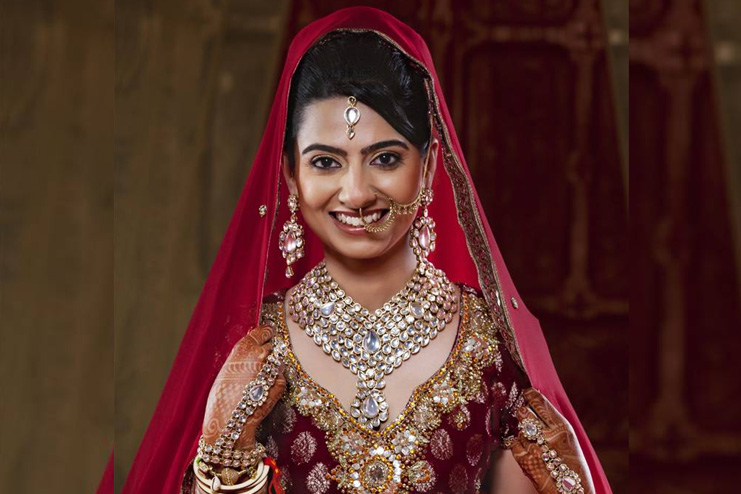 16. Nepali Bridal Look
Nepali brides wear a red and gold colored saree in a different way so that pallu can be used as a shawl to cover their shoulders. She wears a large gold headpiece which is called as the lunya swan. Coming to hairstyle it is tied up into knots with pretty ornaments. Also, they wear a heavy gold necklace with an oval pendant which is called as tayo. For Nepali brides, mehndi is a must. Often she wears a big round tikka on her forehead. Her white skin tone matches so well with golden ornaments and vibrant saree color. All together she is a pretty bride.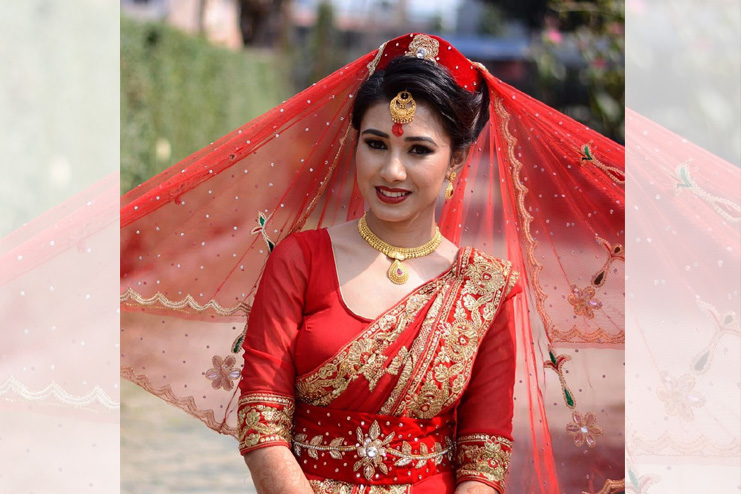 17. Manipuri Bridal Look
Manipuri bride wears a skirt called Rasleela on her wedding day. The Chakmas brides also wear black and red sarong which is better known as pindhan in the local language. This entire outfit is teamed up with a blouse known as silum. The Magh brides from the Manipuri community don the thami sarong that covers almost the entire body and is coupled with a choli or a blouse which is full sleeved. It is needless to describe her beauty in words. Her complete attire and ornaments are interesting and help enhancing her beauty even more.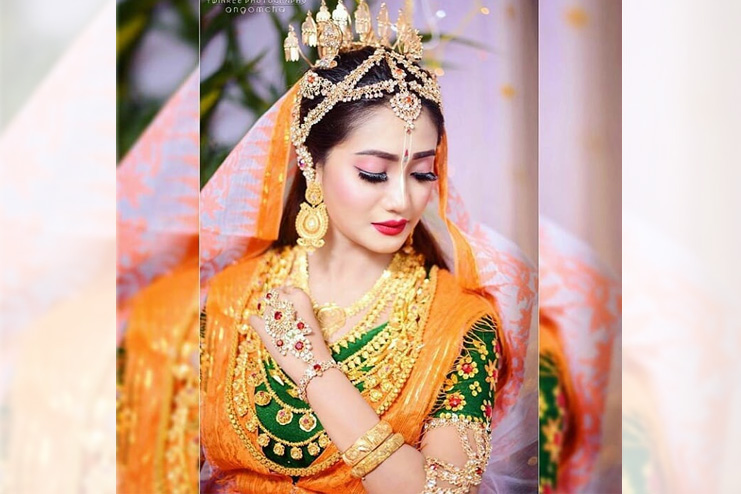 The cultures and traditions used to prepare all the Indian brides, gives them positive vibes and energy to start a new life. Bride turns to be the most beautiful girl on earth with these traditions. All these brides of India are just worth of watching. Every Indian bride looks like a QUEEN of her own world. That is how she is meant to be.
Happy Wedding for the going to be brides.