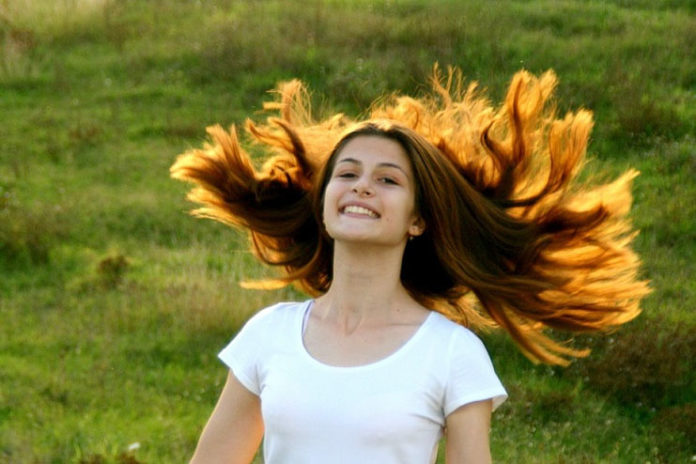 Having long and healthy hair cannot be enough if your hair is limp and dull. A lot of women deal with limp hair that falls flat over the face and gives a feel of very thin and greasy hair. Having bouncy and voluminous hair instantly makes you look youthful and fun. Bouncy hair have the versatility of being worn in multiple hairstyles since then have enough volume to make your bun or high pony look thick and healthy.But, how to achieve bouncy and shiny hair from your dull looking limp hair? We know exactly how to do it. With some great homemade packs and hair rinse, you can achieve that bouncy young look in a matter of weeks.
What Causes Limp and Dull Hair-
A lot of women have inherently limp and thin hair. But, for others, it may be resulting due to one of the following reasons,
• UV Exposure of the sun.
• Dry Hair.
• Oily Scalp.
• Excessive Hair Colour.
• Imbalanced Diet.
• Regular Heat Styling.
How to Make Your Hair Bouncy and Shiny?
1. Drink Plenty Water-
For better health of your hair, you must drink plenty of water. Having at least 8 glasses of water is known to benefit not just your dull and dry hair but it will also improve your skin texture and reduce acne and breakouts. Drinking water will make sure that your entire body is hydrated and so is your scalp. Especially in summers, the heat will make your body lose the hydration and make your hair dry and fall flat. Drinking enough water will keep your hair from the sun caused damage.
2. Restrict Heat Tools-
Using Heat tools takes away the most important moisture from your hair, the moisture in your hair shafts. Although using heat tools once or twice a month may be okay, but using it to style your hair every day may be making it dry and eventually it will make them brittle. Restrict your heat tools to the minimum and your hair will retain its natural moisture hence making them bouncy and healthy.
3. Use Clarifying Shampoo-
Clarifying shampoos are a great way to increase your hair's bounce and shine. Clarifying shampoo will remove all the oil and product build-upk that may have caused your scalp to turn greasy. Oily scalp will make the hair look thin and limp. Removing this excess oil will cause your hair to look fresh and moisturised and will give it a lift as the oil will not be pulling the hair down anymore. Although using this shampoo twice a month will be great for limp hair, it should not be used more than twice as it can be harmful and rip off the natural conditioning of your hair and scalp. Always consult a dermatologist if you have chronic oil secretion in the scalp.
4. Homemade Remedies-
• Curd and Coconut oil Hair Pack-
Take 1 Cup or curd and 3tsp Coconut oil.
Mix it well and Apply to your scalp and hair.
Leave it on for an hour and wash off.
One of the most nourishing hair packs, this is a great remedy for dry and limp hair. The coconut oil in this mask is an excellent conditioner for dry hair, it deeply penetrates the hair shafts and moisturizes their core. This makes dry hair healthier. The Curd is responsible for removing any chemical build up on the hair caused due to hair colouring or other treatments. This helps in closing up of the hair cuticles, making them lose less moisture and stay healthy. This mask is a great option for getting bouncy hair naturally at home.
• Olive Oil and Banana Pack-
Add 2 ripe bananas in a bowl and mash them.
Add 2 tsp Olive oil and mix well.
Apply to your scalp and hair as well till the roots.
Tie your hair and cover in a shower cap.
Leave it for 1 hour and wash off with warm water.
Another excellent hair conditioning mask is this olive oil and banana hair mask. Olive oil is amazingly healthy for your hair as it has a rich source of fatty acids, These fatty acids make your hair smooth in texture, Strong and increase their elasticity. The hair follicles are nourished by refueling the dry core with its hydration properties and it also closes up the cuticles preventing more damage. The banana, on the other hand, it greatly rich in vitamins, protein, and carbohydrates. This nourishes the hair follicles directly and improves its health. It also imparts a natural shine and softens the hair and makes it more light and bouncy.
• Apple Cider Vinegar-
Wash your hair normally.
Take 3 tsp Apple cider vinegar and pour it in a mug of warm water.
Rinse your scalp and hair with this.
Leave it for 10 mins
Wash hair with normal water
Other than being a great cure for dandruff and dry scalp problems, Apple cider vinegar can be a great way to nourish dull and limp hair and make them more healthy and strong. The acidic nature of the vinegar removes the build-up of product and helps the natural oils to reach the hair. It is also great in reducing the cuticle openings thus making it difficult for hair to lose moisture. This eventually makes hair healthier, and also gives a shine to hair almost instantly. Use apple cider vinegar as a hair rinse and your hair will be bouncy and shiny in 2 weeks.

• Oil Massage-
Massaging your scalp regularly will not only make the oil reach deeper into the roots but also improve the circulation of blood in your scalp. This improved blood circulation boosts hair growth and prevents hair fall. This is a great way to internally rejuvenate your hair growth and improve the health of your hair. Using Oils like sea buckthorn oil can be really great for hair as it contains vitamins and essential fatty acids that can prevent hair from weakening by improving the hair elasticity and giving it strength.
• Egg and Wheat Germ Oil Pack-
Break 2 eggs and add 2 tsp wheat germ oil
Mix it well
Apply on hair from scalp to tip.
Leave it on for 45 mins
Wash it off with cold water and mild shampoo.
For bouncy hair that also feels smooth and shiny, there can be no other hair remedy better than this egg hair mask. The proteins, fats, and minerals in the egg and the oil can bring back the limpest and dry hair back to life. These essential fatty acids also nourish the hair shafts from inside. The cuticles contract and the hair turn smooth in texture. Use this hair pack twice every week and your hair will be beaming off the shine and bounce like there is rejoicing.