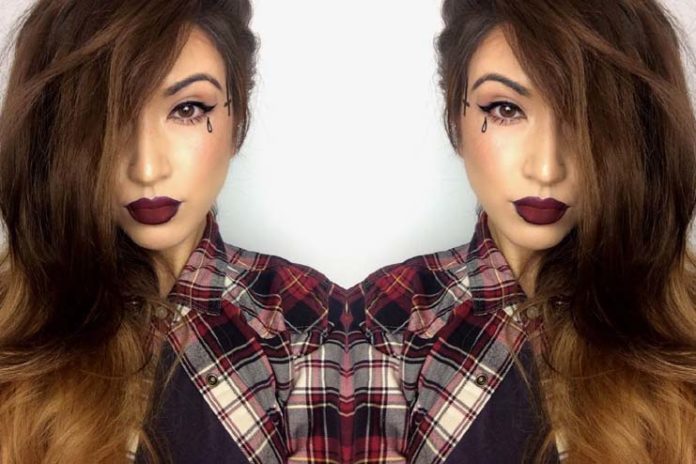 Chola makeup! What is it actually? How can it be a makeup? There may be hundreds of questions in your mind. It is a fact that this makeup type is a lot weird, and do matches towards a lot on Indian history as well as culture. Well, the fact is, it is not related with India. It is completely Mexican and comes from the culture of gang leaders.
This makeup looks a lot bold, for sure but as times changes it also have changed with society and now it is more of looking cute rather than looking fiery.
Makeup is about how we are expressing ourselves with the products which can help to enhance our eyes, lips as well as skin. One such way is that many Latina women express themselves by using chola makeup.
What once was supposed to be a Mexican American subculture, have now turned into a full-fledged makeup trend. Celebrities as well as many women of the Latin American descent and even the non-descents tried to have this kind of makeup. In fact, chola makeup has also transformed from harsh form to a cute chola makeup. Wondering on how to perform a chola makeup? Then read on! But, first lets brush up the history…
History Of Chola Makeup:
This term was mainly originated as the ethnic slur by the Hispanic Crillos in 16th century. As the eras changed racial as well as culturally, along with the social class it began to reflect into the term cholo or chola itself, which was later adopted in the 1960s, California by the youth who are following the pachuco tradition, as its label for the identity. This term is also used in the calo slang, but has turned in to a mainstream American-English use, specifically in the association with American youth movements such as "lowrider" subculture, or even the hip hop scene in general.
Now-a-days or modern society, Latina girls who are basically brought up as well as surrounded by a gang culture, that is involving themselves with the violence, drugs, sex, and money are typically called as Cholas. It is because media play a very huge role in the society, and Cholas have also evolved in many different ways. Certain type of make up styles as well as clothing brands are being inspired by the chola look. Now, it has been more of a fashion statement or even self expression.
Who Is A Chola?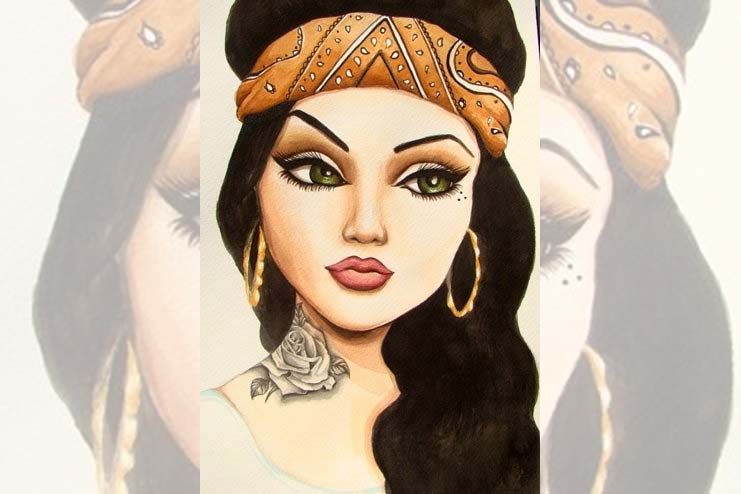 Cholas are known as Latin gang bangers. These type of ladies mostly love to keep their eyebrows thin, arched as well as bring a very angry look. This look can be traditional but it is popular today in some places like the Los Angeles, New York City, Miami and San Diego. You can find many Spanish and Puerto Rican girls imitate this Chola look but they are not really the cholas. The real Chola women are the gangsters. They are mainly ruthless just like the male gangsters and even dangerous as well. This Chola look is also getting quite very popular all over the world now-a-days and ladies are in love with it. The best part is, you can even try out different styles. This Chola style makeup does not have to be a hard core every time. You can even improvise too! If you are looking for a very traditional version, then this tutorial is for you!
Chola Makeup Tutorial:
If you are willing to learn on how to do the chola makeup, then you might need to get the basics properly. Here's what a typical chola makeup will look: Bangs, but the hair is puffed up, completely dark lip colour but can be combined with a lighter lipstick. Some will even wear the cat-eye glasses, with baggy jeans as well as oversized flannels that is buttoned up to the top. Gold chains that have crucifixes or the names to be written is must.
Golden Rules:
Remember that chola makeup is mainly all about the eyes as well as lips, so you need to have a very good eyeliner or a light or even dark coloured shiny lipstick. Select a lipstick that do not have any matte effect. The essence of a chola makeup is just to have a shiny and puckered lips. Eyebrows are arched and high, as well as thin. If you are not willing to mess with the eyebrows, you can create the illusion of a shaved eyebrows.
Eyebrows:
The eyebrows must be focused on this type of makeup. Once it is covered with most of the eyebrows with foundation, start to draw a very thin as well as arched eyebrow. Be sure that you are having a surprised look.
Mascara:
Now it is the time to dress up the eyes right. You can use any generous amount of Mascara that can define the lashes
Face:
Remember that your foundation must be flawless as well as pale. Hide the blemishes with good amount of foundation or even concealer.
Cheeks:
You can use blush on the apples of the cheek to give a rosy and dewy effect. Some of the chola girls have a lot of blush for a more exaggerated look.
Lips:
Always remember to become a chola girl, plump up your lips.
Hair:
If you aren't comfortable with this idea of chopping the hair to form bangs, then you can let it be in the loose curls.
Method:
Step 1
First apply the foundation. Cholas are mainly known for wearing heavy amount of coverage when it comes to the foundation. Makeup must be apparent. You can try out the dot foundations on your forehead, nose as well as cheeks and blend it with a makeup sponge. You can repeat it with another layer for a made-up look.
Step 2
Then apply the eye primer. This helps to allow the eye makeup to stay put. For those who are having darker skin tones, this can allow the colors and cut crease the technique to be more prominent. Apply this primer in the upper lash line up to brow bone. Using a flat shadow brush, cover the eyelid as well as the brow bone with a light shadow, packing on the color.
Step 3
You can use the liner brush to pick up a darker shadow as well as create cut crease effect. To do it, apply a dark eye shadow to crease the eyes, slightly above. Using a flat shadow brush, blend the color out. Refrain it from blending too much, as cholas can wear the eye makeup with the harsh lines. There must be a slight gradient effect. Apply the eyeliner to the top lash line, using thick line. Later add the mascara.
Step 4
Try to define the eye brows. Using a brow pencil, you can easily define the brows, creating more amount of prominent angle with natural arch. Go over the brows with the brow pencil repeatedly in order to achieve the overdone look that cholas are mostly known for.
Step 5
You can line the lips with a more darker lip liner. Most of the cholas wear a very dark lip liner like the plum, burgundy or sometimes black. You can apply the lip liner and fill the lips with a dark colored lipstick for a dark lips.
Step 6
Cholas can also opt for a more lighter lip shades. While wearing a more neutral lipstick in the brown or nude, cholas can line the lips with a more darker lip liner. For this look, remember to apply the lipstick first and later go back and line the lips.
By