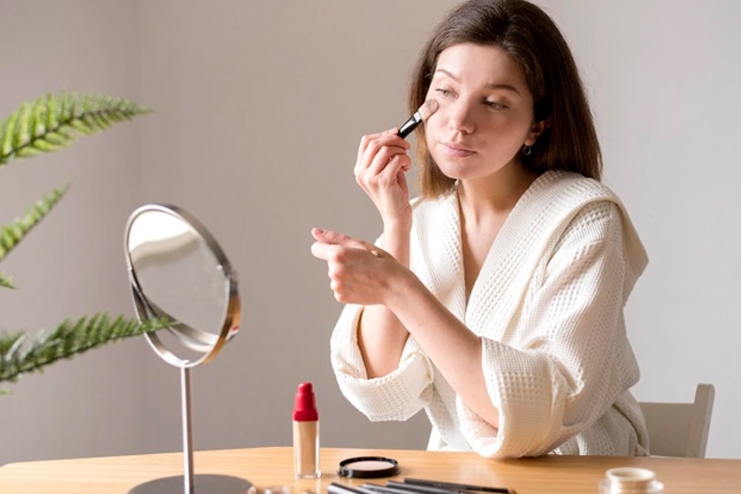 Makeup is an integral part of bridal makeup. We cant find anything better than foundation to the bridal makeup flawless. So, the foundation that does high duty and give good coverage are not the only features you must look for. Then what all it must be to be a perfect foundation for bridal makeup?
Bridal makeup products must be choosy as you get clicked when you make elegant movement and stay indulged in the beautiful moments of the your special day. Some of the regular foundations have higher amount of SPF which can make you look unnatural and blur in photographs.
You have the best foundations that make you look flawless and pretty in real and photographs too. Some of the foundations are for photo perfection also. So, look at which is the best for your bridal makeup.
Foundations for bridal makeup- For Indian skin tones
The main purpose of differentiating the foundations for bridal makeup is- you cant rely on the causal products for the big day.
You need the foundation that matches Indian skin tone, which gives you extraordinary touch of makeup. When you are choosing a foundation for bridal makeup, find one which does heavy duty.
1. Mac Studio Fix Fluid Foundation

The foundation is great for high coverage which is needed for bridal makeup. The product also give your good finish which looks natural. The foundation is an expert in covering the blemishes and skin imperfections.
A little goes long way and the quantity lasts for long this way. The foundation doesnt breakout skin. If you have combination to oily skin, then you can consider it as the best for your skin. It gives matter finish to your face which is classy.
Even if you are a beginner, you can use this product for easy application. The staying power of the product is more than 7 hours. If you are wearing it without primer, then it stays for 6 hours. It contains SPF 15 which is good to go with bridal makeup.
CONS
Make skin a bit dry(You can use moisturizer prior using it)
2. Estee Lauder Double Wear Foundation

When you are looking for a best foundation, you must also look for the shade that is suitable for your skin tone. This foundation has the various shades from which you can find the matching one. The foundation covers the facial imperfections very well. The dark acne scars and hyperpigmentation get concealed with it.
The consistency of the product is perfect. It doesn't make you feel heavy. It is waterproof foundation that is a must for bridal makeup.
This is a great product when you consider the staying power. It stays more than 12 hours. It contains of SPF 10. Its worth buying for bridal makeup.
PROS
High staying power
Best for waterproof makeup
Contains SPF 10
3. Make Up For Ever HD Foundation

You will be impressed with the texture of this foundation. It is feathery and fine. The formula of Make up; forever foundation is oil free. It doesn't mean that it will dry out your skin. It balances the oil, in simple words.
If you want to use this foundation for long wear, you can use it along with primer. It stays up through out the day.
The foundation gives a medium and non cakey coverage. Your bridal makeup looks natural with the coat of this foundation. Not just in real but you also look natural in wedding pictures. Going for it?
PROS
Long lasting stay
Perfect for photography
4. Wet n Wild Photo Focus Foundation

You have a lot to know about the photo focus foundation from Wet and Wild. The foundation can conceal the imperfections like dark circles, spots and pigmentation. As a bride, you would want to make your skin flawless and here is the product to do it.
The foundation blends on skin without any hassles. It doesn't crease even after long wear. The finishing of the foundation is smooth which is perfect for bridal makeup. The foundation keeps your skin hydrated which is another benefit.
If you are aiming for beautiful wedding photoshoot, then this is one of the best foundations you have.
The foundation is only for heavy coverage. If you are looking for extreme coverage, then you will find it great. Also know that there are limited shades in India which is a drawback.
PROS
Affordable
For all skin types
5. MAC Pro Longwear Foundation

The finishing of the foundation is lustrous and smooth. If you want your makeup to be slightly sheen- this foundation works best. It is formulated to set your makeup slight dewy, a bit silky and with a combination of matte texture. It is all perfect when comes to texture and finishing.
After texture, it amazes you with it's staying power. The staying power claims to be for 15 hours and its true. It also looks fresh after that long wear.
You can choose this foundation for flawless bridal photography. It settles on skin and makes you feel comfortable. It doesn't transfer or disturb your whole makeup.
Now, also note that it has 16 shades from which you can choose your shade. The downside of this foundation is- it becomes dry where you must run to blend within seconds gap.
PROS
16 Different shades
Perfect for long wear
6. PAC HD LIQUID FOUNDATION

When you blend the foundation on your skin, it goes on easy-peasy. You also need not doubt it's makeup look- it doesn't makes you makeup patchy. The staying power is decent which is around 4-5 hours. Would you mind to touch up? Then you may not like it.
Do you have bitter experiences with foundation? Skin breakouts are scary. This foundation doesn't breakout or behave unusual and it is safe to us for you wedding makeup. The foundation is free from parabens and harmful chemicals.
You may find it difficult to decide which shade to choose to suit the skin tone. Could be easy to pick the shades.
PROS
Dermatologically tested
Affordable
7. L'Oreal Infallible 24H Stay Fresh Foundation

When you are looking for foundation for bridal makeup, you don't want to miss these features- long lasting stay, instant glow, photo friendly. Am I right? You have all these features in Infallible 24h stay foundation of L'Oreal.
The foundation gives medium to heavy coverage to your skin. You will love the natural and non cakey makeup look. A woman who loves the matte finishing makeup look must pick this foundation.
PROS
Super coverage
Natural finishing
8. Maybelline Fit Me Foundation

The formula of the foundation is impressive. It is lightweight and feels like gel based when you blend it on skin. If you want a minimal makeup and natural look for your wedding, then this suits your taste.
The finishing with Fit me foundation is oil free. The foundation contains SPF 18 which is a good feature. You have various shades of this product.
We don't suggest it for flash photography as it contains SPF. You can afford this product easily and the price is very much reasonable. It is easy to decide to own this product balancing the pros and cons.
CONS
Not for flash photography
Contains parabens
9. Kryolan TV Paint Stick

If you are comfortable to use a stick foundation, you must consider this as the best for bridal makeup. The foundation also does the concealer job. It hides the skin imperfections perfectly.
The stick foundation giving heavy coverage is something great. You can pick the Kryolan stick foundation for it long staying power. Not just the quality but the quantity is also impressive.
You can use the foundation for natural finishing and to shape your face. This best foundation is available for reasonable price for the quality and quantity.
All these foundations are to perfect your bridal makeup look. We have selected the foundations which are perfect for Indian skin tones. Now, you got to choose a foundation that fits to look flawless for bridal appearance.