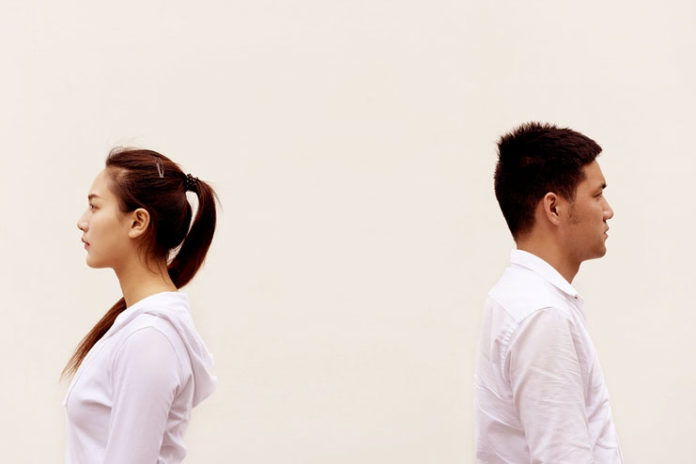 So you recently had a fight with you boyfriend and even though you love him to the core, sometimes you just cannot tolerate the little annoying things he does, eventually you end up fighting. And after ending the fight with an unsatisfied discussion the worst part about fighting starts. The quiet wait for your partner to come and apologise. A lot of time you want to go say sorry too, But it's much harder than anything else. So then, how do you make up after a fight with your boyfriend? Well, we know exactly how. Here are some simple hacks that tell you how to make up after a dirty fight with your boyfriend.
How To Make Up After A Fight
1. Take time off
The best thing to do in order to cut the fight short and make up easily afterwards is by giving yourself some time to cool off. Engaging in a conversation or discussion over the fight can mostly turn into another full blown fight. This happens because you are too busy trying to explain your point of view and you do not want to consider what
your boyfriend
 may feel at the time. By taking some time off you can think calmly by keeping yourself in his shoes. This will help you make rational decisions and understand his point of view.
2. Apologise or accept the apology
Never feel small in accepting your fault, by doing that you are actually being a bigger person. If after the fight you start to realise that he was actually having a valid point. Maybe you misunderstood or you didn't see the entire picture. Whatever be the reason, if you feel bad and guilty apologise. The best way to make up after a fight is to say Sorry. It works always. And it definitely the most simple thing to do. If its your boyfriend who says sorry, then accept the apology. A lot of times people are nervous and they don't know what to say after a fight. But, still if your boyfriend is coming up to you and apologising you should accept it and forget the bad mood.
3. Hug it out
Sometimes you cannot explain what you feel. Words fall short and you feel troubled at not being able to explain or ask for forgiveness. Then how do you make up in such situations? Just give your boyfriend a Hug. A long nice sorry hug that will convey to him how you feel about the fight. A fight can be really tough on you as well as him. So let it go and hug each other, you'll suddenly realise how the fighting is completely not worth the pain.
4. Sleep Off
Sleeping is like therapy. Not many people realise but a good sleep can cure so many problem in life. When you sleep your mind presses the refresh button of your brain. So, after you wake up you have new perspectives and lesser rage. You feel more calm and it is honestly very easy to let go. So if you got into a dirty fight with your boyfriend and you don't know how to ease things out, just take a nap. Stop thinking for a while take a break and relax. WHen you wake up you'll see a different picture. Making up with your boyfriend won't be that hard then.
5. Don't argue again
If you are tired of fighting and you just cannot stand the avoiding that follows a fight just make up with your boyfriend by simply ending the standing argument. It may be slightly difficult to make up after an argument that has caused you turbulence, but think about what is more important. If you have a clear picture about you and your boyfriend, little arguments can be left away. Do not try to explain him again what you meant or what you want. Let go. There will be better times later to explain them without fighting again. For now just forget the argument patch up.
6. Smile
If you really want to know how to make it up to someone after a bad fight you should really give this trick a try. Smile. Yes, its that simple. A smile can bring even two strangers closer, you two are still crazily in love. He cannot resist your smiling face and this contagious smile will transfer on his face too. With just a lovely happy smile, Making up with your boyfriend just got really simple. Keep aside your ego and be the first one to smile. It is rewarding to get back to normal after that.
7. Cook a nice meal
If you are one of those people who cannot say sorry, well this is for you then. Cook a nice meal. Don't order take outs. Cook it for your boyfriend yourself. Food has the power to heal, trust us. A delicious can make your judgement weak, and this is exactly what we want. So when your boyfriend sees your cooked meal he will already be elated. (even if he won't show he secretly will be) and when he has that lovely food the weak moment of judgement lapse will make him forget everything and patch things up quick. It's a trick we are giving away. Use it wisely.
8. Write a letter
If you had a ugly verbal exchange and you no more know what to say after an argument with your boyfriend, just lift up a pen and write down your feelings in a letter. Try to politely convey your feelings. Do not criticise him. Use this letter as an opportunity to explain him your views and not way to fight further. If you really want to know how to make up with your boyfriend using a letter, start with I'm Sorry. Even if it's not your fault, even if you were hurt. It won't make you any smaller but it will surely get his attention. He will read your letter with rapt attention. COnvey your feelings but don't hurt his. Strike a balance and explain what you did not like. Do not forget to mention that you want to talk and make up soon.
9. Plan a outing
This is a perfect plan to tell you how to make your bf happy after a fight. If you want to patch things up but he has been aloof and quiet. You can get dressed and go out on your own. Ask him to pick you up and quote a reason why (make up if you don't have one) When he comes to pick you up take him out. Go to his favorite place order his favorite food. So, when he is surrounded with everything that he loves, he can hardly stay mad right? It shouldn't really be that tough making up after a fight after this.
So when you have a fight next time just use any one these simple tips to make up after a fight and you will slowly learn how to do it naturally. Remember that life is too long and you cannot go on without learning to apologise and forgive people. Don't always explain everything, choose your own battles and for the rest of the time just smile and Have a happy life with your partner. We hope this list helps you in ending your recent fight. Don't forget to share your experiences.