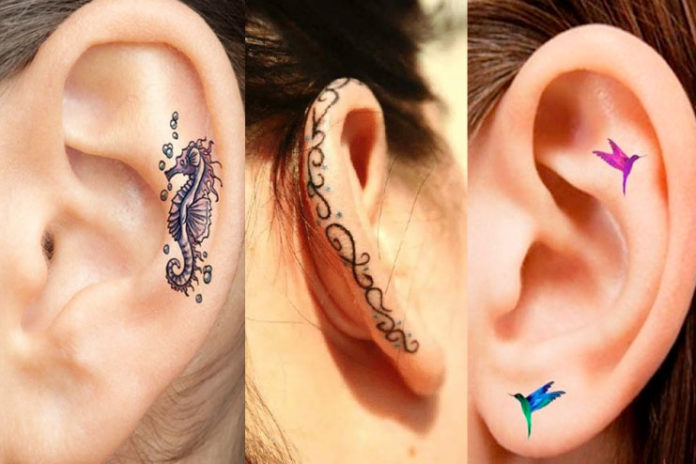 If you're one of those people who wanted to get a tattoo for a long time but couldn't decide which one to get and where? You may, finally be able to make a decision ladies. The latest trending helix tattoos are really just simple delicate tattoos over your ear. It is like this crazy colourful alternative to earrings and we love how you can customise it to suit your style. Either opt for a full earlobe print, or a nice trail of colour over the cartilage, it is in anyways really funky and makes you grabs all the awe an attention. Here are some of the craziest tattoos we found trending on Instagram, and we loved it so much we just had to share it with you.
1. Over the ear-
This ones our favorite, the delicate charm that it gives to the otherwise ignored ear is just great. The tiny details in these designs have made this a complete beauty and we are not shocked why it has become such a rage. Opt for these little flowery detailing for your ear tattoo and it will give you a perfect touch of feminine grace. Or go crazy and get cute animal paw prints. To keep it simple make a creeper with leaves. It is a not too 'Over the Top' look and it is best for every type of Indian and western outfit. It is noticeable only on close observation and wont make you look like a junkie. It's a perfect match for people who would love to have tine tattoo with a wow element.
2. Tribal Print-
This one is best for the young and restless who want to have an edgy piece of ear jewelry for life. This is the best way to add a bohemian vibe to all your outfits and makes you stand you in all the drab office outfits without making you look too hippy. These designs have a full fleged print inside the ear to just a minor sign on the edge. Choose your favorite and get yourself inked.
Related Article: 15 Innovative Finger Tattoos
3. The Inner Cartilage-
One of the best ways to make this subtle trend stand out it make a distinct coloured tattoo inside your ear with a color that pops out and gives you a little extra. This style has many designs ranging from colourful subtle to simple but striking. You have to look at the image to believe its versatility. It is just great.
So if you are one of those girls who hates wearing earrings but love how they look, Well, god just answered your prayers girl. This is probably the best alternative to earrings. In fact even better. You can opt for your favourite color and your best designs and they wont even trouble you. It is just the best way out of wearing ear jewelry.
5. Extended Helix tattoo-
This trend is otherwise a subtle trend, but there are ways to jazz up the wow quotient to high levels. This is how you do it. Just extend the over the ear tattoo up to your cheeks, back of the ear, jaws or also your side cheeks. It is the best way to get that surprised look from people with the least effort to do everyday. An absolute best for people who are fond of funky style of dressing up. It will go best with dark colored outfits like black and maroon.
Also, Learn : Home Remedies To Remove Tattoo Naturally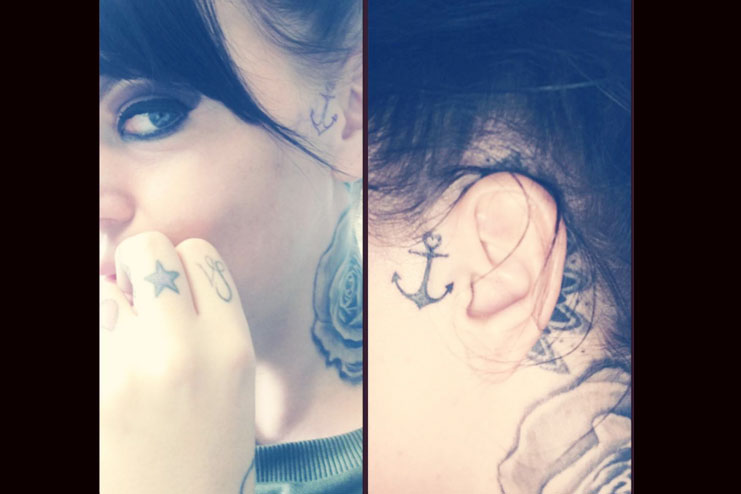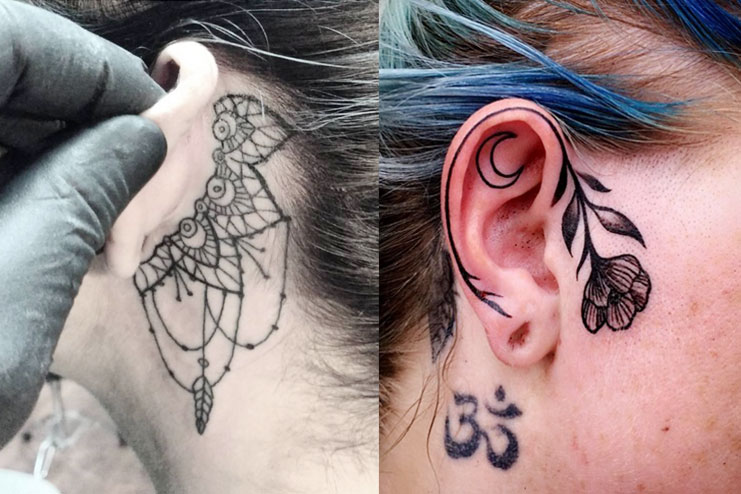 With all these trendy tattoo designs, the best style statement to make with an ear tattoo is to get inked with the most prettiest little helix tattoo that defines your style. We hope you find inspiration from these great images and if you do decide which you like best, Do share it with us, We will be really happy to know.