Reliance Jio Filmfare awards 2018, a night filled with exuberance, euphoria, magic and flamboyance of glitz, glamour, style, charisma and enchantment. As a tradition, we all have grown up looking forward to this starry night with some magnum opus performances being rewarded and our heartthrob's raising the temperatures to soaring high.
We just love the filmfare awards magic, mystique and madness that entices us all and keeps us drooling for more. The sultry black lady held by our beloved stars and the power packed performances of some of our favorites, makes this night not just wizardly but gleeful too. While your are tucked up in bed with a warm cuppa magical delight, it is time to brew some more espresso for you! Yes we take you down the Filmfare awards 2018 night to bring out some of the most intricate details of the crème de la crème of Bollywood. Stay tuned to know who wore what at Reliance Jio Filmfare awards 2018 in our this year's filmfare fashion report.
Some steaming and piping details of the Reliance Jio Awards 2018 night: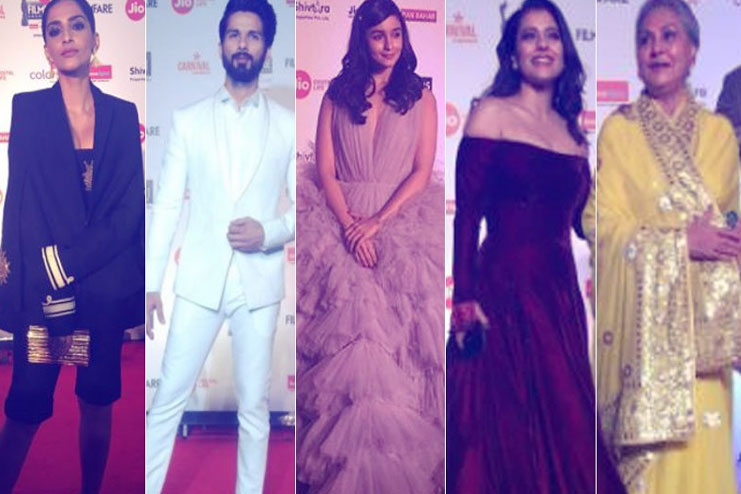 With the conventional norms from the old school methods of ranking a movie being seen again, this years Filmfare awards were truly the most deserving taking back the black lady home. From past many years it is believed that the powerful and the successful take rise over and above the true craft. But with Vidya balan, Irrfan Khan, Rajkumar Rao and Zaira Wasim grabbing this black chic, we are reliving the good old times. The charismatic and rhapsodic launch from red carpet to after party, made heads turn. For the stars came down in some of the most ravishing and scintillating attires, leaving us in awe. Some of the worthy style mentions from Reliance Jio Filmfare Awards 2018 include:
1- Parineeti Chopra: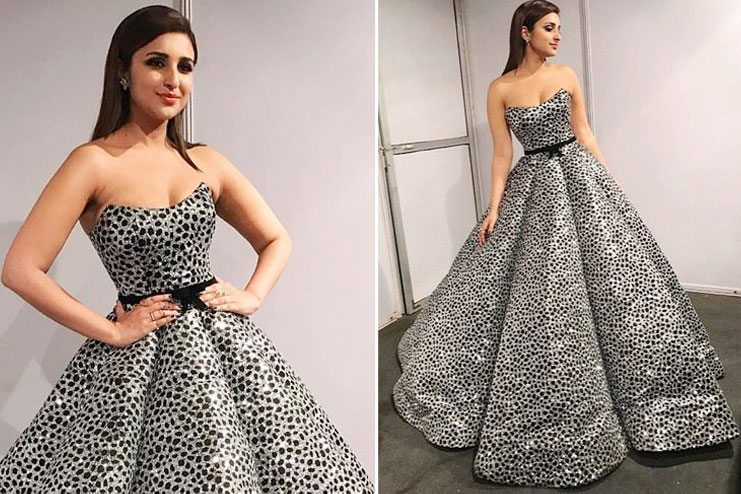 This Chopra damsel had truly mystic and magical presence with her princess ball gown like attire with sparkling embellishments and surreal aesthetics. A Kujta & Meri leopard print gown with glitter and tapered waistline for showing her perfect curves made a striking show. The gown had immense volume to add fairy kind of look and Renu Oberoi earrings made for classic trinkets for the evening. Soft parted hair by stylist Gohar and let down straight for endearing appeal. Her smoky eyed makeup summed up by Heema added grace and sensuality at the same time
2- Alia Bhatt: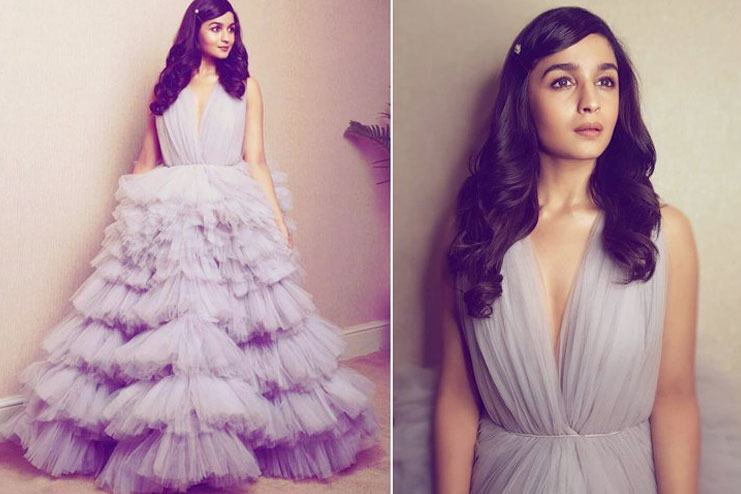 If angels lived, then yes we saw one at the Fimlfare 2018, dressed as Alia Bhatt in soft toned lavender gown with cascading fringes and neatly pinned hairdo. Monsoori designed gown, with zilch accessories and almost nude lip shade, Alia was surreal and pristine. Styled by Amy Patel, she graced and charmed with her simple yet endearing presence
3- Sonam Kapoor: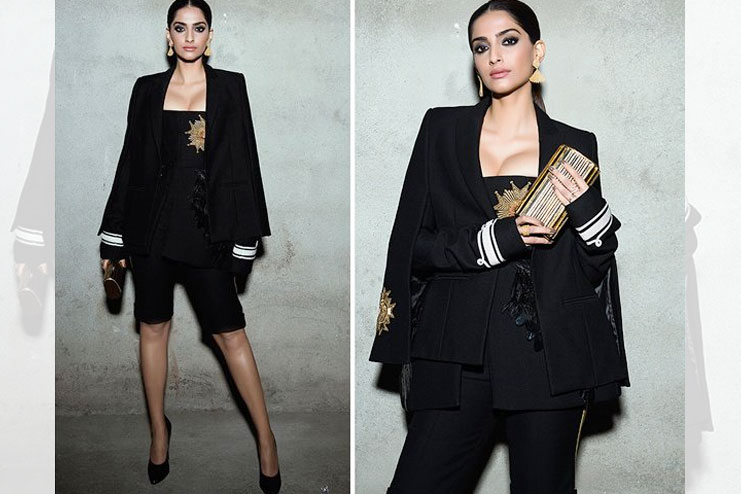 We were a bit confused for the style Sonam picked, but who said quirky is not a head turner. A rather off beat shorts and jacket ensemble by Vera Wang in black, made Sonam look chic but not her usual fashionista self. Though Eli Saab clutch saved the day for her, streamlined in black, white and gold matched with the gold on her jacket and perfectly paired gold earrings. Smoky eyes and metallic plates, well done by stylist Namrata made Sonam look trendy. Mid parted and straight hairdo seems to be the word now, from far west to eastern east, celebrities are adorning it all the time; so did our Leggy lady Sonam Kapoor. We really wished to see Sonam in some larger than life ensemble but experiment is the way to go, it seems
4- Madhuri Dixit: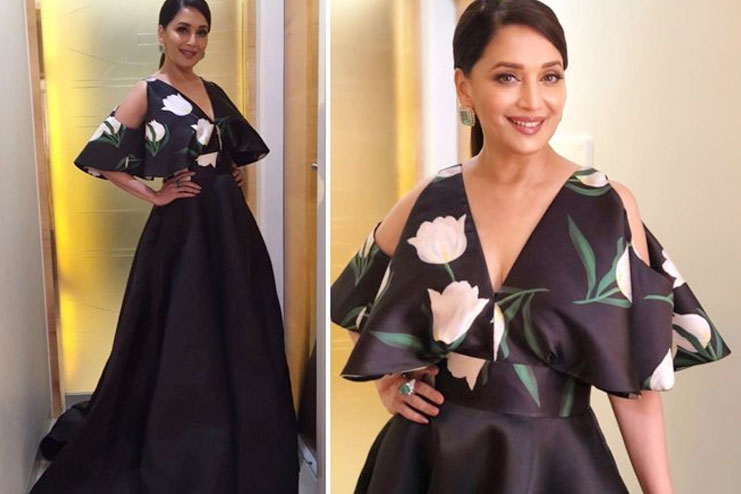 If there is one goddess who truly exudes magic in whichever attire she wears, it is the 90's dream girls Madhuri Dixit. Dressed elegantly in a black satin made gown by Marc Bumgarner. Cold shoulders and floral prints on top added grace and style to her mesmerizing ensemble. A side parted pony tail brilliantly done along with sparkling studs, done by Amy Patel; Madhuri looked like a dream as she walked the red carpet
5- Kajol: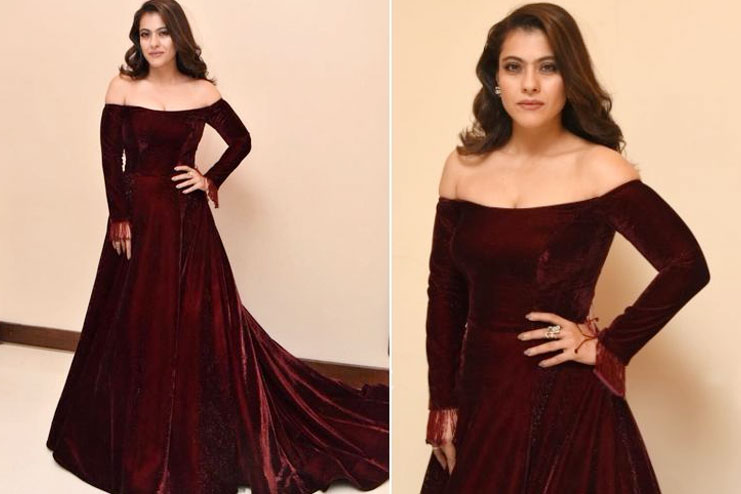 Kajol is the recent one, certainly bitten by the haute couture fashion bug. Her recent appearances look more of designs and fashion than her old time simple down to earth looks. This year she picked the velvet fashion which is already gaining popularity with Ranbir and Karan Johar wearing it off and on. Crimson red off shoulder gown by Manish Malhotra matched well with voluminous streaked hair and pristine makeup made Madhuri look like a diva. Minimal accessories with just the one being her larger than life ring, made it a fashion forward style for Kajol. All kudos to her stylist Ridhika Mehra for creating a magical look for Kajol
6- Konkona Sen Sharma: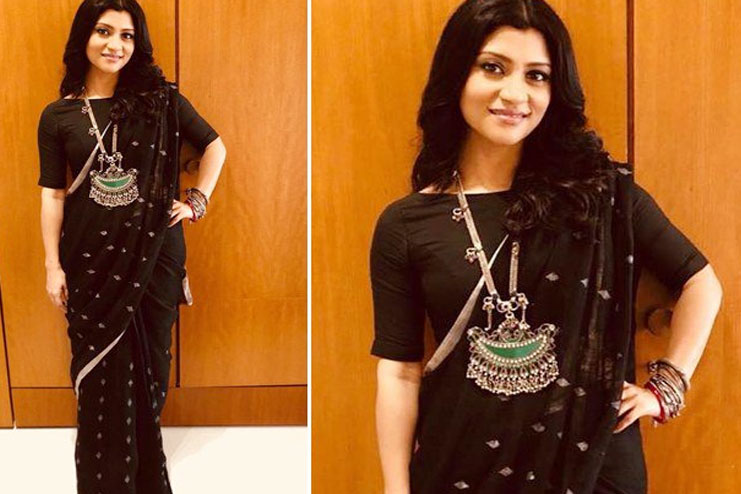 No matter how she dresses, Konkona is one artist who draws attention with her off beat yet powerful style. She matched Vidya Balan in choosing a black and gold saree in Anavila Label. She looked gorgeous with trendy jewelry all over. Her wavy hair nude makeup specially the chunky necklace made her look stunning and why not she had her black lady waiting for the wonderful directorial debut with a death in the gunj
7- Vidya Balan: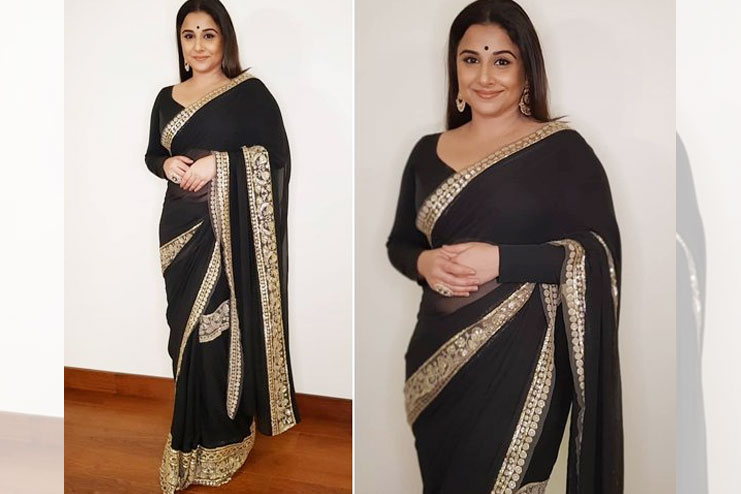 A black and gold lady was owned by another black and gold dressed diva. The lady of the night, rather entire year, for her powerful portrayal, of every woman who wants to do something on her own and in her own space. Vidya won her 6th best actor award for the film Tumhari Sulu. Dressed in her favorite attire, saree; she looked classic and elegant. Rick Roy label saree matched with Danglers from Gehna jewellers and an aquamarine cocktail ring; Vidya was a sight. Natural makeup, highlighted bindi and hair down naturally; Vidya spelled grace in every form
8- Preity Zinta: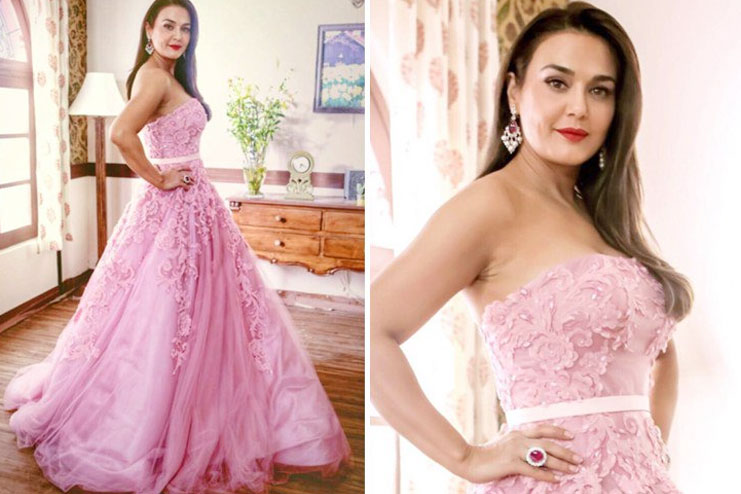 Well well well! Thanks to Preity for bringing some Hollywood like charm to our desi gala. A pink Garimon Roferos strapless gown with embroidery and lacy finish and flowing textures exuding spice and style. For pink is the new black, and bestowed with class and elegance; Preity looked charming in Farah Khan Ali jewelry and killer red lips. A white midrib belt over her gown made for a fashion forward style from Preity
9- Manushi Chhillar: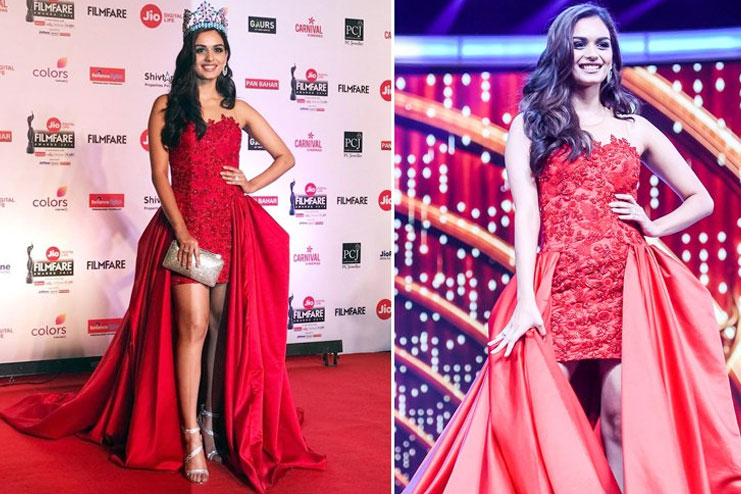 We just loved the way Manushi played the game, her striking appeal, gracious style and powerful presence made everyone swoon over her. The racing red designer outfit from Sonaakshi Raaj, with a satin red overlay contrasted with a silver Jimmy Choo clutch and silver footwear; the Miss World was ready to rock the stage. We just loved the way her Miss World Crown fitted so perfectly over this all red ensemble
10- Dia Mirza: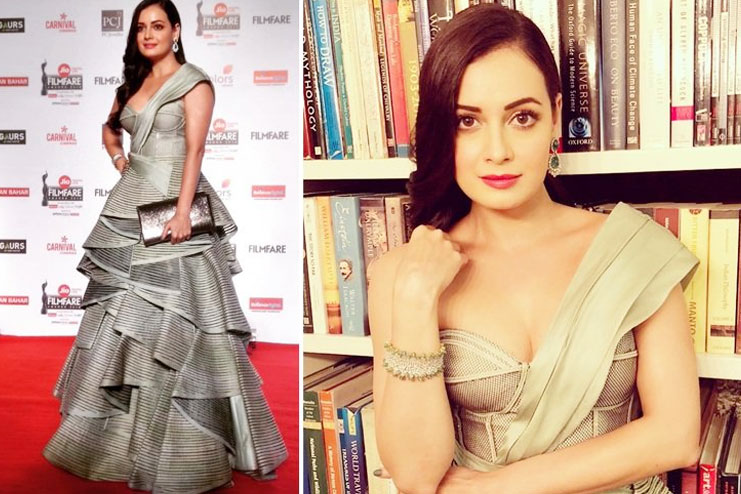 DIa Mirza just swept off our feet, with her stylish presence at the award night. We loved the silver metallic cascading ruffles by Shantanu and Nikhil. Teamed up well with Renu Oberoi fine jewelry. Her side swept long locks with edgy waves at the bottom made for a striking look. She ushered trendy, chic, flirty and smart.
11- Kalki Koechlin: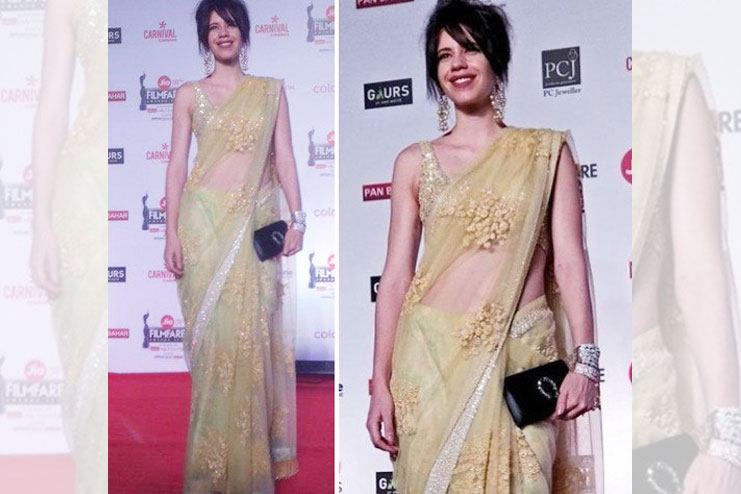 Kalki Koechlin took the award show by surprise by opting for a magical saree outfit. Floral embroidered regal saree by Sabyasachi, Kalki looked stunning with oversized earrings and messy hairdo. Contrasted well with Gucci classic black clutch and silver gleaming bangles adding to her charisma
12- Shahid Kapoor: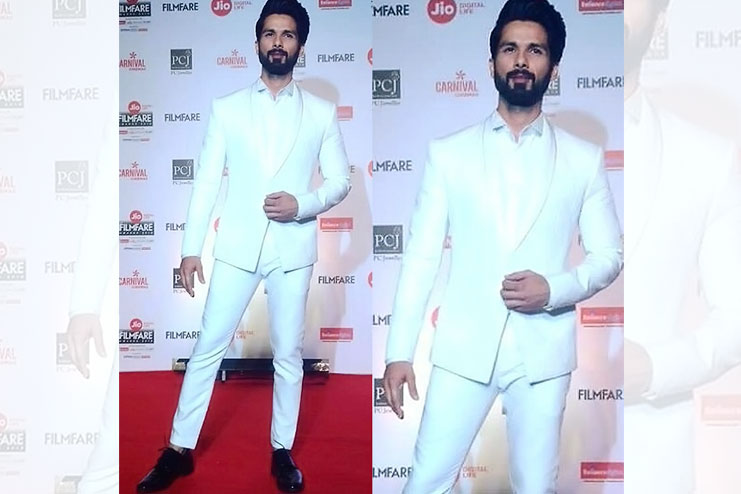 This man exonerates passion and enigma. Her all white look with fitted suit and sleeves made heads turn. He was a true Greek god in all white ensemble
13- Ranveer Singh: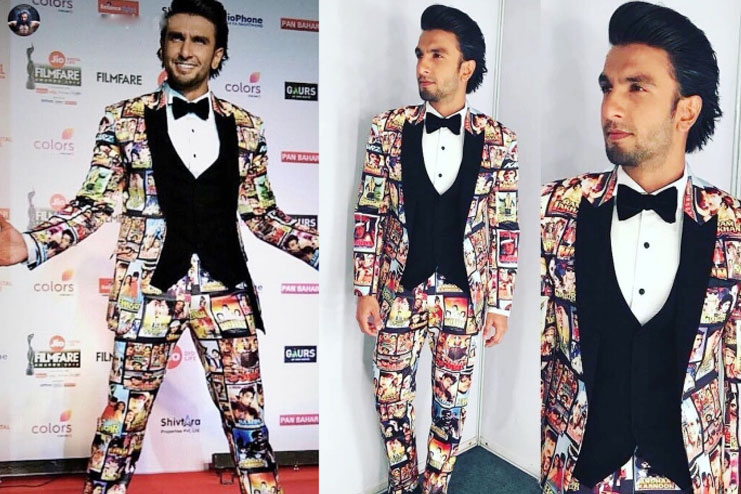 If only we could, we would!
The way Ranveer dresses for each and ever event is commendable. He wears the quirkiest of outfits in such an effortless way. His disco suit portraying posters from movies of the retro era made a rather unconventional but a powerful style
14- Ranbir Kapoor: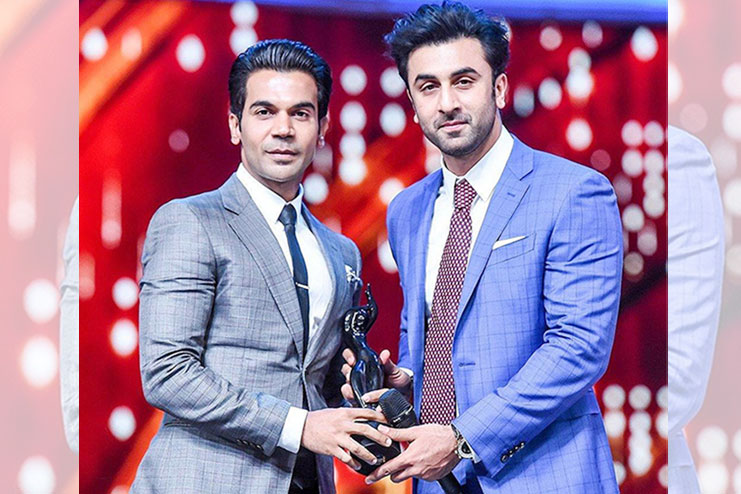 We just can't get enough of this chocolate boy, and yet after his powerful performance in Ae Dil Hai Mushkil; we still think of him as the boy next door. Blue suits matched with pink and black dotted tie made him look stylish and trendy. And when he presented the award to Rajkumar Rao, the audience went gaga over him
15- Rekha: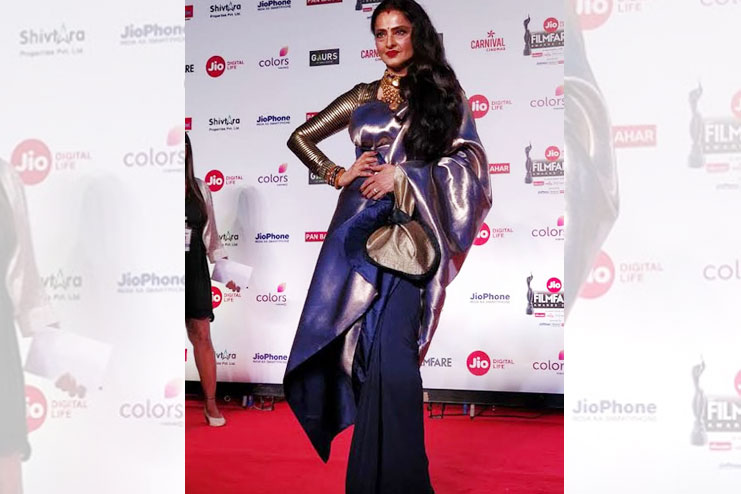 Reka finds mention at every place she is, she truly owns it all. Her style, her grace, her charisma and her elegance are by far the most celebrated ever. Her dark blue and silver saree with a potli bag in hand made for a stunning style. Black and gold jewelry and her highlight red lip color looked divine and surreal. We can't thank the style goddess of Hindi Cinema for raising the fashion bars so high. No one can ever match her for she is the ruling prima donna of our industry
The above details on fascinating world of style, fashion, entertainment and bliss all packed for the ecstatic Reliance Jio Filmfare Awards 2018, is to give a sneak peek into the starry night before you catch it on TV. Share ahead and keep writing us, we love hearing from you!