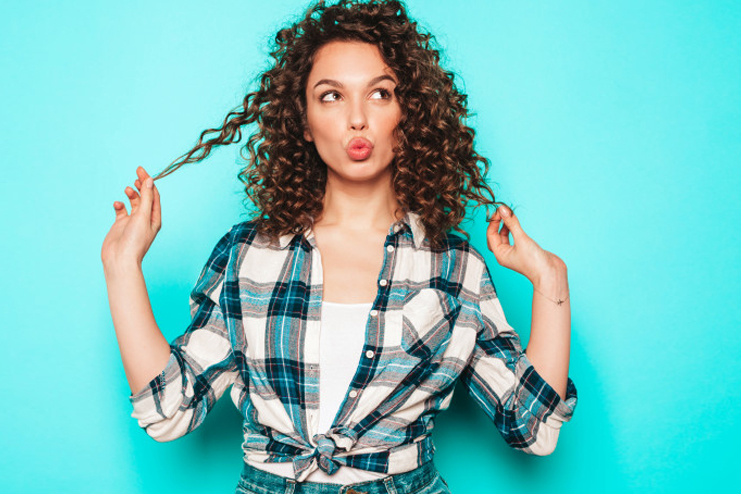 For woman, coming to appearance, she would focus on many things. She set her outfit, hairstyles, accessories and footwear. Keeping all these in priority she always wants outfit and hairstyle to be perfect because accessories can be manage and very much secondary. Always outfit and hairstyles are the change over factor. That is the reason woman struggle to manage these two things at any cost.
Your over all appearance look pretty when you go with suitable outfits, accessories and hairstyles. Many of the woman deck up properly but miss out few things or commit some mistakes while making over themselves. One of the mistake we always keep doing is mismatching hairstyles with face shapes.
There are certain hairstyles which perfectly blend with particular face shapes. While styling your hair if you keep these points in your mind, you can be successful by looking all great.
What is my face shape: While making at attempt to know the face shape people design their face as they can. But face shape is determined on the curves a face got, hair line and jaw line. Firstly know your face shape with face features like hairline, jaw line and check bones. Face shape can be said by these face features. With these face shapes you can easily opt your hairstyles without any mistakes.
Firstly you should know the types of face shapes:
Round
Oval
Square
Heart-shaped
Oblong
Hairstyle For Round Faces
This face shape do not have any prominent shape to describe but the cutest faces as they always look young. They can go for trendy and stylish hairstyles. Short hairstyles doesn't suit all the face shapes but for round faces, it blends well. The bigger and broader round faces look nice with a bit of lose hair.
1. Bob Hairstyle:
Bob hairstyle is form of cut and turned as hairstyle now. This was the preferred hair cut for kids. But this became a trending hairstyles since long and going long way in hair fashion and styles. Bob hairstyle is not for everyone. The little small face with bob hairstyle can be the cutest woman. Bob hairstyle can be modified with some short waves.
2. Hairstyle with bangs:

As already mentioned round face is experimental face to have youthful hairstyles. So, happily you can style you hair with bangs. Instead of side bangs on one side, you can split the long bangs on sides of your face and a very few in front. In the below image, the cute lady styled the hair perfectly for her round face. She also made a high bun which suits her lovely face.
3. Messy bun:

Messy buns are saving women form hard work of styling their hair. And messy bun sits amazingly for round faces. The cute faces with messy look is lovely. It is all possible to look cute with high or low messy bun for round faces.
4. Simple waves:

These simple waves make the round faces look really stunning. Round faces can blend and bind nicely with simple waves. They need not struggle much to get an elegant look on them. These simple and short waves can go on one side and this is a perfect hairstyle for traditional outfit as well.
5. A side braid:

A side braid is suitable for round face because it allows to leave a part of hair on other side. This is suitable hairstyle even for broader and bigger round faces. You can make it a little messy to modify your look. This can be the traditional hairstyle with fashionable look.
Hairstyles For Oval Faces
Oval face has a broader forehead and sharpen jaw line. This face shapes has the prominent features. Woman with oval face look elegant with few hairstyles and they can experiment both shorter and longer hairstyles. They can appear stylish and just good with a set of hairstyles.
1. Pixie hairstyle with bangs:
Pixie hairstyle is trending all over but it is suitable for oval faces. This hairstyle going popular among celebs. This messy and scattered hair can make oval shaped faces look flattering. The bangs can are just to keep the look chic and stylish. But over all the complete look of pixie hairstyle with bangs can be a smart choice of hairstyle for oval faces.
2. Shoulder length Hairstyle:

Shoulder length hairstyle is possible to modify and get many variations. The mini curls or straighten hair can set properly the oval faces. So, oval face shapes woman can choose to leave their hair to flow nicely. This hairstyle is not a boring one yet and instead ruling the hairstyles since ages.
3. Pony with front bangs:

Pony with front bags is greatly costumes oval face shapes ladies. This hairstyle will never look like common one. Again it can be a hairstyle with many variations. This simple hairstyle can be preferred for both Indian traditional outfits and at the same time western outfit.
4. Hair updo with braid:

Hair updo for oval face shape makes the face look pretty than any other hairstyle. In the below image, it shows how beautiful a woman can style the hair updo with braids. You will fall for this hairstyle as it suits your pretty oval face. You may also continue to wear this hairstyle now and then as it easy to do it for yourself.
Hairstyle For Square Shaped Face
Some cool hairstyle can really give a square shaped woman an interesting look. Square sound boring but not a face shape. Square shaped woman are the most elegant once. They can make a hot appearance with some essence of fashion in them. A simple hair lifting or a mere pony can make them look the prettiest.
1. Medium length hairstyle:

The reason to suggest medium length for square shaped is, they can stunning and can make some modifications. The curls at medium length can also make the hairstyle simple beautiful.
2. Root lifts:
This hairstyle just seems to be like a style for meant for square shaped faces. Square shaped faces can look classy with root lifts hairstyle. A woman with short hair and square shaped face can opt this hairstyle. This will be a change over of look making this hairstyle. You can check the below image to know how well it can blend for a square shaped woman's face.
3. Side pony:

A side pony can fairly make justice by making a square shaped woman look pretty. And this is not a causal kind of hairstyle. This hairstyle can be a perfect one for party wear.
4. High pony:

High pony is a ever fashion hairstyle. Formal or party, it is good at saving woman even at last minute. So, a square shaped woman can always go with a high pony with some more stylish modification if she is interested in. But high pony remains the top most place of hairstyle for square shaped face.
5. Hair swept aside:

Hair swept aside is not suitable for all woman. It is not only to style the hair as we want, we should also care if it matches our face shape. So, hair swept aside simply says it is not suitable for all.You can just a have a look in the below image how awesome it looks with hair on one side.
Hairstyles For Heart Shape Faces
Heart shaped can be the other lovely faces and this face shape is the rarest. We find heart shaped faces less and unique shape. You can identify the heart shape at hair line and with a curved jaw line. One of the most prominent shape and feature this face shape is built with.
Puffed Hairstyle:

Puffed hairstyle is majorly suitable hairstyle for heart shaped faces. Puffed hairstyle with a pony or braid is cool. It can be simple left flowing without any tie up. You can just have a look at how stunning it looks with simple puffed hairstyle having a heart shaped face.
Chin length Bangs:

To get a stylish and chic look for a heart shaped face, this is the perfect hairstyle. The straight bangs of chin length make a perfect combination. This hairstyle look gorgeous for heart shaped faces. In the below image you can have a look at this hairstyle for a heart shaped face.
Half bun hairstyle:

Half bun hairstyle is one of the simple but adorable hairstyle. The part of hair can be made into a bun and the rest rest of the hair can set lose. Half bun hairstyle some how gives the heart shaped girls a attractive look. The pretty face turns even more pretty with half bun hairstyle.And this is again meant for heart shaped faces or
Hairstyles for Oblong faces:
Oblong s a long face shape. So, it s better to avoid wearing hair updos and opt bangs or curls. Bangs and curls can cover the oblong face in a nice way. In fact curls look magical for oblong shaped face.
Retro curls:
Retro curls can glam up and give real retro look. All over it look classy with stunning retro curls. As said above curls can cover the oblong shapes face well, retro curls can really do a wonderful job.
Semi curls with puff:
Semi curls on the sides of the face and puff is an attractive styling way of hair. This hairstyle is suitable for long oblong faces. This can be a complete stylish hairstyle keep your fashion goals going. Many of the actresses with oblong face prefer this hairstyle and they slay all the time with this awesome style.
Long straight bangs:

Oblong face is the longer face and it should be covered wisely with hair to give a elegant look. The styled manner can make an oblong face lovely. Bangs can be smoothly and simple. If you want look chic and funky then you can make it a bit curly. But it is preferred to keep it smooth and straight.
Setting up your appearance with a suitable hairstyle that suits your face shape will really raise your fashion gaols. Woman try hard to fix up the hair, now pin or part it but make a loving hairstyle. Crowd looks at the way they want but you slay in they way you want. Hope you got the idea obout your face shape by the end of this article. Now go funky, chic and just unique.